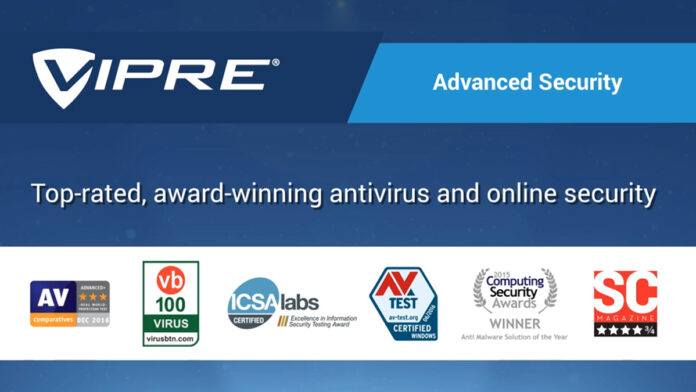 You can't go wrong with VIPRE Advanced Security if you want to stay protected against mainstream and emerging threats, including ransomware and sneaky exploits.
VIPRE is an oldie and one of the big names in the cybersecurity arena. It emerged more than 20 years ago as an antivirus product by Sunbelt Software. Later on, it was distributed under the GFI brand and is currently provided by a publisher called ThreatTrack Security.
On a side note, contrary to what some users might think, VIPRE isn't an awkward misspelling of a scary reptile's name. It is an acronym for "Virus Intrusion Protection Remediation Engine" coined at the dawn of the app's existence.
The recent track record of this tool includes the AV-Comparatives "Advanced+" rating for malware protection (April 2020), AV TEST's "Top Product" award as of August 2020, and Virus Bulletin's VB100 certification, to list a few. The impressive recognition by authoritative software evaluation labs speaks volumes about the merits of this software.
Aside from conventional protection mechanisms, it leverages machine learning to identify predatory code before it's added to the signature database. This way, VIPRE can pinpoint threats that haven't been documented yet, including just-released ransomware, Trojans, spyware, viruses, and zero-day exploits. On top of that, it comes with a competitive set of web traffic inspection and email security features.
With that said, we decided to give VIPRE Advanced Security a shot and scrutinize it from different angles to see how good it is from the average user's perspective. In this review, we will go over its features and try to figure out whether the current incarnation of the legendary tool lives up to its exceptional heritage.
System requirements
---
Operating System:
32- or 64-bit versions of Windows 10 / Windows 8.1 / Windows 7
Mac OS X El Capitan 10.11 / macOS Sierra 10.12 / macOS High Sierra 10.13 / macOS Mojave 10.14 / macOS Catalina 10.15
Hardware:
At least 1 GB of RAM (2 GB for Macs)
2 GB (1 GB for Macs) of hard disk space
Email clients supported:
Microsoft Outlook
Mozilla Thunderbird and others using SMTP/POP3 protocols
Usability
---
The app offers a 30-day free trial with hardly any strings attached. The only thing you'll need to enter is your email address, period. No tedious registration involving a credit card number or other personally identifiable info is required. This feels like an instance of fair play in today's highly commercialized world.
Of course, you can purchase the full version of the product right away if you so desire. The annual license for a single PC or Mac is a bit pricey ($54.99), and the amount goes up with a $10 step for three or five devices. The good news is, VIPRE has started its Black Friday spree early this year and reduced the cost dramatically. At the time of this writing, it's as low as $15.99 for one machine.
Let's now zoom into the product itself. What strikes the eye from the get-go is the minimalist design of VIPRE Advanced Security's UI. It's got three tabs (MyVIPRE, Account, and Manage) whose elements say exactly what they are supposed to. We believe that protection doesn't have to be complicated, so the product's laconic look and feel is perfectly aligned with this reasoning.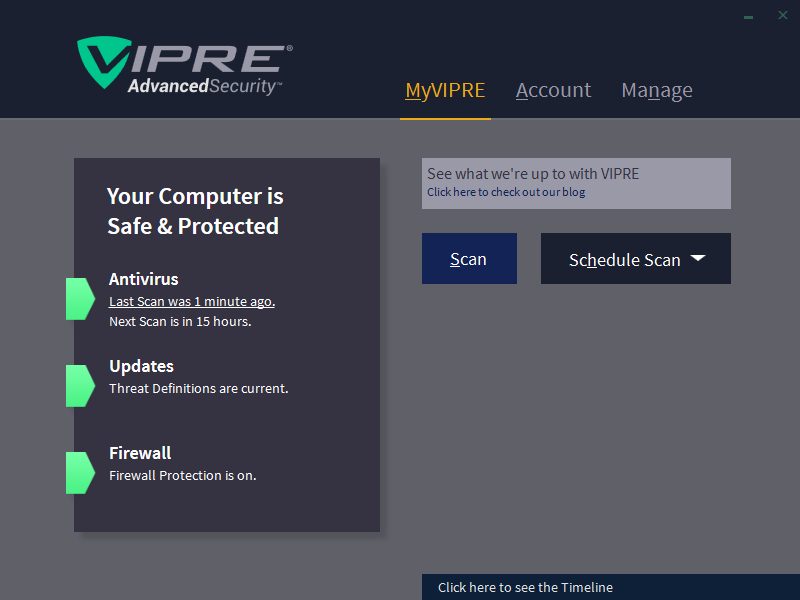 The default dashboard, a tab called MyVIPRE, contains shortcuts for the Antivirus, Updates, and Firewall controls allowing you to switch them on or off at will.
Plus, it includes the Scan button that shows a pull-down menu list (Full Scan, Quick Scan, and Custom Scan) once you hover the mouse over it. There is also a link leading to the VIPRE blog and an option to view the timeline of events such as definition updates and changes in the statuses of the features.
The Account tab reflects your subscription info along with the product key if you have entered one. It also provides help and support options, including an area to type your question as well as links to the Support Center and the built-in interactive VIPRE Help utility.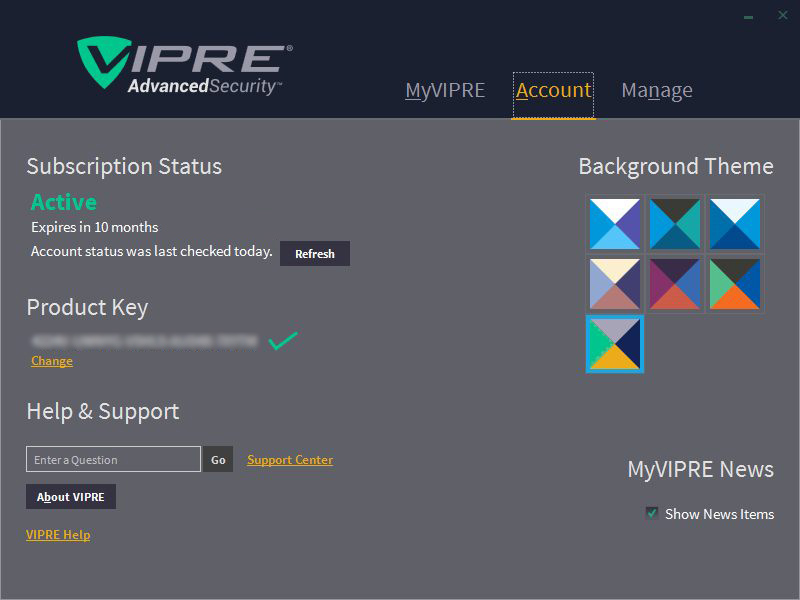 One of the things we find nifty about the visual manifestation of the product is that you can switch between different background themes with ease. The corresponding option is accessible from the Account screen (see snapshot above).
The most informative tab called Manage encapsulates the entirety of customizations for the Antivirus, Updates, Email, Firewall, and Privacy features. We will take a deeper dive into these controls further down.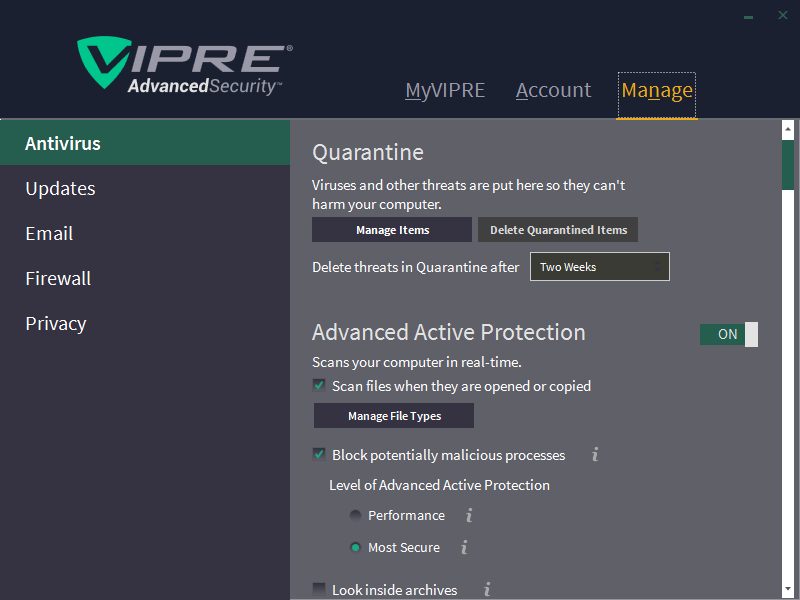 In our test, the system footprint was fluctuating from low to moderate, depending on the tasks we were throwing at the app. The performance hit reaches its top during scans and updates, but the CPU load never exceeded 10% on our Windows 10 lab machine with Intel Core i5 CPU and 8 GB of RAM onboard.
The initial scan is a bit lengthy. It took VIPRE Advanced Security about 10 minutes to run the first quick scan of our system, with subsequent check-ups winding up in less than four minutes. The full scan lasts well over an hour and seems painfully slow, so that's not the type we'd recommend for everyday use. Once a week should be okay – by the way, that's the default setting for scheduled scans.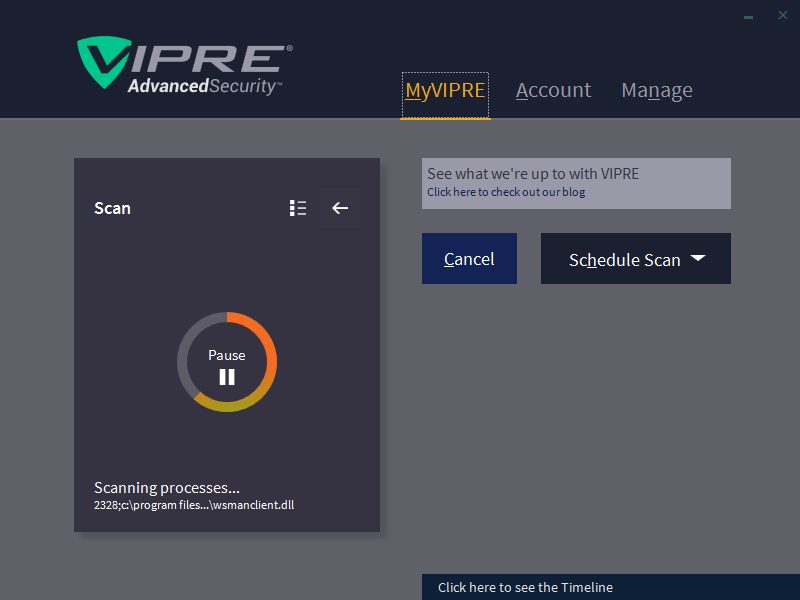 By and large, the program leaves a positive aftertaste in terms of user-friendliness and performance. Some may argue that its interface is too elementary, but again, efficiency and outward complexity aren't necessarily synonymous. Furthermore, the simple design is the tip of the iceberg and there is a good deal of power beneath.
Malware protection: simple on the surface, multi-pronged inside
---
Unless you navigate beyond the home tab called MyVIPRE, you will probably think of the product's Antivirus feature as a trio of active protection, email protection, and web filtering. These defenses might seem basic, but you will rethink this perspective once you dive into the corresponding set-ups under the Manage pane.
It turns out that the protection arsenal is composed of a handful of features. The technology dubbed Advanced Active Protection is at the heart of VIPRE's malware protection power. It keeps tabs on suspicious activity in real time while blending signature-based detection with behavioral analysis.
This logic allows the tool to identify both known infections and emerging threats, including ransomware, Trojans, spyware, and rootkits. You can also specify which file types this module should watch, although we recommend you stick with the default list for peace of mind.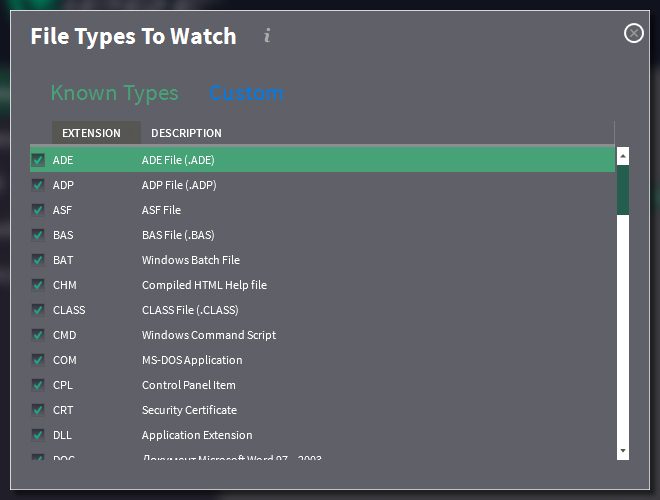 Another notable perk is what's called Edge Protection. It prevents online menaces, including mainstream exploits, from being downloaded by your web browser. Don't be misled by the name – the feature isn't isolated to the Edge browser only. It additionally lets you add a list of allowed websites.
To make the most of the virus scanning functionality, VIPRE Advanced Security provides options called Catch Up Scan and Second Layer Scan. The former launches a quick scan in case a scheduled scan wasn't run for whatever reason; and the latter executes a full scan if a quick system inspection identifies a potential threat.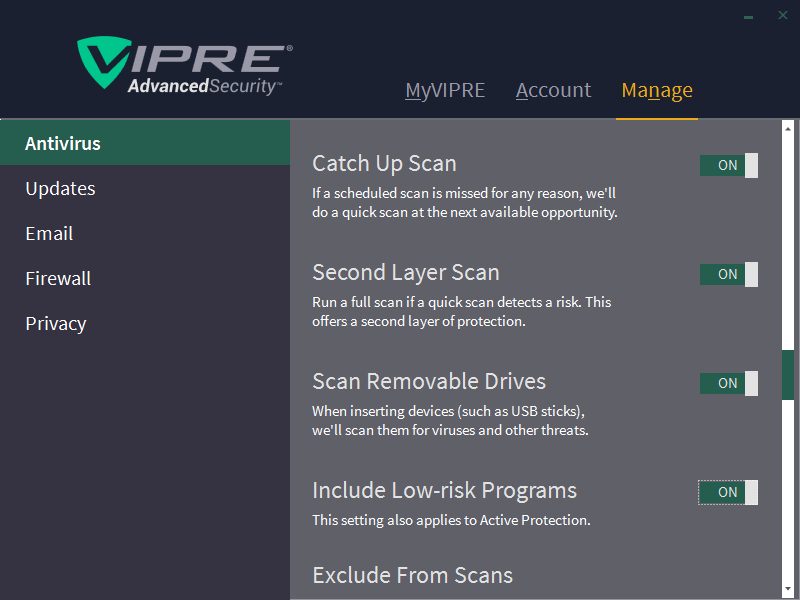 As thoroughgoing as it is, the whole protection is as quiet and hassle-free as possible. By default, you don't get a notification when a scheduled scan kicks in. You will see an alert, though, if it spots a piece of malware.
You can also instruct the app to wake your machine from sleep for scheduled scans. Another option is to get VIPRE to automatically scan removable media for threats once you plug them in. The classic Quarantine feature, low-risk program detection, a detailed AV history log, and the ability to pause updates along with scheduled scans when your laptop is on battery power are under the hood as well.
To VIPRE's credit, it caught all prevalent malware samples we pre-loaded for this test, echoing the excellent lab scores and demonstrating that the protection facet of the app correlates with its claims.
Updates go beyond VIPRE itself
---
Software vulnerabilities are the common entry point for malware and hackers, with obsolete versions of your programs being the primary source for this type of exploitation. To stop this attack vector in its tracks, VIPRE Advanced Security comes with a feature called Auto Patch Updates found under the Updates subsection of the Manage tab.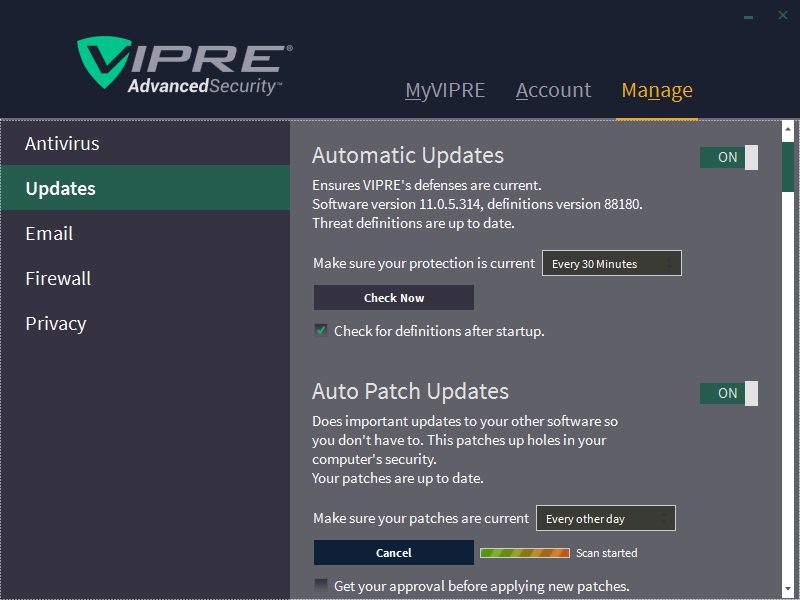 It looks for out-of-date applications installed on your computer and lets you know if new security patches are available. Essentially, this saves you the trouble of going through a maze of checks to ascertain that you are using the latest software releases.
Email security and web filtering extras
---
The email protection tier of VIPRE Advanced Security comprises spam filtering, anti-phishing, and defenses against malware-riddled files received or sent over email. To benefit from this combo, you need to be using Outlook or any other email client based on POP3 or SMTP protocol. There is an option to specify ports for inbound and outbound emails if you are on a non-Outlook app.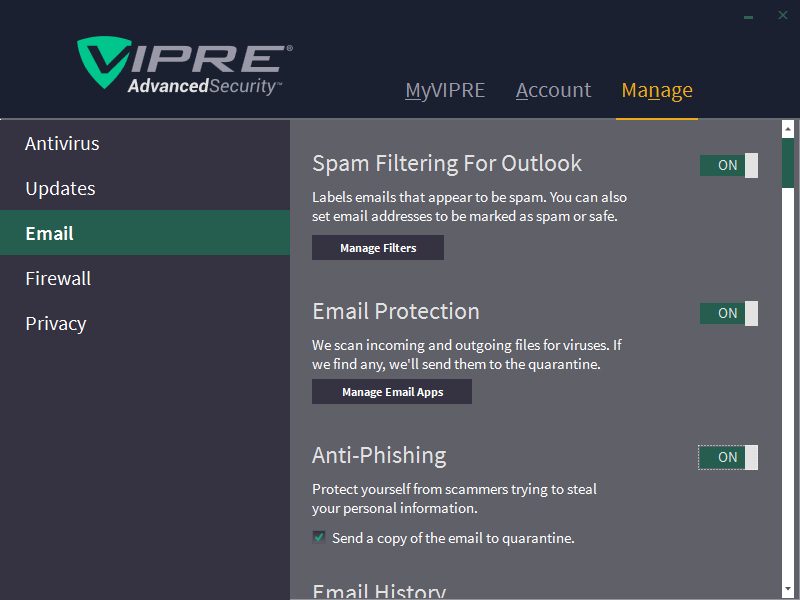 The Web Filtering feature hinges on VIPRE's database of known-malicious sites. If the program is raising a red flag on a particular site you absolutely trust, there is an option to add that URL to a whitelist by clicking the Managed Allowed Websites button under the Web Filtering subsection of the Manage tab.
In this test, the tool alerted us to all common phishing templates that were trying to reach the Outlook inbox, including a couple of recent coronavirus-themed email scams. It also prevented us from visiting a series of harmful sites hosting dodgy downloads.
Firewall does its thing, but with a caveat
---
The full-blown Firewall is a great addition to the overall range of VIPRE's defensive instruments. The associated functionality resides within the Firewall pane accessible via the Manage tab. You can also switch it on or off using the MyVIPRE main screen.
For some reason, though, two auxiliary features remain inactive even if you slide the firewall protection toggle to the ON position. These include Intrusion Detection Systems and Process Detection, aka Host Intrusion Prevention System (HIPS). You will have to enable them separately, which is something many users won't bother doing.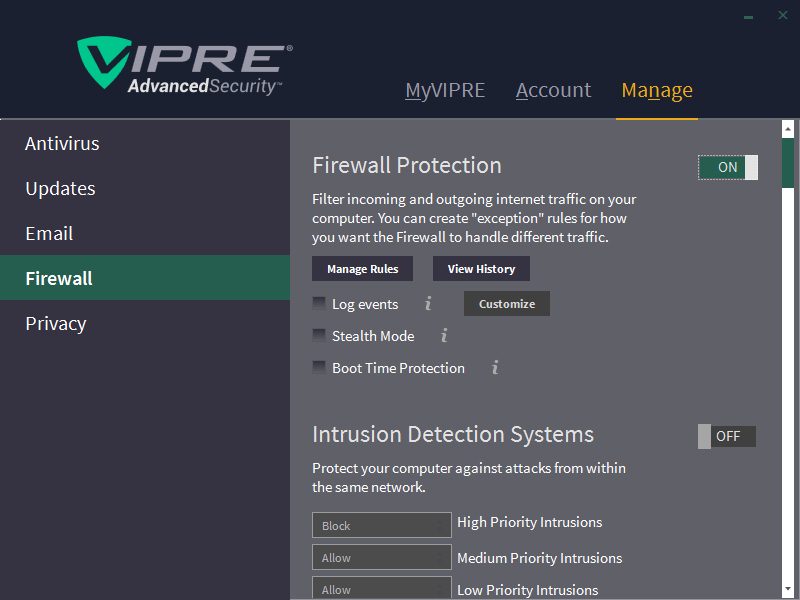 Aside from monitoring the Internet traffic for anomalies as it's traveling back and forth, the Firewall feature allows you to manage trusted and public networks you are connecting to.
All in all, this toolkit adds a decent layer of protection above the native Windows firewall, so it definitely deserves the thumbs up. The only fly in the ointment is that it takes some redundant customization to launch several useful modules mentioned above.
Somewhat rudimentary privacy features
---
From where we stand, the Privacy controls built into VIPRE Advanced Security are kind of meager. They are restricted to the Secure File Eraser feature that obliterates a specific file with multiple overwrites. This prevents forensic tools from restoring data. While privacy-minded users will find this option handy, your average layman will probably never give it a shot.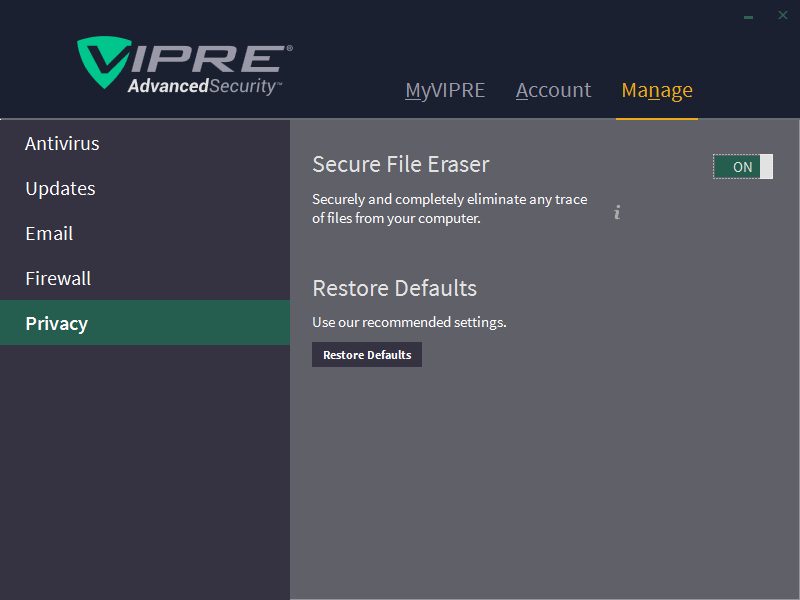 The product used to come with a functionality called Social Watch, which would scan your Facebook timeline and flag potentially harmful materials. Unfortunately, this feature is missing from the latest version we tested (11.0.5.314), so you are basically stuck with a very basic privacy protection mechanism that boils down to wiping unneeded or sensitive data without a trace.
VIPRE Advanced Security – Mac version at a glance
---
The product is also available for the Mac. But, this version of the app doesn't have much in common with its Windows counterpart, to put it mildly. The simplistic UI only contains Active Protection, Auto-update Application, and Auto-update Threat Definitions features, plus a classic series of three scan options. The preferences screen lets you specify how to handle a threat if detected, add an ignore list, schedule scans, and manage updates.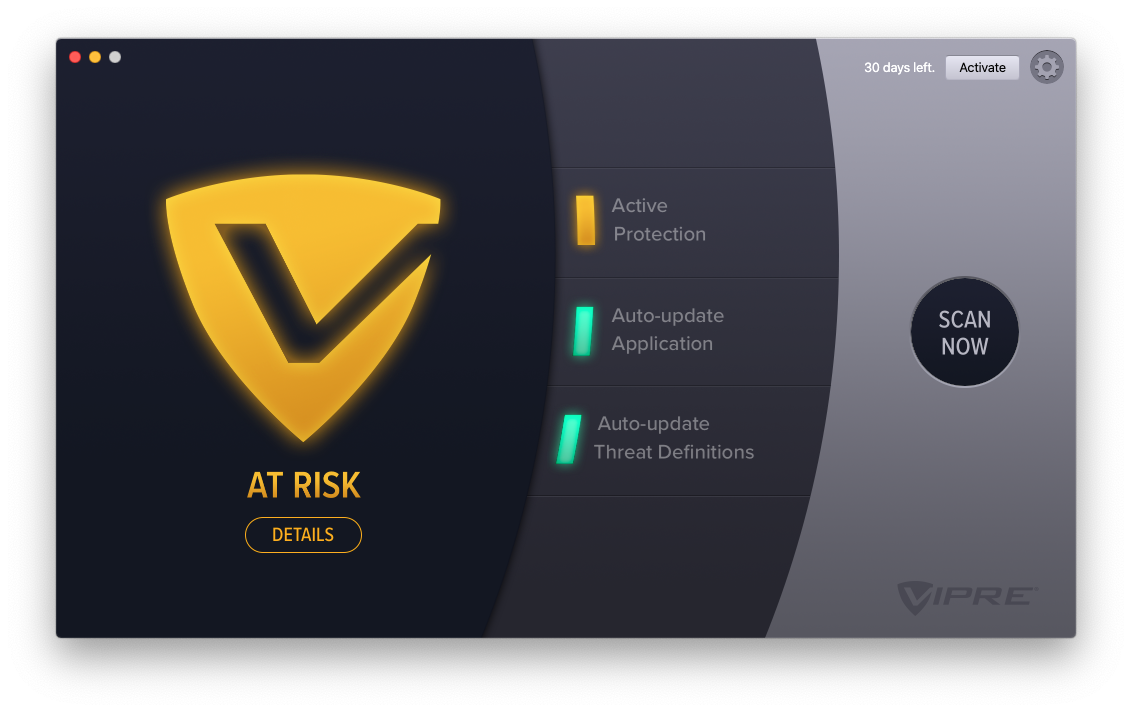 First, we couldn't get Active Protection to work on our lab MacBook Pro running macOS 10.15 Catalina. We followed the prompts to grant the app full disk access, to no avail. Then, we clicked "Allow" at the bottom of the General tab of Security & Privacy screen under System Preferences to unblock software from ThreatTrack Security, Inc. – and voila, the real-time protection button stopped flashing yellow and turned green.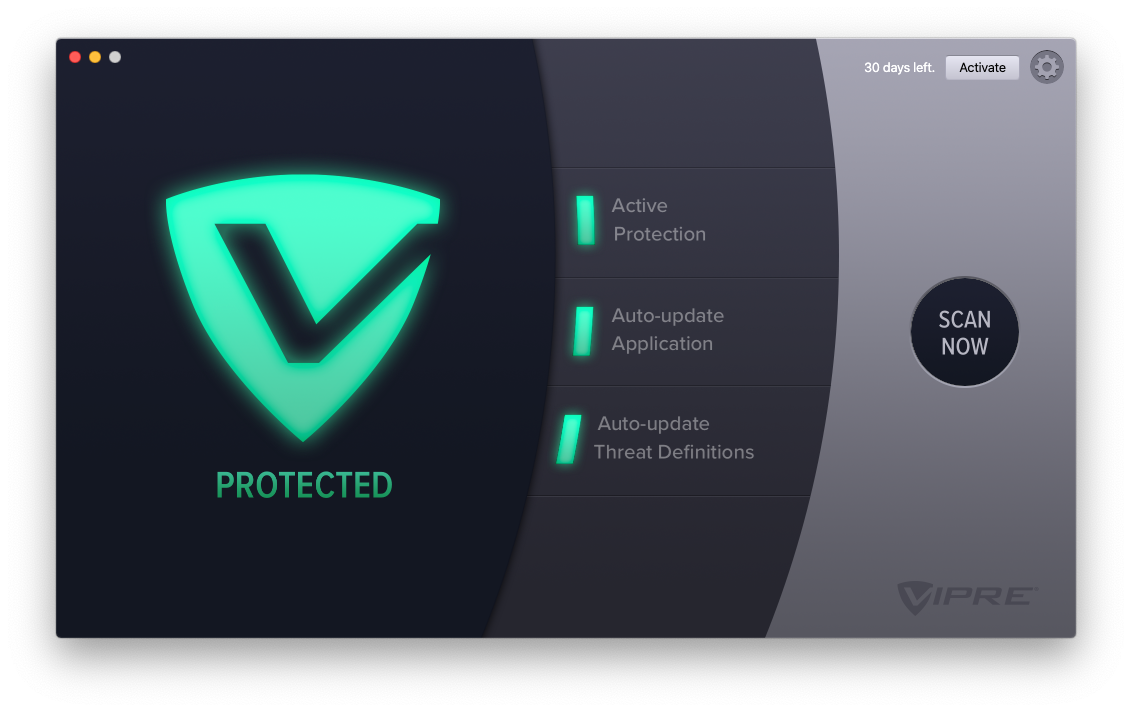 At that point, we recalled an alert that had popped up during the installation saying that the app failed to load a new system extension because it would be "incompatible with a future version of macOS". Although unblocking it manually via the System Preferences did the trick, the whole tedious workflow isn't on the plus side of the Mac build of VIPRE Advanced Security.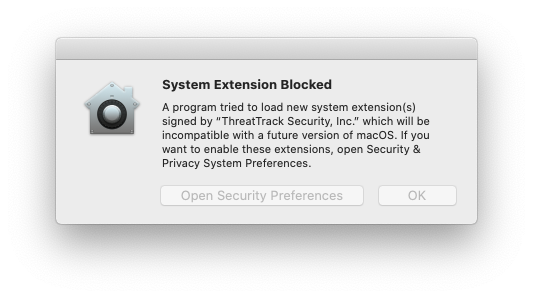 Hopefully, the issue will be sorted out as macOS 11 Big Sur roll-out gets into full swing. One way or another, the utility carries through with its protection claims, which is really welcome as Macs are being growingly targeted by adware and other types of nasty code.
Help & support
---
As previously mentioned, you can access VIPRE's help and support resources directly from the Account tab. By clicking the Support Center button, you are forwarded to the knowledge base that highlights all the common user experience issues and includes feature descriptions, announcements, release notes, as well as general product information.
The VIPRE Help button, in turn, triggers a separate screen where you can select a subject of interest in the left-hand sidebar and get the lowdown on it. This interactive window has an intuitive tree structure in which items expand into sub-nodes once double-clicked. The entry at the very bottom lists the phone numbers to contact the U.S.-based support team.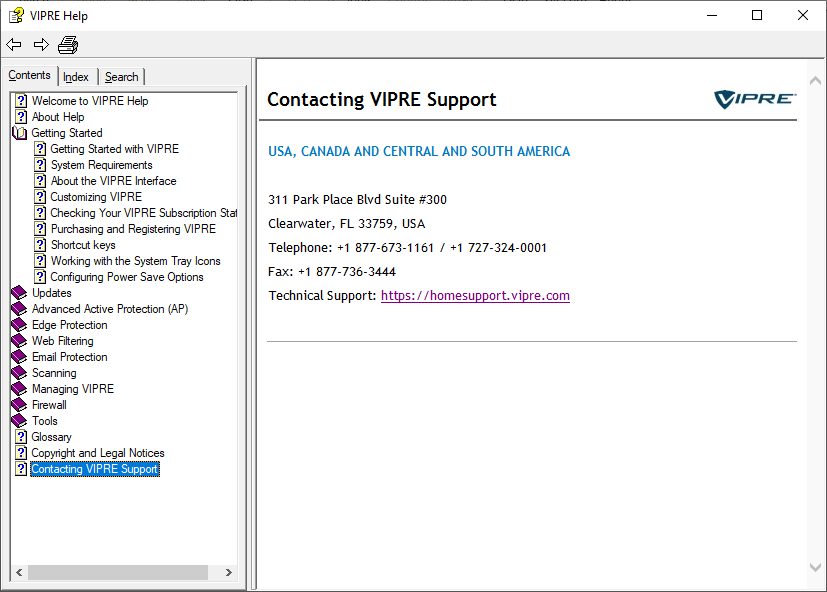 Finally, you can enter your question in the dedicated box under Account, and VIPRE will return all the relevant topics via its support pages and discussion forums. It's good to know that you can find pretty much any product-related information without having to scour the publisher's website for it.
+/- (pros/cons)
---
Impressive malware detection scores
Effective firewall
Phishing protection included
Easy to use
Low system footprint
Fully-fledged 30-day trial
Built-in help and support features
Mac version available
Long full scan
You have to go the extra mile to turn on several important firewall features
Enabling the Active Protection feature in the Mac version is tricky
Privacy features are limited to data wiping
The verdict
---
We like the way VIPRE Advanced Security combines external simplicity with functional sophistication, exceeding your expectations over and over as you keep exploring its features. It has its downsides, but they are eclipsed by the rock-solid defenses, ease of use, and smooth performance. Hands down, we recommend this product for everyday malware protection.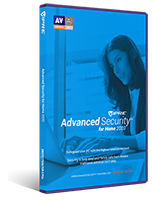 VIPRE Advanced Security
Internet security suites