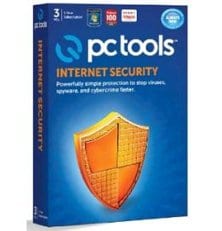 Being a reputable security software vendor that's always been about innovation and is permanently keeping track of relevant tendencies in the IT world, PC Tools has got its own response to the Internet security provision niche. Their take on online protection is impersonated by PC Tools Internet Security application which encompasses a wide spectrum of services to guarantee user satisfaction and robust defense against the challenges that are literally swarming in the worldwide web. This year's build is truly a breath of fresh air as it combines the features of previous versions multiplied by progressive ideas in the domain of real-time Internet protection. All of the precursory functions have been significantly improved, and a completely new one combating scam alerts has been added. Plus, the GUI design has been refined and modified in comparison with the previous version.
Friendly interface and top-level efficiency are perhaps the two main reasons to purchase the product. At first sight, PC Tools might appear to be simply one of 'crowd' of suchlike apps (Kaspersky Internet Security, F-Secure Internet Security etc.), but a close look and a bit of testing discloses the fact it's a really powerful accessory for your machine you won't regret to have installed as it has a number of advantages. It is equipped with the feature set to secure your online activities, defend against malicious software and cybercriminals. According to the unbiased analysis conducted by AV-TEST Independent IT-Security Institute, this software got zero-day, web and emails threats protection score of 98%, which is well higher than the industry average.
The number of options supplied seems to match the cost which is reasonable enough for a utility as effective as that. Overall, PC Tools Internet Security appears to be easy to install and further customize. And still, the main virtue is the fact it's tough on malware and Internet fraudsters.
System Requirements
---
Operating System:
Windows XP SP3 (32bit only) / Windows Vista (32bit / SP2 64bit) / Windows 7 (32/64bit)
Hardware:
For Windows XP:

CPU: 400 MHz or higher
At least 512 MB of available RAM

For Windows Vista / Windows 7:

CPU: 1 GHz or higher
1024 MB of available RAM (32bit) / 2048 MB (64bit)
Additional Requirements:
500 MB or more free space on HDD
Video Adaptor: SVGA (800×600)
CD/DVD Drive (unless installing from the internet)
Internet connection for activating the product
Internet Explorer 6.0 or higher / Mozilla Firefox 3.0 or higher
Email scanning supported for standard POP3 and SMTP compatible clients
Usability
---
PC Tools Internet Security boasts robust setup procedure and simplicity of additional adjustments. Note there's no fully functional trial version available, though PC Tools does offer a free scan option to check your machine for threats and evaluate some criteria such as speediness and detection rates from the start. Should you then decide to get the detected objects exterminated, you will need to upgrade to the licensed copy for full functionality.
The installation algorithm involves the use of the 3.7 MB stub installer which makes the process smooth and well-guided. Having clicked the installer file, you may go and have some tea in order not to lose your temper watching the green little progress bar. Although this might actually take quite a bit of time, the result you get is worth the wait.
In the context of usability, we can't but mention the influence on system resources this app produces. Once installed, PC Tools Internet Security stays pretty much unnoticed both for you as a user and for the machine as a power consumption device. Your CPU and RAM performance won't be notably affected as this smart utility needs a moderate part of the system reserves, despite the rich functionality it's got in store. This means no freezes or slowdowns while running the app. At least, we didn't encounter any. Furthermore, for performance optimization you'll be offered to choose from the three available levels: 'Performance, 'Balanced' and 'Protection' – these modes allow defining the ratio of defense and resource consumption to meet the user's priorities. This should be particularly helpful to people using outdated (hard-)software.
The last but definitely not least aspect here is the user interface. Like we already mentioned in the Intro, the GUI underwent an update as compared to the 2011 build, and this is obviously the case where the upgrade is a complete success. We consider it intuitive and convenient enough to study within minutes. After launching the program, you will see five tab-like menu items on the top: 'Home', 'IntelliGuard', 'Settings', 'Support Tools' and 'Start Scan Now'. These cover the app's diverse feature set, support instruments and configuration. Some supplementary options like 'Report Card', 'My Account', 'Smart Update' and 'Help' occupy the GUI's bottom part, being perfectly visible and accessible. Exciting to contemplate and easy to understand, indeed.
The overall impression therefore is the utility is modern, smart and quite a pleasure to use.
Features
---
The feature set is another significant benefit you get from choosing PC Tools Internet Security as your protection tool. It is equipped with antispyware filters and a web browsing protection engine which can block hidden viruses and identify even the most recent online threats. So let's now have a look at the key features embedded in this piece of security software.
'Scam Alerts' is a completely new feature which denies access to phishing sites and is in charge of putting an end to the attempts of stealing your personal information and money. This is the fastest and the simplest way of securing one's workstation from online frauds. Another type of scam this feature helps prevent is rogue antispyware.
'AntiSpam' feature is there for you if you got tired of annoying emails. It easily recognizes the information-stealing, phishing or simply unwanted email letters, and filters those out.
'Memory Scanner' provides in-depth analysis and elimination of cyber threats. Some viruses and different kinds of digital junk may infiltrate the system and lurk inside there while performing their malicious functions. Memory Scanner is a perfect way to get rid of such threats as it finds and deletes dubious content from computer memory.
'Behavior Guard' is an option based on an improved technology for monitoring the execution logs of the software running on the PC. It analyzes the characteristics of applications and terminates the processes bearing signs of malignancy. This particular feature enables PC Tools Internet Security to work beyond the conventional signature-based dogma.
The integrated 'Firewall' will not allow cybercriminals to trespass on the computer and harvest your personal and private data, passwords, usernames or credit card details.
'Browser Defender' can be deemed as an extension for your Internet surfing protection. This option displays the actual website ratings for you not to visit phishing pages, and warns you about potentially harmful links. The estimation is displayed in the search results next to the SERPs items.
'Download Guard' serves to verify whether the downloads you are about to make contain threatening content or not. It should be admitted this is really convenient for having your downloads checked before proceeding with those. This function will certainly be useful in case you are going to get a file from a web resource that's unfamiliar to you. This feature's functionality is based on the use of cloud technology.
On the whole, our verdict consists in the functional aspect being a true and inarguable advantage of PC Tools Internet Security. This program, if installed on one's computer, creates a completely safe working environment both at home and at office.
Efficiency
---
This upgraded PC Tools product is pretty fast-performing on the one hand and remarkably effective on the other. Designed on an intelligent scanning technology, this software requires less time for online threats detection and removal of contaminated material from your workstation than some of the competitors. Resorting once again to latest AV-TEST stats, PC Tools Internet Security gets over the average scores in repair, being particularly effective in removal of active components of widespread malicious software (including rootkits), as well as elimination of further malign components and remediation of critical system modifications. The only little sticking point about this product has to do with false positives (e.g. false detection of legitimate software) whose presence has been identified by a number of lab tests. Well, too much protection isn't really that bad – at least not as bad as the lack of it. Anyway, it's all up to you whether you could bear slightly excessive alerts or not. This is probably the only known drawback to mention – the rest of the efficiency criteria are met commendably.
Help & Support
---
The diversity and availability of support opportunities are the things that reflect the way the vendor treats its customers in the first place. In case with PC Tools, you shouldn't feel the lack of commitment on the company's end. Help and support here is basically a matter of choice. You can access self-help materials (browse known issues and alerts, navigate the FAQs, look through user guides) directly from the interface or the official website at www.pctools.com. Browsing the community forum might address your issue as well. There is an alternative path of using telephone support – however, the note reading "Average wait time 30 minutes" mentioned on their site seems a little discouraging. To compare, the wait time to chat with a live rep online shouldn't exceed 10 minutes. Another option is to contact support agents via email. Apart from the wait time required for live support, everything appears to be in its place.
+/- (Pros/Cons)
---
Light-weight and fast
Fast and multifunctional
Improved threat detection engine
Friendly and easy-to-use GUI
Warns against online cybercrime scams
Blocks execution of malicious software
Secures web browsing
Pre-checks files before download
Lengthy setup
Smashes cookies, web history, bookmarks too aggressively
Works for Windows only
Long wait time to get phone support
Bottom line
---
It's kind of unique about PC Tools Internet Security that the balance of performance and protection is now at the user's discretion. Like pretty much all tools out there with similar objectives and functionality, this one isn't perfect – it does have both advantages and drawbacks, the former probably outweighing the known flaws, in our humble opinion. Some of the things we found remarkable about this software are the new user interface, diverse feature set, ease of configuration, and high protection scores, though the guard might turn out a little excessive due to false positives. Basically, choosing PC Tools Internet Security gives you what you need to stay safe online.