RusVPN is worth its salt as it ensures online anonymity combined with decent connection speeds and effective features for accessing geo-restricted content.
Even if you don't work for the government or a three-letter agency, preventing third parties from snooping on your Internet sessions is becoming a top priority these days. Virtual private network (VPN) is the silver bullet that bridges the gap by anonymizing your entire web traffic.
Want to conceal your real IP address from prying eyes? At your wit's end looking for an effective way to prevent tech giants such as Google and Facebook from attributing your online activities to you and then chasing you around with ads? Eager to steer clear of the notorious government surveillance? Believe it or not, it's all easy as long as you're using one of these services.
RusVPN is an app that claims to do the trick. Although it's a relatively new service, it has matured into an ambitious and growingly popular player in its niche. Boasting a network of close to 400 servers distributed across more than 50 countries (and the numbers are growing), it is a multiplatform solution with versions tailor-made to support Windows, macOS, Linux, Android, and iOS. Plus, it's got free Chrome and Firefox extensions in its portfolio and works seamlessly on routers.
One of the pillars of RusVPN's marketing boils down to website unblocking perks. With the world's top streaming media services and social networks being increasingly picky about places they can be accessed, this tool purports to eliminate the restrictions. The product additionally promises high connection speeds and torrenting functionality with no strings attached.
These bells and whistles are warmly received, no doubt. But, does RusVPN carry through with all these commendable claims in practice? In this review, we will try to figure out by scrutinizing this product from several different angles.

System Requirements
---
Operating System:
Windows (XP / Vista / 7 / 8 / 10)
Linux
Apple macOS Sierra, macOS High Sierra, macOS Mojave, macOS Catalina
Apple iOS
Android
Hardware:
At least 60.7 MB free disk space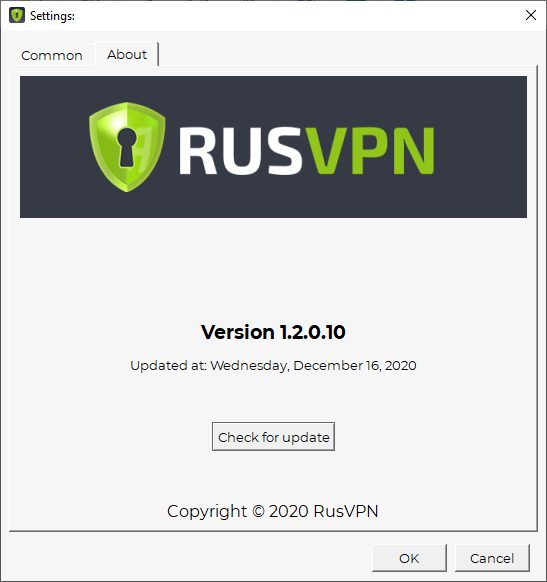 Usability
---
Installing RusVPN is a no-brainer. It takes literally a minute and a few clicks to be completed. Select your preferred language (English, French, German, Spanish, or Russian), specify the file path, decide whether you want the installer to create Start Menu and desktop shortcuts – and you're done. Keep in mind, though, that you'll need to restart your computer as part of the setup.
The process is laced with a pop-up dialog that alerts you to the installation of an extra component called TAP-Windows Provider V9 for RusVPN network by Atrix Group, Ltd. The company is a UK-based payment processor for the VPN provider being reviewed. The operating system asks you whether or not to trust this module. In fact, this is nothing out of the ordinary as we've seen similar alerts with other virtual private network tools across the board, so it's safe to opt in and proceed.
One of the important things that constitute the preliminary decision-making is the subscription plan that you find the most suitable. As previously mentioned, the Chrome and Firefox extensions are free to use. The mobile apps for Android and iOS offer a free seven-day trial.
If you're up to using the RusVPN client on a computer or another device beyond the trial period, the price is $9.99 per month. In case you choose to buy a one-year subscription, the monthly fee is as low as $4.99 and it goes down to $2.99 per month if a three-year plan is your pick. In other words, the longer your subscription the more you save. To the vendor's credit, your purchase is secured by a 30-day money-back guarantee.
Now to the user interface. It looks clean and has a minimalist design making it hugely intuitive. There is a connection status indicator at the top; your current IP along with the simulated country; a server selection button that brings up a list of 53 locations and reflects the current server load next to each entry; and a green Connect button that turns into a red Disconnect element when your VPN connection is active.
A gear icon at the top right triggers the settings screen when clicked. It contains two tabs called "Common" and "About". The former includes the following sections: Autoload, Network Killswitch, Account, and Language. Advanced users may find these customizations meager, but they are definitely enough for your average layman. The "About" tab displays the current app version and provides an option to check for an update.
The connection speeds get a hit when you switch to a server other than your real one, but this is the norm in the VPN ecosystem overall. Furthermore, while the ping would increase up to 10 times when we connected to a recommended server in Canada, the decrease in speed wasn't nearly as tangible. It never exceeded 20% of what we could squeeze out of the current connection.
By the way, the Windows client was upgraded from version 1.1.0.20 to version 1.2.0.10 during our test. This introduced a conspicuous overhaul of the GUI, which became larger and the shape of the buttons changed from rectangular to roundish. From where we stand, the new curvature of the elements makes the tool more eye-catching. More importantly, the step forward indicates that the provider (Iron Media Group Ltd.) is investing in improving the product and aligning it with the industry trends.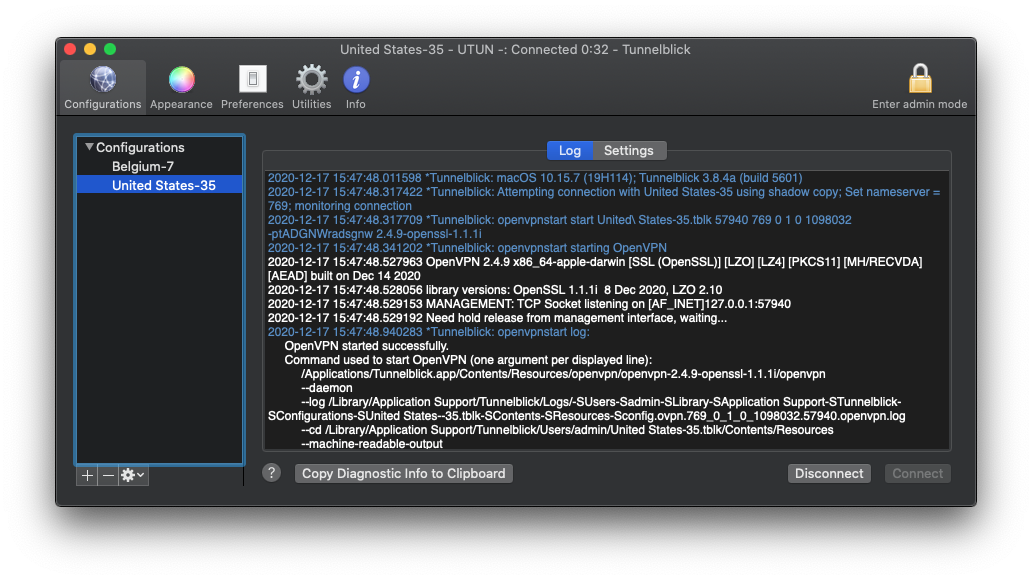 For instance, you need to install configuration files for each server you select. Honestly, it wasn't that easy, and the not-so-tech-savvy users might have a hard time establishing a VPN connection this way. Hopefully, the publisher will make their service for macOS more user-friendly down the line.
One more thing worth mentioning in this context is that the publisher's website says that the newest supported operating system version is macOS Mojave. Well, we managed to launch it on the more recent macOS Catalina, so the dedicated page could use some refreshing.
Features
---
Although RusVPN doesn't come with a bevy of preferences to toggle, its built-in feature set strikes a balance between superfluous complexity and efficiency. The following key functionalities make it a product worth giving a shot.
Online anonymity. Once you run RusVPN, your real IP and DNS details are reliably obfuscated from remote observers. This gives you peace of mind when it comes to thwarting all types of surveillance, the harvesting of personally identifiable data (PID), and obnoxious ad targeting.
Data encryption. Once you run RusVPN, your real IP and DNS details are reliably obfuscated from remote observers. This gives you peace of mind when it comes to thwarting all types of surveillance, the harvesting of personally identifiable data (PID), and obnoxious ad targeting.
Accessing geo-restricted services. With RusVPN up and running, you can enjoy using Netflix, HBO Go, YouTube, Spotify, Amazon, Facebook, Instagram, Twitter, LinkedIn, Reddit, NBC, CBC Television, and more, if any of these services are off-limits in your region.
Safe torrenting. Downloading torrents from your actual IP is at odds with proper privacy hygiene because it can be a source for data leaks. RusVPN keeps you on the safe side by emulating another server, which prevents your activities from being attributed to you.
Avoiding price discrimination. It is common knowledge that some online services treat their customers differently based on their location. This isn't only about censorship – it's also about unfair charges when you're booking a hotel room or purchasing an airline ticket. By selecting a server in another country, you can easily get around this double-standard approach.
Multiple device types supported. Like we already mentioned, this service is cross-platform and can be used on a PC, a Mac, a computer with Linux onboard, an Android or iOS smartphone, or on a router. You can also install a Chrome or Firefox extension if you so desire. Furthermore, you can tie up to five devices to a single user account.
No logs. The fact that the RusVPN provider is based in the Commonwealth of Dominica means that it's not obliged to retain logs of user activities. Jurisdiction plays a role in this regard. The company is committed to going this route. The only data it collects and stores is related to service maintenance – this way, the publisher can address technical issues. According to their Privacy Policy, this includes "random name generation and internal IP address assignment" details that are erased every few hours.
Network kill switch. Safe virtual private networking practices are incomplete if there is no kill switch feature in place. RusVPN has this facet covered. When enabled, this component automatically terminates your Internet connection whenever the VPN is down for whatever reason.
Efficiency
---
A vast network of available servers combined with strong asymmetric encryption keeps your online activities safe when RusVPN is doing its thing. During our test, the connection speeds consistently remained at a decent level as we were switching between servers in different countries.
As a matter of fact, the decrease could hardly be noticed with the naked eye even when torrents were being downloaded. The tiny speed impact is undoubtedly one of the main advantages of this product. To the app's credit, streaming services work flawlessly as well.
Perhaps the only thing we didn't like, though, is that the network kill switch is disabled by default. If you don't delve into app preferences to adjust the service to your needs and turn on this feature, you run the risk of getting your Internet surfing data exposed to third parties when the VPN connection stops (which happens, unfortunately).
Help & Support
---
The RusVPN Windows app lacks built-in help elements such as a link you can click to open a knowledge base or something similar. The official website mentions 24/7 support, though. The linked-to page contains a form you'll need to fill out by entering your name, email address, and your question. You can as well send a message to support@rusvpn.com.
With only a few available options, the silver lining is that the support agents are quick to reply. Plus, a handful of articles on the vendor's site that cover different areas of the product will help you step up your privacy awareness and facilitate the user experience.
+/- (Pros / Cons)
---
Amazingly easy to use
Decent connection speeds
A slew of servers to choose from
Unblocks geo-restricted services as promised
Supports torrenting
Reliable data encryption
Runs on different devices, including routers
Inexpensive annual and three-year subscription
Kill switch is disabled by default
Crude macOS version
Very few customization options
Bottom Line
---
By and large, RusVPN follows through with all of its claims. It anonymizes your web traffic and lifts location-based content restrictions while boasting unparalleled ease of use. Some may argue that its GUI is plain or that it lacks flexibility in terms of advanced settings, but a VPN tool doesn't have to be complex to work seamlessly. Most importantly, with RusVPN standing sentinel over your online activities, you can rest assured that no one is eavesdropping on your traffic and online communications. This sense of confidence can really make your day.