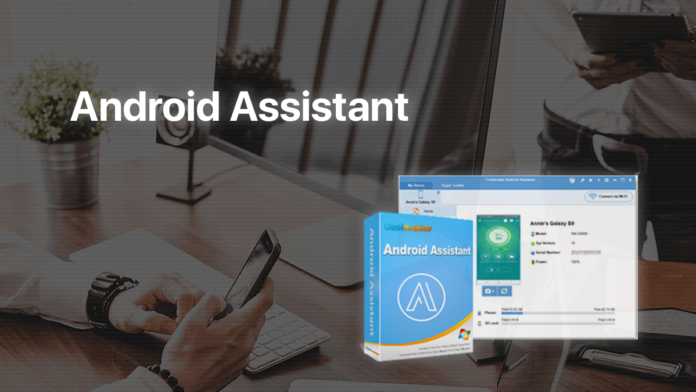 Coolmuster Android Assistant is a handy all-in-one tool to manage your smartphone data, contacts, text messages, and many more device areas using a PC.
Intro
---
Just like any electronic device, your Android smartphone is prone to malfunctions. Hardware errors, buggy software updates, and mobile malware can affect your experience when you least expect it. Furthermore, since we all store a plethora of personal photos, videos, and documents on these devices, day-to-day data management and file transfers can be challenging. Another hugely important facet of mobile hygiene comes down to maintaining backups that ensure the intactness of valuable information if disaster strikes.
You can go the extra mile keeping your personal mobile ecosystem tidy in the old-school manual way, or there is a great alternative that replaces tapping with clicking and adds an extra layer of protection to your data. Taking this shortcut is a breeze as long as you use Coolmuster Android Assistant, a lightweight app you can install on a Windows computer and manage your smartphone via an intuitive dashboard.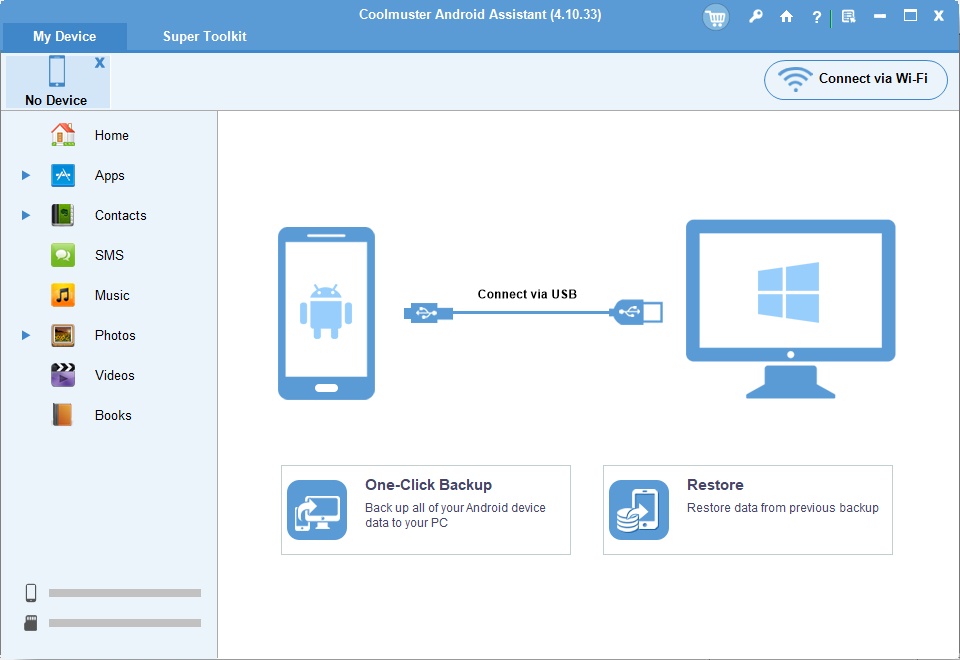 In a nutshell, this tool allows you to view the whole inner world of your mobile gadget and administer it using the mouse and keyboard. You can easily transfer contacts, call logs, SMS, videos, audio files, and images between the two connected devices; compose and reply to text messages on your PC; and complete an otherwise tedious backup routine with minimum effort.
Whereas you can do all that without third-party software, Coolmuster Android Assistant makes the process much faster and more convenient. Let's zoom into this app's features and overall efficiency to figure out if it's worth its salt.
System Requirements
Operating System:
Windows 10/8/7/Vista/XP/2003
Minimum Hardware Specifications:
500 MHz CPU
256 MB RAM
15 MB disk space
Usability
---
Installing Coolmuster Android Assistant on your PC is a matter of a few clicks. Things get a little more complicated, though, once you get down to establishing a connection between the computer and your smartphone. There are two options to do it: via USB or Wi-Fi. Neither one is a plug-and-play type of thing. If the former is your pick, you will have to put yourself in a developer's shoes and dig through your mobile device settings to allow USB debugging.
If you have no idea how to do it, we were in the same boat before implementing this procedure. It turns out you need to open "Settings", proceed to "About phone", select "Software information", tap "Build number" seven times, and slide the USB debugging toggle to the "On" position. Then, a corresponding request pops up on your smartphone and you must allow access to device data.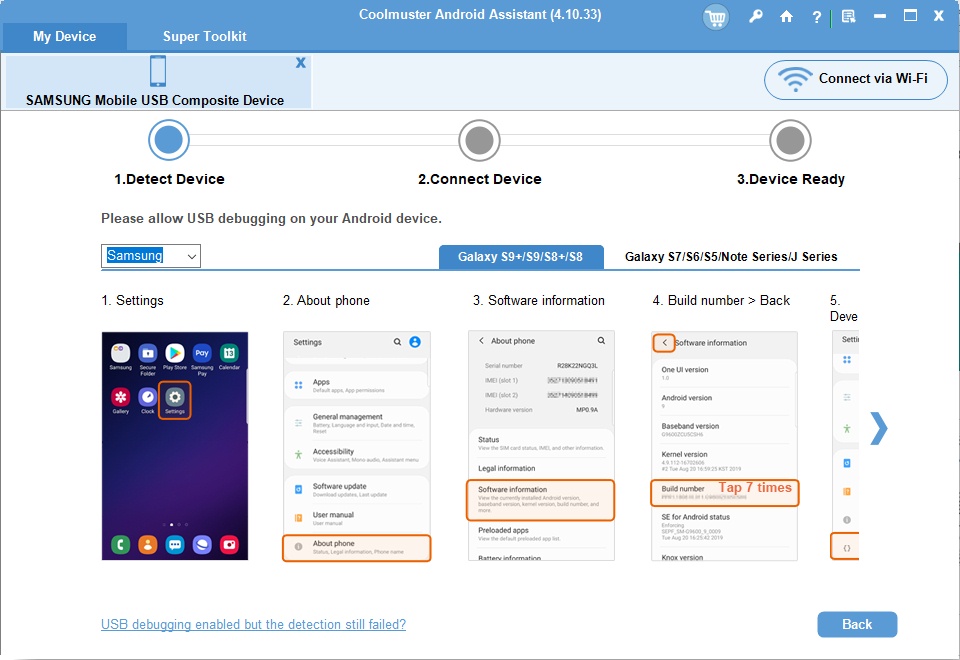 To set up a connection wirelessly, you'll need to download the Android app from a.coolmuster.com, install and run it, and then scan the QR code provided on the PC app. From where we stand, the Wi-Fi method seems a little less cumbersome while delivering the same result at the end of the day.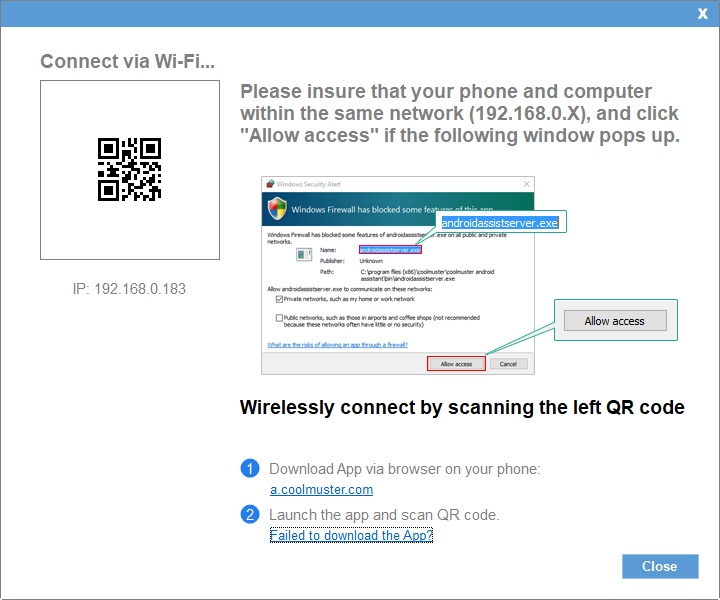 Now that your PC and Android smartphone work in tandem, you will see the home screen that shows the snapshot of what's currently on the phone's display and reflects essential details such as the device name, platform version, serial number, current battery level, as well as the amount of free built-in and removable SD card disk space.
The left-hand sidebar encompasses the entirety of device areas you can manage from your PC. These include your apps, contacts, call logs, SMS, music, photos (split by camera and library), videos, and books. Each entry shows the number of respective items next to it.
Whereas the desktop program accommodates a good deal of useful controls, we find the Android app kind of rudimentary. It doesn't provide any features that aren't already present in the file management tool the device is equipped with out of the box. But, it's probably required for seamless interoperability between your PC and your phone.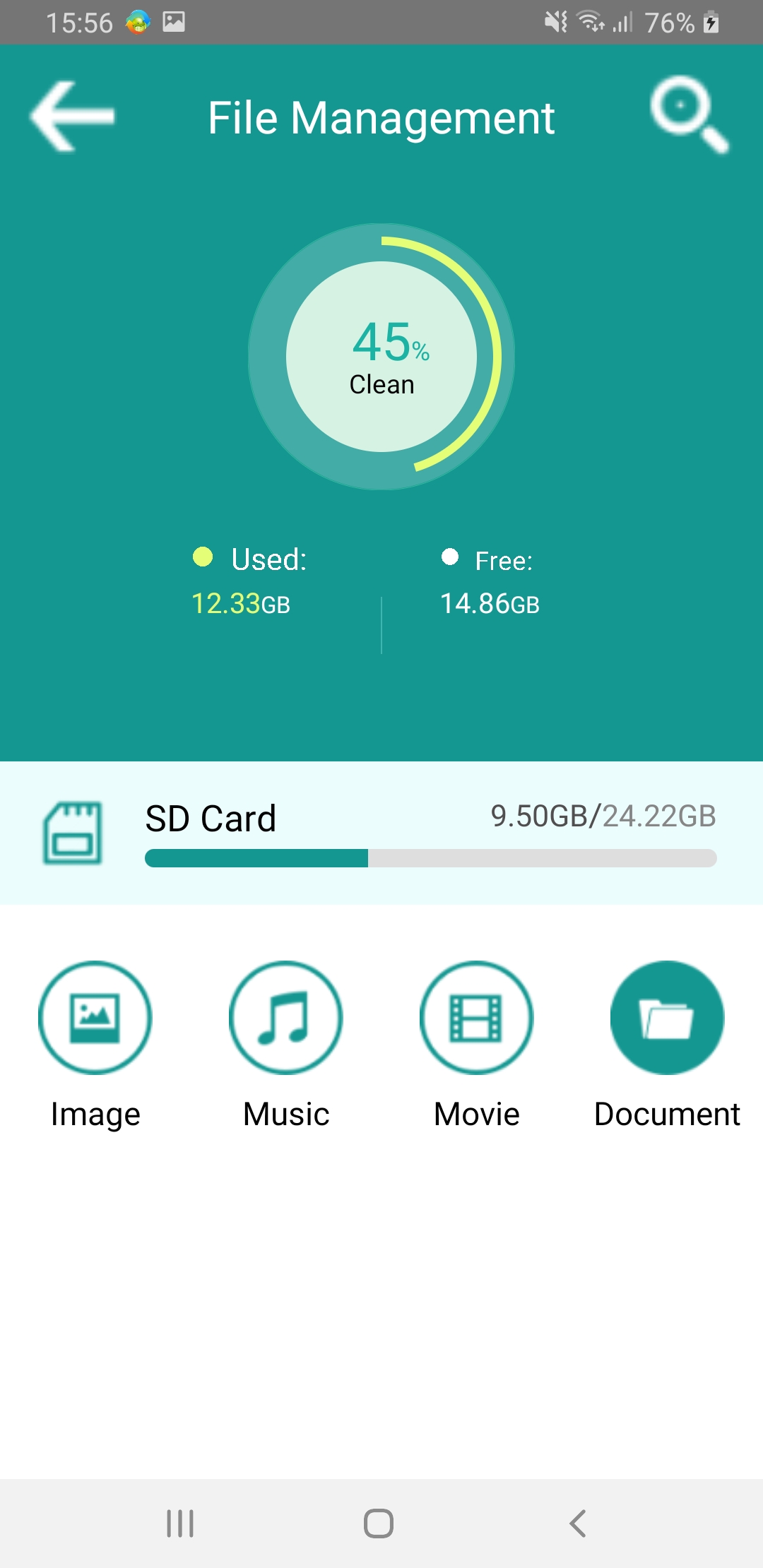 When it comes to licensing, everything is pretty straightforward. You can opt for an annual subscription worth $29.95 for one PC ($39.95 for up to five PCs), or choose a lifetime license that costs $39.95 for one computer. The functionality of the free trial is limited to a scan and preview feature only.
Overall, everything works smoothly and the solution carries through with the publisher's claims. It is easy to use and brings enough visualization to help you make informed decisions when transferring data and make the most of the functionality under its hood.
Features
---
The Android management capabilities of Coolmuster Android Assistant suffice to create and maintain backups and keep your device clean on the inside. That said, here are the highlights of its key features:
One-click backup. The hardest part of backing up your smartphone is all about selecting the most important files and transferring them to another storage medium. If done manually, this workflow is time-consuming and tiresome. Coolmuster Android Assistant bridges the gap by providing an effective instrument allowing you to navigate to different directories, view your files and media, and export specific items to your computer with a single click of a mouse. Restoring data from a backup you made earlier is a piece of cake, too.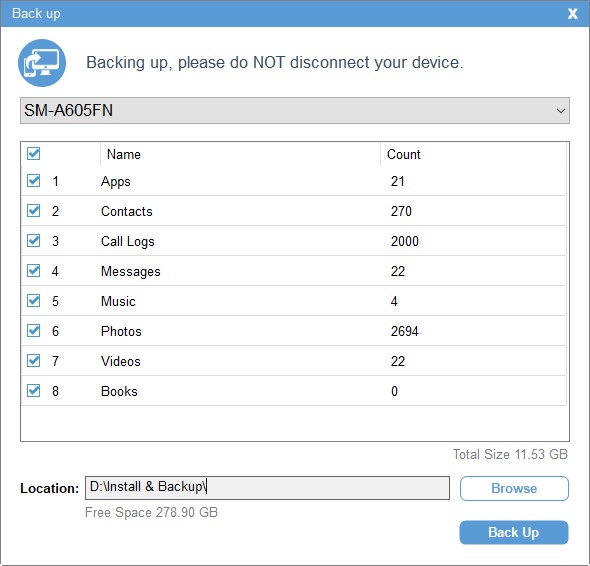 Contacts management. Not only can you use this app to back up your current contacts, but you can also create, delete, and edit them in one place. This functionality also makes it easy to pinpoint and purge duplicate contacts.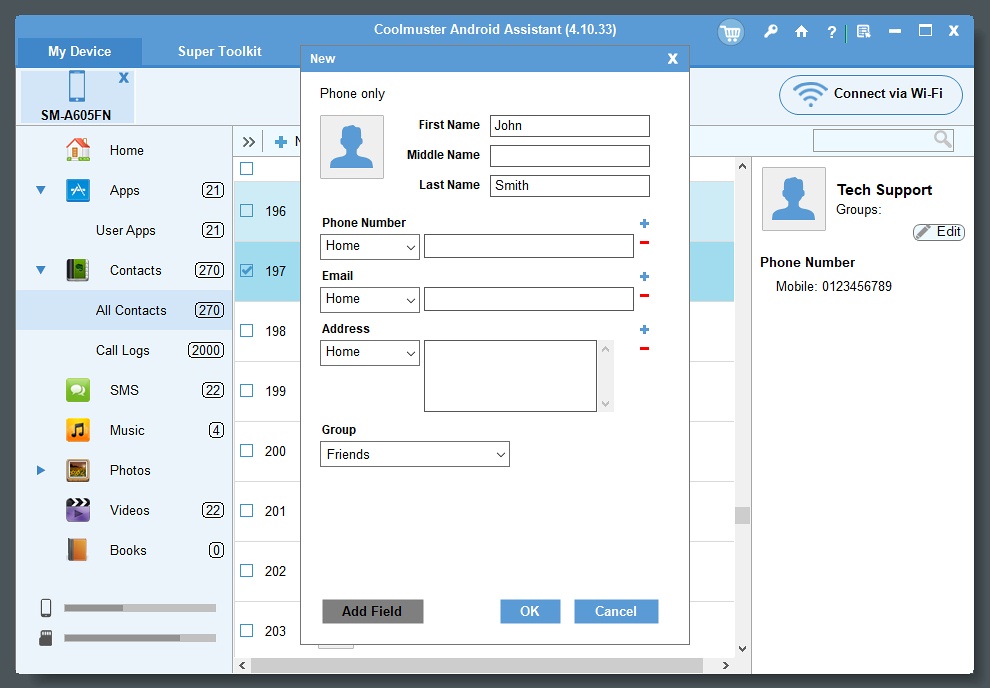 Installing and removing apps. Coolmuster software facilitates your app administering routine via an intuitive screen where you can select an arbitrary app and uninstall it or export it to your computer. One of the cool things is that the interface lists the version, size, and location of every app you have on your smartphone. Plus, you can install new ones using the same pane.
Sending SMS. This one is self-explanatory: you can send text messages and reply to incoming SMS on your PC. That's a fairly practical thing because it's easier to type on your physical keyboard than on a sensor-screen counterpart. Furthermore, this is a godsend if you do group text messaging regularly.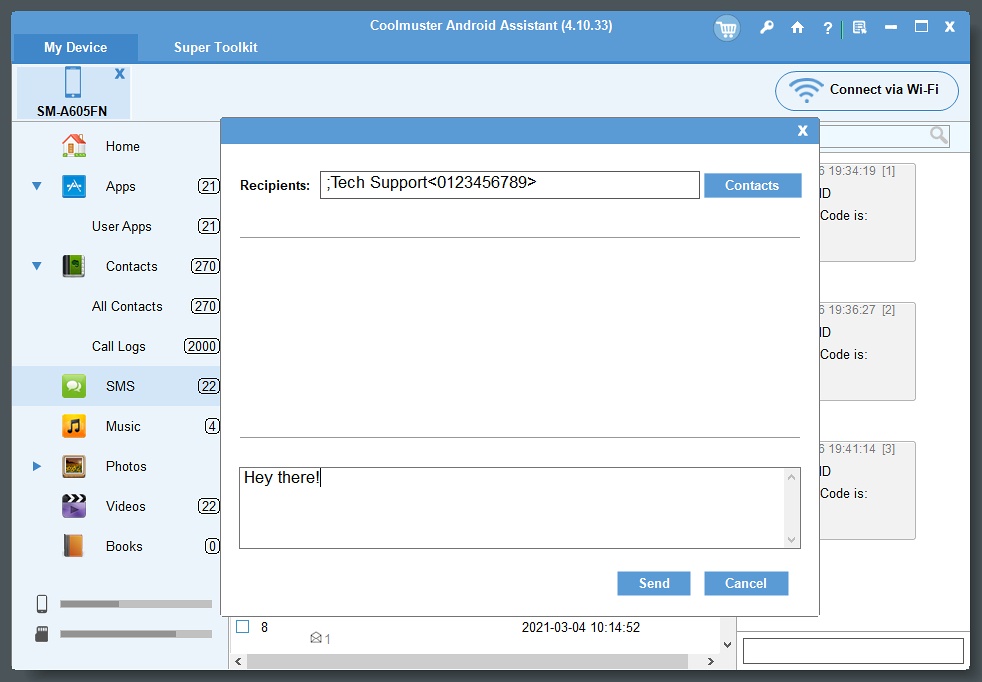 Call logs management. No matter how skeptical you might be about this feature, you'll be surprised how convenient it is to manage Android call logs on a PC. A bigger screen makes a difference because more entries fit in the visible area so that you can scroll down and import, export or clean your logs in a snap. This can step up your time efficiency considerably.
Help & Support
---
The easiest way to find relevant product tutorials or get technical assistance is to click the in-app "Settings" icon in the upper toolbar and select "Support Center" in the drop-down menu. Doing so will open the help portal that provides, among other things, informative FAQs broken down by sales, refunds, and common app issues. You'll additionally find step-by-step online guides with useful illustrations there.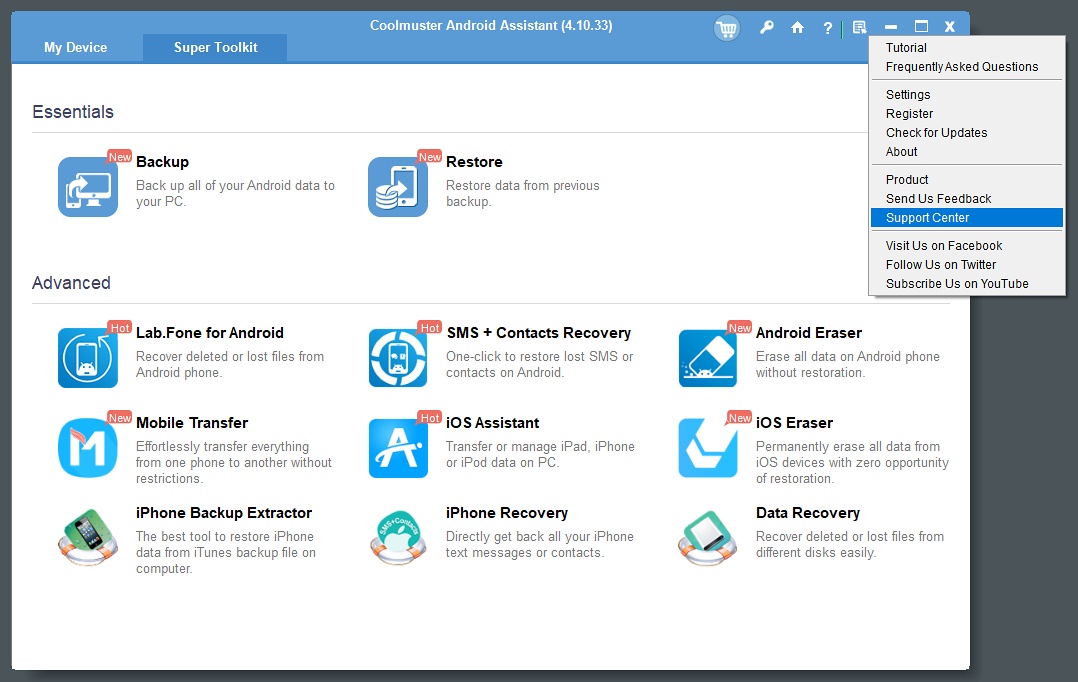 If none of these self-help options addresses your problem or inquiry, you can contact the customer service or marketing department directly – the corresponding email addresses are listed on the "Contact Us" page. You should receive a response within one business day.
+/- (Pros / Cons)
---
Incredibly easy backup and recovery of Android data
Streamlined user interface
Low system footprint
Connection via Wi-Fi available
Speedy importing and exporting of files regardless of size
Comprehensive self-help materials
Affordable, especially the lifetime license
Connecting a smartphone is confusing unless you are tech-savvy
Android app's functionality could use improvement
Bottom Line
---
Coolmuster Android Assistant offers a sure-shot and simple way to back up and restore your Android smartphone data while providing a handful of nifty device management tools. It is your plan B if data goes missing due to hardware failure or accidental removal. At the same time, it can become your daily driver for regular device maintenance and cleanup to help you stay organized.