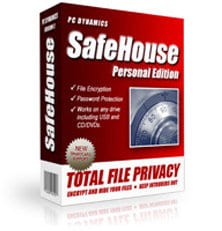 Whereas data encryption used to be the prerogative of secret services and the people who attempted to escape prosecution, it's now become valuable to a broad consumer audience dealing with computers and networks – due to the steady growth of privacy-infringing trends and malware created to steal personal data and further exploit it in different ways. It no longer suffices to just password-protect or apply the 'Hide' feature to the files you don't want anyone to see and get hold of, so this is ongoing tendency is indeed all about defsense of your identity and the whole operating system from encroachments on sensitive material inside.
A fairly reliable program to complete such assignments is SafeHouse Personal Edition by PC Dynamics, Inc. It confers high-level privacy to the stuff stored inside your machine's memory using reliable methods of encryption. This utility is compatible with Windows and appears to be totally light on the workstation's performance while running. At the same time, this product fulfils its tasks efficiently owing to the military-strength, hard-to-crack 256-bit Twofish Encryption algorithm, which basically excludes the possibilities of anybody trespassing on your sensitive data. This is a simple and safe way to ensure one's privacy both on desktop and any portable computer (laptop and tablet). The piece of software being reviewed maintains secured archives containing documents, pictures, videos etc. on hard drives, or external ones such as USB, CD or DVD, which is convenient for those who prefer keeping their private information in several separate locations. Furthermore, intuitive and user-friendly interface allows understanding how to use the product within minutes and to some extent eases and facilitates the process of communication between the user and SafeHouse Personal Edition app.
This utility is meant for individual use and supplies a sufficient degree of protection for home users. The price of $29.99, compared with the set of features embedded which we will review below, looks completely adequate and reasonable.
System Requirements
---
Operating System:
Microsoft Windows XP / Vista / 7 (32 or 64 bits)
Usability
---
Before we start off here, it's perhaps a good idea to outline that the product has a 30-day trial, the corresponding 8.4 MB distributive being available on www.safehousesoftware.com which is the vendor's website. The trial version is pretty much no different from the commercial build in terms of functionality, but for restricted password strength (no more than three characters). Should you decide to purchase SafeHouse Personal Edition from the start or after the trial period expires, you can easily do this – all it takes to complete the transaction is permanent Internet connection. The install procedure involves the typical routine such as unpacking the received setup file and initializing the installation proper, accepting the terms of the Licence Agreement and setting some initial supplementary options. This additional configuration includes defining the target folder and entering the master password for accessing the application. Generally, this step shouldn't bring about any complications at all – it's fast and easy to comprehend.
This being done, it's time for some adjustments to make. Remember – this is a utility to secure your identity and personal files, so it's required to first choose what files to protect and set the appropriate password and protection level. The program is based on the principle of using so-called 'volumes' which are virtual vaults you can create and store your sensitive objects in there. The user can manually choose whether to place a particular file into this protected drive or not, replace any piece of information with a more up-to-date one or simply delete all the useless stuff without the risk of further data recovery. Naturally, accessing these volumes is only feasible upon entering the passwords you had pre-defined. Password strength is evaluated by a meter prompting you how good and reliable it is.
As to the load on resources, SafeHouse Personal Edition runs silently on the background and therefore stays pretty much unnoticed while doing its job. We consider this more than moderate resource consumption to be one of the main advantages of this tool as you won't have to get your PC dispersing its capacity while executing other essential processes such as antivirus software, antispyware etc. – so there's no need to sacrifice anything here.
The interface is another undoubted virtue. We find it really intuitive and quite comprehensive, so coping with it is a trifle for pretty much anyone regardless of the tech expertise level. Whereas it's got no particularly fancy graphics, everything is in its place and easily accessible. This simplicity apparently reflects the vendor's focus on individual users who appreciate transparency and ease of use.
Features
---
The features this product is equipped with provide the entirety of capabilities the average home user needs for identity protection. In this part of our review, we will focus on the most prominent ones and explain how they work.
SafeHouse Personal Edition provides encryption of files of multiple types, supporting any kind of data and Windows applications. It is capable of securely storing and protecting even files of unknown origin or extension. So you can create a volume with your favourite music, important business documentation etc. and protect it with a reliable password – pretty easy, convenient and reliable, indeed.
The use of 256-bit Twofish advanced encryption means your personal information will be protected with military-level efficiency.
There is no restriction on the number of storage volumes you can create. Furthermore, each one of those can be made as big as you wish – up to 2.000 Gigabytes. It is well enough to save any archive or file, even an extra-large one. Your movies, music, important documents, mail etc. – everything will fit in.
Tray icon mode allows managing SafeHouse Personal Edition within one click. While being minimized to a little icon, it remains 'silent' and doesn't bother you or interfere with your work, at the same time enabling you to access your protected files immediately. Need to secure a file you've just bumped into? No problem, simply open the main window from the system tray tag and add it to the selected volume.
'Activity monitor' feature automatically suspends access to files you've forgotten to close, or discontinued using and left open. This is another measure to protect your personal information and identity from cyber criminals' encroachments. To go back and start using these inactive windows, you should simply re-open the needed file and enter the appropriate password.
SafeHouse Personal Edition is a great tool to encrypt data on external drives as it accommodates the feature to protect the information stored on USB memory sticks and other portable media.
'Virtual smartcard' property is intended to help you manage the passwords for the previously added volumes, allowing you to create a pin- or password-protected file on USB flash drive with the list of passwords to all of your vaults. This feature remembers the serial number of your memory stick to provide additional anti-copy measures.
It's obvious that the product we've tested is multifunctional and reliable. It performs its functions without any lags or freezes, so the one thing we dare assure you of is that it will work properly while protecting your identity.
Efficiency
---
We'll start from the end here perhaps: there's no use arguing about SafeHouse Personal Edition's effectiveness as is it undoubtedly on a remarkably high level for a utility which is meant for private use. Like we briefly outlined earlier, the product employs 256-bit Twofish Encryption, which basically means users' data is secured with sufficient degree of reliability. The personal files and folders that you wish to keep away from everyone else's access (hence safe) is to be moved to storage vaults inside the machine, called 'volumes' – now, these locations get encrypted applying the above-mentioned standard. So the idea is obviously simple, moreover – it works flawlessly in terms of efficiency. Each volume you create is password-protected. For the password to be strong enough, the software accommodates a meter to advise you on strength of the desired symbols and characters. Therefore, even privacy infringing endeavours such as dictionary attacks aren't something to worry about. Effectiveness of this application is enhanced by the feature set that allows customizing things and making it easier to use the potential being offered. And yet, some of the drawbacks in this context that we noticed are as follows: the app won't let you restore forgotten passwords; also, it does lack some capabilities for advanced users. While the latter might be justified by the fact SafeHouse Personal Edition is targeting individual user base, so there's no need for overly sophisticated stuff to be embedded in it; the former disadvantage is kind of frustrating, therefore if you failed to make use of the 'Virtual smartcard' feature, you might be in trouble with your passwords.
Help & Support
---
Support policy can barely be considered this software's forte. On the one hand, the vendor does offer some self-help opportunities, such as User Manual which includes setup instructions and the common troubleshooting data. The knowledgebase is complemented by FAQs and video tutorials. That's on the plus side of it. However, when it comes to personal support, you appear to be bound to email only – there's no live online chat or telephone support available. This fact looks pretty embarrassing to us; it's nowadays a rare thing to encounter when a service supplier provides no immediate help options to its clients. We believe the company has got a substantial customer service shift to implement. And yet, if your issue isn't urgent you should be fine.
+/- (Pros/Cons)
---
Strong 256-bit Twofish Encryption
Allows creating an unlimited number of secure storage volumes
Light on system resources
Easy-to-use
System tray icon mode available
Remarkable USB features (virtual smartcard, USB data encryption)
Reasonable cost
Limited support options
Won't allow recovering forgotten passwords
Compatible with Windows only
Bottom line
---
Despite some weak points such as restricted support opportunities and password recovery complications, SafeHouse Personal Edition generally appears to be a nearly perfect match for the average home user's needs. The military-strength encryption standard being employed even seems to kind of contrast with the stunning simplicity this software is all about. Seriously, it takes literally minutes to figure out how to use this tool, which is a bit uncommon for apps of this sort. The interface boasts a robust and really logical structure, and the features are quite enough to give you the agreeable extent of identity protection power. Furthermore, the program is no burden to system productivity. We therefore recommend SafeHouse Personal Edition as simple and efficient encryption software for personal use.