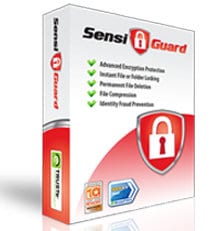 SensiGuard by Florida based WebMinds, Inc. is encryption software delivering a decent scope of data protection from shoulder surfers and consequences of unauthorized computer access. Most users are accustomed to associating the concept of privacy guard or information security with the largely prevalent antivirus, antispyware or Internet security suites, while encryption utilities are still remaining sort of outside the conventional focus of the collective mind.
So why encrypt data? How is this going to help you maintain your privacy? The answer lies entirely in the value of your information, so it depends. If it's some movies, games, non-private documents or other trivial things you store on your machine for entertainment or routine use – do not bother getting yourself encryption software. However, as long as you keep personal stuff on your PC whose retrieval by third parties might turn out devastating for your reputation, private life or business – be sure to consider using a program like SensiGuard. Not only can it reliably encode and lock the files inside your HDD, it also makes sensitive items on USB flash drives inaccessible to others, compresses encrypted files, helps secure your passwords, provides on-demand file shredding beyond recovery, and does a few more things aiding you to stay safe. Protection efficiency is guaranteed by the broadly recognized 256-bit AES encryption which is a proven standard used by industry leaders and governments. Along with this, SensiGuard is actually quite easy to understand and use – in any case, the contrast by the usability criterion is tangible indeed as compared to other similar apps out there.
With the variety of competing products on the market, SensiGuard is considered by some to be mediocre encryption software overall. What is this: a groundless stereotype, misinterpretation of simplicity which is mistaken for lack of protection, false accusation, or something else? We are going to try figuring this out by testing the program according to the pattern that we have elaborated.
System Requirements
---
Operating System:
Microsoft Windows 2000 / XP / Vista / 7
Hardware:
At least 6.5 Mb free on hard drive
Usability
---
Both installation and use of SensiGuard are remarkably simple and intuitive. Setup process involves triggering a binary file of 7.2 MB, which leads to the Setup Wizard. Just select the destination folder, make sure you have enough free space on there (6.5 Mb or more), and complete the procedure by doing what the application prompts. It took us about a minute to install the program.
The setup being completed, there are a few things you need to do from the start. First off, click the SensiGuard icon on your desktop to launch the Wizard which will guide you through configuring the utility and setting the critical security parameters. As part of this preliminary configuration, you are required to provide answers to 3 security questions that you can select out of the set of pre-defined ones on the drop-down list – so that you can further recover your password in case you ever forget it. The password is your key to the critical tasks, such as locking, unlocking or shredding files. While setting it up, the program displays a visual indicator telling you how strong the combination is. Now that this has been done, you are good to go.
The user interface is straightforward, resembling the Windows Explorer navigation style in a way, which really facilitates the process of spotting the items to be processed. Once you've located the targeted file, just go ahead and select it right there inside the GUI, then click the 'Lock Selected File' button on the top navigation panel – and you're done, the file is now locked so that no one but you can access its contents. Same applies to locking entire folders. The reverse process of decrypting items is just as easy: simply choose the file(s) or folder and click the 'Unlock Selected File' option. The process of shredding, i.e. completely deleting files beyond recovery, is available through 'Shred Selected File' feature. Encrypting, decrypting and shredding things is also doable through the context menu prompts showing up when you right-click files or folders on your computer, the only difference being you are required to enter your password every single time for the transaction to be completed.
To lock the contents of a USB drive, double-click on the 'SensiGuard USB Vault' Desktop icon, select the right drive from the list, and set up a password for the USB Vault. This being done, you will see the Vault inside the memory stick that's plugged into the corresponding drive. What you need to do next is click on this icon and type in the pre-assigned password. Finally, to encrypt the files that you are copying or moving to your flash drive, just drag and drop them into the Vault window.
Overall, the program performs really fast and appears to fulfill the assigned tasks flawlessly. The interface is easy to navigate; the main transactions are not abundant, yet perfectly intuitive; and the influence on system resources is something you will barely notice.
Features
---
SensiGuard sticks strictly to locking, unlocking and shredding data, not expanding its capabilities over to other security areas. Whereas some competitors tend to utilize additional options like stealth mode, online backup or professional password management, this product stays more down-to-earth, yet does provide the essentials of information safety within the declared competence.
Advanced Encryption Protection consists in the use of the generally accepted 256-bit AES encryption which proved to be reliable and trouble-free. While we didn't manage to verify this as the standard is not mentioned anywhere in the software itself, the vendor states it's being applied. Provided that it's true, SensiGuard protects your files the right way, making them unavailable for others to access owing to strong encryption.
Instant File or Folder Locking – this feature means that regardless of the item you are going to encrypt (be it an individual file or a directory with all of its contents), you are just a click away from the goal, once you've located the right object. Indeed, doing this with this software is made as simple as ABC.
Permanent File Deletion option merges the area of SensiGuard's direct encryption goals with something Windows cannot fully provide, i.e. complete data wiping. This feature enables irreversibly erasing selected files with no further recovery possibilities. Please be really careful with this as not even forensic tools with be able to get thus deleted items back. Unlike encryption, shredding won't leave you options for retrieving the wiped files in any form.
Flash Drive Safety makes it easy to safely transfer your files by creating the above-mentioned 'SensiGuard USB Vaults' on flash memory sticks (see Usability section). Furthermore, it's really convenient to be able to decrypt these files on another computer regardless of whether it has SensiGuard installed on it or not. With this feature in store, you needn't worry about misplaced, lost or stolen flash memory – it's totally unrevealing for any third parties without the password that only you know. It's also great to know the USB feature is free of charge, and you can continue using it even after the evaluation copy of the main software expires.
We are afraid Password Management is something SensiGuard barely provides. You see, the way this software is supposedly useful for this is the option to type usernames and passwords in a separate document, and then encrypt it via the 'Lock Selected File' feature. Now, what does this have to do with password management? We are not sure. The best practices in this niche include remembering, automatic storing and entering user credentials apart from simply storing them in some secure location. We'd rather call this feature something like 'Locking a file containing usernames and passwords'. In any case, the software does not appear to have a standalone feature for this, although it is listed by the vendor as one of the supplied functionalities.
It's obvious some of the competing products are more functional, yet quite a bit more complex to use. Unlike Folder Lock application that we reviewed earlier, SensiGuard does not have the online backup service, the electronic wallets feature, CD protection or stealth mode. As compared to SafeHouse Personal Edition software, you don't get the Activity Monitor here which adds value to privacy infringement countermeasures. Therefore, while privacy-oriented beginners should appreciate SensiGuard's simplicity, the features accommodated in this software are likely to be insufficient for advanced users.
Efficiency
---
In terms of data encryption reliability, the software matches the industry standards by employing the 256-bit AES encryption which, FYI, has been approved by U.S. Government for dealing with confidential digital information. Besides locking and unlocking files or folders, SensiGuard is fit to shred items by utilizing data overwriting algorithm to make sure none of the completely deleted objects get recovered afterwards. One of the things to keep in mind is that the time required for data processing within the covered tasks varies depending on the size of the file or folder, so you might notice the software get slow when handling large bulks of information. We didn't spot any issues creating and using USB Vaults, this is a truly handy feature that adds ubiquity to your data safety.
Help & Support
---
There is plenty of product use information available on www.sensiguard.com which is the official website for the software: tutorial videos, User Manual, User Guide and FAQ section. Additionally, you can join the Feedback forum linked to from the support page, submit a support ticket, or shoot an email describing your issue or inquiry. Unfortunately, we found no telephone number or link to online chat on the vendor's website.
+/- (Pros/Cons)
---
Very easy to use
Great pick for non-professional users
Reliable 256-bit AES encryption
Context menu option
File shredding available
Scarce feature set for professionals
Password management declared but barely provided
Limited tech support options
Bottom line
---
Unless you are an IT security guru with higher-than-average demands, SensiGuard will keep you on the safe side by guarding your data on a decent level. Utilizing 256-bit AES encryption and effective shredding techniques, the software eliminates the risks of third parties getting hold of your private files and documents. Overall, SensiGuard makes file protection easily manageable due to comprehensive controls and strong encryption. Despite the not so exuberant feature set and limited immediate support opportunities, it is overall a reliable tool for basic privacy assurance.