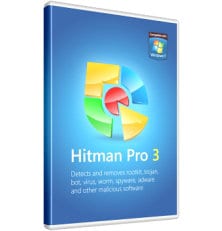 The seeming unpretentiousness that the Netherlands-based SurfRight software house made their famous HitmanPro utility exhibit is far from reflecting its actual malware extermination power. Initially developed in 2004 as a somewhat primitive script meant to assist the execution of other anti-spyware tools for subsequent cleanup of spyware-affected systems, HitmanPro has now evolved into a sophisticated cloud-based solution that helps detect and completely remove malicious code, such as Trojans, rootkits, spyware, ransomware, etc., where the other methods fail.
This tool is superfast, tiny in size, very light on system resources, and causes no conflicts with other security software. The latter characteristic sort of hints at the significant nuance of this application in that its recommended usage realm is alongside your regular antivirus, HitmanPro being sometimes your last chance remediation option – hence the slogan: "second opinion anti-malware". As mentioned above, the program's brainpower resides in the cloud, so it needn't really be installed in the regular sense: you simply execute it whenever a scan needs to be performed. The utility analyzes behavioral patterns of the processes running on your computer and compares those to the cloud data in real time, thus immediately and effectively figuring out whether they're safe, malicious, or unknown. If unknown, the file gets uploaded to the Scan Cloud for further analysis.
HitmanPro 3 is equipped with the Kickstart USB drive creation option, allowing you to install the software to systems that are completely blocked out, e.g. by ransomware.
System Requirements
---
Operating System:
Windows XP/2003/Vista/2008, Windows 7 and Windows 8 (32- and 64-bit)
Hardware:
400Mhz or faster Processor
At least 512 MB RAM
Usability
---
Before install, you are presented with the choice of the Windows bit-version you are running (32- or 64-bit). The setup itself turned out lightning-quick, and the next thing you know is HitmanPro's ready to scan. Again, this is explained by the fact that it's a cloud-based application, being powered by in-cloud technology partners – Bitdefender, Emsisoft and Kaspersky Lab. A 30-day trial license is available, where you can scan the PC and get detected threats removed without limitations.
The user interface may appear unordinary at first sight, but takes little time to study and get used to. The main screen provides only a few options: Buy Now, Settings, Create HitmanPro.Kickstart USB flash drive, and Scan proper. The one that expands into quite a few tabs is Settings, displaying multiple preferences and configuration options, such as creating a restore point before removing files, scanning for malware remnants, Potentially Unwanted Programs (PUPs), and tracking cookies, etc. Scan settings allow you to schedule system monitoring for malicious items and define the scan method used in these scheduled events. The History tab includes Quarantine and Logs for previous activity.
Overall, scanning with this utility won't have you sitting there and waiting long for the results at all. In our test, quick scan took 1 minute and 20 seconds, while full scan (marked as Default) was 3 minutes and 17 seconds long. Definitely great benchmarks for both.
Effect on system performance is perhaps the greatest minimum imaginable: we encountered no lags or freezes, moreover CPU consumption barely ever went up during scans. The main and obvious takeaway from HitmanPro 3 usability is that it's excellent by nearly all the relevant criteria, being extremely light, speedy and generally trouble-free. The only thing to note is that, conditioned by its in-the-cloud nature, the program is not quite like your standard security software, featuring a very reserved GUI and moderate user informativeness.
Features
---
This utility's feature set is restricted to the mere essentials necessary for system scanning, malware removal, and basic preferences. And yet, it's sufficient for recovery of your computer from virus infestation of pretty much any severity. Below is an overview of what you get with HitmanPro as your "second opinion anti-malware".
Behavioral Scan is intended to identify harmful objects inside your system. It works by the principle of analyzing files based on a variety of characteristics, including reputation-based patterns. The objects labeled 'unknown' get uploaded to the Scan Cloud to determine their true nature from a security standpoint.
Malware Removal assures thorough elimination of the malicious entities spotted on one's computer by utilizing a mix of various techniques. If a file is found to be insecure, it gets placed into quarantine and taken care of without false positives. The program effectively addresses the issue of legit processes being wrongfully labeled malicious, which is unfortunately a rather widespread scenario in the present-day antivirus world. The whitelisting methods utilized by HitmanPro reduce such probability to a minimum owing to an extensive database of legitimate files' hashes and other adjacent tactics.
HitmanPro.Kickstart USB Flash Drive makes it possible to handle the cyber infections that prevent user access to the system. For example, the Reveton Trojan powering the infamous FBI MoneyPak virus is known to display a block screen that won't allow the victim to run antivirus or attempt other cleanup measures. The Kickstart module helps a great deal in such cases, allowing you to actually access Windows and remove the malicious software. You create the drive on a healthy machine, plug the USB memory stick into the infected one and follow simple steps to get the job done.
Scan Scheduling is just about what it sounds like: it enables you to customize automatic system scans by configuring their preferred time and type.
Efficiency
---
Malware cleanup by HitmanPro is thorough and leaves barely any room for criticism. Notwithstanding all of its seeming simplicity on the outside, it succeeds in detecting malicious code fast and accurately; what is more, we found the app to identify the threats that other reputable security suites missed. We believe this effectiveness is largely due to a blend of detection engines from some of the renowned industry leaders such as Kaspersky Lab, Bitdefender and Emsisoft. HitmanPro turned out especially well capable of locating and removing rootkits which are known to obfuscate themselves in a masterly manner. A flaw that we noticed during the test is that the software spotted an installer for one of the malicious apps but failed to detect the corresponding malware proper. Overall though, this utility managed to find around 90% of the threats that had been pre-installed on our lab system, including even such relatively harmless objects as tracking cookies. That's a pretty good benchmark.
The Kickstart module deserves a special mention in this section. It helps where other methods don't appear to work, namely in the scenarios of infestation by the Reveton Trojan and similar aggressive viruses. This means combating ransomware is now a matter of a few simple steps involving the use of a clean USB drive and HitmanPro.Kickstart component.
Help & Support
---
The solution being reviewed produces an impression of pretty much failproof software, being easy to use and not conflicting with other installed applications. However, in the event of a problem that may occur, being able to apply for support is critical. What do we have in this regard here? Well, not much, to be honest. The interface does not appear to have a built-in help option, so you're only left with the vendor's website if assistance is needed. The Support section at www.hitmanpro.com/en-us/support-hmp encompasses some recommendations on addressing the problems and situations you are most likely to run into, such as product activation issues, automatic update failure, scanning multiple PCs on a business network, system recovery tips, etc. Another option is QuickSupport, allowing SurfRight to connect with your desktop in order to handle complicated scenarios – you get a link for downloading this tool onto your machine. Contacting tech support directly is available via email only, the address being support@hitmanpro.com. That's pretty much it for product help. There is no phone support, nor is there live chat with a Company representative. The PDF brochure on HitmanPro is far from providing exhaustive product details, while User Manual and FAQs for Kickstart are definitely more informative. Overall, many competing solutions feature much more extensive support.
+/- (Pros/Cons)
---
Fully functional 30-day trial
Very light and easy to use
Fast scan
Doesn't conflict with other software
Thorough behavioral detection
Effective malware cleanup
Kickstart module allows bypassing ransomware
Lacks live tech support options
Few features
Bottom line
---
SurfRight HitmanPro 3 is a splendid malware cleanup utility that works where others may fail. Integration of several anti-malware engines and the use of smart cloud technology enable it to exhibit excellent detection power. Owing to the Kickstart module, the software is capable of eradicating even the toughest malware that blocks user access to the operating system. Overall, HitmanPro is an optimal solution to use in tandem with your regular security software for maximum protection.