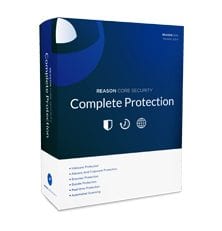 For a security solution to be efficient, it does not necessarily have to be heavyweight and feature-abundant. While some might disagree, the Reason Software Company Inc. team's experts are dedicated to proving protection against malicious software can be fast, feather-light and nonintrusive. The vendor's revolutionary "second opinion" antimalware tool dubbed Reason Core Security is primarily tailored to complement the defenses delivered by one's conventional AV, making the tandem at least twice as efficient at combatting random harmful code. In the meanwhile, we found the built-in real-time protection module, along with the on-demand and scheduled computer scan options, to be sufficient for ensuring the basic safety essentials even on their own.
To its credit, the program reflects some of the newer tendencies in the security realm. In particular, it incorporates a unique Bundle Protection feature, which addresses the main attack vector in the currently ubiquitous adware plagues. The issue of potentially unwanted browser extensions interfering with one's custom Internet settings to redirect web traffic and inject ads is covered as well. Another cool functionality is the cloud-based scans that aren't powered by lengthy signature updates. Thankfully, most of these features can be used for free on a constant basis. Read the review sections below to learn what Reason Core Security is like when scrutinized from a number of different angles.
System Requirements
---
Operating System:
Windows XP / Vista / 7 / 8 /10
Usability
---
The installation part is what shapes up quite a bit of the impression from software, and Reason Core Security didn't flunk this one. The stub installer, which is 3.7 MB large, does the setup job smoothly. It's basically a three-click experience before you get to the Finish button and launch the program. Interestingly, in the event a version of this application is already running on the system, the wizard will automatically update it. If the user has picked the Standard Protection build, which is free, they actually get a 30-day trial of Complete Protection that incorporates real-time defense and automated scanning. As soon as the period expires the program will function as freeware with the respective restrictions, unless the customer purchases the license.
The tool kicks off with a recommendation to run an initial Compatibility Scan, which is intended to make sure no discrepancies are in place for normal operation of the software on the machine and checks for threats along the way. RCS came up with one detected object and prompted us to trigger a Quick Scan to proceed with troubleshooting. The scan was completed within four minutes, which is a rather good benchmark. The reported infection turned out to be an installer that bundles potentially unwanted programs. It was removed within seconds after the corresponding command on our end.
The app's interface is intuitive enough for anyone to use regardless of tech expertise level, with the most prominent part being the protection score that reflects how secure the machine is at the moment. From the start the program provides a few prompts explaining the Real-time protection and Bundle protection features located in the upper left-hand part, as well as the above-mentioned score indicator. The GUI's upper pane consists of Home, Tools, Settings, and History buttons. A complete set of available scan options, namely the Quick, Full and Custom scan, can be triggered from a drop-down menu at the bottom right.
Under Tools, users can also run a diagnostic scan, view and manage the list of installed programs, maintain the startup processes and browser add-ons, and run a remediation routine to repair and reset the settings affected by malware. The Settings tab allows toggling the Real-time Protection and Bundle Protection modules, test the connection configuration, schedule scans, add exclusions and manage the licensing parameters. By going to the History screen, you can view logs maintained by the utility and examine the quarantined objects, if any.
This tool is definitely not a resource hog. Barely appreciable spikes in CPU consumption would occur during scans and threat removal, which is normal.
Features
---
This utility's feature set is restricted to the mere essentials necessary for system scanning, malware removal, and basic preferences. And yet, it's sufficient for recovery of your computer from virus infestation of pretty much any severity. Below is an overview of what you get with HitmanPro as your "second opinion anti-malware".
Benefiting from the Real-time Protection feature is the prerogative of Complete Protection version users, but it's also included in the 30-day trial that's enabled by default when the customer installs a free copy. The functionality is enhanced by the cloud technology, therefore no cumbersome signature updates are required.
From where we stand, Bundle Protection is one of the most remarkable things about Reason Core Security. It keeps ad-serving infections as well as homepage and search hijackers away. These types of bugs mostly infiltrate PCs along with freeware whose installation clients have pre-activated boxes for promoting unwanted third-party stuff. The app being reviewed checks the installers for bundled items and advises on deselecting them.
The Remediation feature makes it easy to fix and reset the settings that were tweaked by malicious code without the admin's authorization. In particular, it rectifies browser defaults modified by adware, resets all proxies, common command executions, and group policies. This is a great way of coping with virus damage.
Diagnostic Scan is meant to quickly analyze the system and generate a text file with the results so that security professionals can determine the source of possible problems. It includes details about active processes, browsers, services, drivers, startup objects, tasks, policies, etc.
The self-explanatory Scheduled Scan is what facilitates proper protection of the computer, delivering user-friendly controls for configuring the type, frequency and time of scans. By default, the product will run quick scans on a daily basis at 2:00 AM.
Programs, startups and add-ons management makes it easy to disable or uninstall arbitrary software or browser extensions and exclude processes from the Windows startup routine. Doing any of the above is as simple as clicking the 'x' button next to a suspicious, junk or otherwise redundant entry within a single interface.
Efficiency
---
In the course of the test, Reason Core Security managed to identify a piece of malware on our lab workstation that the current suite, Windows Defender, would not flag as malicious. According to the corresponding scan report, it was a medium risk threat categorized as PUP.InstallCore (mp3rocket_s.exe). This is an installer file which is known to distribute PUPs (potentially unwanted programs) as part of the default, or recommended, setup option. In the worst-case scenario, it can lead to unsolicited changes of the custom browser preset and, consequently, a modification of homepage, new tab and default search settings, the displaying of ads on web pages, and the monitoring of user's online activity. This object was quickly placed in quarantine.
Although Reason Core Security is new blood on the market, it is OPSWAT certified and keeps getting consistently high scores from reputable evaluation resources on the Internet, including CNET and Softpedia. That's a promising start. We at Privacy-PC certainly welcome the detection capability that the tool has demonstrated during this assessment. In the meantime, what we noticed is the app displays a minimum risk level for the harmless SysTrayApp startup process, as well as the Google Drive and Google Docs Offline extensions in Chrome, which is somewhat strange. Well, there's always room for improvement, and hopefully this isn't going to become a false positives trend.
Help & Support
---
There is no live support available for the time being, so an option of contacting the company's technician via online chat or reaching them by phone isn't the case. Users can instead seek help on the vendor's site, where the common questions about installation, licensing and configuration are covered. One can as well get assistance on Reason Core Security forums and submit a request by means of an online form. The tickets are responded within one business day as long as they are sent from 9 AM – 9 PM (EST).
+/- (Pros/Cons)
---
Lightweight and easy-to-use
No conflicts with third-party software
Excellent feature set
High detection rate
Bundle protection
No live support
Occasional false positives
Bottom line
---
]With Reason Core Security, real-time protection against adware, PUPs, trojans, spyware, worms and other threats is amazingly simple. It is a resource friendly solution capable of smoothly operating in tandem with other antimalware programs to combine the efforts and technologies for the sake of the customer's safety. The application employs a cloud-based detection technology, which ensures great responsiveness to new infections and doesn't involve lengthy updates of virus definitions. A few false positives on legitimate browser add-ons and startup files are a bit confusing, but that doesn't cause any issues whatsoever. To recap, this tool is all about simplicity combined with solid protection against malware.