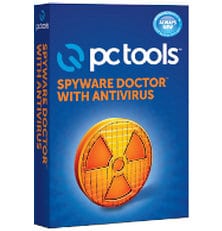 The high and deserved reputation of Spyware Doctor with AntiVirus from PC Tools is maintained due to its wraparound top-notch protection against viruses and identity theft. The product has always accommodated groundbreaking approaches leveraging the unique mix of antispyware and antivirus guard, the latest version sustaining this thesis to the fullest.
To match and exceed user anticipations, Spyware Doctor with AntiVirus exposes online cybercrime scams, effectively identifies and prevents scareware attacks and certainly delivers a full range of malware protection proper. Computer performance can be optimized owing to the 'Balanced Mode' which allows you to tune up the optimal ratio of system productivity and virus defense. Uniqueness of this product is also contributed by the fact it can be installed on to a badware-infested machine, which makes it a highly efficient cure for emergencies and severe PC contamination.
Being equipped with sophisticated extras and proactive features in addition to the regular virus combating measures, this software appears to be a really enticing solution for everyday use and non-standard malware related circumstances.
System Requirements
---
Operating System:
Windows XP SP3 (32 bit only) / Windows Vista (32/SP2 64 bit) / Windows 7 (32/64 bit)
Hardware:
For Windows XP:

CPU: 400 MHz or higher
At least 512 MB of available RAM

For Windows Vista / Windows 7:

CPU: 1 GHz or higher
1024 MB of available RAM (32bit) / 2048 MB (64bit)
Additional Requirements:
500 MB or more free space on HDD
Video Adaptor: SVGA (800×600)
CD/DVD Drive (unless installing from the internet)
Internet connection for activating the product
Internet Explorer 6.0 or higher / Mozilla Firefox 3.0 or higher
Usability
---
Setup turned out fairly smooth for a program as complex and functional as that. The 'Run' option on the directly downloaded reasonable-sized installer launches the Setup Wizard commencing with review and acceptance of the License Agreement. Once you click 'Next', installation proceeds, sticking to a comprehensive pattern that requires no particular expertise. At the end of this stage, the utility downloads a complete database – this might take some time, so just get a little patience and wait for all the malware signatures and other essential data to get pulled in, as they are the underlying component of protection. This being done, the software is ready to use and customize.
The graphical user interface (GUI) has been significantly modified in comparison with the former Spyware Doctor with AntiVirus versions. It's not just the logo that has been changed – now it's a well-balanced forthright navigation panel with five tabs on the top encompassing pretty much the entire functionality the product has to provide: 'Home', 'IntelliGuard', 'Settings', 'Support Tools' and 'Start Scan Now'. All the supplementary options such as 'Report Card', 'My Account', 'Smart Update' and 'Help' are located in the bottom section, not stuffing the main window in any way and in the meantime being well outlined and perfectly visible. There are no drop-down menus, so you can always see the whole list of alternate options while viewing the items within a certain category.
Neither scan types offered by the product (Intelli-Scan, Full Scan and Custom Scan) are time-consuming or CPU intensive over the normal expectations. Perhaps the first post-install system check may be lengthy but that's only because the software needs to do a really thorough job exploring your computer for threats. Regarding automatic database updates, you probably won't even notice those because such technicalities are made to run in the background without disturbing the user.
Features
---
PC Tools have added a number of smart capabilities to this build. Spyware Doctor with AntiVirus is now intelligent enough to recognize blackhat SEO (Search Engine Optimization) campaigns and has a special focus on rogue antispyware detection. A detailed overview of these new features as well as the improved 'old-school' ones is as follows:
Cybercrime is now viewed from a new perspective with 'Malicious Site Monitoring' option. Its essence is about analyzing the current breaking news and other hot searches against hacker-driven exploiting of the corresponding search results. So you get secured from being infected by trojans and other potential contaminants distributed on such doorway web pages.
'Scam Alerts' feature is intended to guard you from the luring online offers encouraging clicks on malware-bundled links. This functionality also proved to work seamlessly for keeping scareware off your computer, thus preventing possible system hijack and eventual money wasting.
'Behavior Guard' applies the ThreatFire technology to spot and terminate the objects whose characteristics are deemed suspicious and potentially harmful. This feature impersonates a heuristic approach to virus detection.
Spyware Doctor with AntiVirus is all about proactivity with the 'IntelliGuard' feature. This one is powering the preemptive technique which is intended to intercept badware before it actually gets on your computer.
Malicious drive-by downloads get blocked by the 'Download Guard' component which uses cloud-based techniques to detect new samples of malware.
'AntiVirus' and 'AntiSpyware' create a fraudware-hostile environment around your operating system, not allowing any privacy violating or otherwise malicious software to intrude. Enhanced by the 'Memory Scanner', these features constitute the kernel functionality of the product.
The tangible stress on Internet surfing security is expressed through the 'Browser Defender', 'Browser Guard' and 'Site Guard' components that protect you during online sessions in several different ways.
Generally, Spyware Doctor with AntiVirus incorporates virtually everything you need for reliable cyber safety and usage convenience.
Efficiency
---
The spyware and virus combating capacity of Spyware Doctor with AntiVirus is truly astonishing. It performs well beyond the average protection level, being capable of handling stealthy rootkit parasites, exposing intricate online frauds and foreseeing cyber attacks. With its IntelliGuard feature, the product employs heuristics to proactively block non-documented threats and therefore considerably expand the volume of your security. Conforming to the current trends, the software resorts to the cloud for most up-to-date cyber safety data.
One more remarkable thing about this product is its ability to bypass the install prevention measures employed by some malware – rogue antispyware in particular. So it works just fine for cleaning infected computers.
On the whole, effectiveness of Spyware Doctor with AntiVirus in what it is meant to do is out of the question.
Help & Support
---
All subscribers get free access to the diversified product support. Depending on your preferences and needs, you can always pick the most suitable help mode out of the following: telephone, live chat, email, exhaustive user manuals and knowledgebase, forums and interactive troubleshooting solutions. Support is available 24/7 and highly responsive, which testifies to the fact that each customer matters.
+/- (Pros/Cons)
---
Straightforward GUI
Easy to use
Highly effective for detecting / removing malware
Solid Internet protection
Identifies online cyber scams
Balanced Mode
Easy-to-reach free support
License for up to 3 PCs
Free trial scan
Bottom line
---
Spyware Doctor with AntiVirus offers superior quality for a very reasonable price – actually, it's hard to get a similar scope of low-cost protection for up to 3 computes elsewhere. The multi-layered spyware and virus guard, as well as exclusive web-surfing security features make your cyber life safer, easier and more serene. Therefore the product definitely deserves high rating as one of the industry's most reliable utilities.