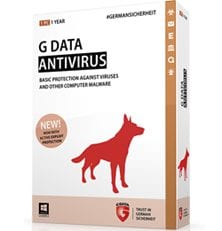 Not only does the motto "Security Made in Germany" being currently used in G Data product marketing imply location aspect of the company profile, it also translates to undoubted reliability. G Data Software AG is a German (Bochum-based) security software vendor with over 25 years of background in the IT protection field, which makes it one of the industry pioneers both in Europe and worldwide. The areas covered include private user and enterprise security, with effective solutions delivering the defenses that have consistently won recognition by international evaluation institutions.
This review is intended to provide a thorough analysis of G Data AntiVirus 2014 product which was made to address private users' security challenges with smart protection instruments conforming to the present-day malware combating trends. Equipped with unique two-engine detection system, cloud technology and system monitoring tools, the software proved to do a great job spotting and safely eliminating viruses, Trojans, rootkits, and the not-yet catalogued threats. Exceeding the regular antivirus strategy, this solution also enhances a number of online security niches such as web surfing, email and e-banking protection. Furthermore, the G Data team by no means neglected the system performance impact nuance, adding custom security / performance balance opportunities and optimization tools including idle scan which gets triggered only when the system is not being used.
We scrutinized G Data AntiVirus 2014 from several essential angles to get a complete product profile that should suffice for the average user to make up their mind.
System Requirements
---
Operating System:
Windows XP SP2 and above (32-bit) / Windows Vista (32-bit and 64-bit) / Windows 7 (32-bit and 64-bit) / Windows 8 (32-bit and 64-bit)
Hardware:
1 GB RAM or higher for Windows Vista / Windows 7
512 MB RAM or higher for Windows XP
Other Requirements:
Internet connection for signature and product updates
Usability
---
Product setup went generally smooth and fast. Instead of sticking to the stub installer algorithm which is prevalent across the board, the vendor chose to follow the bulk file download, so the longest part of the entire process is the time required for downloading about 350 MB of data. Installation proper is therefore not lengthy, requesting the user to select full or custom setup; pick the opt-in Malware-Feedback that implies agreeing to participate in the G Data Malware Information Initiative; and decide whether automatic signature updates are to be performed hourly. Everything else is pretty usual, including the choice between 30-day trial and commercial version, so no particular skills are required to complete the procedure.
The first impression from the user interface was kind of dubious. On the one hand, it looks a little over-simplistic and old-fashioned – at least compared with some of the competitor products we tested recently. This might be explained by the fact the 2014 versions of the latter were made to fit into the Windows 8 style. Since G Data AntiVirus 2014 does not fully support all new features of this OS version for the time being (e.g. the new Windows 8 interface), that might be the thing affecting its external manifestation.
On the other hand, the interface is tailored to have everything it takes to manage the program's functionality and be duly informed about protection status and security related events – apparently, simplicity is not always a bad thing. The left-hand pane includes licensing information and one really helpful component called 'CPU load' which displays memory usage by G Data and System in separate icons. Security status displayed on the GUI's home section is another useful feature; moreover, the related issues can be fixed in a single click – that's what the 'Correct' button is there for. Program settings and auxiliary options (accessing help, logs and product information, creating rescue CD) are the only two buttons on the top. The main features are concentrated below: those are virus protection, virus signatures, web protection and email check. Digging deeper into the settings didn't turn out to be a more puzzling experience than exploring the main interface: you mostly get options to select or de-select – as easy as that.
Now, let's assign G Data AntiVirus 2014 some tasks and see what it's like in action. First thing we did was trigger signature update. This process implies updating two engines (A and B), as well as the Whitelist. As long as the Internet connection is active, it goes okay, with no lags or other issues whatsoever.
Next, we ran system scan which sticks to the following sequence: system areas, memory and startup, rootkit check, and virus check proper. The process went generally fine until it reached the 'Virus check' part: it turned out way lengthier than we could have possibly anticipated, with only 30% progress reached in 45 minutes. At this point, it's fair to remark that we kept the default performance parameters unaltered, while there is an option of customizing security / performance correlation – in the latter case, if the optimal balance is configured the scan times get reasonable. And yet, it's kind of frustrating to run into an issue like that with the recommended parameters selected.
Overall system productivity remained virtually unaffected throughout the test, except perhaps the average of 4 seconds added to the boot time. With all the unquestionable strong points, G Data AntiVirus 2014 might obviously do a better job in terms of the scan times. Furthermore, in our humble opinion, GUI upgrade for full Windows 8 compatibility would do the vendor a favor by attracting a broader user base.
Features
---
In addition to smart virus protection based on the use of two engines, G Data AntiVirus 2014 accommodates some Internet security features to keep you safe when visiting sites, exchanging emails, and banking online. This added value is flattering because it means you get more than just an antivirus. Now, some details.
AntiVirus Monitor is the core protection feature integrated in this product. Composed of two mutually-enhancing engines, this component serves as a powerful tool for filtering out viruses, rootkits, Trojans, adware, dialers, worms, and other types of malware. Owing to behavior monitoring capability, G Data is constantly on the lookout for suspicious applications running on your machine or attempting to access it. The innovative mix of signature detection and behavior watch makes this software highly sensitive to zero-days, i.e. new threats.
Security / Performance optimization is about the choices you are entitled to do in terms of tuning your preferred level of protection and system productivity. The default values give you maximum security and medium speed but, as the usability test above showed, that might be a burden for your machine and a test for your nerves, especially when you run full system scan. So the vendor kindly empowers the user to define this balance: for instance, you can manually deactivate one of the engines, or set a custom AntiVirus Monitor mode other than the default 'Check read & write access'.
Being equipped with the Web Cloud feature, G Data AntiVirus 2014 gets you closer to the safe side of the Internet by applying sophisticated whitelisting mechanism to block suspicious websites and the ones containing obviously malicious components such as corrupt payloads. Furthermore, the utility prevents phishing attacks and monitors instant messenger activity.
Employing cutting-edge Mail Cloud techniques, G Data virtually nullifies contamination probability via the email channel which is frequently used by scammers these days. The kernel component of this feature is called the OutbreakShield whose objective is to ensure instant protection against email malware outbreaks.
The main idea of BankGuard is to ensure adequate protection against Banking Trojans designed to steal sensitive financial details and transmit this data to their authors.
Idle Scan is intended to maintain normal system productivity when you are actively using your computer. In other words, this feature determines when the system is idle and runs automatic scans in these intervals. This functionality can be disabled at any time, just make sure you define regular scheduling in that case.
Fingerprinting is another remarkable feature aimed at optimizing performance during scans. This means G Data AntiVirus 2014 can memorize every little detail of the tasks it performed on your machine earlier, and intelligently single out some patterns in order to reduce its effort next time without sacrificing efficiency.
The product is configured by default to perform Hourly Updates of its virus signatures, so you get the privilege of enjoying minty-fresh protection from new malware that is added to the database.
By creating Boot CD you can clean a malware-infested system without the viruses preventing you. This method enables scanning the PC and eliminating infections prior to Windows launch, making the process smooth, unimpeded, and trouble-free.
Efficiency
---
Detecting the bad stuff and weeding it out for good are the things G Data is obviously proficient at. Protection thoroughness is reinforced by hourly signature updates, innovative antivirus approach, and a set of online security features comprising web surfing, email and online banking defense.
Looking at independent test results, it's clear that this software's main virtue is exceptionally reliable virus detection – we believe this is largely due to the vendor's tactic of combining two third-party engines: from Avast! and Bitdefender.
G Data AntiVirus 2014 is on Virus Bulletin's VB100 list. Furthermore, according to a number of recent tests conducted by the worldwide-known AV-Comparatives, G Data showed 99.9% detection rate, which is the best result out of the set of 15 evaluated products, and hence got Advanced award – could have been Advanced+ if it weren't for false alarms that were spotted. In AV-Comparatives' latest Real World Protection Test, the software being reviewed turns out to be one of the 3 best products out of the 21 utilities tested.
The above facts leave no room for doubt with regard to detection accuracy and cleaning capability hard-coded into G Data AntiVirus 2014. In terms of efficiency, it is one of the industry leaders, delivering truly premium protection to private users. The only thing to keep in mind here is the possible nuisance of receiving false positives on normal applications – well, we guess that's the flip side of the nearly perfect detection.
Help & Support
---
This product provides built-in support options accessible through the 'More' drop-down menu in the top right-hand part of its GUI. Additionally, users can fill out G Data service form or browse the top FAQs on their website. For urgent help, G Data EmergencyLine is available – that's the vendor's phone support. We didn't find online chat with Support representative, which is not critical considering high responsiveness of their help team, yet might be a good idea to implement.
+/- (Pros/Cons)
---
Easy to install and use
High protection scores
Intelligent performance optimization
Online security features (web surfing, email, e-banking protection)
Trial version available
Reasonable cost
Somewhat old-fashioned interface
False positives
Lengthy full scan with default settings unaltered
Bottom line
---
G Data AntiVirus 2014 is a great example of how two different detection engines can successfully coexist within one solution and complement each other. Nearly immaculate protection is hence the business card of this software. Moreover, the extent of online security supplied by G Data definitely surpasses the Internet protection scope competing antivirus products offer. When it comes to usability, things aren't as serene though because you may run into long scan times, and it might take some configuring to adjust the optimal performance mode. This particular issue set aside, G Data AntiVirus 2014 is a streamlined and highly effective solution for everyday security provision.