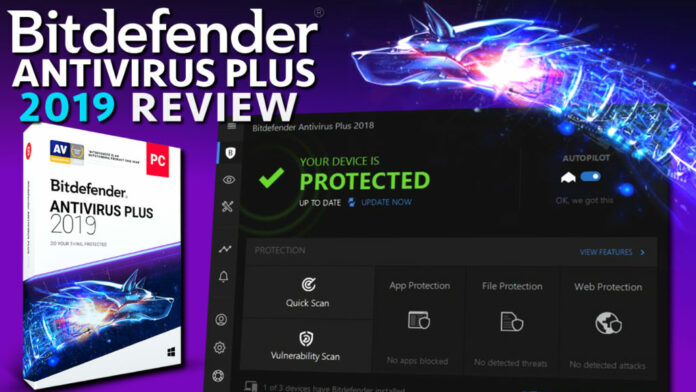 Even with the Caps Lock on, the phrase 'virus protection is important' wouldn't be nearly as expressive and convincing as the way things actually are on the cybersecurity arena these days. Viruses are no longer funny and prankish little entities that play tricks on you and give you lulz, like they were in the 80's. Malicious software is now destructive, and its writers are really money-thirsty, so neglecting appropriate defense is a dangerous game you will end up losing.
Along with all the undeniable convenience of the overwhelming computer technologies advancement and the Internet, they are the root cause for emergence of malicious software spreading through networks on the one hand, and the vast amount of different protection tools to struggle with it on the other. This is precisely the context where Bitdefender Antivirus Plus 2017 deserves a special allusion as it allows balancing these conventional scales in the user's favor. The winner of 'Best Security Product' nomination across multiple ratings, it offers top-level defenses and feature set you'll definitely find sufficient, to say the least. The product literally smashes malware entities spotted on a computer and keeps a watchful eye on dubious objects, preventing them from growing into a tangible menace.
This antivirus is entirely derivative of persistent expert effort of Bitdefender Labs, being a piece of software that inherited some of the prime advantages of the vendor's Internet security tool, plus the experience, the latest innovations and some of the best practices in the PC security sphere overall.
Its functional aspect includes an improved virus detection module combined with a continually refined database for your convenience and safety. The key features are aimed at defending against recent threats, including ransomware; ceasing criminals' attempts to steal your identity and giving you a solid sense of confidence that your online activities are secured; and ensuring smooth PC usage without interruptions. And these are only a few main peculiarities. Peruse this review of ours to get a better idea of what Bitdefender Antivirus Plus is about in terms of main antivirus software evaluation criteria.
System Requirements
---
Operating System:
Microsoft Windows 7 (SP1) / Windows 8 / Windows 8.1 / Windows 10
Hardware:
CPU: Dual Core 1.6 GHz processor (Intel CORE 2 Duo 2 GHz or equivalent recommended)
RAM: 2 GB or higher
2 GB free space on HDD
Additional Requirements:
Internet Explorer v10 or higher
Mozilla Firefox v30 or higher
Google Chrome v34 or higher
Usability
---
Bitdefender Antivirus Plus 2017 appears to be equally as convenient and intuitive as efficient. Having analyzed quite a few applications of this kind, we find the ease of customizing and using this particular software to be above the industry's average. As to the price, it is probably reasonable rather than high. Why? Well, just for $39.99 per license for up to 3 PCs, the user gets 1 year of proven certainty about being protected from Internet scams and a variety of viruses with one of the best products on the market.
Speaking about the installation process in particular, there's hardly anything complicated about it. To be precise, the process takes a few mouse clicks – as easy as that. It's fair to add that the install might take a while, over the expected time frame. The user can change some defaults before Bitdefender is set up, among them the hard drive volume and the folder to which the antivirus is to be installed. Basically, it's all pretty regular and usual, aka simple. Some of the minor drawbacks reported earlier had to do with the product's unstable functioning on Windows 10, but these issues have been fixed in the latest build.
Installation being completed, you might consider customizing the software a bit in order to configure the scan frequency, malware filters sensitivity, database updates timing and perhaps some other options that you deem appropriate, though the default parameters should actually do the trick as well. One of the things we really enjoyed about Bitdefender Antivirus Plus is the 'Autopilot' mode, which definitely contributes to uniqueness of this product by helping avoid excessive warning notifications and other annoying stuff you probably won't appreciate in case they interrupt your work or entertainment. 'Autopilot' makes security decisions for you, so you needn't get distracted nearly as much as you would with some of the competing suites.
While conducting our test, we didn't notice system slowdowns or any suchlike impact affecting the PC performance. In fact, the software accommodates performance-specific features to ensure maximum speed, where it figures out when you work, play or watch media content and intelligently adjusts other applications' activity and protection intensity so that you don't get disturbed and your laptop's battery doesn't die too fast.
Considering the above facts and the personal, yet unbiased, impression we got from using Bitdefender Antivirus Plus 2017, the product does actually deserve an 'A' in terms of usability: it's easy to install and configure, it's resource-friendly and simply eye-catching due to the well-balanced and intuitive user interface.
Features
---
Bitdefender Antivirus Plus 2017 goes equipped with a competitive feature set. We responsibly affirm that these functions can create a secure workspace for both your personal machine and multiple computers in an enterprise, the latter being due to the availability of flexible corporate licensing. Let's now look into the set of primary features, outline their peculiarities and see how precisely they conform to the publisher's claims.
The unique Ransomware Protection feature delivers a strong defense against file-encrypting Trojans. Even if the contamination takes place, the antivirus will prevent highly harmful infections of this sort from accessing folders that contain the user's personal data, which makes the attack a complete fail.
Active Threat Control is an instrument detecting new threats and potentially harmful content on your computer. It monitors dubious apps that are executed on your system and may choose to lock them down in case the heuristics and other behavioural components identify patterns of malignancy.
The all-new Wi-Fi Security Advisor makes sure your Internet connection is secure when you are using public Wi-Fi hotspots. This module identifies a potential intrusion risk in these scenarios, such as a wireless network's vulnerabilities that may allow hackers to pull off man-in-the-middle attacks and steal personally identifiable information.
Rescue mode gives you the ability to reboot your workstation in a safe and trusted environment. This would definitely help if the PC's configuration is damaged or there is severe contamination in place. This feature is essential for restoring and cleaning up the system as it enables preventing any unpredicted disruptive actions caused by viruses or other malware.
The primary goal of Bitdefender Safepay is to secure and simplify the process of entering credit card details during e-shopping – the tool does this for you automatically and guarantees that financial data interception won't go through. Similarly, the feature can be used for handling credentials for accessing websites, Wi-Fi networks, etc.
Vulnerability Scanner identifies software flaws and unpatched or outdated software that might be exploited by attackers to gain access to the system.
Security Widget is another useful feature, providing a shortcut for essential tasks related to the antivirus. This graphical component enables monitoring your security without actually opening the main program interface. It also lets you quickly drag-and-drop files you would like checked for viruses or other potential threats.
Bitdefender Central is an instrument for tracking your security status remotely, that is, from any device which is online. This is your personalized account containing extensive information on the events spotted and processed by the antivirus.
The Social Network Protection feature guards your privacy when you are using Facebook, Twitter, Pinterest and similar services. It spots and analyzes suspicious or distinctly malicious links posted on your wall, and advises on securing your social networking accounts.
Secure Browsing displays alerts on harmful websites directly in the search results, thus being proactive in helping you avoid the consequences of subsequent drive-by downloads and other web attacks.
Anti-phishing is another function we'd like to point out. It restricts access to untrustworthy sites that can potentially steal your credit card details or indulge in other phishing scams.
Removable Media Scanner, as the denomination prompts, is intended to auto-scan removable drives that get plugged into your computer, including USB drives, CDs/DVDs, and mapped network drives.
The Autopilot mode, which we already touched upon, is an extremely convenient feature which gives you the opportunity to forget about the manual aspect of adjustments, spyware search and removal. Having it once set up and customised, you may never need to go back and do it again. What we actually noticed during the analysis of Bitdefender Antivirus Plus is that when in this mode, it runs absolutely silent, there are pretty much no obtrusive alerts and the software does perform most of the operations that you would otherwise need to authorize or do on your own.
File Shredder enables deleting sensitive files irreversibly. By leveraging a technique of multiple overwrite passes, there will be no traces of previously removed data left.
The enhanced Battery Mode optimizes resource-consuming parameters of the system when the tablet or laptop is running on battery power, which maximizes the autonomous work time.
Bitdefender Photon is yet another performance-related tool that adapts to the specific computer it's on in order to improve speed and overall usability.
With Password Manager, you can securely store your confidential data, such as passwords and credit card details. Furthermore, the program enters passwords on the respective sites automatically and advises on strong, hard-to-guess combinations.
We've highlighted the main and the most enticing features that make Bitdefender Antivirus Plus 2017 what it is – a handy and reliable protection suite you can count on.
Efficiency
---
The quality of protection by Bitdefender Antivirus Plus is remarkable, which has been proven by independent lab tests and confirmed in this research. It boasts 'Advanced+' awards in the recent Real-World Protection Test and File Detection Test by AV-Comparatives. To its credit, the software recently got a 'Top Product' award from AV-TEST, scoring 100% for protection against 0days and prevalent malware. Bitdefender delivers an undoubtedly high defense level which stays unreachable for many competitors. This product is armed to the teeth with reliable antivirus, antispyware and antiphishing filters and specific modules that are responsible for preventing intrusion and creating a trusted environment which is free of known threats and emerging infections. The Internet security extras, such as the above-mentioned antiphishing, add some confidence and safety to your routine web activities. Ransomware protection is a special treat, because it combats some of the most dangerous samples of malicious code out there and can thus save you money that these Trojans extort in exchange for file decryption. Overall, you get protection from multiple angles where no doubt about effectiveness belongs.
Help & Support
---
Bitdefender support policy gives you the freedom of choice. You can pick your own way of contacting their support team and find answers to your questions out of the diverse channels being offered. First off, there's a manual with step-by-step instructions for those who ran into complications with downloading, installing, modifying and/or using the software. Alternatively, you can directly contact the support agents by phone, email or online chat, all being provided on the round-the-clock basis. Additionally, exhaustive product-specific documentation, articles, video tutorials and the user forum are at your disposal, being accessible from the official website at www.bitdefender.com. Lastly, some users are reporting problems contacting customer support at certain times, but we didn't spot any issues with that.
+/- (Pros/Cons)
Protects against ransomware
Accommodates Wi-Fi Security Advisor
Easy to install and configure
Remarkable test scores
Decent scope of online security features
'Autopilot' mode, hence completely 'silent'
24/7 customer support
Installation might take a while
Bottom line
---
Taking all the facets of this software into account, we must admit Bitdefender Antivirus Plus 2017 is a breath of fresh air in the virus protection area. Its functional aspect deserves a high rating and the price appears to be reasonable. As to the balance of performance and efficiency, it is really speedy on the one hand and very tough on viruses, including ransomware, on the other hand, so you needn't sacrifice either one of the two. If you are seeking a product that provides superior protection from online threats and other malicious software, you can confidently outsource these objectives to Bitdefender Antivirus Plus.