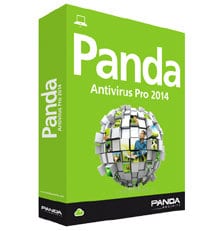 The first and major thing to outline in terms of analyzing Panda Antivirus Pro software is the high responsiveness to computer security industry's new trends. The Spain-based Panda Security was one of the first companies to boldly drive the change in cyber protection approach, substantially shifting it from the previously dominant signature principle to the relatively recent Cloud-oriented vector. They apparently enjoy pioneering in their niche, which is great because you know you have the latest technologies at your disposal. The innovation and ongoing refinement of virus protection techniques is what this vendor is all about while advancing with its beyond-the-standards business practices.
Getting into specifics of the product being reviewed, Panda Antivirus Pro 2014 accommodates features that make it highly effective at combating viruses, spyware, rootkits, hacker attacks and online fraud. This is the software where the term 'Collective Intelligence' comes into play, meaning that the bulk of the application's functionality resides in the Cloud, hence you get speed and efficiency combined. The immense community of Panda users worldwide constitutes a sophisticated mechanism, where data on new malware samples and online threats gets sent to PandaLabs via 'SOS Virus' service, then processed and shared across all machines in real time. Another advantage emanating out of this specificity is the minimum impact on system productivity, which is natural because the database is not completely on your computer.
Some other things to mention are the integrated firewall, ability to install and run in Safe Mode, sandboxing options, home network management, USB vaccine feature, virtual keyboard, rescue disk, nice graphics, commendable customizability, and more. Below is an unbiased and more down-to-earth description of the software by a number of different evaluation criteria.
System Requirements
---
Operating System:
Windows XP (32-bit) / Windows Vista (32-bit and 64-bit) / Windows 7 (32-bit and 64-bit) / Windows 8 (32-bit and 64-bit)
Hardware:
Processor: Pentium 300 MHz or higher (32-bit and 64-bit)
128 MB RAM without TruPrevent (see Efficiency section) / 512 MB RAM or more with TruPrevent
275 MB free HDD space
Additional Requirements:
MS Internet Explorer 6.0 or higher / Mozilla Firefox 2 or higher / Google Chrome
CD-ROM / DVD-ROM drive to burn Panda SafeCD (see Features section)
Usability
---
Installing a 1-month free evaluation version of Panda Antivirus Pro 2014 is an option granted by the vendor. This trial integrates tech support opportunities via Forum, Email or by sending a query online; real-time SOS Virus service; antivirus updates; and certainly a solid degree or virus protection. The paid licensed copy works for up to 10 computers for the period of 1-3 years.
New look of the user interface for 2014 version is based on a predominantly blue color scheme that doesn't have much in common with the previous build's dark GUI. We liked the informative load of its main page: it displays distinct stats on the system protection level, updates, number of items scanned / detected, license expiration date; and provides one-click shortcuts to the program's essentials, such as 'Scan', 'Reports', 'Services', 'Quarantine', 'Backup copies', 'Antivirus', 'Firewall', 'Identity protection', 'Anti-spam', 'Parental control', as well as some auxiliary security services: 'Network management', 'Safe Browser', 'USB Vaccine', and 'Virtual Keyboard'. Another thing about the interface that we enjoyed is the 'Advanced Statistics' page which supplies relevant data on all the events in a wonderfully balanced and understandable form. With all the external appeal in place, the interface turns out remarkably simple and understandable.
Influence on system productivity is something we hardly noted while testing this app. Panda Antivirus Pro obviously turns out to outperform many competitors in terms of the scan speed in particular, as well as by other performance criteria. We have kind of touched upon this point above – since the malware database is in the Cloud, your computer's processing speed won't be overly affected. So 'lightweight' is perhaps the correct attribute to apply when speaking about this software.
Features
---
This product delivers the conventional virus protection features, plus some that apply to Internet security, which makes Panda Antivirus Pro 2014 a little more universal than antivirus tools normally are. Now, a few words about each one:
Protection against viruses and online threats – basically, this says it all. Once you become Panda Antivirus Pro user, there is negligibly small chance that the bad stuff gets through and affects your system. To supply sufficient degree of defense, the utility resorts to a blend of the Panda Community security data (to respond to the newest threats), behavioral analysis and heuristic detection techniques to identify explicit malware and check suspicious items for malignancy.
Collective Intelligence helps users benefit from the up-to-date information streaming from all Panda Security clients' machines that run the Company's different products worldwide. This invaluable database is continuously refreshed to provide steaming-hot data on zero-day infections and other uncatalogued menaces.
Personal Firewall is what prevents intrusion from the outside, complementing the bundled Windows Firewall which is known to be targeted by cybercriminals all the time. The peculiarity of Panda Antivirus Pro's Firewall is the Wi-Fi Security component which keeps hackers and identity thieves away from the home wireless network.
Owing to the Home Network Manager feature, you can monitor the security statuses and activities on all computers linked to your home intranet.
Panda Safe Browser is a smart sandboxing tool enhanced by a brand-new Web Filter. It contributes to secure web-surfing by neutralizing malicious scripts and other potentially unsafe components on websites.
Virtual Keyboard is useful when your sensitive data is at stake, i.e. when you are entering passwords, when you are banking or shopping online. Keyloggers therefore get out of the way because you can now do without the actual keyboard, so there's nothing for fraudsters to intercept.
Panda USB Vaccine addresses one of the prevalent contamination methods taking place through autorun from removable devices connected to a PC. This feature secures the operations via USB drive, and is two-facet: you can vaccinate your computer so that the autorun function gets disabled; also, vaccinating a specific USB drive disables the autorun.inf file on there.
Even if your operating system is severely infested with malware and won't start up or you cannot get your antivirus to run due to viruses, Panda Rescue Disk comes to your rescue. Note that you need to burn the CD in advance following the program's instructions to further be able to use it in emergencies.
SOS Virus is the feature enabling you to participate in detection of new threats by submitting potentially dangerous files to PandaLabs tech staff directly. This saves you time getting help and aids other members of the growing Panda Community in staying protected against zero-day malware.
Multimedia / Gaming Mode feature is there to keep your entertainment uninterrupted, so you can enjoy full-screen activities without being bothered or having to worry about your security.
Efficiency
---
When it comes to virus detection / removal effectiveness, Panda Antivirus Pro 2014 is not on the very top of the across-the-board hierarchy, yet it does actually score great. The 'AV-Comparatives' Austrian non-profit organization carried out a number of tests of this product among a set of 20 other leading security solutions, and came up with the following results: Panda got 99.6% in total detection rates, 96% in Real World Protection Test, and got the Advanced+ rating in the latest Malware Removal Test. Furthermore, the application has a low false positives rate on secure files, which means it's definitely not a nuisance.
In our test, we found Panda Antivirus Pro to be a little weaker at complete virus cleanup, while detection is close to excellent. We still believe the overall protection supplied by this tool is sufficient to maintain your peace of mind and won't allow any devastating impact to be impaired. The software's defensive shield is hardened by the innovative TruPrevent technology which is a combination of two constituents: behavioral analysis and behavioral blocking. Further enhanced by static heuristics, malware signature engine, vulnerability exploiting prevention and the personal firewall, these protection components are hard enough for most viruses to challenge. Obviously, years of Panda Security's expertise and research into the cyber protection domain are reflected with precision in this product. Anyway, the unbiased ratings provided above are something to consider when making up your mind.
Help & Support
---
We got an ambiguous impression about Panda tech support. On the one hand, the essential things you might need are there, accessible directly from the GUI and available on the official web page www.pandasecurity.com which contains video tutorials, the link to user forum, and the easy-to-navigate knowledgebase encompassing features and specifications, quick installation guide, license renewal tips and key articles. On the other hand, when you encounter some non-trivial urgent issue which cannot be resolved using the self-help opportunities, looks like you might be in trouble. The only way you can directly contact tech support is by submitting a query which might take a while to be processed and addressed by the employees. There is no online chat available, nor is there telephone support provided by default. When you dig a little deeper, it turns out you actually can get access to 24/7 phone support by purchasing a multilicense for at least 4 machines. Well, this felt kind of discouraging. Overall, we believe Panda falls short of high scores on this criterion.
+/- (Pros/Cons)
---
Easy-to-use revamped GUI
Windows 8 compatibility
High virus detection scores
Light on system resources
Innovative 'Collective Intelligence' feature
TruPrevent technology employed
Highly responsive to new threats
30-day trial available
Default version lacks telephone support and online chat
Unstable complete virus cleanup rate
Bottom line
---
Panda Antivirus Pro 2014 is the right pick for those who are trying to stay on top of things around computer security. Not only does this product tend to pioneer into new approaches to virus defense on an ongoing basis, it also combines the good old techniques with the new to deliver highly effective and up-to-the-minute response to malware. While testing this software, we noted some minor fluctuations in complete virus cleaning efficiency, as well as limited support opportunities for non-premium customers – do keep these things in mind. Nevertheless, this software scores above the industry average by the criteria which are determinative for an antivirus. Overall, Panda Antivirus Pro features robust security architecture and delivers dependable protection for everyday use.