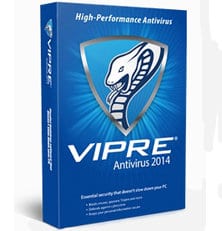 GFI Software, the owner of the VIPRE brand which was originally introduced to the security world by Sunbelt Software, appears to have made correct emphases in tailoring the new version of their antivirus product. Given the tendency of all-round versatility coming to the fore, it no longer suffices to ensure bare protection, so vendors are additionally focusing on increased usability and better user experience. Whereas installing the previous version of VIPRE Antivirus on infested systems could be problematic, and running system scans was a burden to both the customer and the machine it was on, the latest build has been declared to address these nuances, plus it's claimed to deliver better protection against a broader set of malware.
According to GFI, this utility accommodates powerful next-generation antimalware engine, refined anti-rootkit technology, smart performance optimization tools, real-time system defense, email protection, irrecoverable removal of sensitive data, and a number of remote device scanning options. Furthermore, this antivirus will be greatly appreciated by those who seek to protect up to as many as 10 computers, with the $59.99 worth 1-year offer. In our test we checked to which extent the claimed improvements turned out a success, and how good VIPRE Antivirus 2014 actually is from the end user perspective.
System Requirements
---
Operating System (supporting both 32- and 64-bit versions):
Windows XP SP2+ / Windows Vista SP1+ / Windows 7 / Windows 8
Hardware:
1 GHz processor
At least 512 MB of RAM
300 MB of free HDD space
Supported email clients (relates to Email Protection feature):
Microsoft Outlook 2000 or later, including 2013 version
Outlook Express on Windows XP
Windows Mail on Windows Vista
Others using SMTP/POP3 (Windows Live Mail, Mozilla Thunderbird etc.)
Usability
---
Comparing VIPRE's 30-day free trial offer with other evaluation versions across the competition, it turned out pretty surprising to learn what's included. You get fully functional protection against viruses and other PC threats (both detection and removal), and free tech support by chat, forum or phone – the latter being particularly flattering.
Installation went by smooth, quite in contrast to the forerunning version we mentioned. The setup process now requires a minimum of user interaction and completes within a very reasonable time. This is largely due to the fact it's the main software modules alone that get downloaded during the install, the signature database being downloaded afterwards. A 1-year license for 1 computer will cost you $39.99 – not the lowest price we've seen across the board though. Overall, we had no issues whatsoever with the setup, so this is evidently a step forward for VIPRE in winning more clients. Just one more thing to outline here is that at the end of the install process you are suggested to opt into joining the ThreatNet which is a network of tens of thousands computers running VIPRE products all over the globe. TheatNet is intended to contribute to better responsiveness when it comes to new, or 0-day, malware samples.
Although scan time is claimed to have been reduced, this wasn't really the case in our test. Actually, lengthiness was something we noticed about the initial full scan which normally tends to take longer with this sort of applications. Subsequent ones took notably shorter time frames to monitor the entire operating system.
The user interface, which underwent no significant modifications as compared with the 2012 version, is all simplicity, with nothing redundant or complicated in it. The GUI is composed of 4 main navigation buttons lined along the top part of it: Overview, Scan, Manage, and Tools. The Overview tab provides details about scan status, protection and updates, with configuration buttons linked to, next to each of these items. You also get unambiguous representation of your statuses by the above criteria – that's owing to the large graphical icons that you won't fail noticing.
Scan parameters are straightforward and not crammed up with any sort of overly smart options: the corresponding tab just gives you a choice between Quick Scan, Deep Scan, and Custom Scan – each one allowing for inclusion of a number of additional objects to monitor. The scan reports are pretty easy to understand and interpret, coming in a somewhat old-fashioned form that's not characterized by abundance of graphical data representation.
The Manage button gives you the ability to define certain preferences with regard to automated scan scheduling and the items that are allowed to run without getting quarantined. The Tools pane includes auxiliary security features such as Secure File Eraser, History Cleaner and PC Explorer, the latter showing the system settings that are typically hidden.
Therefore, pleasurable setup experience, reasonable computer performance impact and comprehensive controls are the usability components that VIPRE Antivirus 2014 does a good job delivering. "Well done" is how we are inclined to describe this combination.
Features
---
The protective functionality built into VIPRE Antivirus 2014 presents a challenge to malware authors, and the productivity-oriented measures make it a growingly attractive user choice to make. Despite the fact that the app can't boast a great many features, it does supply decent defense against infections, and delivers a certain degree of optimized performance.
Like we already mentioned, the feature set is far from abundant, many competitors offering more. Probably the only case when this scarcity can be reimbursed is if there's unbeatable protection in place. This is precisely what we are going to check in the following section of the review.
By leveraging the benefits of the new Easy Install feature, you can avoid conflicts that may accompany the setup. This way, installing the product is not impeded by technical issues and persistent malware.
Cutting-edge antimalware technology employed in this product ensures detection and remediation of an extensive set of malicious entities: spyware, scareware, trojans, bots, adware, rootkits, as well as other types of unsafe samples, thus covering pretty much the entire malware population you might encounter in your everyday application use and web surfing.
VIPRE Antivirus 2014 features advanced anti-rootkit technology which is meant to efficiently spot and handle some of the most covert, hence menacing malware objects out there. While rootkits might not pose direct danger to a PC on their own, they do something much worse, hiding other hazardous processes on a targeted machine. Furthermore, these bugs can contribute to your system being compromised and accessed by third parties, so your data will be at risk if this takes place. VIPRE has created a set of instruments to effectively recognize and disable processes like that.
Real-time protection addresses the so-called 0-days, that is, the new threats whose signatures have not yet been identified and included in the conventional virus database. These non-catalogued infections are dealt with due to a mix of heuristics and behavioral analysis which are intended to single out the traits of potential piece of malware. If code attributes that are inherent to insecure samples get spotted, these pests get blocked from accessing a PC for good.
Email Protection accommodates instruments impeding malware and phishing scams from getting through as a bundle of email messages you receive. Additionally, VIPRE Antivirus 2014 monitors outgoing email to make sure you don't unknowingly confer an infection to your contacts when sending them attachments that may contain malicious stuff. This feature supports Outlook, Outlook Express and other applications using POP3 and SMTP protocols.
Minimized PC performance impact is attained due to a smart approach integrated in VIPRE which enables processing big volumes of data within notably shorter time intervals than before. The product is also fit to consume smaller amount of computer resources, so you won't encounter lags of freezes as you're using it.
Removable device scanning contributes to protection against the threats that tend to propagate via USB flash drives. This functionality triggers automatic scans of removable media for infections when they're plugged into the PC.
PC Explorer is there to spot security-related system settings that tend to be hidden, so that you can get overall computer vulnerability minimized or eliminated. This feature also allows manually defining permissions for certain processes to run unconditionally without being constantly monitored for malicious behavior.
Secure File Eraser and History Cleaner make it possible to irreversibly delete the data that makes you trackable or discloses sensitive information about you. The wiping algorithm applied here is effective enough even for forensic data recovery tools to fail restoring your personal files.
Efficiency
---
Among the criteria for measuring the degree of security software effectiveness, certification by independent testing organizations holds one of the leading positions. In case with VIPRE Antivirus 2014, there are plenty of boxes checked.
It successfully passed AV-TEST certification, with by far not the highest results imaginable, and yet it did okay at overall protection (4.0/6.0 for Windows XP, and 3.5/6.0 for Windows 7) and particularly good in terms of usability criterion (5.0/6.0 for XP, and 4.0/6.0 for Windows 7). However, according to AV-TEST, repair and remediation of critical system changes made by malware is definitely not one of VIPRE's strong points – it scored 2.5/6.0 by this criterion on Windows XP system, while Windows 7 results look better (4.5/6.0). Although the developers have built targeted anti-rootkit technology into this solution, it exhibits unstable ability of removing rootkits, while detection is fine.
Furthermore, VIPRE Antivirus 2014 has been certified by West Coast Labs and ICSA Labs, and received the VB100 award. These evaluations speak for themselves, so efficiency level is decent across the board. Detection rates for a vast range of threats are remarkable thanks to the truly sophisticated heuristics, behavioral analysis and powerful signature-based engine, but system repair functionality persists to be the only questionable nuance. During our test, VIPRE successfully identified a predominant majority of malware samples, however removing some of those (rootkits mostly) turned out inefficient even after subsequent cleaning attempts and reboots.
Help & Support
---
General product information and tech support for VIPRE Antivirus 2014 are provided in a comprehensive and easily accessible way. Help opportunities encompass the online knowledgebase (VIPRE SkyNet), forums, extensive product manuals, live support chat, online case submit form, and global phone support. All of these can be accessed both from www.gfi.com website and via the app's user interface which includes built-in interactive support, suspicious file sending form, and other options. On the whole, we believe quite a few competing programs should follow suit in terms of customer support, because it's really dedicated and simply excellent.
+/- (Pros/Cons)
Easy to install and use
Windows 8 compatible
Light on system resources
High detection rates
Email protection included
Secure File Eraser and History Cleaner provided
Remarkable support
Licensing for up to 10 PCs at a reasonable price
Somewhat scarce feature set
Fluctuating repair scores
Bottom line
---
We really enjoyed the simplicity that seems to have been integrated into virtually every aspect of VIPRE Antivirus 2014. Starting with the program setup, all the way towards assigning system cleaning tasks, scheduling events, interpreting the reported data, submitting a suspicious sample to the labs, wiping some data beyond recovery etc. – you can distinctly sense this ease. In terms of protection, things are kind of dubious: detection is fairly good, but malware cleaning is not as stable as we wish it were. Another thing we can't help emphasizing is the support which is on an exceptionally high level for every customer, even for trialware users. All in all, VIPRE Antivirus 2014 makes inherently complex protection easily manageable.