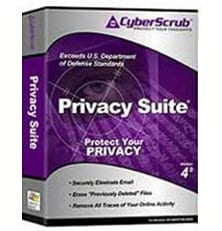 Although the term 'fingerprintable information' is relatively new to the IT security sphere, we find it quite relevant in regards to what is going on in the computer world these days. Every single file you download or view, each website you visit, your conversations via IRC client or Webmail, and quite a few other things – all of these leave their traces on your hard drive, whether you like it or not. Whereas individual pieces of these data cannot tell much about you, this entire set, when unjumbled, might well become the raw material for creating an almost complete profile of you as a family person, tax payer, shopper, employee etc. Now, who is it that wouldn't mind getting to know you this way? Well, obviously someone with bad intensions.
Let's look into one more aspect of the issue: many believe that cleaning browsing history and deleting sensitive files through Windows options will do the trick. Unfortunately not. The algorithm of regular Recycle Bin deletion simply gets the files out of your view, that's it. In the meanwhile, they are still physically there and might be recovered with forensic tools that are publicly available. This all sounds like a dilemma, doesn't it? What are your options here?
There is a proven pathway to evade the consequences of possible privacy breach. Using software like CyberScrub Privacy Suite will make your personal data inaccessible for ubiquitous cyber crooks and privacy thieves. Its effectiveness lies in the techniques employed for complete irrecoverable data erasure, which means the personally identifiable information vanishes for good so that no one gets to retrieve it. This is an award-winning solution by CyberScrub LLC which has been around since 1999, and is known to have cooperated with U.S. Air Force and Army, Department of the Interior, Department of Defense and a number of other federal agencies – which testifies to overall recognition and trustworthiness of their products. So what has CyberScrub Privacy Suite 5.1 got in store for its users, and how come it is so broadly recognized? We are going to figure it out in this review.
System Requirements
---
Operating System:
Windows Millennium / NT / 2000 / XP / Vista / 7 / 8
File Systems Supported:
FAT12 / FAT16 / FAT32 / NTFS
Hardware:
300 MHz processor, or higher
128 MB RAM
20 MB free space on hard drive
Usability
---
As long as your system meets the minimum requirements (see above), the setup process and further use are flawless. Complete installation shouldn't take longer than a minute or two, being nothing out of the ordinary in itself. You click a couple of prompts, select destination folder on your machine (if the default one is not suitable) – and you're done.
To facilitate the use by a new customer, the product features a quick-start menu which is a preliminary interactive guide for you to get familiar with its essentials. Once you get to know the application better, the quick-start screen can be disabled by un-checking the prompt at the bottom of it. The main User Interface cannot boast fantastic graphics and might appear a little complicated at first, but the one thing we can say for sure is it has got everything that relates to privacy protection fitting into just a couple of menu items, which is remarkable because complex has been made as compact and simple as possible here. Launching the Privacy Guard component to get sensitive information removed from specified locations is a matter of one click on the main GUI's corresponding item – in the left-hand panel. Same applies to adding files and folders and data erasure beyond recovery. The top section of the interface includes options for complete removal of Recycle Bin files, deleted email, and getting product news. Under each menu item, you can customize cleaning method and pick the sensitive areas to take care of by putting checkmarks next to those.
While some applications affect the performance of the machine they are installed on to, CyberScrub Privacy Suite tends to have a contrary effect as it frees disk space by deleting unnecessary junk files that aggravate data processing. Therefore impacting the system productivity is something this product does in a benign way. The only times you may notice higher CPU usage than usual is during scan and cleaning tasks because the volume of information being processed and the data overwriting taking place need resources to be consumed, obviously. Also, do note that duration of scan and removal depends on the algorithm applied – you can select one from the available wipe methods listed under 'Security Level'. The more thorough and secure the algo is, the longer it takes to complete the tasks.
Furthermore, the program can be set to perform certain activities when the system is idle, which is intended to save you some additional resources during work or entertainment.
Features
---
Like we already mentioned, designers of CyberScrub Privacy Suite did a great job embedding a large number of features and options into a reasonable amount of GUI space. Let's see what the essential components of the program's feature set are, and how they are useful.
Eliminating sensitive data beyond recovery is a broad one, being determinative of online privacy software as such. This application reliably wipes personal files; confidential email and chat client messages (ICQ, Skype etc.); Media Player history; browser history and cookies; AutoComplete data; recent documents; web search information; data associated with over 20 popular P2P (Peer2Peer) and other third-party applications; Microsoft Office documents and their file traces; Windows application logs; System Transaction Log file; Clipboard etc.
A variety of wipe methods is at your disposal. CyberScrub Privacy Suite accommodates a number of data removal algorithms that can prevent both software and hardware recovery software from retrieving deleted information. Some of them are the U.S. Department of Defense standard and enhanced (for normal and compressed drives), B.Schneier's algorithm, 3+7+3 Beyond DoD standards, Stop Hardware Recovery, as well as the recently added Russian GOST P50739-95, and German VSITR.
Stealth Mode makes sure no one else is aware this software is running on your computer. This feature might help bust snoops red-handed – unexpectedness is always on your side when there's an unauthorized access attempt.
Integration with the Windows shell means you can perform simple drag and drop operations to get specific items deleted beyond recovery. Just pick a file, drag it over to the corresponding section of the program's interface – and let the software take care of it. Additionally, you can get files erased directly under My Computer window.
With CyberScrub Privacy Suite, you can erase USB drives. This is particularly relevant considering the prevalence of data transfer using memory sticks.
Data encryption ability is a feature that makes this software more universal, meaning that you can get specified files encrypted using the popular AES-256 Encryption Standard. This allows actually keeping certain items on your system without deleting them, but they will be stored in a reliably encoded form, so privacy thieves are not likely to have much chance learning anything from those files – even if intrusion happens to turn out successful.
The Risk Monitor is new to this product's feature set. It used to be that users had to take action to learn what new sensitive areas and potentially disclosing items were. With the Risk Monitor feature in place, you are notified at specified intervals of where risks might emanate from. Another aspect of this feature is informing users of available patches, fixes and updates. Addressing any of these risk alerts is a matter of one mouse click.
Permissions Module enables you to configure the scope of access rights to other people or groups.
Scheduler gives you the ability to create new tasks in a flexible way as it enables advanced scheduling options. The 'Create New Task Wizard' is an easy-to-use tool facilitating this process.
The above being taken into account, here is the verdict on the feature set: the entire functionality you might possibly need from Internet privacy software is fully supplied by CyberScrub Privacy Suite, being delivered in a well-balanced and comprehensive way.
Efficiency
---
Even with the default safety configuration unaltered, CyberScrub Privacy Suite 5.1 provides sufficient identity protection. The program proved to be intelligent enough to differentiate between important data (including critical system files), and the files that pose risk to your privacy, so there is negligible chance of deleting the stuff that matters.
Reliability of sensitive material removal is out of the question here – this becomes apparent just from keeping in mind that its secure file deletion meets the U.S. Department of Defense standards for erasing digital data (U.S. DoD 5220.22), and may even exceed it. Moreover, if there is something on your computer that you are not willing to eliminate but which definitely needs to remain secret, you've got an option of encrypting the file using this solution.
Another great and kind of unique thing about this software is the way it deals with Shadow Copies, which are sort of digital captures that are associated with a random file but not actually containing the file proper. Now, many competing products erase absolutely all Shadow Copies, being unable to 'separate the wheat from the chaff', which puts your system at risk due to the loss of prior Restore Points. What is more, this not-so-smart approach results in longer scan and wipe intervals. With CyberScrub Privacy Suite, you won't run into such complications as it focuses on the 'right' Shadow Copies only, which means you have your Restore Points intact, the routine tasks take less time to complete, and you stay secured.
Help & Support
---
Getting straight to the point, when it comes to customer service you are restricted to non-personal assistance mostly. The vendor does provide a knowledgebase and the option of submitting a ticket. If you are a registered customer, you can track the status of your ticket on their website's separate dedicated page. Furthermore, the User Interface gives you direct access to the Support Module where you can submit your query and get answers to some of the common questions.
However, neither telephone support nor live assistance via online chat is available. We found no active user forum either. While the product is actually effective and easy-to-use, you might be able to do without the missing components. Nonetheless, the lack of phone support and online chat with tech representative seems to us a little odd as these services are now widespread with many competitors.
+/- (Pros/Cons)
---
Light-weight and fast
Quick setup
Reliable data wipe methods
Encryption capability
Reasonable system productivity impact
The Risk Monitor component
Intelligent approach to treating Shadow Copies
Stealth Mode
Permissions Module
GUI might be complicated for beginners
Somewhat limited support options
Erasing with advanced wipe methods takes quite long
Bottom line
---
In today's world where data security is gaining a special importance, CyberScrub Privacy Suite software could make a good companion in maintaining privacy. The risks of someone stealing your personal information are effectively addressed by the techniques employed by this utility, i.e. highly secure data wipe algorithms, as well as features like the Risk Monitor, encryption options, Permissions Module, Stealth Mode, and more. Notwithstanding the restricted tech support opportunities, CyberScrub Privacy Suite is overall a remarkable solution that effectively cleans up fingerprintable traces of your sensitive activities.