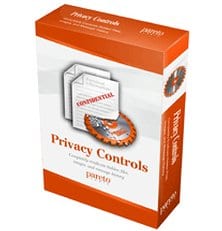 ParetoLogic Privacy Controls is a robustly designed, powerful and easy-to-use tool to overwrite and erase sensitive data stored on hard drives, eradicate malicious software traces and clean the Internet browser history, cookies, bookmarks etc. The targeted area of this utility's activity is twofold: on the one hand, the types of data listed above might cram up the operating system and hence deteriorate its performance. Furthermore (and more importantly), this application focuses on securing the user's private information and prevents 'fingerprintable' stuff from being retrieved by third parties – it does that by completely erasing personally identifiable data (PID).
You might claim the usual Windows uninstaller to be perfectly capable of relieving all your worries in regards to privacy and the overly consumption of system resources – it's not really that way though. Even after you emptied the Recycle Bin or even formatted the disk, the information can still be restored with the help of special software – while the files do get removed from your view, they are still on your computer. In that case, using ParetoLogic Privacy Controls is nearly an optimal way out as it shreds all the files you no longer need without a chance for them to be further restored. This software irreversibly deletes browser history and cookies, erases all email and instant messengers' communication logs, cleans up unnecessary or confidential files related to Microsoft Office, BitTorrent, media players etc.
Now, think about selling your hardware – for whatever purpose. No matter how hard you try to remove all the private data stored there, there's always a risk of unknowingly or carelessly leaving something unattended. ParetoLogic Privacy Controls does the trick here, automatically wiping off the information which it identifies as private – just run a scan, then select appropriate action and get the job done automatically. And lastly, the price of $39.95 sounds reasonable compared to that of some competitor tools that we have reviewed in this category.
System Requirements
---
Operating System:
Windows XP SP3 / Windows Vista (Home Basic, Home Premium, Business, Enterprise, Ultimate) / Windows 7 (32-bit, 64-bit) / Windows 8 (32-bit, 64-bit)
Hardware:
256 MB RAM, 300 MHz for XP(32-bit, 64-bit)
512 MB RAM, 800 MHz or more for Vista
1 GB RAM, 1 GHz for Windows 7
10 MB free HDD space
Additional Requirements:
Internet connection
Microsoft Internet Explorer 6.0 or higher
1 GB RAM, 1 GHz for Windows 7
Admin privileges
Usability
---
We are going to cover three aspects here: product installation, impact on system resources and usage convenience. So let's kick off.
Be it installing the trial version to run a free scan, or purchasing ParetoLogic Privacy Controls from the start, you don't have to get into an annoying or long-lasting process whatsoever. It's ultimately simple: download the 1.8 MB installer on the official website (www.paretologic.com) and stick to the options straightforwardly suggested by the Setup Wizard. It is recommended to reboot Windows for correct execution of this tool after the installation is completed.
Now, the first impression is clearly positive. The software causes no slowdown – the only way it influences the system productivity is by slightly raising the CPU usage when processing the data within scan and cleaning tasks, which is natural. Therefore, as long as your machine meets the minimum processing requirements for the operating system you're using (see above) – it will work seamlessly.
The interface seems pretty comprehensive at first sight. Actually, we haven't encountered privacy software with an interface as simple as that before. All it's got is 5 buttons on the left: Scan, Options, Schedule, Advanced Shred and About; and the ultimately understandable menu within each one. The excellently organized GUI provides amazing ease of use – it seems this utility can be used and customized by a ten-year-old kid, honestly. In the meanwhile, please do not conclude that this simplicity testifies to restricted efficiency – the app gives you a solid scope of privacy defense without fail or doubt.
On the whole, ParetoLogic Privacy Controls usability deserves maximum evaluation scores. Let's move on to see how good the program does in terms of the other criteria.
Features
---
ParetoLogic Privacy Controls is equipped with a nearly optimal range of features to detect private and sensitive information and permanently erase various kinds of files. Each option combines innovations and years of experience in data handling. The outcome is unfailing capability to eliminate Windows applications' history and other types of sensitive data that might be highly revealing. Now, a few words about each major feature.
Internet history removal comprises a set of instruments allowing you to delete all the prior web search history, cookies and confidential information from the web browser you are using. ParetoLogic Privacy Controls is compatible with all modern browsers and takes care of the associated data deletion lightning fast. All the information will be smashed without the possibility to further restore it, so you'd better take care of your bookmarks and sites you don't want to lose before unleashing this tool.
Covering the newest P2P applications is apparently a virtue of high value as ParetoLogic can process the data generated by apps that are on the rise: Mininova Toolbar, LimeWire, BitTorrent, uTorrent, isoHunt Toolbar and similar.
Erasing Internet messenger data and VOIP (Voice Over Internet Protocol) files is the ability that might be more directly associated with one's privacy than most of the files stored inside a PC. ParetoLogic Privacy Controls works with Skype, ICQ, MSN, Yahoo, Google Talk etc., deleting their history and the traces of transmitted / received personal files if requested.
MS Office history cleaning is one of the top tasks by relevance. ParetoLogic erases the list of recently opened items and enables canceling all the modified settings made by the user accidentally.
Obliterating media player and streaming video data means the program being reviewed can clean up all traces left by modern video and audio players such as iTunes, VLC, Winamp, RealPlayer, DivX and others. Did you know that even after uninstalling these applications there may still be affiliated files left on your system? ParetoLogic Privacy Controls processes and takes care of these.
Prevention from accidental removal – due to the numerous tips and prompts, it is not likely that a needed item is deleted. Before files are processed by the utility, you'll certainly be asked if you are sure. While some might think there's too much clicking in place here – if this step were skipped by default, you could lose something important. So discreetness is hard-coded into the tool, which is great for an app of this sort.
The features supplied by ParetoLogic Privacy Controls work flawlessly. All basic areas seem to have been taken into account in terms of maintaining your privacy.
Efficiency
---
This is a criterion the feature set and basically everything else would be pretty much a trifle without. "Does ParetoLogic reliably perform the assigned tasks?" – is the question to ask in the first place. Your PC is a powerhouse, where every piece of data processed and received, web surfing history and message history are the things that might play against you if obtained by the bad guys. Now, ParetoLogic Privacy Controls scrupulously scans your computer for erased and unwanted items and leaves it at your discretion which removal option to apply. 'Scan and Remove' is a simple and efficient task to permanently eradicate the files you no longer want. Should you have a slightest concern your sensitive or private files might be retrieved by someone else, the 'Advanced Shred' option provides additional levels of secure deletion ('Quick' – 1 overwrite pass; 'Safe' – DOD 5220.22-M: 3 overwrite passes; 'Thorough' – 7 overwrite passes), the latter exceeding the U.S. Department of Defense standards. This tool therefore effectively prevents your personal information from becoming public knowledge.
Help & Support
---
Support policy appears to be mostly self-help oriented. There is an extensive Q&A section on their website addressing the common problems that may occur. The online user manual is available as well, providing tips and troubleshooting advice on the vital functions of the software. In case the above opportunities do not address your problem, there is a 'Send an Email' option where you can describe your inquiry in detail and attach some logs or screenshots for the support team to get a better idea of the situation that you're in. We weren't been able to find an online chat option, which is pretty disappointing. There is a telephone support number though (1.877.420.7340), so emergencies can still be addressed – however, the number is not directly provided on the website, so it takes some digging through the Q&A section to figure it out.
+/- (Pros/Cons)
---
Light-weight and fast
Amazingly easy to install and use
Reliable data deletion algorithms
Shreds files on demand
Works with all major browsers and modern P2P applications
Regular updates
Doesn't support Mac OS
Too severe browser history cleaning
Bottom line
---
The strong points of this software are the speed, ease of use, high efficiency and universality. Whether it's browsing history, instant messenger logs, redundant Windows files or media content that you need to eliminate, ParetoLogic Privacy Controls copes with it within minutes, leaving no sensitive files behind. Pertaining to information deletion, the 'Advanced Shred' feature allows choosing the overwrite level to employ, one of those even exceeding the DOD standards. Overall, ParetoLogic Privacy Controls reliably cleans up sensitive data and guards it from third-party access.