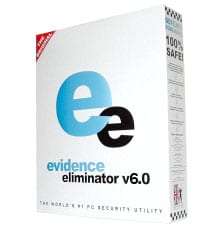 Evidence Eliminator 6 is reliable old-school software for guaranteed removal of your private information. Corporate website is currently unavailable.
Privacy sounds like a mantra to those who are savvy enough to know what it's worth in the environment of advanced computer technologies and the Internet. It's not as simple to duly maintain it as it might appear to the average user. The files you store on your computer, your browsing history and quite a few other things you deem totally routine can reveal a whole lot more facts about your identity and your habits than perhaps even some of the real-world objects closely associated with you.
As privacy has gone virtual to a large extent, it's high time people started taking care of it 'the cyber way'. This substantial shift in sensitive data perception that took place concurrently with the onset of overwhelming digital reign is a huge incentive to go ahead and implement new preemptive protection approaches. How about the stuff kept on your hard drive? It's key to your identity. Talk about your web activity – it's something almost intimate that you definitely don't want to be accessed by anyone out there. In this context, it's a pretty upsetting fact that deleting the above information through methods provided by Windows (e.g. hitting Delete, rendering your Recycle Bin empty or disk formatting) turns out inefficient as it might still be restored through the use of special software such as forensic analysis tools. Now, imagine you get compromised via a backdoor stealthily installed on your PC, or you sell your machine to someone else – either way, you could be owned even though you might be certain you cleared all of the personally identifiable data beforehand.
Evidence Eliminator (EE) tool by the England-based Robin Hood Software company is meant to lend you a helping hand in facing most of these challenges. It completely smashes private files making them irrecoverable if you assign this task, and irreversibly eliminates all traces of online activity, including browsing history, search requests log etc. Even though this all sounds pretty destructive and even reminiscent of something criminal and counter law enforcement, in this case destruction is a probably positive concept playing on your side. While introducing this product here, we can't help mentioning that the disk sanitation technology integrated in Evidence Eliminator meets the military-level standard applied by the U.S. Department of Defense – a prominent advantage to consider when picking the best privacy software.
System Requirements
---
Operating System:
Windows 9x, NT, 2000, XP, Vista, 7
Hardware:
CPU: Pentium or compatible, 64MB RAM
Additional Requirements:
Browser: Internet Explorer 4 or later
Internet connection
Usability
---
Evidence Eliminator is remarkably easy to get and set up. The distributive is available through its official website at www.evidence-eliminator.com – just click on the appropriate link there to initiate the process. Note that the vendor provides a choice between a 30-day trial offer and the commercial copy, the former downloadable through a direct link and the latter being distributed on an SSL-protected page requiring you to indicate that you trust it and accept the corresponding certificate before proceeding.
Now, the product price might appear pretty high to some – it's $99.95. That's quite expensive indeed, but first of all, it's for lifetime cleaning services per PC, and secondly what you pay for is the market leader and the 'ancestor' of all privacy tools whose reliability is beyond all doubt.
The time needed for the download to complete depends solely on your Internet connection and usually takes a few minutes. Once the installer is received, it needs to be extracted. Then you simply go through accepting the Licence Agreement, indicating the appropriate location in the system (if the default one isn't suitable) and defining the configuration of quick launch icons.
Once the software is installed, it's about time you explored its GUI and the functions. The very first thing that might come to mind is that the user interface seems pretty dated, resembling the old-fashioned applications clearly from in past decade. Indeed, it underwent no significant upgrades for years. That's apparently not the point though – the program works immaculately. Moreover, it's still pretty simple and comprehensive in terms of usability. You get the 5 main sets of tools in the upper right-hand part of the interface ('Safe Shutdown', 'Safe Restart', 'Quick Mode', 'Test Mode and Options'), each one opening up in the central section with multiple subordinate tabs and check fields. Another impression that might occur is that the GUI is excessively stuffed up with miscellaneous functions – well, that's not quite a drawback perhaps, because they are all mandatory for the product to perform the full scope of declared services.
We spotted no particular performance issues while testing EE. It doesn't consume system resources out of the ordinary, so PC slowdown or freezes are not something to worry about here. As far as the scanning time is concerned, the 'Safe Shutdown' and 'Safe Restart' will actually take a while as there's some in-depth checking going on when you pick those. 'Quick Mode' scanning shouldn't exceed an interval of several minutes to complete. Data processing and analysis with 'Test Mode' is a matter of a few minutes as well.
Features
---
The huge number of features embedded into Evidence Eliminator is undoubtedly an advantage. While we find it complicated to describe every single one of them in this review, and considering the mutual affiliation of many of them, we are going to outline and group together the key ones that are potentially most prominent and frequently used for securing one's data.
'Safe Shutdown', 'Safe Restart', 'Quick Mode' and 'Test Mode' are all about scanning your system for telltale information and eliminating it. However, each one has its own specifics. 'Safe Shutdown' and 'Safe Restart' are different in the action made after the data cleaning process is completed, the former shutting the PC down, and the latter triggering a system restart. 'Quick Mode' does basically the same thing, except it is more superficial and does not claim to deliver the ultimately correct and final results. 'Test Mode' can fulfil these tasks as well, but is basically meant for logging, saving the obtained logs to a separate folder. For you to better understand what all of them scan your system for, it's critical to mention that these features seek and delete the types of objects and data that you should have defined in advance using the 'Options' menu.
The 'Options' menu accommodates a variety of tools and tasks to assign. These include the following items to eliminate: Swap File, Windows temporary files, 'Run' history, 'Find Computer' history, 'Find Files' history, history of types URLs in the Internet Explorer Address bar, AutoComplete history, Windows Media Player history, Download Folder memory, Cache folder, URL memories in JavaScript prefs files, mail history, custom files and registry backups. Among the above-listed items that are strictly related to cleaning stuff up, the contents of 'Options' enable you to set some preferences, such as 'Enable High-Performance operations on all drives', 'Show safety messages if disk writes are detected', 'Enable secure Under-Writing of Directory Structures' etc.
By activating the 'Stealth Mode', you make Evidence Eliminator's icon and other similar components disappear, while the program is actually doing its work. Going in and out of this mode can be done through a hotkey combination.
'Windows Logon' feature is helpful where username and password are required to complete Windows startup. Since some activities of Evidence Eliminator presuppose subsequent system restart, this particular option enables doing this without the user's interference.
There is another pretty important tab called 'Mode' which is there to help you pick the most suitable method of data destruction. It encompasses 3 types of information deletion techniques: 'Zero (Recommended. Maximum Speed) 00000000', 'Zero + Reverse 00000000 11111111' and 'Zero + Reverse + Random (DOD) 00000000 11111111'. These modes are listed in the order of data elimination reliability growth, though the first one should do the trick for the average PC user. Noticing the DoD reference in the most advanced mode? Yeah, that's close to the military standard we mentioned in the Intro.
Shortcuts to some of Evidence Eliminator's functionalities can be added to the right-click context menu using 'Explorer' tab under 'Mics' option. You can as well define file extensions to eliminate (e.g. *.tmp, *.gid, *.chk, *.bak etc.) or add others for the program to process. EE also supplies the Recycle Bin cleaning feature enabling complete erasure of the files you sent there.
Efficiency
---
The optional DoD standard data destruction algorithm accommodated by Evidence Eliminator speaks for itself, so the one thing to eliminate from the shortlist of doubts is the product's dependability in doing what it's meant to. It's proven that even the forensic analysis equipment such as EnCase and F.R.E.D. fails in recovering information processed and shredded by Evidence Eliminator. Therefore neither the files that were once saved to your HDD, nor the very 'eloquent' browsing history will be accessible, no matter what the third-party's intensions might be and how serious they take it. While performing its tasks, not only does Evidence Eliminator consume very reasonable computer resources, even more – it can speed up your computer by deleting redundant files that cram up the system. Some of the things that we wish were provided by EE are more browsers supported (apart from IE, Opera and Netscape) and history cleaning capacity for a broader list of chat clients. Nonetheless, despite the above drawbacks and the aggressive scareware-like promotional tactics used in the past, it's undeniable that the program being reviewed is among the most effective and top-rated ones in this niche, so confidence is definitely in place with Evidence Eliminator running on your machine.
Help & Support
---
A problem that might occur while you're using Evidence Eliminator can be resolved in a number of ways inspired by the vendor's solid support policy. One option is resorting to the online knowledge base and FAQ section on www.evidence-eliminator.com which should address most of the potential complications (please note Evidence Eliminator website is currently unavailable). Contacting the Support Team is doable via a form you can fill out on the same page as the above options. In case you forget the product registration code, you might find the 'Priority Registration Backup Service' useful for recovering these data – note that this feature needs to be activated for a fee of $17.95 when you are purchasing the program's license. Additionally, EE's user interface has a built-in 'Help' button to give you quick access to main support resources.
+/- (Pros/Cons)
---
Light-weight and fast
Easy to install
Reliable files elimination and browser history cleaning
Variety of options and features
Right-click context menu option
Lifetime licensing
Low consumption of system resources
Restricted support for free version users
High license price
Somewhat gawky and old-fashioned GUI
Takes time to explore
Limited browser and chat client support
No task scheduling available
Bottom line
---
Whereas Evidence Eliminator has both some drawbacks and virtues, the latter definitely outweigh. A user who cherishes privacy should appreciate all the advantages this product has to offer and get the invaluable sensation of confidence in being the sole manager of their own data. Based on what we have learned about EE's functionality, it obviously appears to be worth the cost.