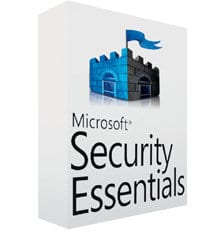 Microsoft Security Essentials was introduced in 2008 as a free antivirus solution maintaining adequate protection for workstations running Windows. Considering the criticism based on multiple reported security flaws of the operating system prior to the launch of this software, incentives for its advent are obvious: Microsoft was seeking ways to compensate for such allegations. In the long run, this went way beyond a mere response to the negative feedback as the program turned out a success, growing into the most popular antivirus in North America, and one of the prevalent AV tools worldwide within its 4-year lifetime – an attainment not many counterparts can boast.
Security Essentials was made to be an easy-to-use and effective product requiring no special user expertise and consuming a minimum of system resources. Microsoft managed to hit the nail on the head achieving the bulk of this mission: MSE came out fairly tough on viruses and spyware due to intelligent real-time protection supported by one of the most extensive virus definition databases out there. Furthermore, the amazingly simple controls make the product perfectly understandable in terms of all usability benchmarks.
Let's not forget it's freeware though, hence some typical drawbacks: while detection rate of widespread and prevalent malware is decent (90% according to AV-TEST), possible 0-day infections are likely to be missed as the solution fails to even come close to the industry average on that one. What is more, cleaning a malware-infested system with Microsoft Security Essentials might be only a partially effective endeavor because it isn't stable at eliminating even the threats it found. So, with this application running on your machine, it's not too easy to predict what happens when it is confronted with security hazards. And yet, there is barely any other tool that compares to MSE in the free AV software niche. Shall we see how efficiently Microsoft managed to implement their immense software development proficiency while making one of the world's most popular Windows security apps?
System Requirements
---
Operating System:
Windows XP SP3 / Windows Vista SP1 or SP2 / Windows 7
Hardware:
For Windows XP:

CPU 500 MHz or higher
256 MB RAM or higher

For Windows Vista / Windows 7:

CPU 1.0 GHz or higher
1 GB RAM or higher
Additional Requirements:
200 MB of available HDD space
VGA display 800×600 or higher
Usability
---
Microsoft traditionally being on the customers' side when it comes to user experience, Security Essentials was made extremely straightforward in both installation and customization, not to mention the ease of utilizing virus protection proper. Once executed, the 10.6 MB installer file triggers the setup process which follows the pattern of overall simplicity as well: you get a few standard screens, some of them containing options such as activating your Windows firewall (in case it's not running for the moment), or joining the Customer Experience Improvement Program. One more technicality you need to go through during installation is Windows OS validation, which means you can only run MSE on a genuine copy of the operating system. Incidentally, this utility runs on Windows XP, Vista and 7, but won't work on Windows 8 because the latter is bundled with antivirus component of its own.
The user interface is ultimately clean and streamlined. There's no abundance of graphics in it, however it appears to be balanced in every way, coming down to the essentials of virus protection and hence completely justifying its name. Composed of just 4 menu buttons (Home, Update, History, and Settings), it allows exploring what's inside in a matter of minutes. The main window informs users of their up-to-the-minute general security statistics, including real-time protection status and spyware definitions validity. Without having to navigate away from this screen, you can start system scan after picking scan options (Quick, Full, or Custom) in the right-hand part of it. The Update menu lets you manage and keep track of the product signature updates; the History window enables handling quarantined items and configuring what's allowed to run on your PC; and Settings page contains task scheduling, real-time protection, and MAPS (Microsoft Active Protection Service) options, and makes it easy to set exclusions for certain types of files and processes to be disregarded during scans.
MSE turned out to be light on system resources in our test; the same is confirmed by independent third-party evaluations. The only irritator that we took note of is the time span for full scan to complete – this benchmark is pretty bad here as scanning takes overly long, while quick scan won't take much time at all. Generally, Microsoft Security Essentials is splendid from the average user's perspective: it's feather-light on the system, unobtrusive, and very simple usage-wise.
Features
---
Affluence of features is not one of the things you would expect to see in free antivirus software. MSE is therefore pretty restricted in this regard, with only the core features included – which isn't bad actually, it's just the way freeware is.
Comprehensive malware protection is accomplished with one of the largest virus and spyware definitions databases on the market. The utility defends you in real time, blocking potentially harmful files from accessing your computer, and closely monitoring the behavior of active processes.
Owing to automatic updates, you needn't get distracted to get the virus definitions refreshed, because this workflow takes place in the background once a day.
The product is available in 33 languages. This allows users worldwide to enjoy Microsoft Security Essentials' basic free protection without running into misinterpretation issues.
Microsoft Active Protection Service is a two-way benefit. On the one hand, it provides you with the latest spyware definitions as a response to other users' issues. On the other, membership with MAPS means you opt into contributing security data retrieved on your machine to Microsoft labs for others to be guarded as soon as possible.
This software runs quietly to ensure the best user experience. Alerts pop up only in case you are required to take specific security-related action, and scheduled events take place when the system is idle so that you don't feel the impact no matter how small it actually is.
Efficiency
---
One of the things making Security Essentials different from other free antivirus software samples is the fact it uses basically the same technology that Microsoft employs for protecting big enterprises, therefore in this case free shouldn't really imply poor defenses. However, the latest test report by the German AV-TEST IT Security Institute is unlikely to look flattering to this product's fans: protection scores are low, amounting to 2.0/6.0 for Windows XP, and 2.5/6.0 for Windows 7. MSE turned out particularly weak at protecting from 0-days, including web threats, scoring 85% (industry average 91%); and didn't cope too well with detecting malware discovered in the last 2-3 months, getting a 93% result (industry average 97%). Obviously, new or recently spotted viruses have pretty good chances to get through.
The good thing is commendable scores at detection and removal of widespread malware, including rootkits and other stealth infections – the product made it well over industry average by all corresponding criteria in the test. Additionally, Microsoft Security Essentials is known for consistently low false alerts rate, which is a virtue not to be underestimated these days. Furthermore, the software is certified by VB100 and West Coast Labs.
Generally, protection provided by MSE is far from perfect: it might be doing a better job combating 0-day attacks, so responsiveness to new challenges leaves much to be desired. On the plus side of the software is fairly good basic guard against catalogued malware, and surprisingly high efficiency at handling rootkits – the malign entities which typically cause security software vendors quite a bit of trouble. Well, and yet another benefit is the "low, low price of free", as Microsoft put it, so that's obviously one of the factors to consider when weighing up all the pros and cons.
Help & Support
---
MSE users shouldn't be short of support opportunities because a diversified system of help channels is entirely at their disposal. Of course it's futile to expect support for free software as dedicated as enterprise customers enjoy, and yet you get all it takes to solve an issue. Self-help options include exploring Microsoft Knowledge Base and MS Safety & Security Center. Additionally, visiting community forums and the vendor's Malware Protection Center blog might address the problem or question that comes up. Live assisted support from Microsoft is available as well.
+/- (Pros/Cons)
Free of charge
Easy to use
Low system performance impact
Decent protection from prevalent malware and rootkits
Slow full scan
Poor protection from new threats
Scarce feature set
Bottom line
---
Microsoft Security Essentials does the trick for those who seek basic virus protection. It successfully passed certification by reputable third-party test institutions (Virus Bulletin, AV-TEST, West Coast Labs), with decent scores in taking care of widespread malware samples. In terms of usability, this software is nearly flawless: it is simple, unobtrusive, and light on system resources. Meanwhile, few features and the not-so-good defense against new infections are MSE's main downfalls. All in all, given that it's free antivirus software, Security Essentials delivers decent efficiency to keep your PC protected against the majority of threats out there.