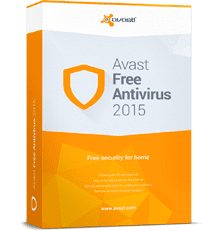 Quick setup, comprehensive controls, commendable speediness, decent feature set, and zero cost – these are but a few of the characteristics avast! Free Antivirus 2015 has got under the hood. Results of independent third-party tests which are closely comparable with those of commercial counterparts make this product one of the most reliable free antiviruses out there.
Although the vendor's product comparison chart looks a little discouraging with regard to this particular piece of software, with only three out of nine fields checked, this free AV turns out to deliver more than just the declared virus and spyware protection and remote assistance tools. In fact, you get loads of additional features as well such as Browser Cleanup, Home Network Security, SecureLine VPN, Remote Assistance, AccessAnywhere, Rescue Disk, GrimeFighter, Software Updater and a multitude of real-time Protection Shields for the file system, web, behavior, mail, scripts, network, P2P applications, and instant messaging.
From where we stand, avast! Free Antivirus 2015 completely ruins the stereotype of free being short of features and not effective enough. It's not by chance therefore that this utility is generally known to be one of the world's most popular antiviruses. Intrigued? There are some more details to come: you can learn down-to-earth facts about this software in the context of most relevant evaluation criteria below.
System Requirements
---
Operating System:
Windows XP SP2, any edition / Windows Vista SP2 or higher (except Starter Edition) / Windows 7 / Windows 8 / Windows 8.1)
Operating System:
Processor: Pentium 3 or higher
128 MB RAM or more
400 MB free HDD space
Usability
---
Downloading 4.8 MB of data is all it takes to kick off using avast! Free Antivirus. This is a stub installer which then walks the user through the rest of the setup process. Overall, the installation takes as little as the amazing 1 minute, and is followed by an approximately 30-second-long initial scan – quick, indeed. The upsell offers displayed at the bottom of the interface are not overly obtrusive, always providing a zero-cost alternative.
The interface is a pretty well-balanced blend of dark-grey, yellow and green, with eye-catching components and reasonably saturated graphics. One thing that draws attention from the start is the size of the GUI for the 2015 version – it no longer seems huge compared with the predominant majority of its counterparts. The updated product looks neater and quite compact in contrast to its predecessor.
The user awareness aspect here is addressed remarkably as the main pane reflects basically all you as a customer might want to know: current protection status, the statuses of real-time shields as well as shortcuts for Smart Scan, Browser Cleanup, Home Network Security and SecureLine VPN features. The entire functional arsenal is represented in the left-hand pane encompassing options for Scan, Tools, Store, Account, Statistics, and Settings. Overall, the structure of the user interface is shaped up in conformance with conventional tenets to be intuitive and easy to navigate, with quite a bit of sophistication in terms of the graphics. Another thing to point out is the voice you hear accompanying certain events, such as threat, suspicious item or potentially unwanted program (PUP) detection, scan completion, and virus database update.
avast! Free Antivirus 2015 should by no means go tough on your operating system's performance. It was amazingly light on the system throughout our test, and never really slowed it down to a notable degree, so this benchmark is definitely not something to be concerned with – unlike the scan. Whereas Quick Scan that we launched manually took about 30 minutes to complete (which isn't that good of a benchmark), things are tangibly worse with Full Scan, where you can start it and go take a walk or visit some friends, because it seems to take forever. Just to be precise, 10% progress was a matter of 30 minutes in our case. So, running Full Scan of your system is not what we recommend doing a lot; maybe once a month would be fine, for your nerves' sake. It's more judicious to schedule Quick Scan once or a twice a week or get the program to run Boot-Time Scan at not too short intervals.
Features
---
Surprisingly, avast! Free Antivirus 2015 is not restricted to basic virus protection. It covers some additional niches to assure more than the regular security freeware typically does.
Protection against viruses and spyware is the fundamental feature for timely detection and removal of trojans, worms, spyware, rootkits and potentially unwanted programs. Efficiency of this routine is ensured by regularly updated definitions-based engine, behavioral analysis, real-time defense, and cloud features.
Hybrid cloud technologies combine reputation services and streaming updates. This way, the user stays appropriately protected from the newest threats that the conventional signature principle might fail to handle.
Real-time shields are things that give avast! Free Antivirus an advantage over the competition. The program features a mix of the following additional protection modules: File System Shield, Mail Shield, and Web Shield. Each one of these can be stopped and re-launched at any time, plus you can apply custom settings and view the corresponding shield logs. Be advised making changes to shields' statuses requires a computer restart to take effect.
Browser Cleanup is a feature whose objective is to check the web browsers installed on the computer for add-ons with poor user rating. It finds the extensions which are questionably safe and advises on countermeasures. If the user wants, the intrusive toolbars and other add-ons can be uninstalled in a single click.
By using the Remote Assistance option, avast! users can access each other's computers remotely, which may be particularly useful for troubleshooting or maintenance purposes. No matter how complex this functionality might seem, the feature is a trifle to make use of: you click a button to generate a unique code which you can report to the person you would like to get assistance from. Likewise, to help your friend and access their machine, enter the code they sent you into the corresponding box.
Smart Scan is an all-in-one feature which makes it a single-click experience to check the computer for viruses and malware, hacker threats, out-of-date software and home network security status.
Software Updater is built into the application to detect out-of-date programs and inform the user about the apps that are up to date. For the utilities where a newer version is available, avast! Free Antivirus 2015 provides a one-click feature to download the latest build, which is really convenient because you don't have to go to the vendor's site. Activating automatic updates is a matter of first purchasing the Premier version's license.
The Home Network Security (HNS) tool scans the network and router for potential issues that may expose your computer and other connected devices to the risk of remote intrusion.
SecureLine VPN is an online privacy feature which enables encrypting the user's connection with a military-grade algorithm. This instrument is intended to provide web anonymity and prevent tracking of one's activity on the Internet. Although this tool is included into the feature set for avast! Free Antivirus, it's only fully functional for three days – a purchase is mandatory for further use.
Efficiency
---
Third-party tests show avast! Free Antivirus 2015 mainly to advantage. Not only does it rank well in comparison with other free security suites, it can well compete even with reputable commercial products. In AV-TEST's protection and repair evaluation, avast! got above-the-average results in terms of protection against 0-day malware attacks. Furthermore, the software is an unfailing 'resident' of Virus Bulletin's VB100 ratings, and the winner of AV-Comparatives' Advanced award in the latest Performance Test. With regard to real-world protection, according to AV-Comparatives, avast! Free Antivirus 2015 shows fairly commendable results, getting 95.9 points out of 100. In any case, you as a user can rest assured that serious harm will not be done to your system as long as it's protected by avast!. Looking at the results in general – they're good for an antivirus solution, and simply great for free AV software.
Help & Support
---
The self-help options for avast! Free Antivirus users include FAQs, User Manual and the official Support Forum. Reaching avast! tech support team is doable through submitting a ticket with the details of your issue; in this case, you need to go through several selection screens for the product type, operating system version, problem category and severity. By the way, we ran into an issue with sites being blocked when Web Shield was on, so we submitted a ticket and got a response within minutes, with recommendations on fixing the bug. The Remote Assistance feature can be of help as well when things go wrong. It's also nice to know that there is a toll-free telephone number for customers from the U.S. to get assistance. The only thing missing here which some vendors provide is online chat, but given all the versatile help channels, this shouldn't be a problem.
+/- (Pros/Cons)
---
Easy to install and use
Neat-looking updated GUI
More than basic virus protection
Online security features
Outdated software update options
Home Network Security tools
Responsive tech support
Bottom line
---
Out of the free AV utilities we have reviewed, avast! Free Antivirus 2015 offers the functional value which is the closest to that of the average commercial security software. It is light on the system, remarkably easy to use, and fairly effective in malware protection. Another thing that stands out a mile is the program's feature set which is extraordinarily rich for a zero-cost application. All in all, in case you cannot afford paying for computer guard against cyber threats, avast! Free Antivirus is nearly the best pick possible.