Posted by
David Balaban
on January 7, 2013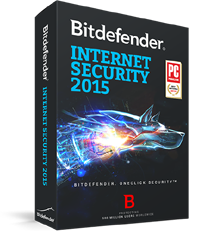 $79.95
Bitdefender Internet Security 2015 provides silent and hassle-free protection of premium quality.

| | |
| --- | --- |
| Usability: | |
| Features: | |
| Efficiency: | |
| Support: | |
| Overall: | |
Download
Rating charts of the industry's best Internet security software are only complete with Bitdefender's solution represented, otherwise an inalienable component is unjustifiably torn off to ruin the true concept of the competition. A little over a decade of the Company's malware combating endeavors is not the longest we've seen, but the achievements and the recognition gained are more than commendable.
Bitdefender Internet Security 2015 is a cyber monster-truck on a digital highway crammed up with challenges, threats and dangers. Sticking to the brand-new slogan 'One Click Security', implying the ease of foiling computer menaces, it was made to literally smash viruses you stumble upon, and provide all-embracing protection against the online side of cybercrime: phishing scams, spam, hacker attacks, social networking fraud, and more of the unfortunate facets of the present-day worldwide web. Even more, the software accommodates tools to remotely handle unauthorized physical access to all the other devices protected by Bitdefender; provides secure browsing environment for financial transactions; accommodates a highly efficient cloud antispam functionality; includes extensively customizable parental control; delivers a rigid two-way Firewall; enables shredding sensitive files beyond recovery; and allows tuning your machine's performance to ensure silent security without lags.
The solution being reviewed uses an antivirus technology recognized as #1 by AV-TEST for three years straight. Bitdefender is also the owner of AV-Comparatives Advanced+ award in multiple lab tests. More distinctions include PC Mag's Best Security of 2014 award, VB100, and positive mentions in numerous reviews, including ours.
System Requirements
Operating System:
Microsoft Windows XP SP3 / Windows Vista SP2 / Windows 7 SP1 / Windows 8 / Windows 8.1
Hardware:
CPU: 1.6 GHz or higher (Intel CORE 2 Duo 2 GHz or equivalent recommended)
RAM: 1 GB (for Windows XP), 1.5 GB (Windows Vista / 7 / 8 / 8.1)
1 GB free space on HDD (at least 800 MB on system drive)
Other requirements
Browser: Internet Explorer 8 and higher / Mozilla Firefox 14 and higher / Google Chrome 20 and higher / Thunderbird 14
.NET Framework 3.5
Usability
For those hesitating to pay the relatively high price of $79.95 right away (1-year license for up to 3 machines), Bitdefender provides the option of installing free 30-day trial to check out the effectiveness of the product, with subsequent opportunity to upgrade to the full version if desired. The stub installer you initially download is there to make sure you are getting the latest build available and the whole process runs smooth. The setup went hassle-free and implied a minimum of action on our end. Once installed, Bitdefender Internet Security 2015 works in the Autopilot mode, which means you won't have to do any excessive configuring or decision-making as the software does it all for you.
At this point, you can explore the Security Widget providing quick access to a few essentials of protection, such as events, antivirus settings, firewall configuration; and allowing you to drag-and-drop individual files you want scanned. While some users' feedback about this desktop widget is not too favorable, underscoring its clumsiness, we find it quite handy and really informative. We only wish it provided a shortcut to the program's main pane, which it doesn't. However, Bitdefender's system tray icon will do the trick and open up the GUI.
Even a quick glance at the interface suffices to realize that it's clean and easy to understand. The large buttons linking to the primary features are convenient and perfectly accord with Windows 8 style, being particularly good for touch screens, too. Appropriate user awareness is contributed by the prominent security status bar on the top, with colors varying for different levels of current safety. The main screen's top section is also occupied by the Autopilot and Profile components. Next to the minimizing and closing buttons is MyBitdefender option which provides access to your account settings, the dashboard, and parental control features. The main menu is composed of the following sections: Protection, Privacy, Tools, Scan, Update, Safepay, and Optimize, each opening up into a more detailed page for customization and task assigning.
With the default settings unaltered, Bitdefender's impact on system productivity turned out somewhat tangible – not that the PC was freezing or performing generally slow, but CPU consumption would hump over 90% once in a while during scan or update tasks, and Windows boot times increased substantially. This issue is bypassable when the Bitdefender Photon comes into play, or can be addressed through the use of the all-new Tune-Up with OneClick Optimizer feature which improves overall PC productivity. We found scanning with Bitdefender not to be lengthy for an application as powerful as that. On the other hand though, cleanup of an infected computer is typically a time-consuming process. In general, the usability benchmark is fairly good: setup causes no trouble, the interface is wonderfully balanced and comprehensive, and system performance is only affected within reasonable bounds.
Features
The toolkit hard-coded into Bitdefender Internet Security 2015 covers all facets you might possibly need protected when performing routine activities, and actually provides even more than that. You additionally get far-reaching privacy and social networking protection, as well as reliable defense when visiting e-commerce websites. Plus, the suite offers some options for improving the way your computer operates by delivering a number of performance enhancement opportunities.
Active Virus Control basically translates to Bitdefender's award-winning antivirus technology which is a combination of intelligent heuristics, dynamic detection and signature-based instruments for accurate and efficient real-time defense.
We already mentioned Security Widget in the above section – it is a feature that keeps you informed and allows quick access to security-related tasks without actually having you open up the main interface. Another great thing about this desktop element is the option to drag-and-drop the items you would like to get checked for infections. Should there be any important notifications for you to review – the widget will display them as pending, and you'll just need to click the corresponding button to learn more.
The enhanced Bitdefender Autopilot reflects the vendor's pursuit of silent security. It minimizes user interaction in making security decisions so that you won't be disturbed in situations where the program can find an optimal path on its own. Therefore you can relax and basically leave it all to Bitdefender – it knows how to manage your security.
Bitdefender Safepay is invaluable when you are banking or shopping online. This feature automatically opens such web pages in a secure browser to prevent man-in-the-middle attacks as well as any other attempts of unauthorized access or identity theft. In the 2015 version, Safepay can also automatically fill out the billing fields for you.
Bitdefender Wallet lets you do online shopping and banking safely and quickly by autocompleting the payment (credit card) details. Even more, this feature handles website login credentials as well as the ones for messengers and Wi-Fi networks.
Two-way Firewall won't let intrusion from the outside get through. The peculiarity of this defensive component is the fact it monitors both in- and outbound traffic, including cases when you are online via Wi-Fi connection.
Quick Vulnerability Scanner identifies outdated and unpatched software, as well as insecure system settings that might be potentially exploited by cyber criminals to gain unauthorized access to the PC, steal private data, add your machine to a botnet, etc.
Bitdefender Internet Security 2015 proved to do a great job filtering out unwanted emails with the Cloud Antispam feature. It's common knowledge that spam is not only annoying but might as well be bundled with drive-by downloads or a variety of other threats.
Antiphishing is there to make sure you do not disclose your credentials, such as usernames, passwords, etc., on websites designed to resemble genuine online services, in fact being phony. This feature prevents you from accessing such web pages.
Online Dashboard provides access to your Bitdefender account, including the information on licensing and statuses of your services. It also gives you the controls and monitoring ability with regard to your Bitdefender installations on other PCs and mobile devices.
Parental Control, now enhanced in Bitdefender Internet Security 2015, allows setting different profiles for each of your kids, blocking inappropriate content, and even monitoring their activity on Facebook regardless of the type of device they are using for social networking.
USB Immunizer keeps flash drives with viruses from contaminating your machine and passing the infection over to other computers.
Bitdefender SafeGo protects you from being infected when on Facebook and Twitter. It can identify malicious links someone might have posted on your wall, and advises you on maintaining security of your accounts.
Fraud Warnings is powered by Cloud services to alert you on unsafe URLs directly in the search engine results.
Should you need to get some sensitive items irreversibly deleted from your computer, File Shredder will help you out. It utilizes an advanced data wiping algorithm to make sure no file traces are left after such erasure.
The new Bitdefender Profiles feature intelligently figures out when the system is being actively used and prevents the running applications from interrupting you or slowing the PC down. The developers' intent is clear: neither the program itself nor other apps are supposed to lay additional burden on the system when the user needs the computation power for other purposes like working, playing or watching multimedia content.
OneClick Optimizer is meant to make your system run faster by adopting a variety of optimization measures, such as freeing the disk space, fixing registry issues and the like.
With Bitdefender Photon, you get a highly intelligent tool that adapts to the specificities of your system within a short time so that overall performance and the program's operating speed are tangibly improved.
Rescue Mode is to be used in emergencies, where overly persistent threats do not yield to regular cleaning. When in this mode, such critical infections can be taken care of without complications.
Efficiency
In terms of protection, Bitdefender is in close competition with the industry's flagship suites, which is certainly not by chance. Not only is it equipped with one of the most complete feature sets across the board, the software is also extremely reliable when it comes to actually detecting and eliminating the bad stuff. This has been verified by multiple labs whose reputation is out of the question.
Based on the recent lab test by the German AV-TEST IT-Security Institute, Bitdefender Internet Security scores 6 out of the total 6 points by both protection and repair. This means you can fully rely on this utility for guarding your PC from 0-day malware attacks, relatively new threats that emerged in the last couple of months, and widespread viruses, including rootkits and stealth malware. Given such stunning results, it would perhaps be fair to assume that there might be a side effect – false positives. Surprisingly, that's not the case at all though: Bitdefender's false alerts rate is below the industry average.
In AV-Comparatives' latest Real-World Protection Test, the software showed 99.8% protection rate, gaining the Advanced+ rating, which we already mentioned in this review. Furthermore, Bitdefender didn't fail to pass a single VB100 certification since 2010. Therefore, no doubt this suite will match and probably exceed your expectations while guarding you from viruses, spyware, spam, and identity theft attempts.
Help & Support
Bitdefender help is wonderfully structured and organized. It has it all: the FAQs, online knowledgebase, comprehensive User's Guide, the Forum, online chat, and worldwide telephone support. Frankly, with the abundance of self-help options and their immaculate informative value, the need to reach customer service agents directly is not a likely probability here. And yet, live support is responsive and professional. All in all, we really admire the help emphasis and effort Bitdefender makes.
+/- (Pros/Cons)
Excellent lab scores
Flexible parental control
Effective antiphishing and cloud antispam
Rescue Mode helps handle persistent threats
Easy-to-use interface
Great customer support
Windows 8 / 8.1 compatible
Bottom line
Consistently high lab results by all determinative criteria, overarching feature set, and unfailing dedication to the customer – these are the prominent facts that make Bitdefender Internet Security one of the flagship applications in its niche. Remarkably enough, all controls are made amazingly simple despite the inner sophistication this utility bears. As a wrap up, Bitdefender Internet Security 2015 provides hassle-free silent protection of premium quality.
Like This Article? Let Others Know!
Related Articles:
Comment via Facebook: