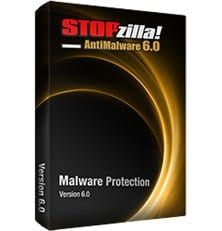 At Florida-based iS3 security solutions provider, they claim their new STOPzilla AntiMalware to be a breakthrough product featuring "ultimate PC protection". In fact, this application has had a predecessor that computer users and IT specialists should be more familiar with – the world-famous STOPzilla with Antivirus which was commonly associated with a slightly awkward mix of decent efficiency and the somewhat cartoonish graphics of the User Interface. The product was good enough for basic antimalware protection, though never really ranked to be in the top of the industry ratings, mainly due to usability issues such as long scan times and lack of features that are normally supplied by competitors.
The acronym 'AVM' stands for Antivirus & Antimalware, which in this context denotes a brand-new technology directed towards providing higher productivity while enhancing detection capabilities and moving malicious items to the quarantine lightning fast and unmistakably. Our task herein is to see how the fresh design and this innovative security approach is reflected on protection aspects of the software; and whether STOPzilla AntiMalware addresses the challenges its forerunner failed to cope with.
System Requirements
---
Operating System:
Microsoft Windows XP / Vista / 7 / 8 (32- and 64-bit)
Additional Requirements:
Internet connection to install online and get further database updates
500 MB free drive space
Usability
---
The vendor did not choose to deviate from their previously established guidelines here in terms of the free trial: STOPzilla AntiMalware features a 15-day evaluation copy which you can install and try out without actually purchasing the software. There is a substantial restriction here though: the trial version does not accommodate full cleaning capabilities. While providing real-time protection and allocating suspicious and potentially harmful items to the quarantine, the product will not perform complete malware removal and system remediation unless you register it using your credit card. Well, the trial should still suffice to see what the app is all about and how good it is at fulfilling some basic tasks.
There are a couple of must-mention things that we noticed during installation. The Setup Wizard offers you opt in to joining the STOPzilla Safety Network which is an online instrument within IS3 Research intended to keep track of new infection samples across all of its members worldwide, so that's kind of a cloud-based service. Another request you get while installing the product has to do with enabling Real-Time Protection and Scanning – like we already mentioned, this feature is supplied for free during the trial period. Overall, the setup did not turn out lengthy or cumbersome. The only thing that took some time was checking for updates and downloading antivirus definitions which are around 90MB in size – the time span for that depends solely on your Internet connection. What you get next is a 'Reboot required' alert, though the setup algo actually allows postponing system restart.
The User Interface is perhaps the main external distinguishing trait of STOPzilla AntiMalware as compared with earlier versions of the product. The well-known yellowish color scheme faded away, yielding to the dark GUI that renders some sort of benign aggression and inspiring trust for the application's capability to combat the bad stuff out there. The good old dino-style sound alerts are pretty much the only outer reminiscence of the forerunning builds, breaking in when a virus is detected or some other security issues comes up.
The interface is pretty straightforward to use and navigate, not being stuffed with heaps of buttons and containing the essentials right where you might expect them to be. Some of the options that used to be on the main screen are now part of sub-menus within the 5 items on the top. The Home pane now embeds only your current protection status, shortcuts to Scan and Update, as well as STOPzilla CPU Usage stats – the latter probably being a 'loud' response to the past reproaches of voracity for system resources. Despite the fact that STOPzilla AntiMalware appears somewhat plain on the outside compared to STOPzilla proper, we consider it to be pretty balanced and well thought out in terms of the functionalities that users appreciate in the first place.
Now, some bad apples in the cider. While the vendor is apparently taking effort to reduce scan times and CPU consumption, improvements are not as drastic as one might have anticipated. The Intelligent Scan that launched after setup was relatively long, though this might actually be understood as it was the first one on the new Operating System, so things aren't really bad there. But what we didn't admire, to put it mildly, is the overly aggressive protection that hints at false positives issue. The program blocked the Instant Messenger on our lab machine and moved it to the quarantine as adware. What is worse, it didn't explicitly ask for permission to do so. As a result, the executable for the IM was not accessible to its launcher, and even restoring the adware-labeled objects from quarantine didn't help. That's sort of frustrating. Another issue we had was about uninstalling the product when the test was complete – it simply wouldn't go away, freezing at 'Please wait while Windows configures STOPzilla' message. Neither via Control Panel nor the app's own Uninstall option could we get it to uninstall. It took us some thinking and using a special tool to get the job done.
On the whole, the impression from using STOPzilla AntiMalware is somewhat ambiguous. On the one hand, you get an easy-to-use solution that won't let infections get through; on the other – you get to deal with false positives and lack of user interaction. Still, we believe the good part outweighs the drawbacks – at least, you can be certain your computer is safe and sound at all times.
Update: As of December, the particular issue with false positives that we had during the test appears to be no longer observed. Furthermore, the uninstall problems outlined above have been fixed as well. Apparently, iS3 are taking third-party feedback seriously, which is nice to know.
Features
---
Feature set constituents fit into the leitmotifs of usage convenience and antimalware protection in a variety of its forms. All the applicable options are easily accessible from the User Interface – at least, we ran into no difficulties spotting the basic features to give them a shot. Before we proceed here, it would be fair to point out that the program is immensely security oriented and does not exhibit particular focus on quantity of the features that are unrelated to protection directly.
AVM Technology is a state-of-the-art approach to guarding a computer from several angles. The positive outcomes of AVM implementation are obvious: detection rate is fantastic, plus virus data processing is made faster than ever before. The other part of this technology is about emphasis on lowering the system resources impact as well as increasing the productivity of the software itself. So you get faster startups and scans, less interference with other applications and tasks execution, and lightning-fast quarantine actions undertaken by the program. So basically AVM Technology means more powerful protection multiplied by improved performance.
Real-Time Protection implies advanced malware detection and cleaning capabilities incorporated in the product. Sticking to the 'prevention is better than cure' principle, STOPzilla's Real-Time Protection module keeps threats off your system by blocking them before they actually infiltrate. This is a preemptive technique that helps you avoid damage by malicious objects from the outside.
Secure Online Searching and Shopping is ensured through the program's web-surfing protection capabilities. Should any bad scripts, trojans or other malware be detected on your way to a certain website, it gets blocked for good. Additionally, pretty reliable sandboxing allows avoiding phishing scams while purchasing things online.
STOPzilla Safety Network is composed of a global community of users whose participation enables the company to respond to zero-day and emerging viruses quickly, as the newly discovered threats get added to the database so that all STOPzilla customers are further protected. As we outlined in Usability section, STOPzilla Safety Network is an opt-in service you are suggested to join during setup, or further into using the product.
The utility being reviewed features a number of scan types: Quick, Intelligent, Full and Custom Scans. There is a comprehensive comparison chart within the corresponding menu section, with an extensive list of malicious items covered by each kind. These extensible scanning options vividly exemplify STOPzilla AVM's focus on unfailing detection we touched upon a bit earlier.
Flexible Scheduling makes it easy and handy to assign a variety of tasks according to your preferences. The Scheduler built into this product is definitely among the most customizable ones we've seen.
Efficiency
---
The probability of hazardous infections getting through when STOPzilla AntiMalware is running on your machine is close to zero. We can't help giving credit for this program's robust protection organization and reliability by this criterion. Since the product hasn't yet been around for long, its testing history is scarce so far. However, it has already passed certification by one of the world's fastest growing evaluation systems – West Coast Labs Checkmark. The product met all the test criteria, scoring an excellent 100%.
Our evaluation in no way denies this achievement by IS3. The utility detected all the deliberately planted trojans and spyware, immediately moving them to quarantine to prevent damage. Perhaps STOPzilla AntiMalware is overly aggressive in terms of detection as it identified some normal apps as potentially harmful or privacy infringing. Does this peculiarity tick enough checkmarks to be considered a false positives problem? Well, at least that's what it looks like. But anyway, more protection means you are safe no matter what; although this might be a nuisance to some users. Overall, this software does protect the computer it's on, and combats malware with commendable reliability.
Help & Support
---
IS3 is making great effort to keep its customers satisfied by providing a complete set of support opportunities. There's hardly anything to add to the options offered: you can make use of phone support (international number available; toll-free for U.S. and Canada), Live Chat, Contact Us form and Email. By the way, basic support resources (phone number, support email, support website, and link to Live Chat) are indicated directly in the GUI, so you needn't browse and search to get to the right web page – it's all there for you in a single location.
The above options are complemented by self-help resources such as the FAQs and forms related to registration issues at www.stopzilla.com/support/.
+/- (Pros/Cons)
Evaluation version available
Low impact on system startup
High malware detection scores
Effective real-time protection
Extensive scan options
Remarkable scheduling
Great support
Some competitors offer more features
Bottom line
---
STOPzilla AntiMalware looks fresh, intelligent and ruthless on malware. There is very little chance this solution misses a severe infection on your PC; furthermore, viruses get spotted and blocked before actually entering your system owing to the innovative AVM Technology, so you get both real-time protection and sophisticated prevention. Whereas somewhat long scan times and occasional false positives on regular applications appear a bit discouraging, the obvious benefits from the ease of use and efficiency are out of the question. Judging from what we saw, this product features simplicity while applying best practices of antimalware protection.