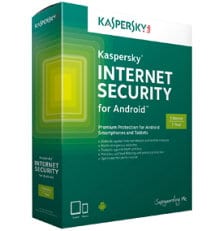 Kaspersky Lab keeps proving its versatility by continuously expanding to new security areas. Another domain they now keep abreast of is the mobile niche which is rapidly evolving into an indispensable constituent of the everyday routine. With Kaspersky Internet Security for Android product, you stay on the safe side of a potentially insecure environment.
The software offers some unique features to guard your smartphone from different angles, utilizing malware defense, privacy protection, anti-theft measures, data encryption, anti-spam, parental controls and GPS location. From where we stand, Kaspersky Internet Security for Android appears to be a robust all-in-one smartphone protection kit incorporating everything you might possibly need to confidently go mobile undistressed and virus-free. Considering the vendor's perfect reputation as well as the actual conclusions drawn from this analysis, this is a product you can definitely count on.
System Requirements
---
Additional Requirements:
Minimum screen resolution: 320 x 480
Internet connection
Usability
---
Kaspersky Internet Security for Android is no resource hog, so neither your phone's productivity nor the battery should be significantly influenced by this software. There are several different ways to install the product: you can either download the distributive from Kaspersky website / Google Play, or – if you have it on a CD – install it by connecting the phone to your PC. One thing to note if you are downloading KMS 9 online is you need to scan the QR code provided on their site, so you'll need a QR code reader for that. This being done, it takes as little as clicking a few 'Yes', 'Continue' and 'OK' buttons and accepting the License Agreement terms to complete the installation. Kaspersky gives users an optional 7-day trial period for this product, so you can test it and see for yourself how well it does the job before activating it. The next thing you are required to do is set a secret code for preventing unauthorized access to the software. If you choose to enable the code restore option, you'll need to enter your email address, otherwise just skip this step. If the software asks you to reboot your phone at this stage, do so before moving on.
Once the setup procedure is complete, it's advised to navigate the program a bit to explore its functionality and customize it. You can for instance configure the automatic scan schedule and set other preferences as you like. To start off, it's also a certainly good idea to run a scan (full scan, folder scan or memory scan) to determine your smartphone's current security level – none of these processes should take over 5 minutes, so it all appears pretty speedy. The app's menu is perfectly intuitive and straightforward.
Regarding memory consumption, there's no problem with that at all, even during scans as Kaspersky Internet Security for Android uses surprisingly little memory without deteriorating the performance of your device.
Features
---
Kaspersky Internet Security for Android is equipped with the essential functions to keep your phone safe and your privacy inviolable even in case of emergency like theft or loss of your device.
Calls and SMS blacklisting / whitelisting feature provided by KMS 9 is a real helpful tool to filter out unwanted events by specifying the numbers you are willing / unwilling to stay in touch with. This lets you avoid bothersome calls or messages based on your own decision and prevents spam from going through, including phishing or misleading commercial offers propagating via short numbers which are often premium-rate.
The product offers encryption and password-protect opportunities, making the data stored within specified locations unintelligible, hence inaccessible for others. This is actually a part of the multiple anti-theft features which additionally enable you to remotely wipe or block the pre-defined data upon a special incoming SMS. This will not apply in case the thieves remove your SIM card though, so another option called 'SIM Watch' can help you out here as it sends you a new number yours was replaced with, also providing an option to block the smartphone if this happens.
'GPS Find' is one more important feature, letting you get the coordinates of your gadget if requested by having them sent over to another number or email address that you specified in advance. As with the rest of the theft countermeasures, you should define certain values beforehand – this is why it's strongly recommended to browse the application once you start using it and enter the necessary details.
To make sure your kids do not do silly things resulting in large expenditures, you can make use of the parental control. In this context, Kaspersky Internet Security for Android provides a set of features to manage the list of numbers and SMS messages your children might interact with – inattentively or out of curiosity. This function is also enforced by the 'GPS Find' we mentioned above, allowing you to find out where the phone is at any given time.
Last but certainly not least, the product delivers effective protection against known and suspicious malware, blocking different types of viruses in real time. The program's firewall is an important component of this guard. The security state of your device is therefore under constant monitoring by KMS 9.
Efficiency
---
Kaspersky Kaspersky Internet Security for Android combats malicious software no matter how tricky it gets trying to infect your gadget. The firewall's merit is about impeding outer intrusion, whereas the antivirus supervises the safety of your phone on the inside. These interrelated facets of the program's activity do the guarding job irreproachably. Regarding the anti-theft and blacklisting / whitelisting features, Kaspersky has incorporated cutting-edge techniques – including GPS technology – to help you stay in charge of your own security even if your device happens to be elsewhere. There's not much more to add on efficiency – Kaspersky Internet Security for Android works effectively, performs great and in the meantime stays autonomous without really disturbing you.
Help & Support
---
Remarkable support is another reason why Kaspersky Internet Security for Android is unmistakably the right choice. Retrieving self-help information is simple as you have the user manual at your disposal. Responsive live (online), email and phone support are all at your service as well if something comes up which you can't handle on your own. It's proven that Kaspersky Lab's help is easy to contact, friendly, comprehensive and helpful.
+/- (Pros/Cons)
---
Light-weight and fast
Effective virus protection
Low consumption of memory and battery resources
Advanced anti-theft features
GPS Find
Encryption
Parental control
Whitelisting / blacklisting
Great support
Not possible to block calls only / SMS only for a specific number – both get blacklisted
Bottom line
---
With all the universal functionality Kaspersky Internet Security for Android has in store, it's hard to think of a better tool for smartphone protection. The software operates on most of the mobile operating systems and combines virus guard, privacy defense and sophisticated anti-theft techniques. While running on a portable device, KMS 9 won't slow it down or distract the user. Based on our analysis and the overall feedback, the verdict is unambiguous: this product is worth the cost.