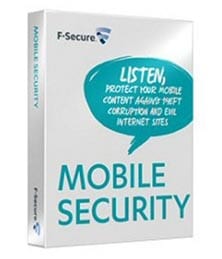 The inception of due mobile security is all about the measures taken for assuring it. Idle approach of doing basically nothing and hoping that no safety issues occur along the way is likely to turn you into another one of the smartphone attack casualties and lead to privacy loss.
F-Secure Mobile Security application is there to eliminate the potential risks hailing from the inherently hazardous mobile environment. This is a new security solution for those who own a smartphone or a tablet. It is a product of F-Secure antivirus lab experts' fruitful work, this particular build obtaining substantial improvements and upgrades compared to its predecessor. A notable distinguishing feature of this utility is its simplicity – that means the app is remarkably easy to understand and use.
As to the list of functions offered, F-Secure Mobile Security is far ahead of many competitors, which is not surprising at all considering the vendor's firmly established traditions and perfectly pure reputation. This brand-new software version is capable of dealing with all known threats portable devices are mostly exposed to: viruses, spam, annoying online ads, malicious software etc. Apart from the above regular features, the product accommodates protection of the personal data stored on your gadget, location of a lost or stolen device, remote anti-theft functions, as well as some extras for those who care about their children. Good parents will surely appreciate such features as unwanted calls prevention and restriction of access to inappropriate web content. All in all, F-Secure Mobile Security is definitely worth using as the tool giving you a completely sufficient amount of defense for every facet of mobile activities.
System Requirements
---
Usability
---
One of the underlying requirements for security software designed for portable gadgets is about reasonable influence on system resources and little power consumption. F-Secure Mobile Security was successfully made to fit into these criteria, so it runs without burdening the battery and the smartphone's processing capacity.
Another one of the pros is the simplicity of installation process. There are several options for getting this application – either through direct download from the official website / Android Market, or with the help of the original certified CD purchased off the shelf. In the latter case, you will need to connect your phone to the PC. If you have a slightest doubt about any aspect of the product, feel free to use the evaluation version for 30 days at no cost at all so that you can make up your mind whether this piece of software fully meets your anticipations or not.
Anyway, it takes just about a few minutes to unpack and go through the setup. What you need to do for completing this process is read and accept the licence agreement and tap the button asking for permission to install – as simple as that. Regarding the further adjustments, they are easily doable via the user interface that, by the way, appears to be pretty convenient and straightforward. Some of the things to configure and customize once you start using the program are scan scheduling, setting the anti-theft security code and screen lock, creating the blacklist of unwanted numbers, defining the web-surfing restrictions within parental controls, input the 'Trusted number' to further use for receiving alerts in case the device is stolen, misplaced or lost etc. Also, having installed F-Secure Mobile Security you are strongly advised to run a full system scan in order to determine the current security status of your gadget. This should take no longer than 5 minutes, so the app won't keep you waiting beyond the normal expected time frame.
The menu items are logically grouped into 'Parental Control', 'Virus Protection', 'Anti-Theft', 'Browsing' and 'Safe Contacts', each fully corresponding to its contents. Therefore, in terms of usability F-Secure Mobile Security is obviously among the most attractive apps of its kind to pick.
Features
---
Judging from the slogan "Life is mobile. Keep it protected", F-Secure Mobile Security was released with the inspiration to safeguard mobile devices from cyber junkware as well as from robbers, and it's hard to help noting that the motto precisely matches the actual state of things as the product excellently copes with these challenges. The above objectives are generic targets of the app's sophisticated anti-spyware filters and anti-theft instruments. Let's look into these and some additional features to get a better idea of the product's functionality.
The utility enables users to safely navigate the web while the antivirus module detects and either blocks or eliminates pretty much all known samples of mobile malware. Effectiveness of this guard is attained due to the 'Browsing Protection' feature being a mix of the firewall and the integrated antivirus. So you get reliable real-time protection securing your activities from multiple angles.
The regular virus guard works in real time and checks the files you either download or otherwise deal with for potential threats. The protection proper and the updates run obscurely, so no user interference is required, which is a virtue that's actually hard to overestimate, considering the predominantly fussy lifestyle reigning nowadays.
It's now feasible to spot your lost or stolen device owing to the 'Locator' function which is not available in the previous version of the product. This one addresses the problems you may get resulting from someone's wicked intensions or your own inattentiveness. While it's probably not such a big deal to purchase a new gadget if yours is lost or misplaced, still the information stored there – contacts, media files, personally identifiable data – is close to invaluable due to the natural intense overlapping of the mobile domain and real-world activities. The anti-theft capacity of this product is considerably enhanced by 'Remote Lock' and 'Remote Wipe' features. So now, with F-Secure Mobile Security entirely at your disposal, intactness of your data can be boldly excluded from the routine troubles list.
Annoyed by receiving obnoxious calls or SMS/MMS messages? This is indeed quite a bit of a problem these days as lots of users suffer from ads, phishing, unwanted commercial offers or even telephone threats going through the voice channel or messages. This whole nuisance can be easily overcome with the function called 'Safe Contacts'. It gives you a complete discretion over the contacts you feel like communicating with, while the unwanted ones get restricted from ever showing up on your incoming events list. F-Secure Mobile Security provides the following block options: 'Calls and messages', 'Calls only' and 'Messages only' – which is great, as some contenders do not allow for differentiation like this.
Another helpful feature that acquired a special emphasis in this build is the advanced 'Parental Control'. In a way, this one combines and concentrates most of what has been previously mentioned: ranging from restrictions to visit sites with inappropriate or potentially unsafe content – all the way to GPS location. To control your kid's web-surfing, just pick 'Child' under 'Age group' and define the online content categories that you permit (e.g. Webmail) by putting a checkmark next to it on the list.
Overall, F-Secure Mobile Security provides you with the well-tuned set of features making you truly confident that you're in charge of your own mobile safety.
Efficiency
---
F-Secure Mobile Security spares hardly any space for lodging complaints. We tend to evaluate efficiency from the perspective of an application's declared objectives and the way it actually arrives at those, concurrently measuring how well it's done. So what does this particular utility claim to do? Well, its primary goal is protecting and simplifying a user's mobile life by combating malware, blocking intrusion, providing safe browsing, employing anti-theft techniques (including remote data management), supplying parental controls and defining the blacklist of contacts.
Now, how good is it at implementing this broad scope of services? Based on the analysis and the tests we conducted, the only conclusion that comes to mind is as follows: F-Secure Mobile Security is failproof in performing the functions it claims to grasp – no pitfalls, no viruses missed, not a single database update skipped, everything done irreproachably. So in terms of efficiency, this product has shown itself to advantage.
Help & Support
---
Another appreciable reason to have this app standing sentinel over your mobile security is the manifold support policy of F-Secure. You can contact tech support manager by email and 24/7 telephone line, or ask for some extra help through online chat which went live with this new build. And still, most inquiries can be resolved with the aid of the detailed FAQ section, hot topics and how-to's on www.f-secure.com.
+/- (Pros/Cons)
---
Efficient protection against mobile malware
User-friendly interface
Low power consumption
Integrated firewall
'Safe Contacts'
Parental controls
Remote anti-theft measures and device location
30-day free trial available
Doesn't support iOS platform
Parental control unavailable for Windows Mobile 6 Standard / Professional
Relatively expensive
Bottom line
---
F-Secure Mobile Security is indeed a 'heavyweight' champion in the niche of 'lightweight' mobile security. The app is speedy and light enough to run without overloading your gadget, in the meantime providing fundamental protection, making your life easier and safer. Personal data security is not an issue here owing to the remote device access instruments, GPS location and other smart anti-theft capabilities. The innovative blend of the antivirus and firewall is sure to make your smartphone or tablet computer an unassailable target for cyber criminals. So check it out, you won't regret!