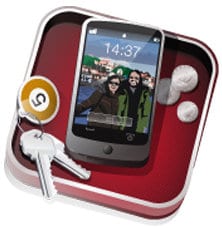 AVG Mobilation Anti-Virus is an easy-to-use solution that keeps your Android smartphone and your identity duly protected at all times.Walking into mobile platforms is a trend all major security software development players have started making special emphasis on. The indisputable convenience of owning a portable gadget that keeps you connected in every sense of this word inherently imposes elevated security requirements and identity protection measures to be implemented. Using a smartphone, you can get your accounts and settings synchronized across different devices, so basically what you've got on your personal computer at home or at work – can now be accessed from a phone. This is why the notion of protection is acquiring pretty much the same semantics with both PCs and mobile gadgets these days.
AVG Mobilation trademark, a subdivision of the world-famous AVG Company, came up with their own solutions for securing smartphones running a number of mobile operating systems. What we are going to review today is the vendor's application for Android, called AVG Mobilation Anti-Virus. What struck us from the beginning is the amazing simplicity of the software, starting from the setup – all the way to performing application and content scans, doing the upgrades, customizing anti-theft settings, accessing device performance and optimization data etc. Apart from the regular virus and malware protection, this app accommodates remote tracking and controlling features to help you locate the device if misplaced or stolen, and avoid the consequences of someone else's physical access to it. Complemented by SMS filtering and browsing protection capabilities, the above features delivered by AVG Mobilation Anti-Virus add up to make a comprehensive and fairly efficient all-in-one tool for securing your mobile world with ease.
System Requirements
---
Required Android Version by Features:
App Backup, Tuneup: 2.0 or higher
Remote Locate: 2.1 or higher
Remove Lock, Remove Wipe: 2.2 or higher
Usability
---
Both free and Pro versions of AVG Mobilation Anti-Virus are available for downloading on Google Play (former Android Market) and on the vendor's official site www.avgmobilation.com. A few words about differences between these builds, or to be precise – what additional features the Pro one ships with. Advantages of the paid version include permanently functional App Locker and App Backup (in contrast to 14-day trial period in the free counterpart); expanded support options (FAQ and email support, as compared with FAQ only); and no ads.
The setup process takes about a minute, the time frame mainly depending on the Internet connection speed while the full database and definitions get downloaded. Installation being competed, the app welcomes you with the main screen containing the logo and basic tips to kick off using the software. Simply touching the screen at this point launches a scan that checks your apps and content by default. Further on, you can add additional smartphone content and locations to be checked during the scan – this is doable via 'Settings' by putting checkmarks next to the items you want monitored in manual scan, or in real time.
It takes tapping the menu button on your phone to open the program's options: Scan, Tools, Anti-Theft, Upgrade, Settings and Help. The items that include additional options open up as a list where you can pick and activate or configure the default parameters. Exploring the entire menu and learning how to use the app's functions is a matter of mere minutes since everything is designed to be incredibly comprehensive and intuitive. Another advantage is the option of choosing from a total of 16 languages for the interface.
A great lure about using AVG Mobilation Anti-Virus is the speed it exhibits while performing pretty much all the operations covered. The application turned out to be swift in updates, accepting settings modifications, device performance tuneup, killing unused tasks, and even phone scanning. The latter even kind of got us perplexed and somewhat doubtful as it's not that easy to believe that scanning the apps, the settings and the content of the device gets completed within 20-25 seconds. However, it certainly does monitor your gadget: obvious evidence of that was the insecure setting reported in the log (USB debugging enabled) after the very first scan, with further recommendation to modify it for safety purposes. Moreover, the app provides a button serving as a shortcut to enable immediate navigation to the device location concerned, so you don't really have to spend time looking for the potentially unsafe parameter on your own.
Overall device performance remained unaffected by this app throughout the test – what is more, the optimization options help determine related issues and provide tips on addressing those effectively. To sum it up, all the basic usability criteria – installation process, user interface design, and speediness – kept us completely satisfied. Well done, AVG!
Features
---
There are several leitmotifs 'built into' AVG Mobilation Anti-Virus architecture and goal set: defense against mobile viruses and scams, identity protection, device performance optimization and phone location options. In this section of our review we will touch upon the features designed specifically to accomplish the above objectives.
Device scanning options can be split up into a number of types covering different data on your smartphone. There's the App Scanner which ensures the applications running on your gadget are exploit-free and contain no further malicious attributes. Some apps, especially the ones you download from locations other than Google Play, might be bundled with mobile viruses which can subsequently be used to harvest users' personal information or gain control of the phone for mean purposes, e.g. remotely dialing premium-rate numbers for profit. The App Scanner can be triggered manually, or get scheduled to run on a daily or weekly basis.
File Scanner is meant to monitor individual files or folders for infections. It's accessible through 'Tools' and lists all the smartphone directories, where you can select the ones you want checked; or go one or several levels down to open and scan separate items that you pick. Additionally, this feature enables choosing the data location – Memory Card, the Root, Pictures, Music and Video. Using the File Scanner is generally simple and straightforward, but the navigation here is something you need to get used to. What we mean is you might intuitively feel like tapping 'Back' on your device to go to the previous screen, but doing so will completely get you out of the File Scanner. Instead, going one level up in the file structure is doable by touching the root folder image. So once again, be sure to explore this feature from the start to further avoid frustration from having to reenter this menu item multiple times.
Settings Scanner is intended to check your mobile device for potentially insecure configuration parameters, and advises on fixing those. Like we mentioned in the previous section, this feature links to the particular settings item for quick issue fix.
Safe Web Surfing enables real-time protection from suspicious and dangerous websites. When this feature is activated, the app's Real-Time Scanner gets automatically turned on as well to complement proper online protection. Should Safe Web Surfing module spot something wrong with the site you are about to visit, it blocks the page before you actually hit it. This applies to both direct traffic (from the URL location bar) and navigation from a hyperlink.
Phone Locator option relates to AVG Mobilation Anti-Virus' remote anti-theft and security features. It works via an interface on www.avgmobilation.com which gives you a number of controls for GPS location of your device using Google Maps service. Before you can actually use this function, you should first enter your Google account details into the smartphone, which of course implies Internet connection for the synchronization to go through. You can then log into the web page through the vendor's site and see the phone's last known location on the map.
Locking your device remotely via special SMS message or from your personal interface at www.avgmobilation.com is feasible owing to the Phone Locker feature. This is really useful if your gadget is lost or stolen – in that case your privacy might be at risk because someone may access personal data stored on your phone. Along with preventing third-party physical access to your private stuff remotely, the Phone Locker also enables indicating your contact details on the lock screen for the person who happens to find your device to find you.
Remove Wipe is a feature applicable in cases close to emergencies, when someone else gets hold of your phone and gets access to what's inside. This option makes it possible to remotely delete your contacts, SMS messages, photos, calendars, web-surfing history, and erase the contents of the memory card.
To keep scammers away and protect your messages from unauthorized access, AVG Mobilation Anti-Virus accommodates the SMS Scanner feature which you can activate under 'Settings' – this will include your text messages into the regular scan checklist. Furthermore, the SMS Filtering option is supplied in real time for you to stop receiving messages from unwanted contacts and prevent suspicious ones from going through.
Tuneup feature includes an extensive set of device performance optimization tools. You get detailed battery usage stats; general information on time consumed by different activities (idle time, talk time, audio and video playback time, browsing time); storage data, where you can manage applications directly; and traffic statistics. Additionally, the app provides power saving options and a number of data count settings.
Task Killer allows forcibly terminating any process running on your smartphone, which may be of help in case the device slows down due to excessive memory consumption.
App Locker is meant to prevent unauthorized use of installed applications. The essence of this feature lies in setting a password which will be further required to open a particular app. In case the password is forgotten, there is a recovery option available through email. You can as well password-protect the phone's general Settings using this functionality. Do keep in mind though that this feature is provided on a permanent basis with the Pro version only, while the free software build offers 14-day trial for that.
App Backup isn't quite what it sounds like. This feature does not provide online backup of your information and applications. It simply backs up selected apps to your SD memory card, so that they can be further restored to the phone; moreover, app settings and access details are not backed up. Just like the feature above, App Backup is fully available on AVG Mobilation Anti-Virus Pro, the free version being restricted to 14-day evaluation period.
To conclude, this app's feature set is more than enough for adequate malware protection and anti-theft, and yet we wish the vendor provided parental controls and SIM card replacement countermeasures that some competitors implement (e.g. sending a message with new number if your SIM is removed from the device).
Efficiency
---
Since the number one reason to install this type of software is protection against mobile-specific viruses which are on the rise, we paid special attention to the efficiency criterion in our test. First off, to measure AVG Mobilation Anti-Virus in terms of defensive capabilities, let's resort to the verdict by AV-TEST which is an authoritative software evaluation resource. According to their latest stats, this application ranks to be in the top of the second group of tested solutions, which means its detection rate is somewhere between 65% and 90% – this is considered "very good and have the potential to join the group of best products if small changes are made to the set of malware tested." So they got results that claim AVG Mobilation Anti-Virus to exhibit above-the-average reliability, missing some samples that might not be prevalent in certain environments. And still, that's far from perfect. For instance, it detected such infections as DorDrae downloader (automatically downloading and running other arbitrary code without user's consent and knowledge) and Jifake (indulging in SMS frauds) only in 0%-40% of the cases; and completely missed the Opfake trojan (sending text messages to premium-rate numbers).
In the context of our test, this app did fairly good detecting security threats out of the general malware population, missing a few non-critical samples. Moreover, AVG Mobilation Anti-Virus actually did more than that, spotting insecure settings and giving advice on how to get things back to the safe path. Additionally, the solution appears to do a good job protecting you online; it effectively employs the AVG LinkScanner engine that checks websites for malicious traits in real time.
Help & Support
---
There is quite a tangible differentiation between Free and Pro version users in terms of customer support. If you installed the former, your options are bound to the FAQ section and resources that are open to the public, i.e. the general product information provided on the vendor's website www.avgmobilation.com. The plus side of it is the fact that the FAQs are really informative and embrace a lot of basic issues that might arise. On the other hand, the Pro version users can take advantage of personal support by submitting a ticket via the 'Contact us' form available directly in the 'Help' menu. That's not too broad of a choice overall, but with the app's simplicity and reliability, the listed options should do the trick.
+/- (Pros/Cons)
---
Splendid usability
Multilingual interface
Effective remote anti-theft measures
Extensive scan options
Device performance optimization
Informative FAQs
Does not rank to be in the industry's top by detection rate
No parental controls and SIM replacement countermeasures
Bottom line
---
AVG Mobilation Anti-Virus is extraordinarily simple about everything: the setup, the controls and the use of features. In addition to that, it's not resource-heavy. So the app definitely hits the point in regards to peculiarities of the devices it's intended to protect. Although the solution might miss part of the prevalent mobile malware samples, the overall protection is sufficient to prevent scams and severe virus infestation of the smartphone, not to mention the innovative approach to anti-theft due to state-of-the-art remote phone management. All in all, AVG Mobilation Anti-Virus is an easy-to-use solution that keeps your Android smartphone duly protected at all times.