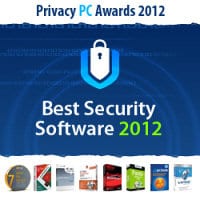 2012 turned out to be saturated with security events. We saw influxes of new sophisticated malware, outrageous breaches, data leakages, and a myriad of expert perspectives on what measures to adopt for mitigating the associated risks. Meanwhile, one of our primary highlights is the state of security software industry, so we ventured to provide in-depth reviews of utilities representing 10 major software clusters. Every single one of the selected applications being undoubtedly trustworthy, there are distinct leaders in each group, based on their degree of compliance with the benchmarks we had defined. This entry is to reflect the summary of our findings with regard to the top-performing security software of 2012, so make yourself comfortable and get ready for our awards giveaway!
Antivirus Software
This category is particularly challenging to scale due to the immense competition in the niche. And yet, having thoroughly studied the scene and compared a variety of nuances, we came up with the following rating: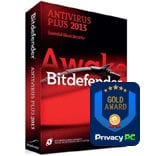 Gold Award: Bitdefender Antivirus Plus
This is a big player in the industry, with unfailing defenses, abundance of features (including a number of online protection tools), intelligent security decision making, and resource-friendliness under the hood. This product utilizes the antivirus technology approved by AV-TEST as #1, which means you can rest assured nothing malicious hits your machine. Our final verdict is indisputable: Bitdefender Antivirus Plus is ultimately reliable and functionally versatile, which translates to the Privacy-PC Gold Award. Way to go Bitdefender!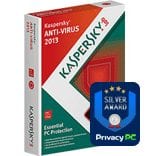 Silver Award: Kaspersky Anti-Virus
If it weren't for a few usability downsides, Kaspersky Anti-Virus would undoubtedly compete for leadership in our rating. The substantial things about this software that call forth no doubt are immaculate efficiency in virus detection and cleanup, easy-to-use interface, and remarkable dedication to the customer. Innovative security solutions built into the product, as well as one of the world's most complete databases of virus definitions are at the user's service so that the PC never turns into low-hanging fruit for cybercriminals.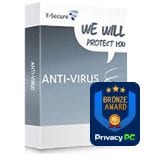 Bronze Award: F-Secure Anti-Virus
Along with comprehensive controls and ease of use, F-Secure Anti-Virus effectively leverages heuristics, signature-based techniques and cloud services to deliver the protection close to unsurpassed. Furthermore, the vendor's malware research center, F-Secure Labs, is distinguished for exceptional professionalism, consistently high responsiveness to new threats, and premium-grade tech support. Complemented by good third-party lab results, the above facts make firm grounds for granting this product our Bronze prize in this category.
Internet Security Suites
Abundance of candidates for the top awards in this category made it quite perplexing to pick the best out of the good. Compared to antivirus software, Internet security suites are more versatile in terms of both the features and the scope of defenses covered. As per our research, below are the 3 products that we believe should match the most demanding customer's expectations, so here we go: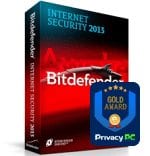 Gold Award: Bitdefender Internet Security
The exceptional degree of effectiveness hard-coded into this product makes it stand apart from the crowd even despite the extremely high benchmarks adopted for the online security niche. Besides, it's one of a kind when it comes to the feature set which includes e-shopping security options (Safepay) and social networking protection (SafeGo); two-way firewall; antiphishing and antispam; search advisor; vulnerability scanner; parental control; even the file shredder to help maintain your privacy; and more. This is the software that makes you feel truly exclusive.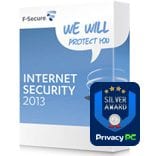 Silver Award: F-Secure Internet Security
Once again, F-Secure's solution made it to the top part of the rating. Why? Not only does this product feature low resource consumption and fantastic usability patterns – more importantly, its real-time protection proved to be literally bulletproof, fighting off identify theft, spam, phishing attacks, and delivering sophisticated features to keep your whole family on the safe side, regardless of the platform and other user-specific technicalities. All in all, ease of use and robust defenses make this software quite a lure. Good job F-Secure!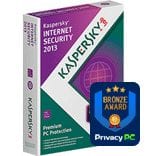 Bronze Award: Kaspersky Internet Security
Global recognition, pure reputation and invariably stable independent lab scores are generally known distinguishing traits of this product. That's not a complete list though. Kaspersky Internet Security delivers unique hybrid protection, impenetrable two-way firewall, e-commerce safety features, automatic exploit prevention, anti-phishing, anti-spam, virtual keyboard, and effective URL sandboxing. In our test, KIS fell short of a few checkboxes ticked on usability, which is the only thing that cast it to the third best position in our chart.
Premium Security Suites
The people who value universality and straightforwardness should appreciate the benefits provided by this software cluster. Here you get a complete all-in-one solution combining malware protection, privacy maintenance, online security, and other value added features to cover every facet of computing. Let's see who's our favorite.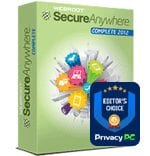 Editor's Choice: Webroot SecureAnywhere Complete
We found it amazing how effectively one utility can replace several standalone applications. Webroot SecureAnywhere Complete has it all on board: dependable antivirus, versatile online security tools, identity and privacy protection, mobile security, and online backup storage. Moreover, this far-reaching defensive power is not attained at the cost of system productivity since its entire database of malware definitions resides outside of the computer, in the cloud. This app is non-standard in a good way, and exhibits a splendid capability to protect.
Antimalware / Antispyware
Day-to-day protection against existing and zero-day infections as well as the threats whose objective is to track and steal sensitive data – all of this ultimately comes down to the use of software representing this particular group. The features we were primarily looking for in this category are detection and cleanup efficiency, attack prevention, ease of use, and responsive customer support. And the Privacy-PC awards in this nomination go to…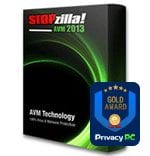 Gold Award: STOPzilla AVM 2013
This successful remake of the formerly known STOPzilla with Antivirus by iS3 is now equipped with state-of-the-art AVM Technology featuring increased protection power and amazingly low system performance impact. The new product turned out to be an eye-catcher in many ways, with intuitive controls, extensive customization opportunities, and fantastic detection capacity in place. To top it off, STOPzilla AVM 2013 comes with a number of online security extras for safe web-surfing and e-shopping. Based on our review, this utility is a well-deserved leader in its niche.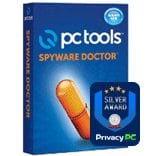 Silver Award: PC Tools Spyware Doctor
The excitingly smart and intuitive looks Spyware Doctor acquired in its latest revamp, solid defense against an extensive scope of threats, free computer scan opportunity, and millions of satisfied users globally – isn't that what makes a product award-winning? This utility exhibits a perceptible focus on user privacy, be it during e-banking, exchanging emails, communicating online, and simply browsing. Furthermore, the brand-new option of customizing the relation between resource consumption and degree of protection adds yet more zest to the generally positive impression.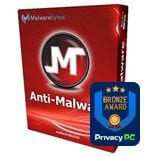 Bronze Award: Malwarebytes Anti-Malware
Good old MBAM actualizes malware protection with exemplary consistency. Its sophisticated security architecture combines highly effective protection module preventing malicious code execution and blocking unsafe websites; real-time proactive protection (RPP); command line support, and more. What we admire in particular is the 'Chameleon' mode which helps remediate the damage done by severe and most persistent infections, including scareware and rootkits. Lengthy full scan and the 'everlasting' old-school GUI are the core reasons why MBAM is not higher in our rating.
Mobile Security Software
Since this industry segment is on the rise, the common requirements are steadily growing as well. As a vendor, you can no longer win the race by providing mere protection from mobile malware. So we have picked the most deserving app in terms of feature abundance and reliability.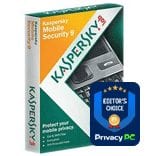 Editor's Choice: Kaspersky Mobile Security
Kaspersky Mobile Security guards your device and your identity from every angle imaginable, with high-end technologies built into its architecture in the most optimal fashion. This product accommodates troubleproof real-time defense from known threats and suspicious entities, cutting-edge anti-theft features, remote phone management, data encryption, password protection, accurate device location, convenient blacklisting for calls / messages, and cloud security tools for identifying uncatalogued infections. Plus, it's light on your gadget's resources.
Free Antivirus Software
Free of charge and efficient are not always antonyms. Here is another winner of Privacy-PC award that fully proves the above assertion.
Editor's Choice: avast! Free Antivirus
Free security makes sense when this utility is protecting you. The simple is combined with the effective within avast! Free Antivirus, which is a rare mix for software representing this particular group. What you get is an eye-catching shell with a fairly efficient filling, the latter consisting of hybrid cloud technology, real-time shields, autosandbox for suspicious code, browsing protection features, remote assistance options, boot-time scan, gaming mode, and more. Furthermore, avast! tech support won't leave you feeling abandoned.
Internet Privacy Software
Still using the regular Windows delete option to get rid of highly sensitive material? Did you know it's still there after you deleted it this way? Say No to information theft – use special software that takes care of your privacy the right way. A scrupulous study has led us to distinguish the best privacy applications out there. So, welcome the trinity of award winners in this group!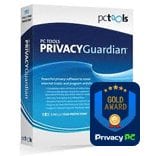 Gold Award: PC Tools Privacy Guardian
Cleaning up activity traces is easily feasible and highly effective with Privacy Guardian. Forensic tools are a joke when it comes to unauthorized attempts of information retrieval after it's been processed by this utility. The software utilizes DoD data wipe standards when shredding files of any size and type, clearing web browsing history, erasing online chat history, and eliminating third-party software traces. This means any and all 'fingerprintable' details get removed beyond recovery with 4 available military-grade algorithms. Yet another lure is attractive cost of the product.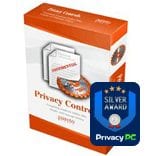 Silver Award: ParetoLogic Privacy Controls
Your privacy is in safe hands as long as this software is running on your computer. Why choose ParetoLogic Privacy Controls? First of all, it's unfailing in doing what it was made for, i.e. making sure no important personal data of yours is left behind for cyber vultures to get hold of. To prove this, it suffices to mention that it performs up to 7 overwrite passes and, once again, meets the U.S. Department of Defense standards for data destruction. Furthermore, it processes data generated by the newest P2P apps, instant messengers; and clears MS Office and web browsing history.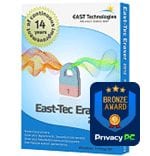 Bronze Award: East-Tec Eraser
This software had been a dark horse for us before it got reviewed. And frankly, in the long run we were surprised, in a good way. It turned out easy to use, dependable for data wiping, and handy in terms of task scheduling. East-Tec Eraser effectively removes files and folders, including the ones you deleted the standard way; erases data associated with email clients and web-based email; monitors your system for potential privacy risks; and even enables wiping an entire drive. But for minor customer support nuances, it might have won a yet higher position in our rating.
Encryption Software
Relevance of this software category is not restricted to security professionals only. It's about keeping data safe from the prying eyes, which is and will be in demand. Based on the encryption techniques employed and the features delivered, we ended up picking the best solution that prevents your personal information from becoming public knowledge.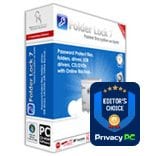 Editor's Choice: Folder Lock
There's more to Folder Lock than just encryption. It also leverages best practices of data shredding, provides safe password-protected Wallets for storing confidential information (e.g. credit card details, PINs, the SSN, etc.), and allows creating backup of your data online. As far as encryption proper is concerned, the product uses 256-bit AES (Advanced Encryption Standard) which is known for generating high degree of entropy so that brute-force attacks for data decryption are not likely to help the fraudsters in this case. Encrypting files on USB/CD is another useful feature on tap.
Password Management Software
It's a good idea to leave nothing to chance when it comes to such delicate thing as passwords. With the utility that closes our Best Security Software of 2012 rating, you can rest assured passwords to your accounts are strong enough and stored safely.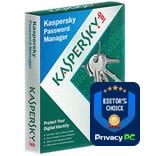 Editor's Choice: Kaspersky Password Manager
Generating strong passwords is where you should start in order to keep your accounts secure, and that's one of the features Kaspersky Password Manager provides commendably. Of course, there's a lot more. The app automates logon process, fills out online forms for you, accommodates virtual keyboard to prevent keylogging, allows storing passwords in an encrypted location on your PC, creates backup copies of your passwords, supports different ways of authentication, and even protects you from phishing. Plus, it enables importing passwords from other applications.
We appreciate your interest in our project and highly value each one of you as part of our little IT community. We are sure there's a lot of fascinating happenings to come in the year of 2013, so we're definitely going to be busy covering those on our website.
We hope you had merry holidays, and wish you great achievements, exciting events, and most joyful experiences in 2013!