The last few years' adware propagation boom is particularly troubling, because not only do these nasty little cyber threats take the essential web browsing choices away from their victims – they compromise user privacy as well. All of these risks turn out to be there when it comes to the analysis of the Speedial virus. This one is characterized by large-scale distribution and particular perseverance once it finds itself on a computer.
The payload for said infection is covertly dropped onto a PC by other applications which thus compensate for free-of-charge install scheme they stick to. The potentially unwanted drive-by is hardly ever stated in this case, being an inconspicuous opt-out that not many users ever notice. Reading every single line of the End User License Agreement for such applications is a way to go in terms of adware attack prevention, but that's not a likely scenario, to put it mildly.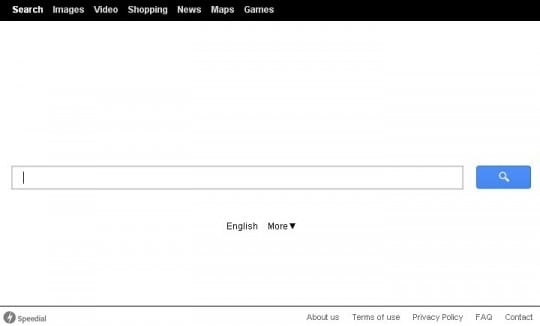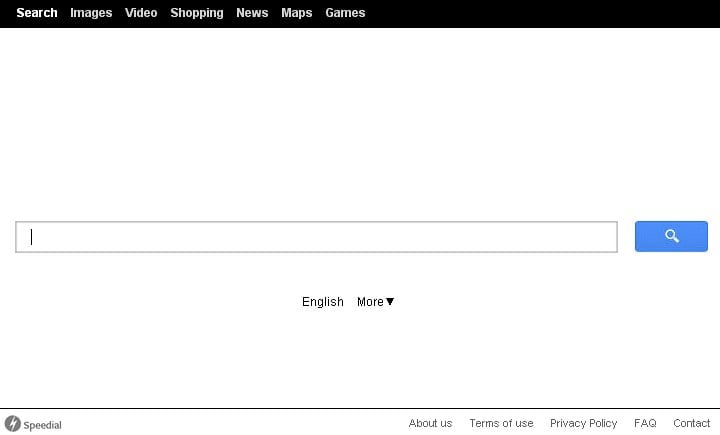 What Speedial virus does is both frustrating and absolutely malicious: it goes ahead and replaces the user preferences for Mozilla Firefox, Google Chrome and Internet Explorer with its own. While doing this, the adware does not ask for the user's consent – it simply takes advantage of the all-encompassing permissions which it, by the way, gains without due authorization either. This homepage and default search provider replacement trick results in speedial.com or search.speedial.com website popping up when the browser is opened and every time an online search is done via the keyword lookup box built into the browser.
The above-mentioned site titled Speedial Search isn't a peril in itself, but it's a goldmine for the individuals who run this adware campaign. While it does return some more or less relevant results for sought queries, the ads at the top and the bottom of every page are a pain for the victims and a powerful profit generator for the bad guys. Since the presence of this app on a PC is definitely not in the user's interest, it must be completely removed otherwise the hijack problem will not discontinue on its own. The applicable measures described below turned out an effective fix for the Speedial adware problem.
Use reliable security software to detect and remove Speedial hijacker
---
CCleaner by Piriform is an efficient solution designed to automatically uninstall persistent malware such as the unwanted browser extensions related to Speedial Search hijacker and cease the browser redirect activity.
Download free or paid version of CCleaner by Piriform and save it to your Desktop. Install and run the software.

System Requirements: Runs on Microsoft Windows XP, Vista, 7, 8 and 8.1, 10. Including both 32-bit and 64-bit versions.

Click on the Cleaner button in the left-hand navigation menu, select Windows and Applications tabs in turn, and click Analyze option for each. Once the analysis has been completed, click Run Cleaner .
Go to Tools in the navigation menu and select the Startup option. Search entries under all available tabs ('Windows' through 'Context Menu') for dubious items that might be related to the Speedial adware (Speedial, Speedial Search, etc.) and choose Disable and Delete for the one found.
You can also use the Uninstall functionality under Tools to completely get rid of programs that cannot be deleted manually.
Uninstall malicious extension(s) from Control Panel: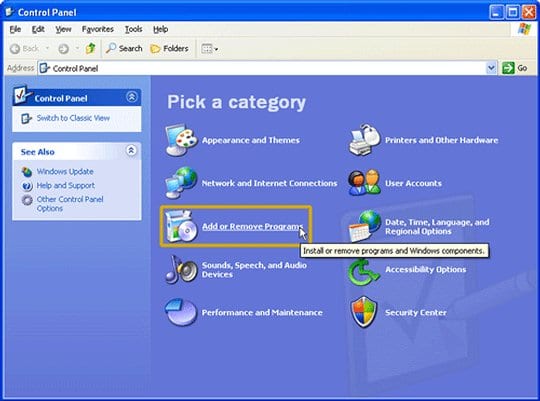 On Windows XP: go to Start –> Control Panel –> Add/Remove Programs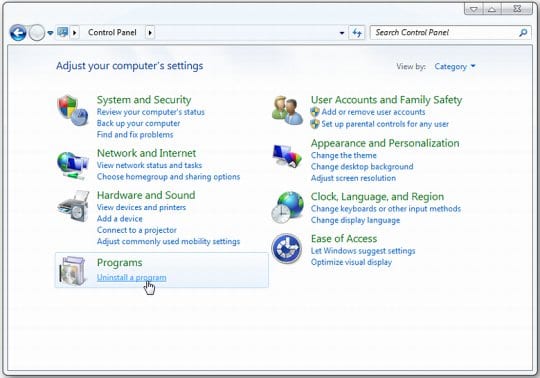 On Windows Vista / 7: go to Start –> Control Panel –> Uninstall a Program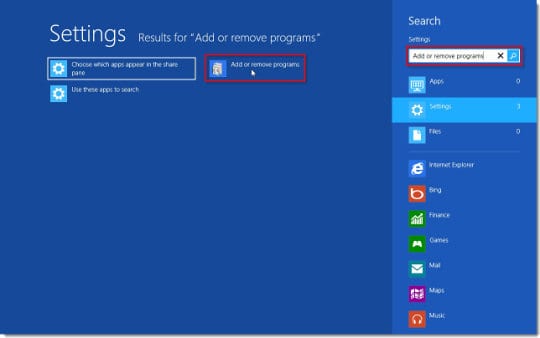 On Windows 8: click on Search icon –> type in 'add or remove' (this will suffice) –> select Add or remove programs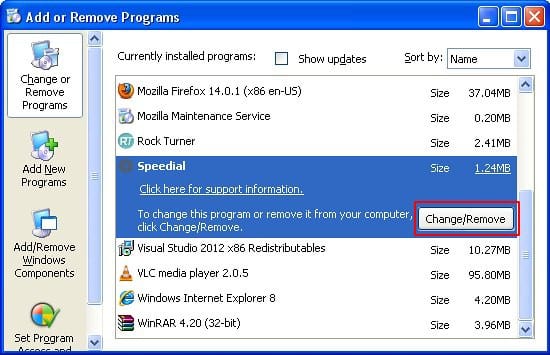 When the screen for program removal appears, look for Speedial on the list:

Source: How to remove Speedial Search
Once located, this entry should be uninstalled immediately as they are known to cause speedial.com to show up in one's web browser without user consent.
Remove Speedial from your browser
---
Speedial Search removal from Mozilla Firefox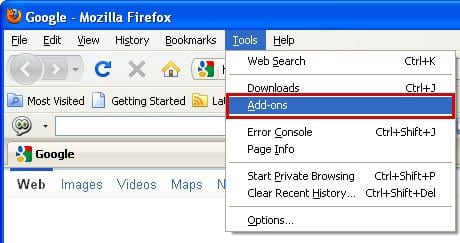 Go to Tools and select Add-ons in the drop-down list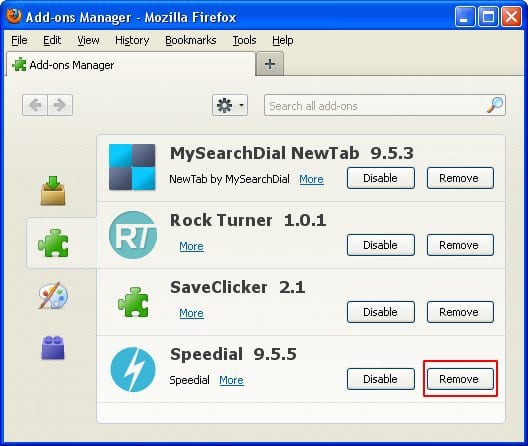 Choose Extensions in the left-hand navigation pane and examine the list for Speedial entry. When found, click the Remove button next to it

To restore the modified Firefox preferences, type 'about:config' (without quotes) in the URL box and hit Enter

Read the alert and confirm that you'll be careful when working with preferences
Type speedial in the Search box and press Enter to get the list of altered Mozilla preferences returned
For all of the displayed entries, perform the reset action by right-clicking them and selecting Reset in the drop-down menu. Be sure not to skip any
Remove Speedial Search hijacker from Google Chrome
In the top right of your Chrome window, click on the Chrome menu icon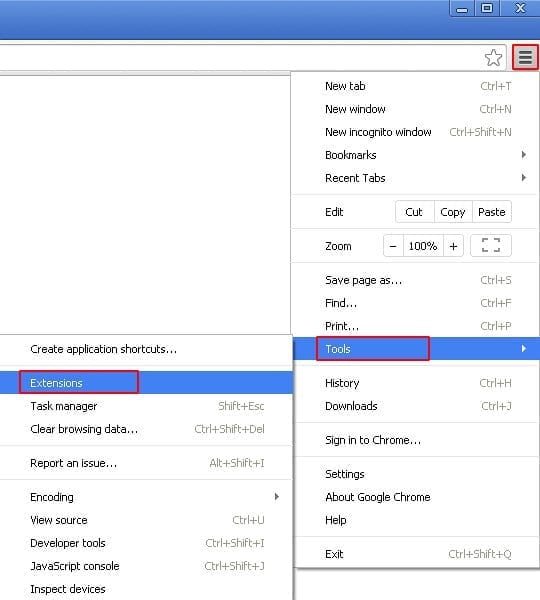 Select Tools in the drop-down menu and choose Extensions

Under Extensions, find the Speedial one and click on the trash bin next to it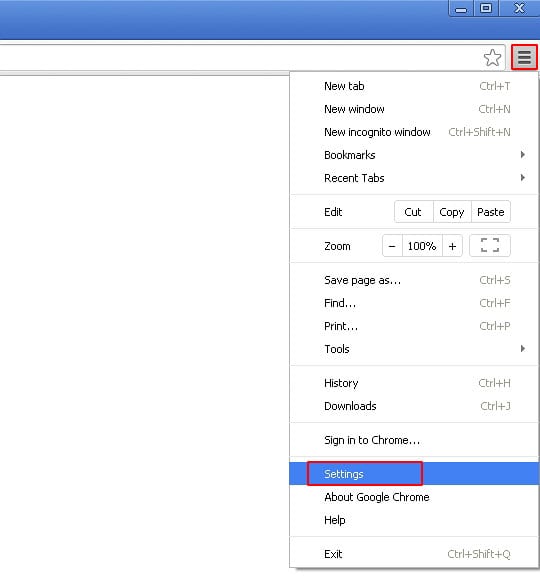 Go to Settings under Chrome menu

Under Settings, Locate the On startup section and click Set pages

On the list of startup pages, find the one related to Speedial and click the X button to its right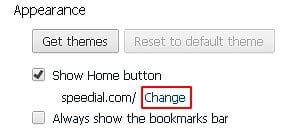 Go to Appearance section under Settings. Select Show Home button option and click Change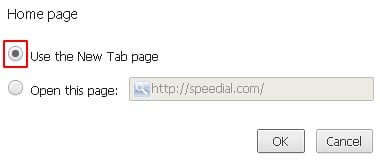 Activate Use the New Tab page radio button and click OK

Proceed to the Search section under Settings and select Manage search engines
Pick your default search engine other than Speedial Search. Also, be sure to click on the X button next to Speedial entry in order to remove it from the list
Remove Speedial virus from Internet Explorer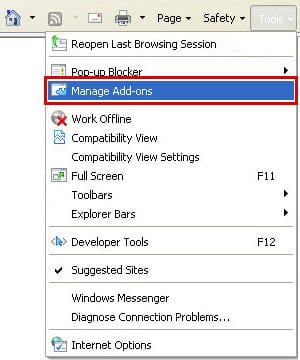 Go to Tools and select Manage add-ons
Select Toolbars and Extensions and find Speedial on the list. Highlight it and click the Remove button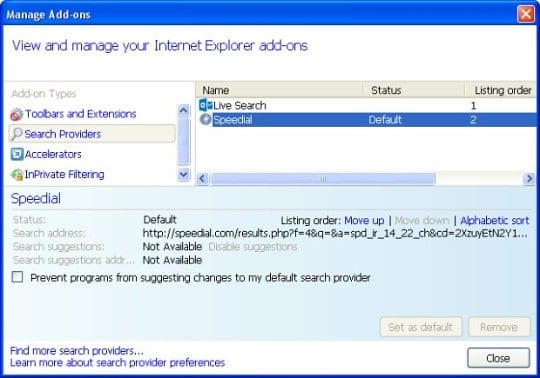 Click on Search Providers in the left-hand section of the Manage add-ons window. Highlight Speedial on the list of search providers and click Remove at the bottom of the interface
Choose your preferred search provider from the list and click Set as default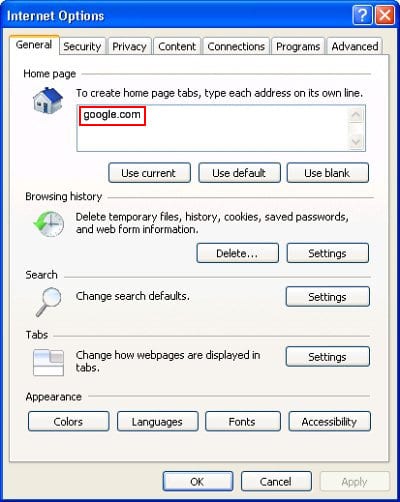 Now proceed to Tools –> Internet Options, and select General tab. Set a preferred value of your homepage and OK to save the changes
Double-check
---
Scan your system with Bitdefender, the Privacy PC Gold Award winner in Internet security suites category, to make sure all registry entries and junk files added by Speedial Search hijacker have been cleaned up. This step will help you ascertain that no remainders of the infection are still there in case you missed something or if the adware has restored some of its components after manual removal.