Ambiguity in the nature of Sweet Page consists in its denoting both a rather harmless web page and a highly annoying application. It reflects the widespread cybercrime tendency that exists on the frontier between the acceptable and illegitimate, namely adware propagation. A campaign like this starts with someone out there deciding to make a fast buck by displaying third-party advertisements on the Internet. Sounds like a heck of a business, but the issue of attracting visitors to a landing page occurs. That's where malicious code comes into play. Adware is capable of hijacking web browsers on compromised computers to then divert web traffic to pre-specified sites. In the case of Sweet Page, the homepage address for Chrome, Firefox, Internet Explorer and other browsers gets modified without user authorization. This value, along with the preferred search provider, is automatically transformed into sweet-page.com which is depicted below.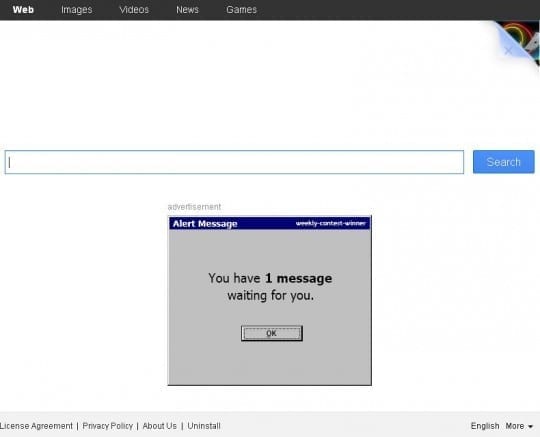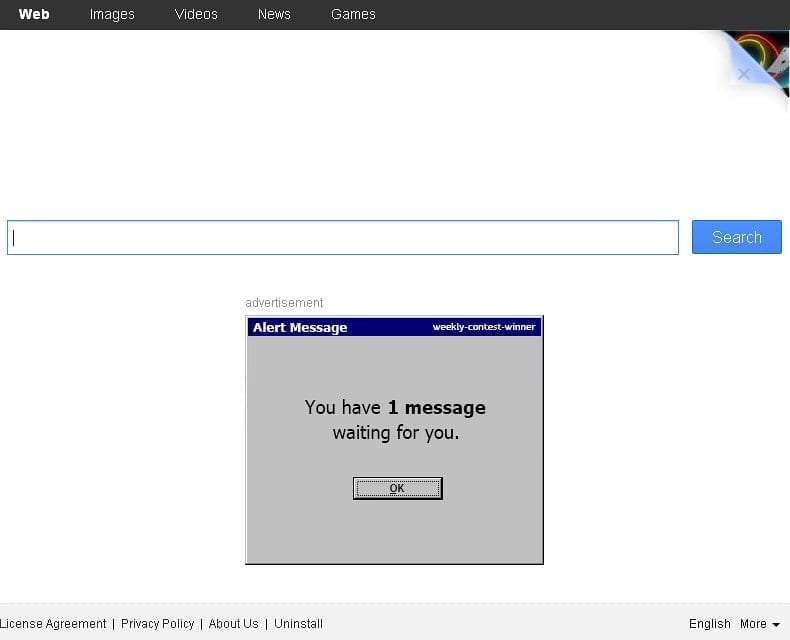 The contamination itself usually stems from a file or program download instance, where the user thinks they're getting something useful and safe but in fact an unwanted bundle infiltrates the PC as a drive-by. To its credit, the adware in question may pose as itself, that is, Sweet Page Browser New Tab extension, but that's a rare case moreover the user has no idea what this entity is going to do to the machine. More frequently than not it comes as part of apps like WMP, Extended Protection, IePluginService, and SupTab, the setup wizards for which do not indicate that an extra object is included.
As it has been mentioned, this virus doesn't ask for user consent when twisting the settings for browser homepage and default search system. The victim thus recurrently goes to sweet-page.com which looks like a search engine of a kind. In fact though, it is simply a traffic distribution page linking to a completely different service – a reputable one, actually. But before the redirect occurs, users get to see a banner that is probably well paid for. This particular monetization principle is dominating in today's world of adware.
As soon as common sense takes over, it becomes clear that Sweet Page must by all means be removed from the computer it's on. It turns out a hard nut to crack though because of the persistence of this virus: the respective browser extension removal alone will not do the trick. What will help is a sequence of steps highlighted below, where a mix of using professional software and manual transactions completely eliminate this adware.
Use reliable security software to detect and remove Sweet Page hijacker
---
CCleaner by Piriform is an efficient solution designed to automatically uninstall persistent malware such as the unwanted browser extensions related to Sweet Page hijacker and cease the browser redirect activity.
Download free or paid version of CCleaner by Piriform and save it to your Desktop. Install and run the software.

System Requirements: Runs on Microsoft Windows XP, Vista, 7, 8 and 8.1, 10. Including both 32-bit and 64-bit versions.

Click on the Cleaner button in the left-hand navigation menu, select Windows and Applications tabs in turn, and click Analyze option for each. Once the analysis has been completed, click Run Cleaner .
Go to Tools in the navigation menu and select the Startup option. Search entries under all available tabs ('Windows' through 'Context Menu') for dubious items that might be related to Sweet Page adware (Sweet Page Browser New Tab extension, WPM 17.8.0.3159, Extended Protection, SupTab, IePluginService, etc.) and choose Disable and Delete for each one.
You can also use the Uninstall functionality under Tools to completely get rid of browser add-ons / toolbars that cannot be deleted manually.
Uninstall malicious extension(s) from Control Panel: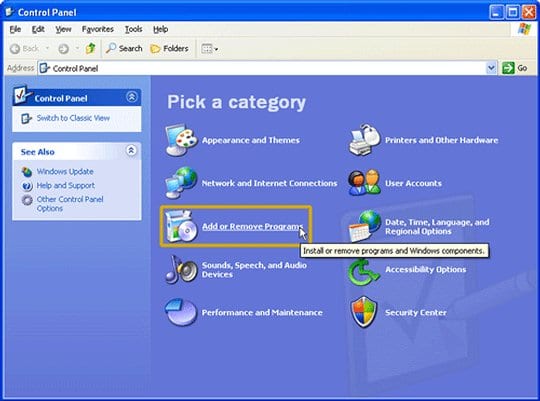 On Windows XP: go to Start –> Control Panel –> Add/Remove Programs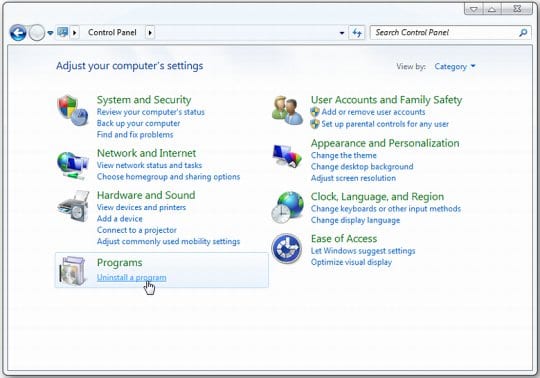 On Windows Vista / 7: go to Start –> Control Panel –> Uninstall a Program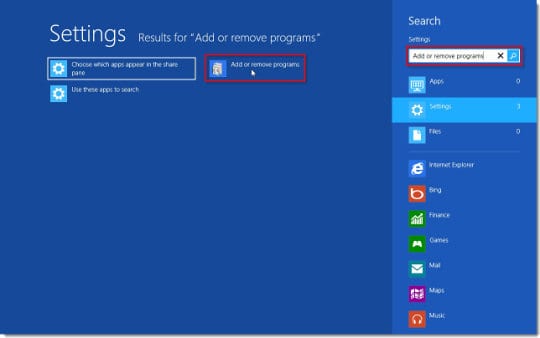 On Windows 8: click on Search icon –> type in 'add or remove' (this will suffice) –> select Add or remove programs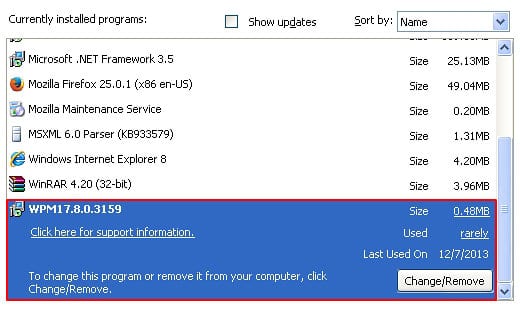 When the screen for program removal appears, look for the following items:
– Sweet Page Browser New Tab extension
– Sweet Page uninstaller
– WPM
– Extended Protection
– IePluginService
– SupTab

Screenshots by Remove Sweet Page portal
If located on the list, these should be uninstalled immediately as they are known to cause sweet-page.com to show up in one's web browser without user consent.
Remove Sweet Page from your browser
---
Sweet Page removal for Mozilla Firefox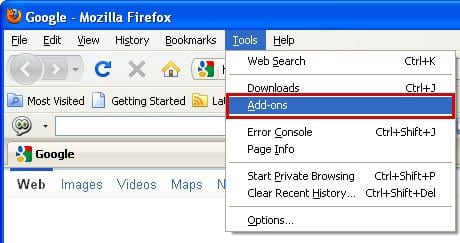 Go to Tools and select Add-ons in the drop-down list
Choose Extensions in the left-hand navigation pane and examine the list for entries associated with Sweet Page (see a complete list above). When found, click Remove next to the culprit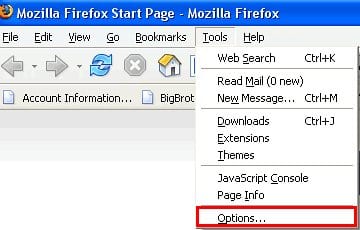 Proceed to Options under Tools menu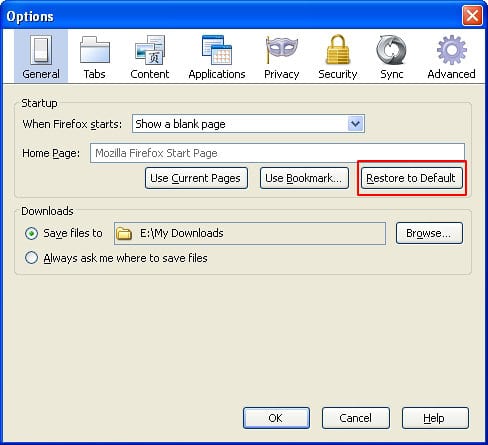 Hit the General tab and select Restore to Default as shown on the image below
In the search box to the right of the URL field, click on the arrow pointing downwards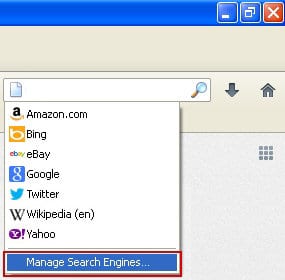 Click on the Manage Search Engines option in the drop-down menu that appears
Click on the Sweet Page entry and select Remove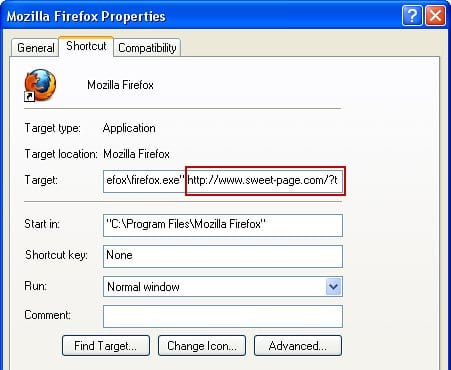 Right-click the Firefox shortcut and select Properties in the context menu. Click on the Shortcut tab at the top of the screen. Erase the string starting with http://www.sweet-page.com/ from the Target field
Remove Sweet Page hijacker from Google Chrome
In the top right of your Chrome window, click on the Chrome menu icon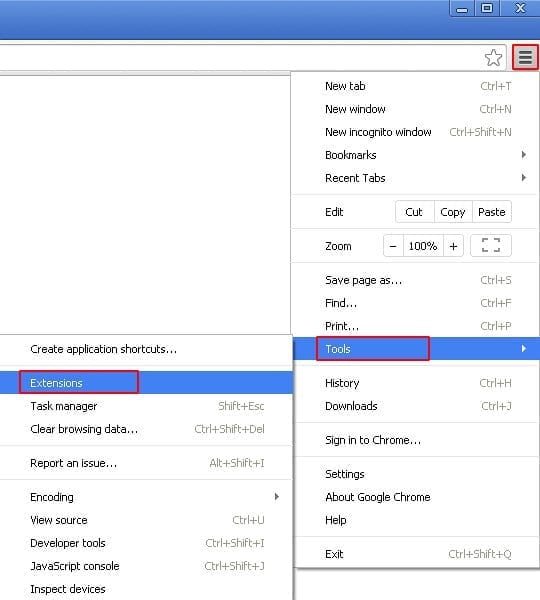 Select Tools in the drop-down menu and choose Extensions

Under Extensions, be sure to put a checkmark for Developer mode, find the add-on related to Sweet Page (possibly Extended Protection) and click on the trash bin next to it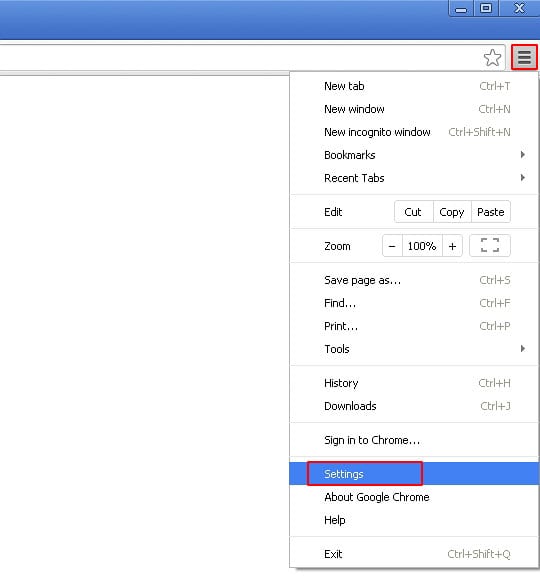 Go to Settings under Chrome menu

Under Settings, Locate the On startup section and click Set pages
On the list of startup pages, find the one related to Sweet Page and click the X button to its right

Go to Appearance section under Settings. Select Show Home button option and click Change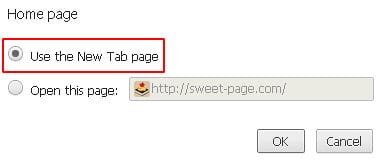 Activate the Use the New Tab page radio button and click OK
Proceed to the Search section under Settings and select Manage search engines

Pick your default search engine other than Sweet Page. Also, be sure to click on the X button next to Sweet Page in order to remove it from the list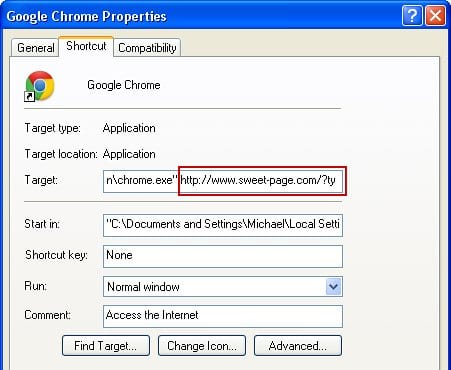 Right-click the Google Chrome shortcut and select Properties from the context menu that opened. Find the Target field and delete http://www.sweet-page.com/ with all subsequent symbols from there
Remove Sweet Page virus from Internet Explorer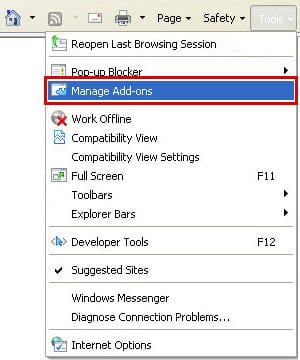 Go to Tools and choose Manage Add-ons
Select Toolbars and Extensions and locate the entry affiliated with Sweet Page. Highlight it and click the Remove button
Click on Search Providers in the left-hand section of the Manage add-ons window. Highlight Sweet Page on the list of search providers and click Remove at the bottom of the interface
Choose your preferred search provider from the list and click Set as default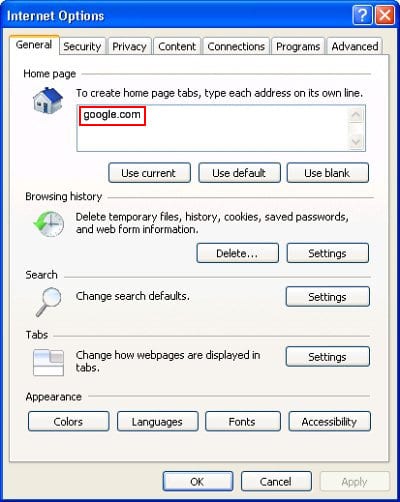 Now proceed to Tools –> Internet Options, and select General tab. Set a preferred value of your homepage and OK to save the changes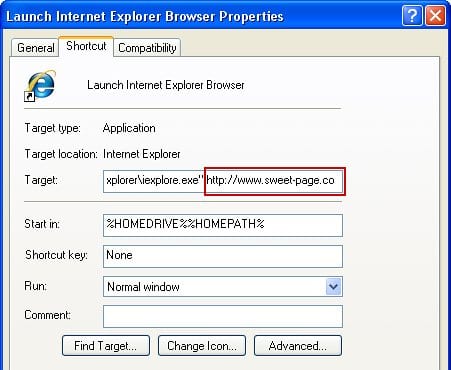 Right-click the IE shortcut, select Properties option from the menu and click the tab called Shortcut at the top. Delete the string that begins with http://www.sweet-page.com/ from the Target field and save the changes
Double-check
---
Scan your system with Bitdefender, the Privacy PC Gold Award winner in Internet security suites category, to make sure all registry entries and junk files added by Sweet Page hijacker have been cleaned up. This step will help you ascertain that no remainders of the infection are still there in case you missed something or if the adware has restored some of its components after manual removal.