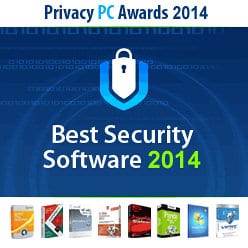 Having bidden farewell to the year of 2013, we would love to share our impressions, observations and perspectives with regard to the state of security software industry's achievements within the respective time span and predict the trends for the year we're already in. Our interest in this particular aspect of safe and trouble-free computing stems from the mission that we defined at the dawn of this project: informing the community about ways to maintain cybersecurity, online privacy, and continuously keeping track of what's new in the niche. As per in-depth analysis that we made of utilities representing the kernel software groups concerned, we singled out the leaders that are setting the pace in their areas of expertise and will continue to. What enabled us to accurately shape up this rating is the set of clear-cut criteria that the products have been thoroughly evaluated against. So, please spare a few minutes of your time to review our verdicts on the best security software that will be ruling in 2014.
Antivirus Software
One of the most popular security software categories, antiviruses tend to ignite the spark of progress in the industry overall. While the competition here is more than intense, our in-depth benchmarking enabled us to single out the indisputable leaders: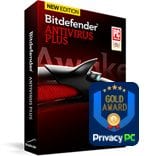 Gold Award: Bitdefender Antivirus Plus 2014
This product confidently stands tall in its niche due to abundance of extra features, exceptionally good independent lab scores, and great usability exhibited. Its protective capability powered by the new Photon technology is not restricted to mere antivirus competence – the software additionally accommodates online privacy features, ensuring social networking protection, online shopping safety, and spam-free environment. With all of this power in place, Bitdefender Antivirus Plus 2014 is PC resource-friendly. All in all, hearty congrats to our Gold Award winner!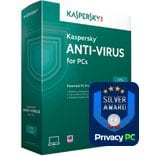 Silver Award: Kaspersky Anti-Virus 2014
The updated version of Kaspersky Anti-Virus introduces advanced defense against viruses, Trojans, worms, spyware, and rootkits; dependable real-time protection assisted by the cloud technology; instant safety checks; and a fair extent of online security. Some extras that stand out include proactive anti-phishing, email safety instruments, and constant control of software vulnerabilities. All of this is delivered with a tangible focus on customer support. Some issues with setup on infected PCs and lengthy scans taken into account, KAV 2014 is our Silver Award winner.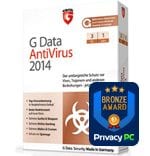 Bronze Award: G Data AntiVirus 2014
Featuring hybrid protection with CloseGap technology, sophisticated behavior monitoring, and cloud-assisted countermeasures for false positives, G Data makes a great pick for those who seek lightweight and reliable defense. Furthermore, re-designed intuitive user interface and online security extras such as BankGuard, and accelerated startup are also on the plus side of this utility. Slightly giving in to the leaders in terms of the feature set, G Data AntiVirus 2014 gets Privacy-PC Bronze Award, and we believe this product has a bright future ahead of it.
Internet Security Suites
Being safe online these days means your privacy is intact during web surfing, social networking, e-shopping and e-banking. The goal of Internet security suites is to make sure all of these modern cyber life essentials are appropriately kept on the safe side. Please review our rating of the current industry leaders in this niche: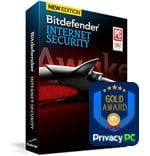 Gold Award: Bitdefender Internet Security 2014
Superfast protection of one's private information flow combined with an exclusively attractive feature set makes Bitdefender an undoubted leader in its area of expertise. This software efficiently guards your sensitive online transactions with its SafePay technology, protects your identity on social networks, keeps unwanted email away owing to built-in cloud antispam feature, safeguards in- and outbound traffic with the custom two-way Firewall, provides anti-theft capabilities for your mobile devices, and guarantees safe web surfing for your kids.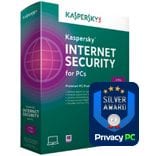 Silver Award: Kaspersky Internet Security 2014
Top-notch protection from all types of malware with minimal intrusion is effectively complemented with all-around online security services built into this product. Kaspersky Lab added a great deal of innovation into their updated solution, now featuring the new ZetaShield technology to better identify uncatalogued infections and exploits, also the Safe Money functionality for ultimate e-shopping and banking security, advanced anti-phishing, anti-spam, URL advisor, parental control, secure keyboard, and more.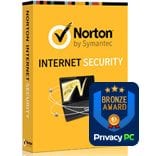 Bronze Award: Norton Internet Security
This software delivers a full range of online security capabilities proper, topped with cloud-based behavioral analysis and threat monitoring, as well as even some system optimization features. Norton Internet Security proved to do a particularly good job detecting zero-days, preventing phishing attacks and online scams, implementing reputation-based URL blacklisting web-wide and on the user's Facebook Wall, controlling kids' activity on the Internet, and blocking unsafe downloads. A well-deserved Privacy-PC Bronze Award for Norton!
Premium Security Suites
When it comes to avoiding dispersion into multiple applications for ensuring all-around cyber defense, premium security suites come into play to deliver the entire set of features within a single solution. We awarded the most worthy one in this category – see for yourself: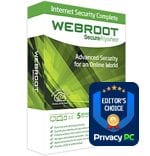 Editor's Choice: Webroot SecureAnywhere Internet Security Complete
A well-balanced blend of malware protection, Internet security, password management, mobile security, and data backup services – all of this is now accommodated in a single solution. No more need to install different products which may conflict with each other or lead to tangible system performance deterioration. Believe it or not, with the huge arsenal of features under one hood, SecureAnywhere Internet Security Complete is resource-friendly and won't cause slowdowns whatsoever. Way to go, Webroot!
Antimalware / Antispyware
This fairly broad security software cluster encompasses the utilities whose goal is to adopt protection against known and emerging digital threats as well as prevent identity theft and other sensitive data harvesting. The very nature of this sort of software implies capabilities to cover both real-time behavioral on-PC application monitoring and the online facet of computer use. Below are the winners in this category as viewed by Privacy-PC team: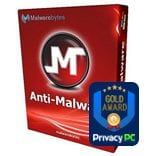 Gold Award: Malwarebytes Anti-Malware
It might appear odd that a product which underwent no notable external changes in a long time keeps staying on top of the antimalware arena. The secret lurks deeper down, in the useful features and the unbeatable virus combating capacity. MBAM guarantees real-time proactive protection, blocks phishing and hacking attacks, ensures splendid cleanup and remediation efficiency. Also, there's barely anything that compares to this product whenever it comes to handling persistent infections. Without a hue of doubt, Malwarebytes is our Gold Award-winning utility.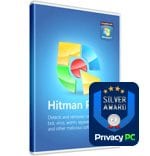 Silver Award: HitmanPro 3
The relevance of HitmanPro software in the context of present-day cyber threatscape is in its outstanding ability to exterminate the malware that other solutions fail to cope with. The software is marketed as a "second opinion malware scanner", which means it's designed to complement the defenses provided by the regular security software that may turn out unable to detect and combat viruses, especially ones like ransomware. Special thanks for the Kickstart module that allows curing a badly infested computer through bypassing virus interference.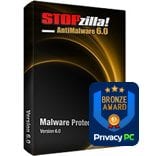 Bronze Award: STOPzilla AntiMalware
STOPzilla AntiMalware is made with a substantial focus on taking care of online threats, including those targeting sensitive user data. This product is powered by one of the largest malware databases, which makes it particularly efficient in terms of malware detection. With its easy-to-use interface and minor effect on PC performance, STOPzilla will meet the needs of users with various levels of computer expertise and those who travel and need their laptop battery to last. Generally, the product's low cost and commendable overall effectiveness make it a lure.
Mobile Security Software
As the use of smart portable devices is continuously on the rise, so is the propagation of digital threats meant for harvesting various types of user data on those. No need to panic though – there are dependable apps that will safeguard your mobile life. The one that we found the best gets our award in this nomination: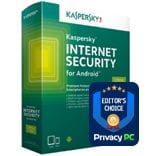 Editor's Choice: Kaspersky Internet Security for Android
Enjoying the numerous benefits of mobile communication with peace of mind that the data stored on your device will stay intact no matter what happens – that's the certainty which is granted by the updated Kaspersky app for Android. It proved to deliver cutting-edge anti-malware, web and privacy protection for your device. Also, you can have the unique anti-theft features at your disposal, providing remote access to the smartphone or tablet that may get misplaced or stolen. Importantly, this software has call and text filter, and won't slow your gadget down.
Free Antivirus Software
If software doesn't cost a penny to use, this does not mean you won't benefit from it. Some free antivirus products out there deliver fairly good protection and user experience. One of such applications is the winner of Privacy-PC award in this category: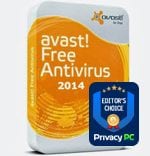 Editor's Choice: avast! Free Antivirus 2014
Intelligent antivirus powered by the new DynaGen technology, combined with anti-malware, anti-spyware and anti-rootkit protection make avast! Free Antivirus a long-lasting leader in its niche. Alongside its non-trivial effectiveness and quite an attractive feature set encompassing real-time shields, smart sandboxing, some online security instruments, remote assistance, and gaming mode, the ease of use and intuitiveness exhibited by this solution also deserve a special mention. This is a somewhat unexpected, yet flattering, mix as for a free app.
Internet Privacy Software
Data erasure isn't always an irreversible process, at least when you're doing it with the native operating system features. The need for complete destruction of sensitive files, which may occur for privacy and anti-forensics reasons, has given an impulse to the rise of privacy solutions that guarantee no one is able to restore and get access to your personal information, be it criminals, law enforcement, etc. Using one of the utilities below does the trick in this regard.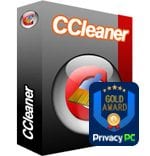 Gold Award: Piriform CCleaner
In terms of functionality, the legendary CCleaner is more versatile than the regular privacy software. Its feature set also encompasses a bunch of system optimization capabilities such as registry cleaning, duplicate file search, advanced uninstall, and managing system startup processes – this one is helpful when dealing with malicious software. The privacy component proper includes thorough Internet and Windows history cleaning and erasure of individual files or whole drives with one of four available algos. And all of this is absolutely free of charge.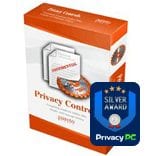 Silver Award: ParetoLogic Privacy Controls
This software is a great pick when it comes to shredding any objects without a slightest chance of further recovery. This easy-to-use app erases all Internet-related data, including history, cookies, passwords, IDs, etc.; securely deletes files on demand; wipes out all sensitive data related to instant messaging and VoIP; cleans up MS Office and third-party applications' history; and obliterates information from browser toolbars as well as media player data. Overall, this utility can easily prevent any sort of your private data from becoming public knowledge.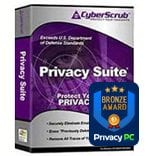 Bronze Award: CyberScrub Privacy Suite
Notwithstanding its slightly outdated design, CyberScrub Privacy Suite definitely stays on top of the contemporary user privacy maintenance trends. It is fit to efficiently erase an extensive range of data, including all items related to Windows usage history, Internet history, and the information generated by third-party applications. Additional benefits from using this app are user-specified shadow copy destruction, and the new Risk Monitor which alerts you whenever a privacy issue occurs. Do note that CyberScrub is a fairly expensive application though.
Encryption Software
If you want to be the only person who can access your personal digital information, data encryption works wonders. The software in this category is evaluated against reliability of encryption proper (the respective algorithms and standards utilized), as well as data backup efficiency and usability benchmarks.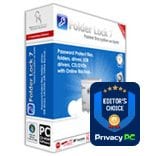 Editor's Choice: Folder Lock
Multi-faceted file security is guaranteed by Folder Lock, a product used by more than 25 million people globally. It delivers ultimately reliable password-protection (locking) of individual files, folders and whole computer drives; fast on-the-fly data encryption with 256-bit AES algo; real-time file backup; USB/CD drive and portable device protection; dependable file shredding; Windows history cleaning; assistance with creating strong passwords; and the feature of making 'wallets' for storing sensitive information that only you can access.
Password Management Software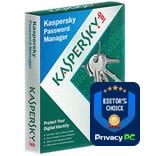 Editor's Choice: Kaspersky Password Manager
The scope of features provided by Kaspersky Password Manager isn't restricted to creating and storing strong hard-to-guess passwords. Additionally, it serves as a versatile tool for facilitating web surfing in a variety of ways, enabling single-click sign-in to sites, multi-factor authentication, automatic form fill-out, password database backups, protection against keyloggers and phishing attacks, as well as the mobility feature where the program is launched from a thumb drive or other media. Easy-to-use, reliable, and portable – these can all be attributed to this app.
We at Privacy-PC hope this unbiased rating helps all valued readers of our web resource in decision-making with regard to the optimal and most reliable security software for the moment and for the year to come. Also, we would love to take this opportunity and congratulate you on Christmas and New Year holidays! May you and your families be healthy, wealthy and successful in all beginnings! And have a safe year of 2014 cyber-wise!