Posted by
david b.
on August 29, 2012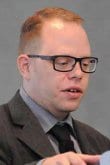 Head of Recurity Labs Felix 'FX' Lindner presents an in-depth research at Black Hat Europe 2012, dedicated to differences in technical implementation and security architecture of the world's leading client platforms used on Apple iPad and Google Chromebook devices.
Hi, my name is FX, or Felix – whatever you like more. This presentation was developed together with two guys – Bruhns and Greg.
In general, what we are looking at is, you know, if you look around you, every cool person sits there with an iPad, possibly connecting to the company network. So far I haven't seen this thing called Chromebook here, but they might exist. So the question is these are new client platforms, so they actually differ massively from what we used to have – we used to have PCs, personal computers that we had full control over. But nowadays the trend is more towards devices that you buy from your 'religion' – favorite vendor; and you use those devices, and you trust them inherently. At one side, it's a good thing because you stop worrying about installing software and stuff. On the other hand, we are computer security persons, so we consider what the security of it is. So we wanted to have the comparison between two massively different devices that differ in their background, their motivation, the general idea, as well as the technical implementations.
So what we looked at is the iPad (1st generation) and Google Chromebook. What's often overlooked, especially with hackers, is that people, namely companies, don't do what they do for religious reasons or because they are such good people, but because they make money. So when you look at the security architecture of a device, it always pays off to understand how this company makes money with their device. So in the case of the iPad, I'm sure most of you have read that last year Apple actually made more money and sold more iPads than HP sold PCs, worldwide. So there's more people buying this thing than people buying an actual proper PC that they have control over.
Apple iPad (1st generation)
Apple's business model is centered around selling individual devices, like everyone is supposed to have their own device. And then, 30% of the AppStore sales go to Apple no matter what; and 30% of all the money you give to your mobile phone provider goes to Apple as well. So they have very, very high interest in selling as many devices as they can to make the over 28,000 shareholders of Apple more happy. It works quite well: as you can see in the numbers, the iPad 1 made them about $29 Billion, so it's worth doing it certainly.
30% of the AppStore sales and the money you give to your mobile provider go to Apple.
And from this business model comes the actual design goal of the security system. What they want is a consistent, fluent user interface which you all love. They want integrity protection, but they want the
integrity protection of their operating system
and of the applications, and not of your data for example. They want to restrict where software comes from, what software does, the capabilities, what's in the content; they want to control all that because they want their 30% share. Protecting the user data is actually not on the agenda. That is very important to understand because that doesn't make them any money. And, you know, if it doesn't make you any money, then you are not investing any money in it either. Where the software comes from – everyone knows the AppStore, you have an Apple ID. Apple goes ahead in that if you try to sign up to the AppStore, you get a heap of contracts. If you are into contract reading, I highly recommend, just for the sheer fun factor of it, to sign up as a developer in the AppStore, because this contract is the most ridiculous you will ever see – all rights go to Apple, and if anything goes wrong Apple's damages are limited to $50. The sign-up fee is $99, so you already paid them for that. And when you submit software to the AppStore, it goes through this review process that supposedly is about security and usability – in fact, it's completely damn random. I mean, you are submitting binary code, and as Chris Wyposal from Veracode outlined how hard it is to automatically check binary code for any properties, that is essentially impossible. So essentially, it's really random, and you can't actually submit code that for example makes things in the iPhone better than are sold by Apple, so if you want to submit a new email client (because the one on the iPhone sucks), it's not accepted because Apple doesn't want that.
Google Chromebook
On the other hand, look at Google. Why does Google now come out and make the Chromebook which pretty much is in competition to the iPad? Google makes 96% of their income by selling ads and ad profiles. So essentially, the whole company centers around selling your profile to someone who wants to display ads to you. So they have a completely different motivation of coming out with a client platform. Also, what's fairly important with Google is, in contrast to Apple where you have 28,000 different shareholders, at Google 67% of the total share is controlled by three people. So they actually control the whole company, and they can do whatever they want basically. Since they want to sell your online behavior, the information, the content that you produce – it's of paramount importance to them that they actually secure the client platform. Because only if they secure the client platform, you as the user have enough inherent trust in the client platform to put all your important data in there.
Google makes 96% of their income by selling ads and ad profiles.
And this is how they designed the Chromebook. So the Chromebook is actually an operating system that is only there to run a single application, which is the web browser. They don't want you to store any data locally; they want you to store the data in their Cloud obviously. It prevents any type of third-party software from running, and, you know, it's designed to be fast and to be good, and also to appeal to the hearts of nerds. Google figured out very, very early that if you want to win over general population, you have to win over the nerds first because they are the technology lead. If the nerds say: "This is cool technology", many people are going to buy it.
So for example, take the Google DNS service. When Google came out with their DNS service, none of the nerds said: "Well, why would I use Google DNS where Google knows every single NSlookup that I do?". Everyone said: "Look at the IP addresses, it's 8.8.8.8, it's so cool!" And that works. The same with the Chromebook: all the software on there, with very few exceptions, is open source, it's very well written software, it's really well designed software, so everyone goes like: "Look at this cool software!", forgetting about the fact that they are just putting all the data into Google now.
Google of course has the Chrome Web Store, everyone has an AppStore or Web Store nowadays. But because their motivation is so different from Apple's, the whole process with the Web Store is really simple. You have a 5-dollar payment once so they verify that you actually have a credit card – and that's about it. You submit your content, it's directly available, but the fact being that you can only submit stuff that's essentially HTML and JavaScript. The Chrome browser would support Netscape API (NPAPI) binary plugins, but for the Chromebook you can't actually have them. So yeah, it's essentially just HTML/JavaScript, which, from the security point of view, makes it a lot easier to handle the binary code.
Read next: Apple vs. Google Client Platforms 2: Apple iPad Security Architecture
Like This Article? Let Others Know!
Related Articles:
Comment via Facebook: