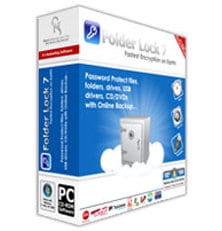 The need for reliable data encryption occurs when confidentiality and privacy acquire a special significance. Intactness of your valuable personal information is metered by what you do to actually protect it and how well you cope with this non-trivial objective. The 'old school' methods like creating hidden folders or adjusting file access permissions are definitely no longer effective – as intruders grow smarter, it's a piece of cake for them to crack it all in no time. So it's obviously a judicious idea to outsource your data security to a tool inspired and made by professionals who extrapolate the thoroughly investigated state of the present-day information safety climate and challenges on to the automated tools.
Folder Lock is precisely the kind of software to use for making your data inaccessible to anyone but you. It enables locking, encrypting and password-protecting the files you deem important and strictly private. Equipped with some handy extra features and capabilities, the program appears to be a great choice for managing and securing your personal information. Along with encryption proper, Folder Lock provides you with safe online backup storage, enables saving the encoded data to portable media so you can transfer it to a different computer if needed, and provides the 'Make Wallets' feature which is there for you to store all kinds of personal information such as credit card, social security, banking data and a lot more private things. It can as well shred files, clean Windows history and advise you on password strength.
Owing to the use of 256-bit AES on-the-fly encryption combined with synchronizing the encoded items to an online storage, Folder Lock is undoubtedly a durable, military-strength digital vault for your identity.
System Requirements
---
Operating System:
Windows XP / Vista / 7 (all editions)
Hardware:
For Windows XP:

CPU: all compatible with these Operating System
At least 256 MB of available RAM (512 MB recommended)

For Windows Vista / Windows 7:

CPU: all compatible with these Operating Systems
At least 512 MB of available RAM (1 GB recommended)
Additional Requirements:
Free space on HDD
Internet connection
CD/DVD Drive (unless installing from the web)
Usability
---
The software distributor offers its customers a choice between the trial version and the commercial copy. What's interesting, the vendor even recommends the former (it's an 8 MB evaluation build) in the User Guide available on their website – and if you're satisfied with the functionality, you can then purchase the product. Please note that the utility works on all file systems (FAT16, FAT32 and NTFS), so this criterion is really not relevant.
Installation runs trouble-free and completes within just a minute or so. There are absolutely no hard-to-understand procedural cobwebs during the setup, so you'll be good to go real quick. The software does not conflict with any antivirus, antispyware or disk utilities. The first thing Folder Lock asks you to do when it installs is assign the Master Password – a strong combination of symbols or a pass phrase that grants you all the administrative rights for the program, whether you're changing the app's configuration, adding data to the Wallets or having your files encrypted / decrypted, backed up to the online storage etc. One thing we'd like to stress on with regard to the Master Password is you might have problems having it restored if forgotten – in that case, it's only the serial number of your registered software copy that can help you out there.
Using the product's functions basically resolves to simple drag-and-drop operations – just pick the file you'd like to encrypt or lock, drag it to the corresponding section under 'Lock Files' or 'Encrypt Files' tab with your mouse and stick to the prompts for completing the process (e.g. enter the Master Password). When you start using the application, we additionally advise signing up for the online backup account using the 'Backup Online' option. As you further move certain items to the online storage, it's kind of convenient to see your available space quota – initially you get 15 MB free – and the backup statuses of different files. It's equally easy to password protect USB drives and CDs, make Wallets, shred files / folders and clean Windows history. The settings and preferences section is as well split into tabs, each one containing distinct options you can pick or uncheck for customizing the software.
Folder Lock's user interface is pretty straightforward. It does actually seem to be filled with quite a few buttons and tabs, but once you explore the GUI it all becomes clear and simple. For a program as universal as that, this interface structure is probably optimal.
Pertaining to system resources consumption, Folder Lock performs great when running. It processes gigabytes of data within minutes and has no significant influence on the productivity of your machine. You'll definitely find this product speedy and easy-to-use.
Features
---
While using this product, you get pretty much all data security features imaginable, plus the truly outstanding functionality. To shed some light on what exactly Folder Lock has to offer, we have tested its features and came up with the list and specifications below.
– 'Lock Files' is the tab coming on top of the 5 main sections of the interface, and it's one of the program's key tools. It enables locking and hiding files, folders, drives and executables (i.e. applications), which contributes to safety of your data that gets inaccessible for possible intruders. Note that the default configuration triggers simultaneous locking and hiding of the selected items. Should you wish to apply either operation without activating the other, you will need to open the 'Locking & Encryption' option under 'Settings' and uncheck the feature you would like to deactivate for this particular session. Once the objects are locked, they will be completely protected against spyware and other privacy-infringing infections.
Whereas locking is convenient and speedy, encryption is recommended to apply for securing your most valuable information to add yet more defense value to it. This is what 'Encrypt Files' feature is meant for. The algorithm implies creating a separate storage file on your workstation called 'Locker' and then transmitting the encoded data to this secure location. The software uses 256-bit AES (Advanced Encryption Standard) to reliably protect your information and render it completely unobtainable for others. For additional safety purposes, the Locker is undeletable unless the corresponding operation is initiated by the user via Folder Lock.
'Protect USB/CD' feature is a great instrument for encrypting the files you save to portable devices like memory stick or a disc, so with this facility in place you won't worry about someone getting hold of your data even if you lose the USB or CD.
'Backup Online' is a unique tool enabling you to create copies of your encrypted files in a special location outside your computer. Merged with cloud computing technology, this feature is implemented for addressing emergencies when your most sensitive data is gone from your PC – this could be due to some critical operating system failure or mechanic hardware damage. Like we already mentioned, it takes the user to create a backup online account to benefit from this splendid functionality.
Folder Lock further reinforces your data intactness through its 'Make Wallets' feature. In this context, a Wallet denotes a protected storage for keeping your personal details such as financial information, social security details, health cards and similar confidential info. It's not hard at all to create a wallet – just select the right tab, fill out the Wallet Name, Wallet Destination and Wallet Password sections. It's all pretty intuitive in there, so you shouldn't run into complications when using this function.
It's common knowledge that regular Windows' data removal procedure might leave some fragments of this deleted information behind. To help you permanently and irreversibly delete certain private files, Folder Lock accommodates the shredding feature.
'Stealth Mode' denotes a smart capability enabling the user to hide the traces of Folder Lock's presence on the system, so the icons, shortcuts etc. won't be visible for any potential snoopers. You can then set a hotkey combination to activate Folder Lock and get it running in regular mode.
From where we sit, this product appears to integrate everything you might possibly need for fail-safe data protection. It's therefore not by chance that it has won genuine recognition of the vast user community worldwide.
Efficiency
---
As we were analyzing Folder Lock software, we didn't have a slightest hue of doubt with regard to its reliability in terms of doing what it's meant for. It unfailingly protects your data with the military-strength tools we outlined above. The 256-bit AES encryption standard applied, online backup opportunities, file shredding options, secure data transfer via USB, as well as the Wallet making and Windows history cleaning features contribute to the overall excellence and convenience of this product. Even when dealing with large volumes of data, Folder Lock shows splendid performance and won't leave a single assigned file unprotected. Moreover, you can benefit from an almost complete functionality even with the free trialware, so it's apparently a faultless idea to upgrade to the full version afterwards.
Help & Support
---
Folder Lock's interface has an embedded Help feature which appears to contain the manual, FAQs and the extensive knowledgebase addressing most common issues that might occur along the way. For more complex troubleshooting or enquiries, you can always use the online form to submit your case (the support agents reply within 24 hours on weekdays) or get the permanently updated product information on the dedicated blog or through all major social networks and YouTube channel containing tutorials and tips. There's no telephone support available though – nevertheless, the software's proven reliability is the factor plausible enough to make this minor inconvenience pretty much null and void.
+/- (Pros/Cons)
---
Easy to use
Reliable data encryption
Great feature set
Evaluation version availability
Quick data processing
'Make Wallets' feature
Relatively high cost
No phone support available
Bottom line
---
Folder Lock provides essential data protection with ease. The unbeatable encryption standard and innovative feature set go side by side with remarkable usability. Not only can you store the encrypted information inside your computer – the static on-PC defense is now complemented by portability, which means you needn't worry about security of your data even when it's being transferred. Overall, Folder Lock is superb encryption software you can trust and rely on.