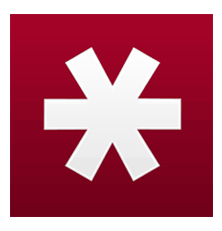 We are not going to delve into the importance of appropriate password management for the umpteenth time here, since it's all obvious and unquestionable these days. Just take it for granted. What we are going to elaborate on though is an application delivering excellent opportunities to authenticate oneself online conveniently without a slightest chance of getting owned.
LastPass Premium charges you as little as $1 per month while performing the complete scope of tasks that many similar utilities ask a significantly larger payment for: it creates strong passwords, stores and efficiently manages them, allows making secure notes, enables extensive password importing options (including access details for your Wi-Fi connections), and automatically fills out online forms for remarkably easy and hassle-free e-shopping, etc. One of this app's hallmarks is the fact it comes as a browser add-on. Another peculiarity is that LastPass Premium backs up your credentials in a highly secure cloud environment, i.e. outside of your machine. Compared to its free counterpart, LastPass Premium provides additional mobility features for on-the-go data access, multifactor authentication via USB thumb drive or YubiKey, and priority support opportunities.
We hate to jump the gun but can't help pointing out from the get-go that we really like the ease of use and all-round functionality of this solution. This review will explicate the ins and outs of LastPass Premium, including its usability details, features, efficiency, downfalls and benefits.
System Requirements
---
Operating System:
Windows 2000 / XP / Vista / 7 / 8
Mac OS X (10.5 and later)
Linux / Solaris / BSD
Mobile platforms supported
Android
iOS
BlackBerry OS
Windows Mobile & Windows Phone
Symbian S60
HP WebOS
Supported Browsers:
Internet Explorer 6+
Mozilla Firefox 2.0+
Chrome 18+
Safari 5+
Opera 11+
Usability
---
While involving quite a few screens and checkboxes to tick or untick, the procedure of LastPass Premium setup ultimately results in the installation of a completely ready-to-use app. At this stage, you can opt into getting the corresponding plug-ins for all the browsers installed on your computer, create a LastPass account in case you don't have one, import passwords and other data, as well as specify whether or not you would like to stay logged into the program after you close your browser. Should you accidentally forget to add the plug-in for one or several of your browsers during the setup, there's no need to worry because this can be easily done afterwards by looking up and enabling the LastPass extension via the corresponding menu item in the web browser concerned.
You get to understand the essence of the program's slogan "The Last Password You'll Have to Remember" the moment it starts running on your PC: it requests that you specify the master password which is to become the key for all the further transactions with your login details. The password strength meter helps you pick a sufficiently reliable combination.
Again, LastPass does not really have a static user interface as such, at least not in the regular sense – it is manifested in the form of a multifunctional browser plug-in accessible from a button residing in the browser's toolbar panel. Clicking the button opens a drop-down list of the app's settings and features: the Logoff option, Identities, My LastPass Vault, Recently Used, Sites, Secure Notes, Fill Forms, Preferences, Help, Tools, and Save All Entered Data. Each one of these menu items encompasses a range of additional options which, in their turn, open up as standalone screens.
Using LastPass Premium for password maintenance proper turned out a pretty intuitive activity to carry out. Whenever you try to access a secure website, the program displays an unobtrusive request on whether or not it should remember this password, providing a total of three options: Save Site, Never For This Page / Domain, and Not Now. If you select Save Site, it will appear in your LastPass Vault where you can edit the info, share the item, or delete it. During further logins to all the pages you added this way, it's only the master password that will be required, or no action on your end at all – in case you switched off the obligatory master password input. Configuring the form filling functionality is just as easy: you open the Vault, hit the Form Fill Profiles tab, and enter the requested personal data. You can as well generate a strong password at any time by picking the right option under Tools. Adding a secure note is a two-click transaction that takes literally seconds. Importing and exporting your passwords shouldn't cause any difficulties either: just go to Tools, choose Import From or Export To, pick the needed item on the list of supported password managers, and proceed with the specific task. As we already mentioned, a really handy thing here is the ability to import Wi-Fi connection passwords which are usually a pain to keep in mind.
Generally, Last Pass Premium is a pleasure to use. It effectively takes over the mundane job of password typing and gives you peace of mind when it comes to safety of your sensitive credentials.
Features
---
LastPass Premium boasts a competitive feature set outperforming some costlier utilities in the competition. Aside from utilizing best practices of creating, storing and managing passwords and sensitive data, it adopts key sniffing countermeasures, flexible account access restrictions, protection against phishing, automated form filling, multifactor authentication, and versatile features for your mobile device. Let's go over all those individually.
LastPass can generate secure passwords that are not crackable even with brute-force attacks. You can set a number of preferences here, defining the password length, a minimum quantity of numbers in it, whether it should be pronounceable or not, etc. The meter bar at the bottom of the box will show you the strength for each generated combination.
With LastPass running on your computer, the process of password entry gets reduced to the use of one master password. It will be the main authenticator for automatic one-click site logins, viewing your secure notes, as well as accessing your LastPass online account and managing your personal data in the cloud.
One-click login means you no longer need to type in the passwords for every online service you are registered with. The secure authentication procedure will be fulfilled automatically; all you have to do is point your mouse and click – as easy as that.
Protection against identity theft is implemented via strong encryption of your private information with AES-256 algorithm. Furthermore, the fact that your credentials are exported to a reliably protected cloud spares you of the worries about these details being compromised or simply lost in case of hardware failure.
Creating secure notes allows you to store different kinds of personal data in a safe place, including banking information, database details, personal IDs, Wi-Fi passwords, software licenses, insurance details, etc. Another benefit is the ability to attach files from your local drives to the notes. Each secure note you add can be optionally password-protected when accessed further on.
Premium users can share access to sites with friends without actually disclosing the credentials, as long as the recipient is a LastPass user as well. The sharee can be a free version user, unless they intent to pass it on to someone else. The recipient will get a pending share offer in their Vault, and all that's left to do is simply accept it.
Automatic form filling is a feature enabling you to get your personal details automatically entered into online forms whenever you sign up for a new service. To get it going, you first need to fill out your LastPass form fill profile, providing the information that's typically required in such online scenarios. When testing this feature, we found one little flaw: the gender field wasn't getting pulled up in some forms. But generally, it works great.
Importing and exporting your data makes it easy and trouble-free to transfer existing passwords to or from the other password managers, including the ones built into browsers. As we pointed out above, this applies to Wi-Fi passwords as well, which is really convenient.
LastPass Sesame is a cross-platform tool intended to provide multifactor authentication. It means that to access your LastPass Vault you will need both your master password and the USB thumb drive with Sesame on it.
YubiKey multifactor authentication is an innovative method for additional security of the login process. Ultimately, with this type of authentication enabled, accessing your LastPass Vault will imply two actions: entering your LassPass credentials and inserting the YubiKey device into the PC's USB slot. When plugged in, YubiKey generates one-time password as you hold your fingertip on its sensor button. This means absolutely no one but you can log into the Vault.
Using the screen keyboard eliminates the risk of your credentials being stolen. Even if keyloggers, or key sniffers, infiltrate and run on your machine without you knowing, they will be unable to record your keystrokes because you are not actually typing anything – instead, you are using the mouse to enter the password.
Password management for smartphones is a prerogative of Premium version users only. With this functionality at your disposal, you can perform basic transactions with website access on your mobile device. This includes viewing, adding, editing, as well as deleting sites and secure notes on the go. For platform compatibility information, please see System Requirements section above.
Efficiency
---
When stored by LastPass Premium, your personal data is strongly encrypted with military-grade algorithm. What this means is nobody gets access to it no matter how sophisticated and tricky their methods are. Some users might have concerns about their credentials residing in the cloud, but the AES-256 encryption utilized to keep it inaccessible to anyone, including the bad guys, does the trick. LastPass Vault access via multifactor authentication with USB thumb drive or YubiKey adds yet more security to the whole process.
We spotted no flaws or problems whatsoever in the way LastPass operates. It generates passwords, saves your credentials, adds secure notes, fills out online forms, logs you in, and generally processes any input data in no time. This is the rare case where there is barely anything else to add – LastPass Premium manages your passwords and defends your privacy pretty much immaculately.
Help & Support
---
Support for LastPass Premium users includes quite a few alternatives. Basically, self-help options should address nearly all issues you may possibly encounter. The Help Center contains searchable FAQs by product and by feature. User Manual is accessible directly from the drop-down menu of the LastPass browser plug-in, and it turns out easy to navigate. In addition, you can watch the very informative screencasts, browse the LastPass Forums, or submit a ticket containing the description of your problem or inquiry. Phone support and faster ticket response times are the privileges only Premium users can benefit from. We found no live chat option though, which is probably the only minor shortcoming.
+/- (Pros/Cons)
---
Cross-platform functionality
Generates secure passwords
Effective and hassle-free password management
Allows creating secure notes with attachments
Smart multifactor authentication
Flawless password importing / exporting
Automatic form filling
Easy to use
Applicable to smartphones
No live chat with tech support reps
Form filling is not always thorough
Bottom line
---
LastPass Premium stores your sensitive credentials efficiently enough to be trusted. Beyond that, it diligently undertakes to do the job most people find screamingly annoying – thinking of new passwords, entering login details, filling out online forms, and the like. Owing to the availability of mobile features, an additional privilege is the ability to access and manage these data on the go. And lastly, for more than just regular everyday privacy maintenance, you are free to make use of the multifactor authentication which completely rules out the probability of identity theft.