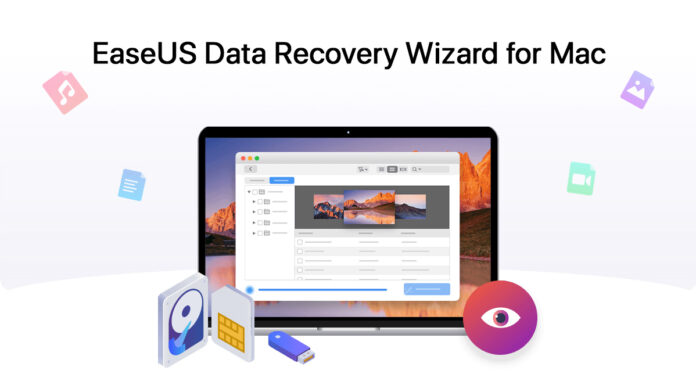 EaseUS Data Recovery Wizard for Mac is your best bet when it comes to reinstating files that seem lost for good, even those on a formatted drive.
Intro
---
Whether you are an advanced or casual Mac user, data is always front and center. Personal photos, videos, work documents, and backups are a precious asset and should be treated accordingly. Unfortunately, a handful of adverse scenarios can undermine their intactness and lead to a digital disaster.
To begin with, no hardware is immune to failure. Whereas you can get yourself a new storage device if your old one stops working, some files are irreplaceable. Aside from hardware bugs, data can go missing due to accidental removal, a system crash, improper handling of removable media, and growingly prolific Mac ransomware attacks.
How to deal with the aftermath of these gotchas? Bidding farewell to your files is, obviously, a lame response. Instead, let a reliable data recovery utility do its thing and see if it helps. EaseUS Data Recovery Wizard for Mac is definitely on your must-try list. Boasting an immaculate track record of restoring data in complex situations, it promises to lend you its magic wand and revive files stored in dozens of formats, on any storage device compatible with your Mac.
In this hands-on review, we will try to figure out if this tool lives up to its authors' claims and check how effective and user-friendly it is. So here we go.
Screenshots
---
Technical specifications
---
Operating System:
Mac OS X 10.9, 10.10, 10.11
macOS 10.12 and newer (including macOS 11 Big Sur)
File systems supported:
APFS
exFAT
NTFS
HFS X
HFS+
FAT (FAT16/FAT32)
Device types supported:
MacBook/iMac
Hard drive
SSD
Fusion drive
SD card
USB drive
Camcorder
iPod
Usability
---
It took us a mere minute to get EaseUS Data Recovery Wizard running on our lab MacBook Pro. The DMG installer sized 59.3 MB makes the whole process highly intuitive and as smooth as dragging the product's icon to the Application folder.
The only extra step is to manually allow a new system extension by heading to System Preferences > Security & Privacy. Also, once you launch the app for the first time, you'll see a dialog asking for permission to display notifications (alerts, sounds, and icon badges). If this isn't okay with you, just opt out by clicking "Don't Allow".
The GUI looks clean and isn't overburdened with information. The most prominent part is the list of your internal devices and external storage media if currently connected to the Mac. Each section reflects the size of the device along with the file system, plus there's a self-explanatory "Scan" button. At the very bottom of the screen, you'll also find a link leading to the support documentation and some common troubleshooting tips.
EaseUS Data Recovery Wizard menu in the Finder area provides a combo of additional features and customizations. You can use it to bring up the app preferences, check for updates, send your feedback, create a bootable USB, select your preferred language out of 15 available, quickly contact the product manager via social networks or email, zoom or minimize the window, and do a few other things to adjust the tool to your liking.
It's kind of frustrating, though, that the GUI doesn't change as you switch between light and dark mode on your Mac. Dark mode support wouldn't go amiss these days. Another thing we find somewhat intrusive is that the app keeps adding itself to the Login Items to start up at boot time. If you go to Users & Groups > Login Items and remove it from the list, it will display a pop-up saying "EaseUS Data Recovery Wizard wants to make changes" and requesting your admin password the next time you open it.
When a scan is underway, EaseUS Data Recovery Wizard for Mac gets fairly resource-intensive. Its CPU usage was ranging between 35% and 50% during our test. Unsurprisingly, this made our MacBook Pro hotter and noticeably slower than usual. This is due to the specificity of this software: to work right, it has to be a resource hog to an extent. When the app isn't scanning your Mac, though, it has a tiny system footprint.
Overall, the product makes a great impression and is amazingly easy to use despite the algorithmic complexity that makes it so effective in terms of data recovery.
Key features
---
EaseUS Data Recovery Wizard for Mac is equipped with a competitive feature set that makes it a one-stop file rescue instrument, even in tough scenarios. Here's a rundown of its game-changing capabilities:
Overarching coverage of file formats. The tool can reinstate documents (HTML, PDF, DOC/DOCX, XLS/XLSX, etc.), photos (JPG/JPEG, PNG, BMP, GIF, TIFF/TIF, etc.), videos (AVI, MOV, MKV, MP4, etc.), audio files (MP3, WAV, AIF/AIFF, M4A, etc.), disk image files (DMG), emails, archives, databases, executables, Time Machine and iTunes backups, and other data stored in multiple different formats. Effectively, there isn't likely to be a single deleted file on your Mac this app can't restore.
Recovery from a formatted or RAW device. Even if you accidentally format a partition of your storage device, EaseUS Data Recovery Wizard for Mac can help you get your data back. Furthermore, it may be able to restore files from a RAW device that's not formatted with any file system or whose file system is damaged.
Recovery of ransomware-encrypted files. Mac ransomware outbreaks are an escalating menace. These nasties encrypt your data and hold it for ransom. To avoid sending bitcoins to crooks if such a predicament happens, try restoring unencrypted copies of your files with the tool being reviewed.
Macs with the T2 chip supported. The technology at the heart of EaseUS software can bring back data on Mac machines released from 2018 onwards that have the T2 security co-processor onboard. This used to be unfeasible with classic recovery algorithms in place, but the app bridges the gap immaculately.
Continuous S.M.A.R.T. diagnostics. The acronym stands for "Self-Monitoring, Analysis, and Reporting Technology". It allows you to stay abreast of the health condition of your HDD or SSD. With this feature in effect, EaseUS inspects your disks for hardware issues in real time and alerts you to possible risks.
File preview. From where we stand, this is one of the most awesome features in the app's toolkit. It allows you to preview virtually any file pinpointed during a scan. This makes it easier to decide whether or not specific items need to be restored.
Efficiency
---
It took the utility roughly two hours to check our 240 GB SSD drive for recoverable data. Although the scan is time-consuming, it's absolutely worth the wait. It starts with quick scanning and transforms into a deep scan that peeks into every corner of your Mac to pinpoint all the bits and pieces of nearly-lost information.
The scan report follows an intuitive tree structure logic and, as previously mentioned, allows you to preview objects before recovering them. Frankly, the scan exceeded our expectations as it spotted well over 300,000 files that we thought had vanished without a trace many months ago (check out the screenshots above). The preview feature worked flawlessly with a plethora of the detected objects.
Based on our test, EaseUS Data Recovery Wizard for Mac exhibits outstanding recovery potential. We give it the thumbs-up for that without a second thought.
Help & Support
---
The publisher provides customer support channels that run the gamut from email and social media to live chat and phone calls. If email is your pick, their reps respond in under 20 hours. You can as well browse the product knowledge base, PDF user manual, FAQs, or enter keywords related to your issue into the search box embedded in the EaseUS Support Center page.
Thankfully, the most-encountered issues are addressed extensively on the self-help web resources. Plus, a series of clear-cut video tutorials are at your disposal. To the vendor's credit, there are plenty of support options to choose from.
+/- (Pros / Cons)
---
Excellent data recovery scores
Numerous file formats supported
Works with any storage device your Mac can recognize
Supports formatted media
Recovers data from new-generation Macs with the T2 chip
Visualization via file preview
Intuitive GUI
Multiple customer support options
Keeps adding itself to the Login Items
No dark mode
Resource-heavy scanning
Bottom Line
---
EaseUS Data Recovery Wizard for Mac is an amazingly effective tool that revives pretty much all types of files on any Mac-compatible storage device. You'll be surprised how thoroughly it checks your machine for lost data and how easily it does the recovery job even on a formatted or RAW drive. That said, we strongly recommend this software for any file rescue scenario.