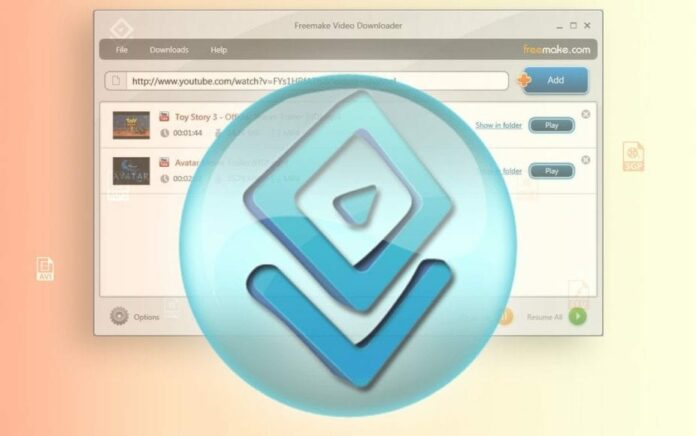 YouTube is the 1st place you'll refer to when you want to find a video to watch. It hosts a great number of videos of any kind: music clips, cartoons, how-to's, free movies, and many more.
Some years ago when YouTube appeared on the Net, the service was completely ad-free. Then the company policy has changed, and now you have to watch almost all YouTube videos with ads. They can be only at the beginning of a video or appear throughout the whole film. Although the ads are not long, most people get annoyed with them. First of all, you lose time on something you probably don't need. And moreover, you lose traffic if your connection is not unlimited.
If you want to enjoy YouTube videos ad-free, you should better save them on your PC with a special tool. So you will be able to transfer a video to your portable device to enjoy on the go and won't have to lose the traffic to rewatch it. There are a lot of tools you might use for this goal: web-services, browser plugins, and software. The latter is preferable. While plugins make you use a particular browser and web-services are slow and come with numerous banners, the right-chosen software will not damage your PC and will save YouTube videos without ads.
Besides that, the software lets you choose video quality and format what is not always available with plugins and services.
Let's have a look at Freemake Video Downloader available at https://www.freemake.com/free_video_downloader/. It's a free tool with a great number of cool features that you'll definitely benefit from. Download the software from the official site. There are two options for you: an online installer that downloads the necessary files right during the installation process, or a complete offline installer that you can run without being connected to the Net.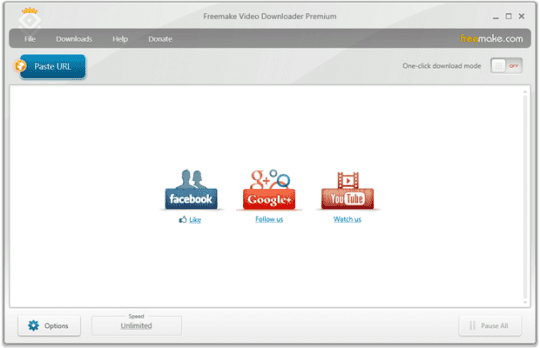 Freemake tool doesn't contain any malware or ads. Thus, you can simply click the "Next" button all the time during the installation without fear that something else will be installed on your computer.
When the installation process is complete, click the software icon to run the program. Don't be afraid to see multiple buttons. Freemake is an extremely easy to use program with a clear and pleasant interface. In fact, there is only one that you'll use on a regular basis. It's "Paste URL" one. Whenever you want to save YouTube videos, channel or playlist, simply copy its URL from the address bar and click this button to paste the link into Freemake Video Downloader. Then a new window will appear. Here you'll see the available qualities for a particular video. Each option shows a frame size (low, medium, HD, Ultra HD, and 4K), a video format (usually MP4, WebM, FLV, and 3GP), audio quality, and estimated file size. Choose an option you need and then scroll down to the blue "Download" button. Click it to save the file for offline viewing onto your PC or laptop.
In case you don't like any of the ready options, check the "Convert to" feature above the "Download" button. Freemake Video Downloader can convert YouTube videos to most popular video formats such as AVI, MKV, MPEG as well as for iPhone, iPad, Android devices, and PSP. Simply select the necessary format or gadget, and run the conversion process.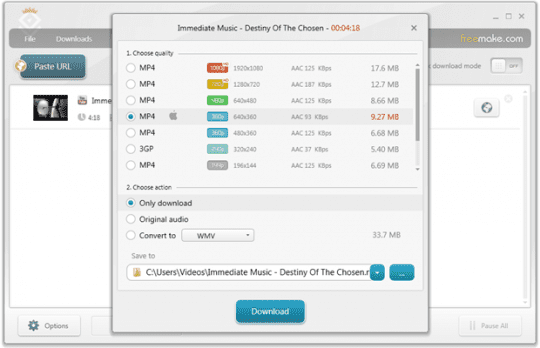 There is also an option for music lovers. If you prefer to save YouTube music without videos, then you have two choices: either extract the audio track in the original format (M4A, AAC) without any quality loss or convert it to MP3 to playback on almost any music device.
Don't forget to set a destination folder for your new ad-free video or music files. By default, they will be saved to "My videos" folder on your C drive. The folder can be changed in a line above the "Download" button. If you have a cloud service folder on your PC, you may select it to save your files right to your cloud account (Google Drive, Dropbox, etc.).
As it has been already stated above, Freemake Video Downloader can save YouTube channels (except the branded ones) and playlists. It may download up to 500 videos from one URL. Please note that the tool doesn't save related video sets and paid movies, even if you've paid for them.
To download private videos that are available to you on YouTube, you'll have to insert your login details. Better if you save your account info in "Options -> Accounts". So next time when you need to grab a private video, the software will automatically sign you in.
You can also add your account from other websites like Facebook, Vimeo, and others.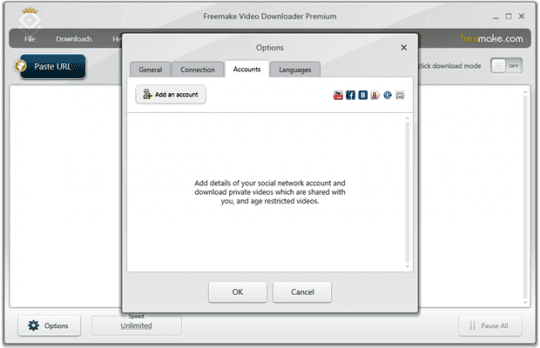 One more Freemake option worth mentioning is that it lets you save blocked and region-, age-restricted videos. To do it, you'll have to google for free proxy settings that will let you change your location and get access to the YouTube video. It's not difficult to find them online. When you are done, go to "Options -> Connection" and insert the proxy data you've found in the related fields. Click "OK" to save the settings. Now return to YouTube and copy the restricted video link. After that, follow the same procedure as described above to download this video onto your PC. Keep in mind that it may take a little bit more time to get the video since the proxy connection is mostly slow.
By the way, if your local Internet connection is not too fast either, you can limit the downloading speed or a number of simultaneous downloads in the tool. Thus, you'll be able to check some websites or talk on Skype while Freemake is saving the files. When you need the whole power of your connection, use the "Pause all" button. The software will stop downloading the videos unless you finish your tasks and resume the process. It's very comfortable since you won't lose the data that has already been saved and won't have to re-download it. The "Pause all" button can be found at the bottom left corner of Freemake Video Downloader.
Speaking about the speed limit and a number of simultaneous downloads, they can be set in Options -> Connection. You can choose to download from 1 to 5 videos at one time.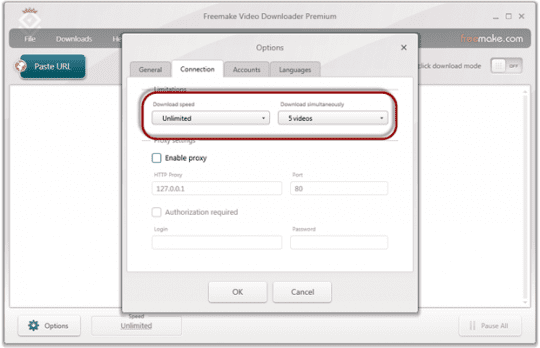 There is a great trick for those who need to download YouTube content always in the same quality and format. The option is called "One-click download" mode. You can enable it in top right corner of the software. Select the parameters for the upcoming videos: quality (Best, Optimal, Minimal size), action (Download, Convert to), and a destination folder. From now on, all the videos will be downloaded with the chosen settings. So you can upload the videos right to your smartphone or tablet without using media converter beforehand.
To cut a long story short, Freemake Video Downloader is a must-have tool for everyone who can't watch YouTube with ads anymore. Being free and easy, it provides an astonishing set of features. Share Freemake Video Downloader with your mates and make them learn the trick, too.