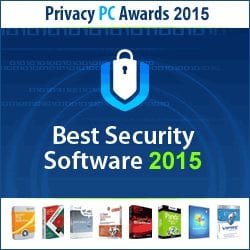 Looking back at 2014, the progress in technology used for antivirus protection, online security and user privacy defense is to the fore. In the framework of increasingly tight competition within the industry and the vendors' approaches that have to rapidly advance in order to meet the more serious challenges, some products have gotten more sophisticated while others started to lag behind. To keep delivering the same level of protection, even good protection, without adopting new techniques means losing the race here. Over the course of the year, we have been testing security software representing the following niches: antivirus, Internet security, antimalware, antispyware, mobile security, free antivirus, Internet privacy, encryption, and password management. Owing to an extensive list of benchmarking parameters that we evaluate products against, the verdicts on what is where on the scale of overall efficiency and usability have become obvious. Derived from this research, the rating below is listing the top utilities which will not fail to keep you on the safe side of cyber-scape in 2015.
Antivirus Software
Because this software cluster is undoubtedly among the most popular, it tends to be a trendsetter in the entire security industry. With extremely tight competition in place, the principles of product evaluation that we apply have left no room for uncertainty as to which ones are on the pedestal.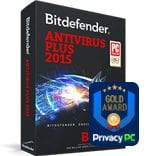 Gold Award: Bitdefender Antivirus Plus 2015
Providing robust protection regardless of the virus attack sophistication which is growing – that's what we call consistency. This invaluable feature is absolutely true for Bitdefender Antivirus Plus. Said product successfully combines efficiency with low system footprint, which is a mix not to be undervalued. The utility's Active Virus Control feature is backed by the dynamic detection technology, which ensures continuous defense against malware. Also delivering solid online security and privacy protection, this software undoubtedly deserves the award.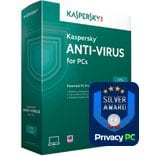 Silver Award: Kaspersky Anti-Virus 2015
The blend of unbeatable antivirus protection proper and the abundance of smart online security features have kept this solution in the top of the ratings across the board for years, this year being no exception. What's particularly luring about Kaspersky Anti-Virus is one of the most extensive databases of malware it uses, the respective cloud-assisted technology guaranteeing high responsiveness to new threats. Improved user interface is on the plus side, too. The cons being system performance impact-related, this utility gets the Silver Award.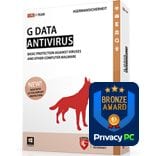 Bronze Award: G Data AntiVirus
Born in Germany, this piece of antivirus software exhibits the unquestionable reliability which is traditionally inherent to other stuff hailing from there. Streamlined user interface with nothing redundant is what catches the eye at first sight. How about protection? It's solid enough for the program to rank in the top three, delivering highly effective defenses against viruses, reliable file monitoring, instant email protection, secure e-banking and shopping features, as well as a cool technology for exploit protection. The inclusion of parental control would be great, though.
Internet Security Suites
Any classification would be incomplete without this category included. Internet security suites make it a safe experience to visit sites, use social networks, purchase products and shop online.
The regular antivirus defense is certainly in place as well. Below is the list of the Privacy-PC award-winners in this cluster.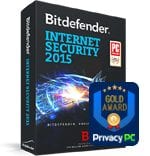 Gold Award: Bitdefender Internet Security 2015
This old timer in the niche has made it to the very top again due to unbreakable prevention of unauthorized access to a user's private information, sophisticated parental control, highly efficient antispam and fraud warnings. The Bitdefender Wallet and Safepay features make it easy to stay secure during e-shopping and banking. Safe social networking is guaranteed as well. The product includes performance enhancement and system optimization extras, namely the Photon and One-Click Optimizer. Irreproachable features set and strong protection are at your disposal right there.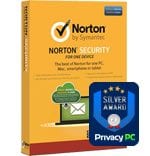 Sliver Award: Norton Security
This representative of the all-new line of Norton products combines an exceptional antimalware capability and online safety features that suffice for one's peace of mind during Internet sessions. The revamped program is cross-platform (can be used on both PCs and Macs) and has a version for smartphones and tablets. Suspicious websites and harmful downloads are not going to affect a Norton Security user, nor will identity theft attempts and financial frauds. The vendor sticks to the "Viruses removed or your money back" principle, so protection is guaranteed for sure.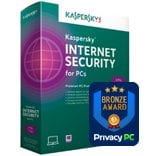 Bronze Award: Kaspersky Internet Security 2015
Dependable online security is a joke as long as this suite is standing sentinel over it. As a matter of fact, Kaspersky Internet Security has got more under the hood: identity and privacy safeguards, the Safe Money technology, secure social networking tool, potentially harmful website alerts and advanced parental control. Hybrid protection powered by the cloud is there to impede malicious code from getting inside. Automatic exploit prevention keeps software vulnerabilities from being used by malware, and system watcher identifies uncatalogued threats. This is a great suite beyond doubt.
Antimalware / Antispyware
The defenses brought by this essential group of security programs are focused on prevention of identity theft and well-organized malware attacks. Learn the winners in this category based on scrupulous and impartial analysis of ours.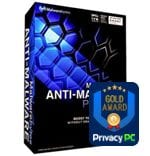 Gold Award: Malwarebytes Anti-Malware
Good old MBAM has finally gotten a revamped GUI design, which is great to know after years of pretty much identical somewhat primitive-looking interface. In terms of protection, though, the product is just as effective as before. It accommodates strong real-time proactive protection, blocks phishing and hacking attacks, and provides exclusive efficiency of cleanup and system remediation after serious infestation. Furthermore, there aren't many utilities out there that can boast such a capability of handling rootkits and removing aggressive infections such as ransomware.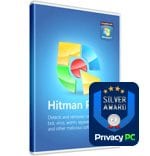 Silver Award: HitmanPro 3
This application has got a very substantial advantage over others: it can eradicate highly persistent malware where competitors would be helpless. This is the property that shows it to advantage compared to more sleek yet mediocre utilities when it comes to efficiency. The unordinary "Second Opinion Malware Scanner" attribute is justified by the fact that antiviruses do miss some threats, while HitmanPro 3 works wonders complementing the protection. This feather-light app has a free scan option and exhibits fantastic usability characteristics.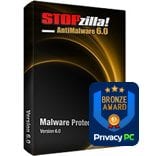 Bronze Award: STOPzilla AntiMalware
Similarly to our Silver Award winner, this software also complements the main antivirus running on a computer while actually providing a solid scope of malware prevention on its own. STOPzilla AntiMalware features an intuitive user interface, splendid performance, capacious database of virus signatures, and verified ability to block and remove online threats. The program is exceptionally good at eliminating catalogued infections, while 0days aren't its main focus. The simplicity (in the good sense) and antimalware effectiveness are the main virtues of this tool.
Mobile Security Software
According to Securelist, 65,118 new malicious mobile programs, including 2,033 mobile banking Trojans, were detected in the second quarter of 2014. These statistics reflect a very clear tendency – malware written specifically for portable devices is on the rise. How do you respond to that challenge? Mobile security software does the trick. Meet our Editor's Choice award winner in this nomination.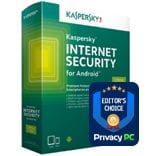 Editor's Choice: Kaspersky Internet Security for Android
This fast and effective Android app provides real-time protection against mobile infections, smart anti-theft features, secure web browsing on a smartphone or tablet, remote access tools, customizable call and text filters, and more essentials for device safety as well as user privacy. We particularly liked the Mugshot feature, where photos of a probable thief are taken and sent to the user, and URL checking directly within text messages. Also, much of a battery drain is not the case with Kaspersky Internet Security for Android, so thumbs up to it.
Free Antivirus Software
The cost of zero in the software world doesn't necessarily translate to poor dependability. Our award winner in this category demonstrates how efficient free antivirus software can be.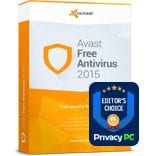 Editor's Choice: avast! Free Antivirus 2015
The new version of avast! Free Antivirus is faster, better-looking and just as effective as its forerunner. It accommodates intelligent antivirus and anti-malware, splendid browser cleanup from unwanted add-ons, and home network security features. The above should suffice for basic protection you don't have to pay for. The real-time shields (file system, mail and web shields) are the defense modules that detect most of the known malware on its way to your computer. Importantly, the utility's SecureLine VPN tool can encrypt your web connection to enhance anonymity online.
Internet Privacy Software
File removal provided by the built-in OS feature has proven to be inefficient in terms of further recovery of the deleted data. Internet privacy programs do the trick by irreversibly erasing the information that you don't want to be retrieved by anyone. Using forensic applications to restore the files will then be to no avail. Listed below are the best utilities you can rely on for privacy purposes.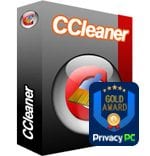 Gold Award: Piriform CCleaner
Nothing compares to CCleaner when user privacy and overall computer health are at stake. Not only does it erase data beyond recovery, but it also has powerful PC optimization tools that ensure faster startup, fewer errors, and smoother computer performance on the whole. Speaking of privacy, the app erases personally identifiable browsing information such as the search history and tracking cookies, thus your identity stays safe. Another important nuance is how light the program is – the system keeps working smooth even while the most complex tasks are in progress.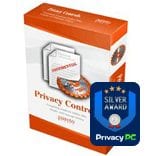 Silver Award: ParetoLogic Privacy Controls
Obliterating files and folders on demand, cleaning instant messaging history, erasing traces of browser activity, wiping files from streaming and media players, irreversibly deleting e-banking details and data generated by browser toolbars – all of these activities are a piece of cake for the Privacy Controls application by ParetoLogic. The program works with the newest P2P apps and email applications, too. Its secure removal meets the U.S. Government Military Standards, so there's no room for worry about efficiency of the process. Plus, the app is really user-friendly.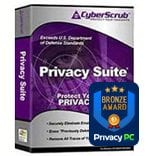 Bronze Award: CyberScrub Privacy Suite
This program has got new additions to its feature set such as the CyberScrub Risk Monitor and automatic plug-in updates. Its data erasure capacity is irreproachable, powered by the U.S. DoD-level standards. The program efficiently deletes Windows history (including recent documents, Find and Run data, Windows Explorer streams, clipboard); browsing history from IE, Chrome and Firefox; information generated by third-party software; and data from a total of 22 peer-to-peer applications. The GUI design, though, is kind of outdated, but reliability is the app's strong link.
Encryption Software
To keep sensitive information at hand while making it inaccessible by anyone but you – that's where encryption programs will come in handy. From where we stand, the application that won the award in this nomination won't fail to make your day.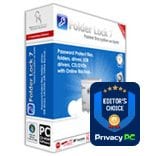 Editor's Choice: Folder Lock
The features delivered by Folder Lock include password-protecting and encrypting files and folders, backing up data to the cloud (with the stunning 2 TB of space available), shredding files and drives, erasing computer usage history, creating portable lockers on removable drives, and making 'wallets' to store things like SSN and credit card details. On-the-fly data encryption makes it fast and easy to protect information from prying eyes. Overall, this light and easy-to-use tool embodies the profile of what encryption software should be like, so we definitely recommend it.
Password Management Software
Applications in this category make it hassle-free and safe to create, store and use passwords. Additionally, and very importantly, they facilitate the accounts and sites login process as well as form fill-out. Here's our verdict on the best app of its kind for 2015.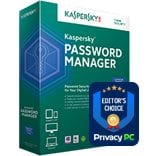 Editor's Choice: Kaspersky Password Manager
This multi-platform tool from one of the world's security software leaders is there to help generate uncrackable passwords automatically, store them in an encrypted vault, synchronize passwords across devices (PC, Mac, Android and iOS), facilitate the process of signing in to applications, accounts and websites, and fill out online forms in the blink of an eye while an extensive list of personal data from an 'identity card' gets used in an automatic fashion. There's a free version that allows the user to manage up to 15 passwords, which is enticing too.
That's the rating as we at Privacy-PC see it. Do not hesitate to benefit from this information when making up your mind on which application to install for your needs. This is all impartial and based exclusively on robust evaluation principles, the criteria being usability, features, efficiency, reputational analysis, support and technical specifications. Also, we sincerely hope 2015 will bring a safer computer use experience notwithstanding the emerging frauds and growingly advanced malware attacks. Keep your devices secure and your privacy intact – we are there to help make this happen!