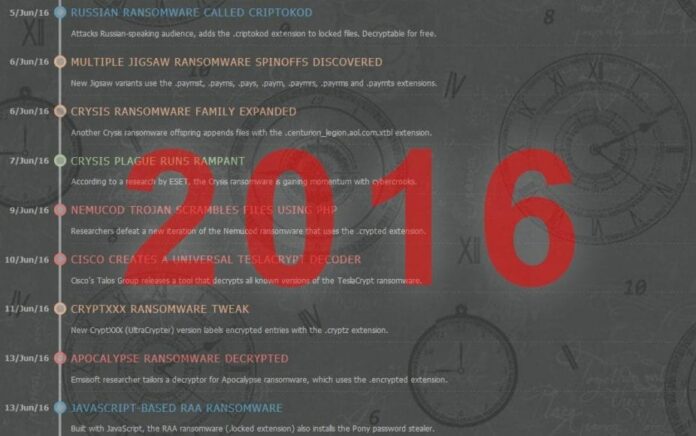 This timeline fully reflects the state of the ransomware ecosystem over the period of May – December 2016. For your convenience, the entries are intuitively split up by the following categories: new ransomware released; existing ransomware updated; free decryptors created; and other important news on the e-extortion domain. The chronicle includes absolutely all ransomware events/incidents that occurred in the specified timeframe.
Read ransomware chronicle for 2017
Read ransomware chronicle for 2018
New ransomware released

Old ransomware updated

Ransomware decrypted

Other important ransomware related events
THE ENIGMA RANSOMWARE SURFACES

Targets Russian-speaking victims. Appends the .enigma extension. Creates the enigma_encr.txt ransom note.

CRYPTXXX 2.0 EDITION

Kaspersky's free decryptor defeated. Concatenates the .crypt extension. Ransom notes named after victim ID.

SHUJIN RANSOMWARE SPREADING IN CHINA

Zeroes in on Chinese victims only. Very complex decryption routine. Uses the 文件解密帮助.txt ransom note.

GNL LOCKER (GERMAN NETHERLANDS LOCKER)

Targets German and Dutch users. Adds the .locked extension. UNLOCK_FILES_INSTRUCTIONS.txt manual.

CRYPTOHITMAN, A JIGSAW RANSOMWARE SPINOFF

Hitman video game themed. Appends the .porno extension and uses X-rated images on warning screen.

CRYPREN RANSOMWARE DISTRIBUTION UPTICK

Uses the .encrypted extension and drops READ_THIS_TO_DECRYPT.html help manual. Decryptable for free.

PETYA RANSOMWARE GOES WITH THE MISCHA BUNDLE

If the MBR-overwriting Petya fails to get admin privileges, it installs Mischa, a typical file-encrypting Trojan.

PETYA AND MISCHA COMBO AS PART OF A RAAS

Ransomware-as-a-Service platform launched allowing crooks to spread Petya and Mischa on an affiliate basis.

CRYPTXXX 2.0 CRACKED

Kaspersky Lab updated their free decryptor for CryptXXX ransomware, version 2.0 now covered.

8LOCK8 RANSOMWARE DISCOVERED

New sample. Adds the .8lock8 extension and creates READ_IT.txt ransom notes. Interaction over email.

SHADE RANSOMWARE UPDATE

New variant of the Shade aka Troldesh ransomware uses the .da_vinci_code extension to stain locked files.

FREE DECRYPTOR FOR GHOSTCRYPT AVAILABLE

GhostCrypt ransomware (.Z81928819 extension, READ_THIS_FILE.txt ransom note) decrypted by researchers.

SNSLOCKER HITS THE HEADLINES

New strain. Leverages AES cipher, appends the .RSNSlocked extension and demands $300 worth of Bitcoin.

XORIST RANSOMWARE LINEAGE DECRYPTED

Decryptor for the Xorist family released by Emsisoft. Requires one encrypted file and its original copy.

777 RANSOMWARE FAIL

Appends the ._[timestamp]_$[email]$.777 extension. Decrypted by Emsisoft's Fabian Wosar.

NEW ZYKLON LOCKER IN ROTATION

A GNL Locker spinoff. Uses the .locked extension and drops UNLOCK_FILES_INSTRUCTIONS.html/txt manuals.

THE END OF TESLACRYPT: MASTER KEY RELEASED

TeslaCrypt ransomware authors close the project and release the Master Decryption Key.

WEBSITE-ENCRYPTING RANSOMWARE

New infection exploiting Drupal vulnerability. About 400 sites affected. Demands 1.4 BTC to decrypt content.

DMA LOCKER 4.0 DISCOVERED

Doesn't modify filenames. Creates Cryptinfo.txt ransom manual and extorts 1.5 BTC.

CRYPTXXX UPDATED TO VERSION 3.0

Crypto flaw patched. Kaspersky's decryptor no longer capable of restoring files.

TESLACRYPT DEVS RECOMMEND A RESEARCHER'S TOOL

Crooks provide a link to expert-tailored decoder on Tor payment site for the defunct TeslaCrypt.

ODCODC: NEW RANSOMWARE ON THE TABLE

File renaming format as follows: [attacker's_email]-[original_filename].odcodc. Not decryptable for free.

ZCRYPT SPREADS VIA USB AND NETWORK SHARES

New one. Appends the .zcrypt string. Propagates over autorun.inf files on memory sticks and network drives.

ZYKLON RANSOMWARE SWITCHES TO APROPOS EXTENSION

New Zyklon edition switches from the .locked extension to .zyklon string. No more changes made.

BADBLOCK IS ON THE BLOCK

New BadBlock ransomware doesn't append any extension to files. Ransom size is 2 BTC.

INVISIBLE EMPIRE THEMED TROJAN

Another Jigsaw ransomware version. Deletes files unless a victim pays up. Decryptable for free.

JOBCRYPTER UPDATE

A modified variant of the JobCrypter ransomware discovered. Uses the .css extension.
JUICYLEMON RANSOMWARE DISCOVERED

New sample telling victims to send email to support@juicylemon.biz for instructions. Demands 1000 Euros.

CRYPTXXX MORPHS INTO ULTRACRYPTER

Multiple design tweaks of ransom notes and payment page. Decryptor now called UltraDeCrypter.

GOOD NEWS: BADBLOCK DECRYPTED

The BadBlock strain, which cripples both data files and Windows EXEs, is decrypted courtesy of Emsisoft.

ANOTHER JIGSAW VARIANT EMERGES

This descendant of the Jigsaw ransomware displays NSFW wallpaper and uses the .paybtc extension.

BLACK SHADES CRYPTER WANTS A SMALL RANSOM

Targets English and Russian-speaking users, appends the .silent extension and demands $30.

HERBST RANSOMWARE TARGETING GERMAN USERS

This sample uses symmetric AES cryptosystem, appends the .herbst extension to files and extorts $50.

RUSSIAN RANSOMWARE CALLED CRIPTOKOD

Attacks Russian-speaking audience, adds the .criptokod extension to locked files. Decryptable for free.

MULTIPLE JIGSAW RANSOMWARE SPINOFFS DISCOVERED

New Jigsaw variants use the .paymst, .payms, .pays, .paym, .paymrs, .payrms and .paymts extensions.

CRYSIS RANSOMWARE FAMILY EXPANDED

Another Crysis ransomware offspring appends files with the .centurion_legion.aol.com.xtbl extension.

CRYSIS PLAGUE RUNS RAMPANT

According to a research by ESET, the Crysis ransomware is gaining momentum with cybercrooks.

NEMUCOD TROJAN SCRAMBLES FILES USING PHP

Researchers defeat a new iteration of the Nemucod ransomware that uses the .crypted extension.

CISCO CREATES A UNIVERSAL TESLACRYPT DECODER

Cisco's Talos Group releases a tool that decrypts all known versions of the TeslaCrypt ransomware.

CRYPTXXX RANSOMWARE TWEAK

New CryptXXX (UltraCrypter) version labels encrypted entries with the .cryptz extension.

APOCALYPSE RANSOMWARE DECRYPTED

Emsisoft researcher tailors a decryptor for Apocalypse ransomware, which uses the .encrypted extension.

JAVASCRIPT-BASED RAA RANSOMWARE

Built with JavaScript, the RAA ransomware (.locked extension) also installs the Pony password stealer.

FLOCKER ATTACKS ANDROID GADGETS

The FLocker pest targets Android devices, including Smart TV, and extorts $200 worth of iTunes gift cards.

DED CRYPTOR BASED ON EDA2 PROOF-OF-CONCEPT

Affixes the .ded extension to files, imposes email interaction with the attacker and demands 2 BTC.

JIGSAW OFFSPRING PAYS HOMAGE TO THE ANONYMOUS

The Anonymous themed Jigsaw ransomware variant concatenates the .epic string to scrambled files.

DR.JIMBO@BK.RU RANSOMWARE SETS A DEADLINE

Instructs victims to reach the devs via email within 48 hours otherwise threatens to erase files.

CRYPT38 RANSOMWARE WITH WEAK CRYPTO

Targets Russian users, appends .crypt38 to files and asks for $15 in Rubles. Free decryptor released.

POTENTIALLY DECRYPTABLE CRYPTOSHOCKER

New sample using AES algorithm and appending the .locked extension. Experts found a workaround.

LOCKY DISTRIBUTION BACKED BY NECURS BOTNET

New Locky proliferation campaign discovered, leverages the Necurs botnet to generate harmful spam.

DECRYPTOR FOR APOCALYPSEVM RELEASED

Researchers create a decryptor for ApocalypseVM ransomware that uses advanced anti-VM features.

RUSSIAN USERS TARGETED BY KOZY.JOZY PEST

Uses asymmetric RSA crypto. Victims are instructed to email the attacker at kozy.jozy@yahoo.com.

CRYPTOROGER, A NEW SAMPLE OUT THERE

Employs AES algo, uses the .crptrgr extension and creates !Where_are_my_files!.html ransom note.

CRYPTXXX ADDS RANDOMNESS TO THE MIX

CryptXXX ransomware starts appending random 5-char extension to files instead of .crypz.

ZIMBRA RANSOMWARE ENCRYPTS EMAILS

Python-based strain. Targets the Zimbra open-source email platform. Ransom amounts to 3 BTC.

NEW APOCALYPSE SPINOFF DISCOVERED AND DECRYPTED

Appends the .SecureCrypted extension. Emsisoft Apocalypse Decryptor updated to restore files.

TOWERWEB@YANDEX.COM RANSOMWARE

Tells victims to email the dev at towerweb@yandex.com for instructions. Demands $100 worth of Bitcoin.

KRATOSCRYPT, A HIDDEN TEAR SPINOFF

Ransomware based on open-source educational code. Concatenates the .kratos extension to files.

BART RANSOMARE DOESN'T ACTUALLY UTILIZE CRYPTO

Stores files in password-protected ZIP folder rather than encrypt them. Demands 3 BTC.

SATANA BOOTKIT IS DOUBLE TROUBLE

Encrypts files and wreaks havoc with Master Boot Record. Displays a lock screen asking for 0.5 BTC.

THE DIDACTIC EDUCRYPT RANSOMWARE

Locks victims' personal data but doesn't request a ransom. Decrypt password available in a hidden .txt file.

ZEPTO EDITION OF LOCKY RANSOMWARE

New Locky variant appends the .zepto extension and renames files to 32 hexadecimal chars.

MONEY-HUNGRY MICROCOP INFECTION

Uses DES (Data Encryption Standard) and requests an astounding 48.48 BTC. Decrypted by analysts.

SHADE RANSOMWARE TWEAK

New Shade iteration switches from using the .da_vinci_code to .Windows10 extension.

AVG DEVISES DECRYPTORS FOR SIX RANSOMWARE STRAINS

The tools restore files scrambled by TeslaCrypt, Apocalypse, BadBlock, Crypt888, Legion, and SZFLocker.

UNLOCK92 RANSOMWARE

Targerts Russian-speaking audience. Email for interaction: unlock92@india.com. Decryptable for free.

EMERGENCE OF WILDFIRE LOCKER

A likely Zyklon copycat. Circulates mostly in the Netherlands and Belgium. Appends the .wflx extension.
ALFA RANSOMWARE DISCOVERED

Alfa, aka Alpha, ransomware uses the .bin extension and appears to be created by Cerber devs.

NEW APOCALYPSE VARIANT DECRYPTED

Emsisoft's decryptor now handles the .bleepYourFiles version of the Apocalypse ransomware.

ANOTHER CRYPTXXX RANSOMWARE UPDATE

New edition creates README.html (.bmp, .txt) ransom notes and upsells a tool called "Microsoft Decryptor".

THE BUGGY CRYPTOFINANCIAL SPECIMEN

Requests 0.2 BTC to unlock files but irreversibly deletes the data instead.

BITSTAK RANSOMWARE WITH WEAK CRYPTO

Appends the .bitstak extension to scrambled files. Researcher named Michael Gillespie created a decryptor.

PIZZACRYPTS PROPAGATING VIA NEUTRINO EXPLOIT KIT

Uses the .id-[unique_victim_id]-maestro@pizzacrypts.info extension to brand all encoded files.

THE PADCRYPT CAMPAIGN REVIVES

Having stayed dormant for several months, the PadCrypt ransomware (.padcrypt extension) re-emerges.

UNLOCK92 ENCRYPTION ENHANCEMENTS

New variant uses RSA-2048 cryptosystem, cannot be decrypted. Appends the .CCCRRRPPP extension.

A LAME CTB-LOCKER COPYCAT APPEARS

Sample dubbed CTB-Faker moves files to a password-protected ZIP archive. Potentially crackable.

ODCODC RANSOMWARE FINALLY DEFEATED

Researcher going by the handle BloodDolly came up with a method to decrypt ODCODC-encoded files.

NEW XORIST VERSION POSES AS CERBER

Although this sample uses the .cerber extension, it's a mere copycat. Doesn't link to Tor decryptor page.

WILDFIRE LOCKER ON THE RISE

According to OpenDNS, there is an upswing in WildFire Locker distribution via the Kelihos botnet.

LOW-COST STAMPADO RANSOMWARE FOR SALE

Appends the .locked extension. Criminals can buy a copy on the dark web for as little as $39.

DECRYPTION KEYS GIVEAWAY BY CRYPTXXX DEVS

For whatever reason, CryptXXX Tor payment sites provide free keys to decrypt .cryp1 and .crypz files.

PETYA RANSOMWARE UPDATED

Petya authors improved their Salsa20 algo implementation to encrypt Master File Table more reliably.

CRYPTXXX BADLY CRIPPLES FILENAMES

A fresh edition of CryptXXX replaces filenames with 32 hex characters and appends random extensions.

PYTHON-BASED HOLYCRYPT RANSOMWARE

Written in Python, the HolyCrypt sample installs all components as a single Windows executable.

AUTOMATIC ODCODC DECRYPTOR RELEASED

ODCODC ransomware victims can now use an automatic free decryptor. The infection's C&C server is dead.

AVG CRACKS THE BART RANSOMWARE

Free recovery tool by AVG allows Bart ransomware victims to crack the ZIP archive password.

POWERWARE IS NOTHING BUT A LOCKY COPYCAT

PowerWare ransomware masquerades itself as Locky. Decryptor available courtesy of Michael Gillespie.

STAMPADO RANSOMWARE DECRYPTED

Emsisoft team member Fabian Wosar created a free decrypt tool for the relatively new Stampado pest.

CRYPMIC, A CRYPTXXX LOOKALIKE

CrypMIC bears a strong resemblance to CryptXXX. Researchers provide a comparative review of the two.

SIMPLE_ENCODER APPENDS FILENAMES WITH A TILDE

New sample. Uses the .~ file extension and creates _RECOVER_INSTRUCTIONS.ini ransom note.

THE NOMORERANSOM PROJECT GOES LIVE

A true breakthrough in fighting ransomware. Created by law enforcement agencies and security companies.

CHIMERA RANSOMWARE DECRYPTION KEYS RELEASED

Petya and Mischa ransomware authors publish about 3500 decryption keys for a strain called Chimera.

JANUS RAAS BECOMES OPEN TO WANNABE CRIMINALS

Crooks behind Petya and Mischa make their Ransomware-as-a-Service platform available to the public.

THE SHORT-LIVED JAGER RANSOMWARE

Incremental ransom size starting with $100 worth of Bitcoin. C&C server went down shortly after launch.

UYARI RANSOMWARE GOES AFTER TURKISH USERS

Appends the .locked extension to scrambled items. Ransom notes in Turkish asking for 2 BTC.

JIGSAW FAMILY KEEPS EXPANDING

"We Are Anonymous" Jigsaw ransomware variant with a new warning background. Decryptable.

KASPERSKY'S DECRYPT TOOL UPDATED

RakhniDecryptor solution by Kaspersky Lab decrypts Chimera-locked files with the keys previously leaked.

THE RAZY RANSOMWARE PREDICAMENT

New strain, uses AES crypto and concatenates the .razy extension. Even the devs cannot decrypt files.
LOCKY VARIANT USES BOOBY-TRAPPED WSF ATTACHMENTS

The Zepto version of Locky ransomware circulates via malware-tainted WSF email attachments.

SHINOLOCKER, A NEW PROOF-OF-CONCEPT

Japanese researcher creates educational ransomware called ShinoLocker. Another controversial initiative.

ASTONISHING SURVEY RESULTS

50% of U.S. companies were targeted by ransomware in the past 12 months, Osterman Research reveals.

CERBER RANSOMWARE 2.0 RELEASED

Switches to .cerber2 extension and uses a new desktop background. Ransom notes unaltered.

VENUS LOCKER, AN EDA2 SPINOFF

The EDA2 PoC gave birth to a new real-world strain. Uses AES-256 standard and appends .venusf extension.

HITLER-RANSOMWARE DISCOVERED

Buggy sample that deletes extensions rather than encrypt files. Demands a 25 Euros worth Vodafone card.

REKTLOCKER BASED ON EDUCATIONAL HIDDEN TEAR

Uses open-source Hidden Tear code with some modifications. Appends files with the .rekt extension.

RANSOMWARE ON IOT DEVICES

Researchers demonstrate a viable ransomware hitting thermostats at the DEFCON event.

SMRSS32 RANSOMWARE, A CRYPTOWALL COPYCAT

Impostor pretending to be CryptoWall. Installs manually via RDP. Appends the .encrypted extension to files.

PIZZACRYPTS AND JUICYLEMON DECRYPTED

Ransomware analyst nicknamed BloodDolly creates a free decryptor for PizzaCrypts and JuicyLemon strains.

POKEMONGO TROJAN DROPS ARABIC RANSOM NOTES

Appends the .locked extension. Creates a backdoor Windows user account (Hack3r) for future PC access.

TORRENTLOCKER TARGETS ITALIAN VICTIMS

Aka Crypt0L0cker. Uses the .enc file extension. Infects computers via rogue energy bills sent over email.

THE SHARK RANSOMWARE-AS-A-SERVICE

New RaaS platform that allows for extensive ransomware customization. Devs get 20% revenue cut.

CERBER RANSOMWARE DECRYPTION INITIATIVE

Check Point released a decrypt tool for .cerber and .cerber2 variants. Worked for only 1 day, though.

CERBER RAAS REVENUE UNCOVERED

According to an investigative research, Cerver devs' annual revnue is on the order of $1 million.

NEW STRAIN TARGETING KOREAN VICTIMS

Based on the educational Hidden Tear code. Apparent ties to the CripMIC ransomware discovered.

APOCALYPSE RANSOMWARE AUTHORS GET UPSET

The crooks keep insulting Fabian Wosar who cracks every new edition of the pest.

CERBER DEVS PATCH FLAWS

Threat actors behind Cerber ransomware make Check Point's automatic decryptor inefficient.

SMRSS32 RANSOMWARE DECRYPTED

Researchers release a free decrypt tool for the Smrss32.exe ransomware.

FSOCIETY RANSOMWARE DISCOVERED

An EDA2 spinoff. Sets a Mr. Robot TV series themed wallpaper with Fsociety hacking group logo.

BART RANSOMWARE SWITCHES TO REAL CRYPTO

Starts to actually encrypt files and append the .bart extension rather than simply password-protect them.

DETOXCRYPTO MIMICKING POKEMONGO FOR WINDOWS

Payload pretends to be PokemonGO game. Takes a screenshot of Windows screen for intimidation purpose.

ALMA LOCKER USES RANDOM 5-CHAR EXTENSION

Distributed via RIG exploit kit. Uses Tor C&C server. Ransom of 1 BTC to be submitted during 5 days.

ANOTHER CTB-LOCKER LOOKALIKE SURFACES

Another CTB-Locker copycat, uses a similar ransom note and color scheme. Demands 0.5 BTC.

THE PURGE MOVIE-THEMED GLOBE RANSOMWARE

Desktop wallpaper styling pays homage to the Purge movies. Appends the .purge extension to files.

WILDFIRE LOCKER TAKEDOWN

Dutch police and NHTCU agency seize WildFire Locker ransomware's C&C server. Free decryptor released.

ALMA LOCKER DECRYPTION OPTIONS

According to PhishLabs, Alma Locker's private key can be obtained with network sniffer during the attack.

FANTOM RANSOMWARE RUNS A FAKE WINDOWS UPDATE

New strain based on EDA2. Displays a bogus Windows update screen to obfuscate the encryption process.

DOMINO RANSOMWARE POSING AS KMSPICO

Based on educational Hidden Tear code. Payload disguised as KMSPico Windows crack.

LOCKY SWITCHES TO DLL INSTALLER TO AVADE AV

The Zepto alias of Locky ransomware begins leveraging a DLL installer rather than an executable to spread.

SMRSS32 RANSOMWARE USES U.S. ELECTION SPAM

New Smrss32 spam campaign delivering files masqueraded as U.S. Election news.

THE SERPICO VERSION OF DETOXCRYPTO

Targets uses in Serbia and Croatia. Doesn't modify filenames. Requests 50 EUR for decryption.

FAIRWARE RANSOMWARE, A THREAT TO LINUX USERS

Adversaries compromise Linux servers, erase web folders and extort 2 BTC for recovery.

RAA RANSOMWARE APPEARS IN THE WILD

Instructs victims to send email to raaconsult@mail2tor.com for decryption steps.

THE CURIOUS CASE OF FABIANSOMWARE

Apocalypse ransomware devs name their new variant "Fabiansomware" to insult researcher Fabian Wosar.

CERBER SWITCHES TO USING A NEW EXTENSION

New edition of the Cerber ransomware concatenates the .cerber3 extension to locked files

REDIS SERVERS HACKED TO INSTALL RANSOMWARE

Crooks reportedly used insecure Redis servers to infect Linux machines with the Fairware ransomware.

STAMPADO STARTS SCRAMBLING FILENAMES

New Stampado variant replaces filenames with hexadecimal chars and uses the .locked extension.
THE NULLBYTE RANSOMWARE FAIL

Pretends to be a PokemonGO bot app. Demands 0.1 BTC. Decrypted by Michael Gillespie.

NEW CRYLOCKER IMPERSONATES A FAKE ORGANIZATION

Acts on behalf of inexistent Central Security Treatment Organization. Appends the .cry extension

CRYLOCKER DETAILS REVEALED

CryLocker propagates via Sundown exploit kit and sends victims' details to its C2 server over UDP.

LOCKY SWITCHES TO AUTOPILOT MODE

New Locky samples go with built-in RSA keys and don't communicate with C&C servers.

NO ACTUAL CRYPTO BY THE RARVAULT RANSOMWARE

Targets Russian users. Moves files to password-protected RAR archive, creates RarVault.htm ransom note.

KAWAIILOCKER GOES AFTER RUSSIAN-SPEAKING AUDIENCE

Hits Russian victims. Creates "How Decrypt Files.txt" ransom manual. Free decryptor released.

PHILADELPHIA RANSOMWARE SPOTTED IN THE WILD

New Stampado version sold on the darknet for $400. Features a Mercy button.

FLYPER RANSOMWARE POPS UP

Appends the .locked extension and requests 0.5 BTC. Attacker's email address is flyper01@sigaint.org.

PYTHON-BASED CRYPY THREAT

Uses AES encryption, adds the .cry extension and drops README_FOR_DECRYPT.txt help file.

PHILADELPHIA RANSOMWARE DECRYPTED

Emsisoft's Fabian Wosar creates a free decryptor for the Philadelphia pest.

CROOKS FORGE SUPPORT FOR THE HOMELESS

New Crysis ransomware rips users off under the guise of helping the homeless.

NOOBCRYPT TURNS OUT TO BE A LAME SAMPLE

New ransomware, uses the same set of crypto keys for all victims. Decryption keys published by analysts.

LOCKLOCK, ANOTHER EDA2 SPINOFF

Leverages AES-256 algo, appends the .locklock extension to files and creates READ_ME.txt ransom note.

NEW RAAS CALLED ATOM

Shark RaaS rebranded as the Atom Ransomware Affiliate Program. Available on the public Internet.

STAMPADO DECRYPTOR UPDATED

Fabian Wosar releases a decrypt tool handling new variants of the Stampado ransomware.

LOCKY PERSEVERES WITH OFFLINE ENCRYPTION

Locky ransomware's autopilot crypto gets improved to prevent AV detection.

STAMPADO ENCRYPTS WHAT'S ALREADY ENCRYPTED

New version encrypts files that were locked by other ransomware strains, so it's double trouble.

RAZY RANSOMWARE MIMICKS JIGSAW WARNING STYLE

Razy asks for 10 EUR worth PaySafeCard to unlock files. Ransom screen resembles one by Jigsaw ransomware.

FANTOM RANSOMWARE UPDATE

New edition can encrypt data offline, similarly to Locky. Now targets network shares.

FENIXLOCKER AUTHOR SPAWNS LOVE NOTES

FenixLocker ransomware dev found to leave the "FenixIloveyou!!" message in each encrypted file.

HDDCRYPTOR REWRITES MASTER BOOT RECORD

A highly dangerous sample that locks victims out of their computers by overwriting MBR.

FENIXLOCKER DECRYPTED

Emsisoft releases a free decrypt tool for FenixLocker, which adds secret mash notes to encrypted files.

FANTOM RANSOMWARE TWEAKS

New iteration sets desktop wallpapers randomly and derives ransom size from payload name.

STAMPADO AND APOCALYPSE UPDATED AND CRACKED

Fabian Wosar stays busy upsetting ransomware makers with his updated free decryptors.

LOCKY OPTS OUT OF OFFLINE-ONLY MODE

New Locky samples switch back to using C&C infrastructure for encryption, according to Avira.

CERBER CIRCULATION GROWTH

A major increase in Cerber ransomware distribution: daily infections reach 80,000.

CYBER SPLITTER VBS RANSOMWARE DISCOVERED

Spotted by GData, Cyber SpLiTTer Vbs asks for 1 BTC but fails to actually encrypt any files.

UNBLOCKUPC RANSOMWARE SURFACES

New sample, drops "Files encrypted.txt" ransom manual and demands 0.18 BTC for decryption.

MARSJOKE, ONE MORE CTB-LOCKER COPYCAT

Bears a strong resemblance to CTB-Locker. Mainly targets U.S. governmental and educational institutions.

NAGINI RANSOMWARE FOLLOWS POP CULTURE

Warning screen contains an image of Lord Voldemort, an evil character from the Harry Potter films.

NEW HELP_DCFILE RANSOMWARE

Named after ransom note help_dcfile.txt. Appends files with the .XXX extension.

THE DONALD TRUMP RANSOMWARE

In-development sample with a photo of Donald Trump on the ransomware GUI.

LOCKY GIVES BIRTH TO A NEW .ODIN PERSONA

New variant adds the .odin extension to files and creates _HOWDO_text.html/bmp ransom notes.

DXXD RANSOMWARE FINALLY CRACKED

Michael Gillespie, aka @demonslay335, creates a decryptor for the DXXD ransom Trojan.

OPEN-SOURCE RANSOMWARE FOR LINUX

New educational Linux ransomware called CryptoTrooper gets negative feedback from security community.

PRINCESS LOCKER WANTS TOO MUCH FOR DECRYPTION

Decryptor page resembles Cerber's. The ransom is 3 BTC (about $2200), doubles after deadline.

AL-NAMROOD RANSOMWARE DECRYPTED

Appends the .unavailable extension. Emsisoft creates an automatic decrypt tool for this sample.

RAZY RANSOMWARE EXPANDS ITS GEOGRAPHY

New version targets German users. Extorts ransom in PaySafeCard. Deadline for payment is 72 hours.

KASPERSKY DISSECTS BRAZILIAN CYBERCRIME

A write-up by Kaspersky analyzes Brazilian TeamXRat ransomware that targets enterprises and hospitals.

NUKE RANSOMWARE SPOTTED

New one. Uses the AES standard and creates !!_RECOVERY_instructions _!!.html/txt ransom notes.

RANSOMWARE MAKER JOINS SECURITY FORUM

Apocalypse ransomware dev starts posting on BleepingComputer forums to insult researcher Fabian Wosar.

KASPERSKY DECRYPTS MARSJOKE RANSOMWARE

Kaspersky updated their RannohDecryptor solution to so that it can crack the MarsJoke ransomware.

TREND MICRO BEATS THE GLOBE RANSOMWARE

The Trend Micro Ransomware File Decryptor tool is now capable of decoding the Globe ransomware.
EMSISOFT CREATES THEIR OWN DECRYPTOR FOR GLOBE

The tool can crack the Blowfish cipher used by the Globe ransomware.

KILLERLOCKER USES A FRIGHTNING TACTIC

The strain appends files with the .rip extension and displays an image of a spooky clown.

FSOCIETY LOCKER BETA VERSION DISCOVERED

Concatenates the .realfsociety@sigaint.org.fsociety extension to files and drops fsociety.html ransom note.

CRYPTOLOCKER 5.1 BASED ON HIDDEN TEAR

Another example of criminals abusing educational ransomware code. No in-the-wild propagation.

MAJOR CERBER RANSOMWARE UPDATE

New variant adds a random 4-character extension and creates README.hta ransom note >>>

HADES LOCKER, A WILDFIRE LOCKER HEIR

Hades Locker occupies the niche of WildFire Locker, which had been taken down by Dutch law enforcement.

THE GLOBE RANSOMWARE FAMILY REPLENISHED

Globe devs release multiple new spinoffs appending the .encrypted, .raid10, and .globe extensions.

CZECH USERS ENDANGERED BY KOSTYA RANSOMWARE

Appends the .kostya extension. The ransom of 2,000 CZK (about $78) doubles after 12 hours.

THE COMRADE CIRCLE RANSOMWARE

Adds the .comrade extension to files and displays RESTORE-FILES![ID] ransom note.

ENIGMA RANSOMWARE UPDATE

New edition appends the .1txt extension and leaves enigma_info.txt ransom manual.

DEADLY FOR A GOOD PURPOSE RANSOMWARE

Uses AES-256 algo and requests a Bitcoin equivalent of $500. Configured to encrypt data in 2017.

VENISRANSOMWARE DISCOVERED

Uses VenisRansom@protonmail.com for communication. Enables RDP and steals passwords.

FIRST RANSOMWARE WRITTEN IN THE GO LANGUAGE

Detected as Trojan.Encoder.6491, it appends the .enc extension. Cracked by Doctor Web.

DXXD VERSION 2 DECRYPTED

Researchers create a decryptor for the 2nd iteration of the DXXD Ransomware.

NUKE RANSOMWARE UPDATE

New Nuke variant spotted in the wild. Concatenates the .nuclear55 extension to encoded files.

LOCKYDUMP TOOL RELEASED

Cisco Talos create LockyDump, a data aggregate with configuration parameters of all Locky versions.

EXOTIC RANSOMWARE ENCRYPTS EXECUTABLES

Dev's handle is EvilTwin. Encrypts all data on target computers, including executable files.

NEW DMALOCKER VERSION DECRYPTED

Malwarebytes releases a tool that decrypts DMALocker's latest !XPTLOCK5.0 version.

NOOBCRYPT RANSOMWARE TWEAK

NoobCrypt 2.0 demands $50. Attackers decided to stick with the ransomware name given by a researcher.

ANUBIS RANSOMWARE EMERGES

Based on EDA2 ransomware. Appends the .coded extension, attacker's email is support.code@aol.com.

NEW SCREEN LOCKER SPOTTED

Only locks one's screen without encrypting anything. Demands 10 EUR PaySafeCard to unlock.

7EV3N RANSOMWARE DECRYPTOR RELEASED

Malwarebytes researcher nicknamed "hasherezade" contrives a free 7ev3n Ransomware decryptor.

RANSOM TROJAN POSING AS A CLICK ME GAME

Obfuscates the encryption process with an amusing Click Me game.

JAPANLOCKER TARGETING WEBSITES

PHP-based ransomware encrypts data on web servers. Appears to have Indonesian origin.

MBRFILTER COUNTERS DISK-ENCRYPTING THREATS

MBRFilter tool by Cisco Talos blocks ransom Trojans that attempt to overwrite the Master Boot Record.

LOCK93 RANSOMWARE ASKS FOR RUSSIAN RUBLES

Low-quality sample. Appends the .lock93 extension to files and requests 1000 RUR. Decryptable.

ANGRY DUCK RANSOMWARE IS HUNGRY FOR BTC

Uses the .adk extension to brand affected files. Demands a huge ransom of 10 BTC.

N1N1N1 RANSOMWARE UPDATE

The variant uses a different filemarker (999999) and leaves the "decrypt explanations.html" ransom note.

LOCKY DEVS USE SOME BAD LANGUAGE

New version appends files with the .shit extension and creates _WHAT_is.html/bmp recovery manuals.

CHANGES IN THE BART RANSOMWARE

Now adds the .perl extension. Ransom notes are called recover.bmp and recover.txt.

THE THOR VARIANT OF LOCKY

Concatenates the .thor extension rather than the .shit string. Ransom notes unaltered.

A LOCKY COPYCAT WITH HUNGARIAN ROOTS

Dubbed "Hucky" (Hungarian Locky), the sample mimicks Locky's wallpaper and ransom notes.

RANSOMWARE IMPOSING A SURVEY

An odd strain that asks victims to complete a sponsored survey before unlocking the computer.

CROOK TRIES TO SELL DECRYPT KEYS TO A RESEARCHER

Emsisoft's Fabian Wosar declined "realfs0ciety" cyber gang's offer to buy their decrypt keys on the cheap.

ANOTHER LAME SCREEN LOCKER

GData experts discover and defeat a screen locker that uses cuzimvirus@yahoo.com email for interaction.

ISSUES WITH THE CRYPTOWIRE PROOF-OF-CONCEPT

One more educational ransomware, CryptoWire, gave rise to a real-world sample.

ONYX RANSOMWARE TARGETS GEORGIAN USERS

Ransom message is written in Georgian. Warning screen contains an image of No-Face anime character.

THE OFFBEAT IFN643 RANSOMWARE

Leaves the IFN643_Malware_Readme ransom note. Requests $1000 worth of Bitcoin.

THE BUGGY JACK.POT RANSOMWARE

No mechanism to reach the attackers. Demands 3 BTC but provides a Litecoin address instead of Bitcoin.

MASTERBUSTER RANSOMWARE

Based on EDA2 open-source project. Drops ransom note called CreatesReadThisFileImportant.txt.

SCREEN LOCKER CALLED RANSOMWARE 2.0 SPOTTED

Does not encode any data but locks the screen instead. Demands 1 BTC otherwise threatens to delete files.

NEW SAMPLE USING !LOCKED#2.0 FILEMARKER

Discovered by Michael Gillespie, aka @demonslay335. Malwarebytes analysts create a decryptor.

ALCATRAZ LOCKER DISCOVERED

Appends the .alcatraz extension and leaves ransomed.html ransom note. Ransom size is 0.5 BTC.
CERBER NOW DISPLAYS VERSION NUMBER

Cerber Ransomware devs start indicating version number in v4.1.0 and onward.

SMASH RANSOMWARE ISN'T MUCH OF AN ISSUE

Displays a "File Kill Timer" window with a funny image of Super Mushroom. Doesn't delete any files for real.

DUMMYLOCKER WITH HYBRID PROPERTIES

Encrypts data and locks a victim's screen. Files are appended with the .dCrypt extension.

ZSCREENLOCKER VIRUS SUGGESTS BANNING ISLAM

Having encrypted one's files, the zScreenLocker ransomware displays a "Ban Islam" image.

NEW ENCRYPTOJJS RANSOMWARE

Appends the .enc extension and creates "How to recover.enc.txt" ransom note.

PAYDOS RANSOMWARE, AN OLD SCHOOL STRAIN

Displays a ransom note within command prompt. Requests 0.33 BTC for the passcode to decrypt.

GREMIT RANSOMWARE EMERGING

New one. Concatenates the .rnsmwr extension to encoded files.

RSA PUBLISHES AN ARTICLE ON CERBER 4.1.x

Titled "The Evolution of Cerber… v4.1.x", the article dissects new versions of the ransomware.

CLOCK.WIN32.RANSOMWARE SPOTTED

Doesn't encrypt any data, simply displays a lock screen. Demands $20 through PayPal.

CERBER 4.1.4 APPEARS

Spreads via phishing emails with fake Word invoice attached. Version number indicated in ransom notes.

NOOBCRYPT RANSOMWARE UPDATE

New version uses an expired build of C# obfuscator. Accepts random, including blank, unlock key input.

CERBERTEAR, A CERBER COPYCAT

A variant of Hidden Tear proof-of-concept pretending to be the Cerber ransomware.

JIGSAW RANSOMWARE EDITION WITH FRENCH ROOTS

Decryptable sample that affixes the .encrypted extension to files and leaves a ransom note in French.

FSOCIETY RANSOMWARE APPENDING .DLL EXTENSION

Based on RemindMe ransomware. Uses .dll extension and drops DECRYPT_YOUR_FILES.html ransom note.

RANSOMWARE DISGUISED AS PAYSAFECARD GENERATOR

Uses a fake PaySafeCard generator window to obfuscate file encryption. Prepends ".cry_" to extensions.

AIRACROP RANSOMWARE BY TEAMXRAT RING

Appends the ._AiraCropEncrypted extension to files. Distributed by the TeamXRat cybercrime gang.

IRANSOM INFECTION KIT SOLD ONLINE

The sample can be purchased on underground resources. Adds the .Locked extension to data entries.

THE HEIMDALL PHP RANSOMWARE

A proof-of-concept written in PHP that targets web servers. Created by Brazilian researcher.

TELECRYPT RANSOMWARE DISCOVERED

The sample leverages the Telegram communication protocol to interact with its C2 infrastructure.

FAIRYTALE-ISH SAMPLE TARGETING RUSSIAN USERS

A new specimen using a popular Russian "Kolobok" fairytale theme for the desktop background.

FAKE OPM BANK NOTIFICATIONS SPREADING LOCKY

Spam emails disguised as alerts from U.S. Office of Personnel Management deliver Locky payloads.

CRYSIS RANSOMWARE DEVS RELEASE DECRYPT KEYS

CrySiS ransomware authors set up a Pastebin page with Master Decryption Keys for their infection.

KARMA RANSOMWARE MIMICKING PC OPTIMIZATION

New ransomware disguised as "Windows-TuneUp" app. Propagates over pay-per-install network.

PADCRYPT 3.0 AFFILIATE PLATFORM LAUNCHED

The updated PadCrypt version 3.0 can now be distributed on a Ransomware-as-a-Service basis.

THE ANGELA MERKEL RANSOMWARE

Displays a photo of Angela Merkel in the ransom notes. Asks for a BTC equivalent of 1200 EUR.

RANSOC SCREEN LOCKER'S PENALTY NOTICE

Locks the desktop rather than encrypt files. Blackmails users with sensitive content found on their PCs.

CRYPTOLUCK SPREADING VIA AN EXPLOIT KIT

CryptoLuck mimics the warning screen of CryptoLocker. Proliferates via RIG-E exploit kit.

RANSOMWARE TARGETING JPG FILES ONLY

Dubbed the "Demo" ransomware, this one only encodes JPGs and appends the .encrypted extension.

CROOK SEEKING RESEARCHER'S ASSISTANCE

One of Apocalypse ransomware devs contacts Emsisoft's Fabian Wosar, asking for help with a code bug.

PCLOCK IN ROTATION AGAIN

A CryptoLocker copycat. Returns after almost 2 years of inactivity. Demands 1 Bitcoin for decryption.

PRINCESS LOCKER DECRYPTOR IN DEVELOPMENT

Researcher nicknamed 'hasherezade' gets close to cracking the Princess Locker ransomware.

GLOBE RANSOMWARE DECRYPTOR UPDATE

Fabian Wosar releases a decryptor for Globe2 (.zendr4, .raid10, .blt, .globe, and .encrypted extensions).

LOCKY ARRIVES WITH PHONY FLASH PLAYER UPDATE

A variant of the Locky ransomware found to be propagating via rogue Flash Player update sites.

.NET-BASED CRYPTON RANSOMWARE

Uses a mix of RSA and AES algorithms to lock files and demands 0.2-2 Bitcoins for decryption.

NEW SHELLLOCKER RANSOM TROJAN

One more sample coded with .NET programming language. Adds the .L0cked file extension.

THE DHARMA REINCARNATION OF CRYSIS

Dharma ransomware is a new variant of the defunct CrySiS. Uses the .[email_address].dharma extension.

THE HELPFUL "ID RANSOMWARE" PROJECT

The ID Ransomware service by MalwareHunterTeam now includes 238 ransomware strains.

CHIP RANSOMWARE SPREADING VIA RIG-E EK

New sample called the CHIP ransomware relies on the RIG-E exploit kit for proliferation.

NEW DEADLY RANSOMWARE VARIANT APPEARS

Corrupts victims' data and provides no way to restore them due to a buggy key saving routine.

TRICKY OBFUSCATION BY PADCRYPT 3.0

Uses a rogue Visa Credit Card generator to camouflage payload execution.

LOCKY SPREADING VIA FACEBOOK SPAM

Malicious .svg images sent via Facebook's instant messaging system install Nemucod Trojan and Locky.

CRYPT888 SETS A DEADLINE FOR PAYMENT

New variant claims to delete the AES-256 key unless a ransom is sent within 36 hours. Decrypted by Avast.

AESIR VERSION OF THE LOCKY RANSOMWARE

Appends the .aesir extension and leaves _[random_number]-INSTRUCTION.html/bmp ransom notes.

VINDOWS LOCKER IS NOT A MISSPELLING

New ransomware telling victims to call a "Microsoft Support technician". Appends the .vindows extension.

PRINCESS LOCKER DECRYPTED

Security analyst @hasherezade defeats Princess Locker's crypto and releases a decryption tool.

DECRYPTOR AVAILABLE FOR TELECRYPT

Malwarebytes releases a free decryptor for Telecrypt ransomware, which uses Telegram's API.

MHT FILES DELIVERING LOCKY

Cisco Talos spot a Locky spam wave delivering booby-trapped MHT email attachments.

THANKSGIVING RANSOMWARE

New ransomware appears that displays an image of a turkey on its warning screen.

OZOZALOCKER IS NO BIG DEAL

Uses the .Locked extension and Santa_helper@protonmail.com email for communication. Decryptor available.

LOCKY'S NEW ZZZZZ VARIANT

Another edition of the Locky ransomware appending the .zzzzz extension to encrypted files.

CERBER RANSOMWARE 5.0 EMERGES

Proliferates via RIG-V exploit kit and spam. Still appends a random 4-character extension.

ONE MORE HIDDEN TEAR SPINOFF IN ROTATION

Based off of open-source Hidden Tear proof-of-concept. Uses a Jigsaw movie-themed background.

LOMIX RANSOMWARE USING CRYPTOWIRE'S CODE

A byproduct of educational ransomware project called CryptoWire. Asks for a Bitcoin equivalent of $500.

COCKBLOCKER AKA RANSOMWAREDISPLAY

Appears to be an in-development ransomware sample. Appends the .hannah extension to locked files.

CERBER'S RANSOM NOTE TWEAK

New variant of the Cerber ransomware creates _README_.hta ransom notes.

NEW SCREEN LOCKER BEING DISTRIBUTED

Claims to have found viruses and displays "Your computer is locked!" warning. Unlock password released.

CRYPTER RANSOMWARE TARGETING BRAZILIAN USERS

Attack are isolated to Brazil. Renames files rather than encrypt them. Demands 1 Bitcoin for recovery.

A PRIMITIVE SCREEN LOCKER DISCOVERED

Displays "Your Windows Has Been Banned" message. The unlock password is 123456.

THE UNUSUAL KANGAROO RANSOMWARE

An Apocalypse ransomware spinoff. Encrypts files and displays a warning screen before Windows boots up.

VINDOWS LOCKER DECRYPTED

Security researchers create a decryptor for Vindows Locker, which uses tech support scam tactic.

SAN FRANCISCO MUNI HIT BY RANSOMWARE

HDDCryptor ransomware paralyzes San Francisco Municipal Transit Agency's IT infrastructure.

NEW RANSOMWARE BASED ON POWERSHELL

This PowerShell-based sample uses the ps2exe script and overwrites the original files.

HTCRYPTOR HARNESSING HIDDEN TEAR CODE

HTCryptor's code is based on open-source Hidden Tear ransomware. Tries to disable Windows firewall.

SFMTA DENIES DATA THEFT

San Francisco Muni's officials deny allegations about corporate data being stolen by ransomware devs.

NMOREIRA RANSOMWARE CRACKED

Emsisoft analyst Fabian Wosar creates a free decryptor for NMoreira/XPan ransomware.

RANSOMWARE ATTACKS A CANADIAN UNIVERSITY

Unidentified rasomware sample compromises Carleton University in Canada, demanding 39 BTC.

JIGSAW RANSOMWARE'S NEW CAMOUFLAGE

A new Jigsaw variant uses a phony Electrum Coin Adder app's GUI to mask the ransomware installation.

ZETA RANSOMWARE STAINING FILES WITH NEW EXTENSION

New edition of the Zeta ransomware uses .rmd extension and # HELP_DECRYPT_YOUR_FILES #.txt ransom note.

TORRENTLOCKER UPDATE

The latest version of TorrentLocker, aka Crypt0L0cker, appends files with 6 random characters.

PRINCESS LOCKER CHANGES TAKING EFFECT

New iteration uses random extensions of 4-6 chars and !_HOW_TO_RESTORE_[random].txt ransom note.
MATRIX RANSOMWARE USING GNUPG

This sample locks data using the free GnuPG implementation of OpenPGP cryptographic standard.

MORE FREE DECRYPTORS BY AVAST

Avast releases 4 free decrypt tools for CrySiS, Globe, NoobCrypt and Alcatraz Locker ransomware strains.

ALPHA LOCKER FOR SALE ON DARKNET RESOURCES

Wannabe crooks can purchase the new C# based Alpha Locker ransomware on underground forums for $65.

HIDDEN MESSAGE IN NMOREIRA/XPAN CODE

Code of the updated ransomware contains a message to Fabian Wosar who cracked the previous version.

THE IN-DEV PHOENIX RANSOMWARE

Based on the Hidden Tear POC. Appends the .R.i.P extension to files and drops Important!.txt ransom note.

PADCRYPT 3.1.2 GOES LIVE

Version 3.1.2 of the PadCrypt ransomware is out. This build doesn't feature any noteworthy changes.

RANSOMWARE DEV ARRESTED IN RUSSIA

The man nicknamed "Pornopoker" is accused of creating and distributing Ransomlock.P police ransomware.

NEWEST NEMUCOD VARIANT CRACKED

Emsisoft's Fabian Wosar creates a decrypt tool for the latest variant of the Nemucod ransomware.

NEW ITERATION OF THE APOCALYPSE RANSOMWARE

The updated Apocalypse Trojan leaves *md5*.txt ransom note and a new extension with country code in it.

ANOTHER GLOBE RANSOMWARE VERSION IS OUT

New sample. Adds the .8lock8 extension and creates READ_IT.txt ransom notes. Interaction over email.

SHADE/TROLDESH RANSOMWARE DISTRIBUTION TWEAK

New Shade, aka Troldesh, ransomware variant (.no_more_ransom extension) uses the Kelihos botnet to spread.

NEW SCREEN LOCKER THAT DOESN'T FUNCTION RIGHT

It's supposed to lock one's screen and encode files (.encrypted extension), but the crypto part doesn't work.

LOCKY STARTS USING THE .OSIRIS EXTENSION

New Locky ransomware variant appends the .osiris extension and drops OSIRIS-[4_chars].htm ransom notes.

GOLDENEYE RANSOMWARE, A PETYA HEIR

Affects master boot record (MBR) and encrypts master file table (MFT), thus completely blocking PCs.

NASTY MARKETING OF POPCORN TIME RANSOMWARE

Victims are suggested to infect two more users and thereby get their decryption key free of charge.

JIGSAW VARIANT CALLED THE "HACKED" RANSOMWARE

New Jigsaw ransomware build featuring "HACKED" logo. The ransom size starts at 0.25 BTC.

NEW SAMSAM RANSOMWARE SPOTTED

Appends the .VforVendetta file extension and leaves 000-PLEASE-READ-WE-HELP.html ransom note.

EDA2/HIDDEN TEAR VARIANT FOR SALE

A cybercrime ring made tweaks to open-source EDA2/Hidden Tear code, now selling it on the dark web.

CRYPTOWIRE POC GIVES BIRTH TO REAL THREATS

Crooks use new proof-of-concept ransomware called CryptoWire to create Lomix and Ultralocker strains.

ULTRALOCKER, A CRYPTOWIRE SPINOFF

Arrives at PCs with malicious Microsoft Wod documents. Demands a BTC equivalent of $1000 for decryption.

CYBER SPLITTER 2.0 DISCOVERED

Cyber SpLiTTer Vbs ransomware version 2.0 is out. Based off of the Hidden Tear POC. Demands 0.5 BTC.

THE LOCKED-IN RANSOMWARE APPEARS

Ransom notes are called RESTORE_CORUPTED_FILES.html. The payment deadline is set to 15 days.

CHIP RANSOMWARE UPDATE

Now uses the .dale extension and leaves DALE_FILES.txt ransom note.

DEADLY_60 SCREEN LOCKER SPOTTED

Uses an animated Matrix-style lock screen. Demands a Bitcoin equivalent of $400.

PADCRYPT UPDATED TO VERSION 3.1.5

Other than the new version number, no significant differences from the previous edition.

M4N1F3STO VIRUS WITH LOW IMPACT

Locks the screen and asks for 0.3 BTC. The unlock code is "suckmydicknigga".

SAMAS RANSOMWARE GROUP EARNINGS REVEALED

According to Palo Alto Networks, the Samas ring's profits in 2016 amounted to more than $450,000.

THE PORTUGUESE PAYDAY RANSOMWARE

A Hidden Tear spinoff. Uses the .sexy extension and drops !!!!!ATENÇÃO!!!!!.html ransom notes in Portuguese.

"YOU HAVE BEEN HACKED!!!" RANSOMWARE

Appends the .Locked extension to encrypted files and demands 0.25 BTC. Steals passwords along the way.

NEW KRAKEN RANSOMWARE

Renames files to base64 strings, adds the .kraken extension and creates _HELP_YOUR_FILES.html ransom notes.

"YOUR WINDOWS HAS BEEN BANNED" SCREEN LOCKER

Claims to have banned a victim's PC for terms of use violations. The unlock code is "nvidiagpuareshit".

CRYPTOMIX RANSOMWARE UPDATE

Uses the .lesli extension. Ransom notes are called INSTRUCTION RESTORE FILE.txt.

LOCKED-IN RANSOMWARE DECRYPTED

Michael Gillespie (@demonslay335) releases a free decryptor for the Locked-In ransomware.

NEW CERBER DISTRIBUTION TACTIC

Cerber ransomware payload arrives with rogue credit card reports that dupe users into opening a Word attachment.

ANOTHER XORIST VARIANT DISCOVERED

New edition of the Xorist ransomware appends the .antihacker2017 string to files. Decryptable for free.

GLOBE RANSOMWARE UPDATE

The only tweak is the new unlockvt@india.com extension for mutilated files. Demands 1.5 Bitcoin.

CIA SPECIAL AGENT 767 TROJAN

Clone of the M4N1F3STO screen locker using a new background. The unlock code is the same (see above).

NEW FENIXLOCKER VARIANT RELEASED

Drops "Help to decrypt.txt" ransom manual and provides thedon78@mail.com email address for payment directions.

KOOLOVA RANSOMWARE TARGETS ITALIAN USERS

This sample is currently in development. Only scrambles data in the Test path on a targeted computer's desktop.

"NO MORE RANSOM" PROJECT ENGAGES NEW PARTNERS

Bitdefender, Emsisoft, Trend Micro and Check Point are now on the team. 32 new decryptors added, too.

AD-SUPPORTED BANDACHOR TROJAN DISTRIBUTION

New BandaChor ransomware spreads via malvertising on X-rated sites and an e-commerce web page.

CHRIS' EXPERIMENTS OVER HIDDEN TEAR

Researchers spotted an instance of tweaking the Hidden Tear code by a wannabe crook named Chris.

THE BUGGY CRYPTORIUM RANSOMWARE

New sample using the .ENC extension. Simply renames files rather than encode them.

A GLOBE RANSOMWARE REPLICA

Analysts discovered a Globe clone that appends the .crypt extension and leaves HOW_OPEN_FILES.hta note.

CERBER RANSOMWARE'S IP RANGE CHANGED

According to MalwareHunterTeam, Cerber starts using several new IP ranges for UDP statistics.

GLOBE RANSOMWARE TWEAK

The updated infection switches to using the rescuers@india.com email address for interaction with victims.

DHARMA RANSOMWARE UPDATE

New Dharma edition instructs victims to reach the attacker via amagnus@india.com email address.

CRYPTOBLOCK RANSOMWARE IN DEVELOPMENT

Researchers discover CryptoBlock strain whose ransom notes resemble Cerber's. No actual encryption yet.

ANDROID BANKING TROJANS EVOLVE

New variants of Android banking malware turn out to accommodate ransomware properties.

RANSOMFREE TOOL COMBATS RANSOMWARE

The RansomFree app by Cybereason detects and blocks over 40 widespread ransom Trojans.

APOCALYPSE RANSOMWARE TWEAK

Creates *MD5*.txt ransom note and uses cryptcorp@inbox.ru for interacting with victims.

M4N1F3STO SCREEN LOCKER STARTS USING CRYPTO

New edition of M4N1F3STO screen locker encrypts data along the way. Decryption routine is buggy.

MNS CRYPTOLOCKER SURFACES

Leaves RESTORE_YOUR_FILES.txt ransom manual and uses alex.vas@dr.com email address for communication.

KASPERSKY'S RANNOHDECRYPTOR TOOL UPDATED

RannohDecryptor now handles CryptXXX ransomware variants using the .crypt, .crypz and .cryp1 extensions.

NEW VARIANT OF SAMAS RANSOMWARE GOES LIVE

Appends .theworldisyours extension and creates CHECK-IT-HELP-FILES.html ransom note.

NEW GO-BASED RANSOMWARE SAMPLE

Written in Go, the strain uses .braincrypt extension and !!! HOW TO DECRYPT FILES !!!.txt ransom manual.

ENKRIPSIPC RANSOMWARE SPOTTED IN THE WILD

Aka IDRANSOMv3, targets Indonesian users. Decrypted by Michael Gillespie (@demonslay335).

MANIFESTUS RANSOMWARE APPEARS

Mimics a Windows update while encrypting data. Demands 0.2 BTC for decryption.

PROPOSALCRYPT IS UNDERWAY

New sample. Appends the .crypted extension to files and asks for 1 BTC. Decrypted by Michael Gillespie.

PADLOCK SCREENLOCKER IS EASY TO GET AROUND

Researchers found a way to defeat the PadLock screen locker. The unlock code is ajVr/G\RJzoR

FREE-FREEDOM RANSOMWARE MADE BY A TEENAGER

The alert by Free-freedom ransomware says it was coded by a 13-year-old boy. The unlock code is 'adam'.

BLEEPINGCOMPUTER RELEASES A USEFUL TUTORIAL

Researchers at BleepingComputer publish a comprehensive guide on ransomware protection.

CERBER RANSOMWARE CHANGES ITS TACTIC

New Cerber edition doesn't delete Volume Shadow Copies and primarily targets Microsoft Office documents

WINNIX CRYPTOR TEAM CAMPAIGN DISSECTED

The Winnix Cryptor Team ransomware is executed on servers via a BAT file and uses GPG crypto.

CERBER OPTS FOR NEW IP RANGES FOR STATS

Cerber starts using 115.22.15.0/27, 114.23.16.0/27, and 91.239.24.0/23 IP ranges for UDP statistics.

THE OBNOXIOUS GUSTER RANSOMWARE

New sample. Alerts victims with an irritating warning screen and audio. Appends the .locked extension.

FREE-FREEDOM MORPHS INTO ROGA RANSOMWARE

Coded by the already familiar Adam kid. Appends the .madebyadam extension. Decrypt password is 'adamdude9'.

KOOLOVA RANSOMWARE WANTS TO TEACH YOU A LESSON

New in-dev version of Koolova decrypts files for free if a victim reads a few articles about ransomware.

ONE MORE CRYPTOLOCKER COPYCAT

Another sample calling itself CryptoLocker concatenates the .cryptolocker string to encrypted entries.

CERBER DEVS ARE IN HOLIDAY MOOD

The bad guys are getting ready to celebrate. Several C2 domains used by Cerber have 'christmaas' in their URLs.

VENUS LOCKER UPDATE

New variant of the Venus Locker ransomware demands 1 BTC and sets a deadline of 72 hours.

ALPHABET RANSOMWARE IS ON ITS WAY

The sample is still a debug version, hence not fully functional. Provides the decrypt key for free at this point.

GLOBEIMPOSTER RANSOMWARE DEFEATED

A Globe ransomware copycat using the .crypt extension and HOW_OPEN_FILES.hta ransom notes. Decrypted by Emsisoft.

DERIALOCK SCREEN LOCKER DISCOVERED

Demands $30. Victims must contact "Arizonacode" Skype user for payment steps. The code contains an "unlock all" command.

CERBER RANSOMWARE TWEAK

The update has brought about new IP ranges for statistical purposes, as well as _[random]_README.hta/jpg ransom notes.

BADENCRIPT RANSOMWARE APPEARS

Appends the .bript extension to mutilated files and leaves a recovery walkthrough called More.html.

NEW JIGSAW RANSOMWARE VERSION RELEASED

The new .hush extension being added to files is the only change made to Jigsaw in the course of this update.

NMOREIRA RANSOMWARE DECRYPTOR UPDATED

Emsisoft's Fabian Wosar makes changes to his NMoreira decryptor, which can now handle the .maktub extension variant.

ODCODC RANSOMWARE RE-EMERGES

Creates HOW_TO_RESTORE_FILES.txt ransom note and uses the C-email-[attacker_email_address]-[filename].odcodc extension.

LG SMART TV TARGETED BY A SCREEN LOCKER

Android ransomware attacks LG Smart TVs, generating an FBI-themed lock screen and asking for $500 to unlock.

ANOTHER COMMONPLACE SAMPLE GOES LIVE

A new strain spotted that appends the -opentoyou@india.com extension to files and drops !!!.txt ransom note.

KILLDISK MALWARE GETS NASTIER

The file-deleting virus called KillDisk can now encode data. The ransom amounts to hundreds of Bitcoins.

ROGUE ANTIVIRUS INSTALLER SPREADS RANSOMWARE

A sample of the GoldenEye ransomware was found to proliferate via a bogus ESET AV installer.

DHARMA RANSOMWARE GOES WITH NEW RANSOM NOTES

The mkgoro@india.com version of the Dharma ransomware uses HTA format for its ransom notes (Info.hta)>>>

SAMAS INFECTION UNDERGOES A CHANGE

New Samas ransomware iteration uses the .whereisyourfiles extension and WHERE-YOUR-FILES.html help file.

PROOF-OF-CONCEPT RANSOMWARE CRITICIZED

An article posted on MalwareTech blog explains why open source ransomware is a bad idea.

EDGELOCKER, NEW RANSOMWARE ON THE TABLE

Concatenates the .edgel extension to mutilated files. The ransom amounts to 0.1 BTC.
New ransomware released

Old ransomware updated

Ransomware decrypted

Other important ransomware related events