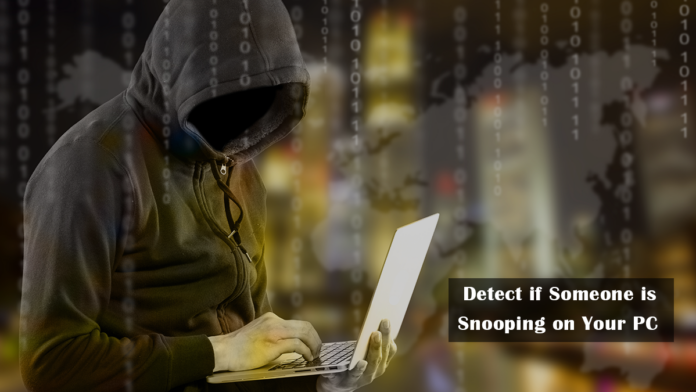 Our devices tell the story of our lives. From family pictures during the holidays to applications like password managers holding credentials, your computer can reveal a lot. For one, you should always lock down your tech the right way. After all, you do not want to have someone accessing your files and applications.
In addition to having someone physically sit down in front of your PC, there are more spooky scenarios as well. Even if you notice little to no signs of being watched, ssomeone, somewhere, could be monitoring each online action you make.
Can someone spy on you without physical access to your PC?
Spyware or other computer malware could grant someone a front-row seat to all your activities. Sophisticated stalkerware can allow perpetrators to secretly monitor and record information about each step you take online.
Frequently, the perpetrators would require physical access to compromise your device with stalkerware or spyware. However, there are other ways for attackers to infect your machine. One incident involving spyware showcased that such threats could pretend to be legitimate Android apps. Thus, instead of receiving an app that would improve your lifestyle in some way, you face an application that secretly harvests your data.
It could, for instance, steal your login credentials, messages, location details, and photos. Some sophisticated variants could even uninstall other software, like antivirus or other security mechanisms.
While it's impossible to determine if someone was in the room without secret cameras installed, it's certainly possible to find out whether someone was snooping on your PC. Additionally, warning signs suggest that you have stalkerware on your device.
In this article, you can learn how to view recently opened files and track all the clues related to the recent activity on your computer. That way, you'll know what the unwanted guest searched for and accessed. Based on the activity, you can find out who the offender was.
1. View recently opened files
Accessing recent history is handy in many situations, primarily if you work with many files, folders, and various documents you need to open repeatedly. Windows introduced this feature for all its busy users who were wasting a lot of their precious time navigating the same path multiple times a day.
However, this feature is also helpful in finding out whether someone accessed files without your knowledge.
All you must do is open the File Explorer app. You can find it in several ways, including opening This PC, Documents, or simply using a shortcut – pressing Windows key + E. Here, you can find a list of recently opened files to learn which files the offender accessed.
The process is very similar for Mac users. By navigating through Recent Items and Recent Folders lists, you'll also get information about whether someone was snooping on your Mac.
If you suspect someone has been snooping on a specific app, you can check its individual recently opened files by launching the program.
2. Check the recently modified files
The only issue with recently opened files is that anyone can erase the list of recent activities. If your recent activity is erased from the computer, that's a strong sign someone has been using your PC.
Luckily, there's a way to access the recently modified files list even if the recent activity has been deleted. Head to the File Explorer app once again and type datemodified: into the search box in the top right corner. Narrow down the search results by choosing Today from the drop-down menu called Date modified.
It will show you a list of all files that have been modified today, so you can quickly learn what files the snooper changed.
3. Open the browser history
While deleting browser history is something everyone knows how to do, it's never a bad idea to check the browser history if the snooper didn't have enough time to delete it.
Don't only check the browser you're using. Check all internet browsers you have installed on your computer because there's a high possibility the offender chose a different browser to decrease the chances of getting caught.
4. Access Windows 10 logon
Finally, accessing Windows 10 logon can help you determine if someone logged onto your device while you were away. Since Windows 10 automatically notes down every login, you can check all the previous logins.
Use the Event Viewer app to navigate to Windows Log > Security. You'll face numerous codes which won't make much sense, but all you need to look for is code 4624, which stands for logon. 4672 stands for an administrative login, while 4634 indicates log-off. Use the Find feature to narrow down the searches and view only logons.
Prevent other people from using your PC
The best way to stop others from snooping on your PC is to protect your device. Here are the top 3 ways you can reach the maximum level of security.
● Create passwords
Creating strong passwords for your account is the essential step towards obtaining security. Use unpredictable passwords you won't write down anywhere or tell anyone; that's the only way to ensure only you know the password. You can also create folder passwords to prevent unauthorized access to the files within them. Such protection only decreases the chances of someone snooping on things you would like to keep private.
● Log off every time
Whenever you plan on leaving your PC unattended, make sure to log off. Simply press Windows key + L every time you leave your desk. Your PC will lock instantly, keeping the snoopers at bay. If you tend to forget about locking your PC, there is no need to rely solely on the manual option. You can set your Windows to lock automatically when you step away from it. This change ensures that you never leave your PC unoccupied for longer periods.
● Use security software
Snooping can be done remotely too. Namely, prying individuals can access exposed PCs and grab the information they need through various tools. Therefore, it is essential to emphasize the security of your PC. For instance, you should have robust antivirus software guarding you against viruses and malware. It will inform you of any issues regarding the programs you have installed.
Additionally, you should consider getting a PC VPN that makes it easy to evade hackers on unsecured networks. After all, attackers could exploit the security loopholes on public Wi-Fi and infect your device with spyware. With a Virtual Private Network, you can connect to any network, and rest assured that your activities will be protected. After all, it encrypts all internet traffic and conceals details on your location, further minimizing potential tracking.
Conclusion
Keeping your PC secure is essential for every PC owner. As someone's property, no one feels comfortable with others snooping around their files whether they've got something to hide or not.
With these handy tips and tricks, now you can easily find out if someone has been snooping around recently. Moreover, we provide you with valuable advice on putting a stop to all snooping activities you might've been experiencing.