Posted by
david b.
on February 20, 2013
Paul S. Ziegler is now shifting the focus over to the importance of one's appearance and the Asian stereotypes with regard to informal classes of foreigners.
For every element I'm going to point out to you today, after this we're going to look at the exploitation vector, because that's what makes it interesting. So, for this particular exploitation vector: if you're going to start doing pentests in Japan or Japanese companies, or if you're a black hat guy and you're just going to run attacks in Japan, you can basically screw all of your covertness, because no one is going to care anyway. Just make sure you're not on camera, but people on the street are not going to interfere. For all they care, you can have a cable going into the hotel's PBX system – they won't stop you.
So, you are sitting there and people won't stop you, but you still have this feeling that they can kind of see you, right? That's uncomfortable. So, it would be really nice if we had one of these (see right-hand image). Historical evidence abounds that they used to be very popular in Japan and all over Asia, and they're even more popular today, you can see them in the movies – apparently, there is a huge market around them, because you can also buy them on Amazon for only $400, that sounds like a good deal. Unfortunately, as further review revealed, they don't seem to be very effective.
Clothing Does Matter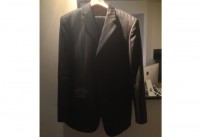 So, what if I told you that as long as you stay within Japan, there is actually a cloaking device that will make you absolutely invisible to ticket gate people, police, people who may talk to you for social violations, auditors, home security? There is one, you can buy it. You can buy it anywhere in the world. Here's mine (see left-hand image).
If you put on this suit in Japan, you basically become invisible. When I say invisible, let me give you some numbers for this. So, badge requirements, corporate badges, going in anywhere, conference badges, anything like that – no one is going to ask you. Security will not stop you if you're the guy wearing a suit. If they do stop you, come back 30 minutes later, pull out a cell phone and talk really loud in English – and suddenly you're too scary for anyone to approach.
In my personal case, it reduced the number of random police ID checks from once a month to never. In Japan police are actually allowed, if you're a foreigner, to check for your foreigner registration ID, and it's usually a quick process, but still it keeps bothering you. And, virtually, that's a getaway with any social violation you want. So, if you ever wanted to stand in a public place and scream loudly, then wear a suit.
This also works in South Korea, interestingly, but it kind of works differently in South Korea. When you go to South Korea, the suit will really affect you as well. However, I wouldn't really call it the invisibility cloak; I would call it the Honor Cloak. Because what is does is suddenly – and this is mostly for males, for girls this doesn't particularly work, but foreign girls don't really have an issue in Korea to begin with – people in restaurants will start giving you service, and when I say service, I mean anything that goes beyond "huh?" and "huh."
A suit is a getaway with virtually any social violation you want.
It will also lead to the natives being about thrice as willing to try to communicate with you in any language they may be able to speak, instead of screaming for the next person to come to the counter at Starbucks. Strangers will take you to locations and carry your stuff. And this sounds scary, but this has happened to me literally every time I visited Korea in a suit.
So, what happens is if you walk outside and you're wearing a T-shirt and you go: "Yeah, I don't know where this is, can you help me?" – people have this tendency to do the monkeys and just turn around and walk away. If you wear a suit, they will take you there, because they can't explain it to you, so they just literally take your hand and they'll walk you wherever it is. The other thing that happened repeatedly is that you're standing at the airport and you have your suitcases, and you leave one downstairs because you can't really carry everything at once, and some random guy will just walk up, take your suitcase, carry it, say: "Have a nice day," and walk off.
This has never happened without a suit; it will happen with a suit. And the last thing, or the second to last thing, is that you can actually get a taxi as a single foreign white male. If you're not wearing a suit, this may take up to 20 minutes. And what's really weird is that the taxi drivers will actually drop you off where you want to go. Some of your faces are saying: "Yeah, but that's kind of the purpose of a taxi."
In South Korea, at least in Seoul, what happens if you're a foreigner is they won't take you where you want to go, they will take you to a near intersection that they see fit and they'll kick you out, because, I quote: "I'm not a racist, but you're a foreigner, and I'm just not quite sure what you're going to do." So, in case you wear a suit in Korea, as a male, it seems like you're in a completely different country compared to not, just wearing civil clothing.
The Swarm Effect
Now, we've seen it and we have these weird effects when you go to Korea and Japan with suits, but why is that? There's two things in play. Number 1 is the Swarm Effect, which basically is something common in every animal, humans included, which means: "If something looks like me and if I don't stand out of the group, I'm going to be integrated and people are just going to forget about me, and they're going to be nicer because I look like them."
Here's what a typical morning commute looks like in Japan (right-hand image). Notice the pattern. And here's the same thing in Korea, which is a church session – again, suits (image below).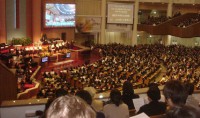 So, you're wearing a suit – you're showing off your integration. You can't really wear the traditional clothing, because no one wears those anymore. But if you wear a suit, you look like everyone else, therefore you do not appear threatening.
The Class Effect
Even a more important thing is the Class Effect. Now, this is not as it may seem about classes, like lower class, middle class, upper class – you can forget about that. From the perspective of Eastern Asians, from what I've seen, there are three classes of foreigners. There's military people – it's class 1. If you're grouped in military, you're a big guy, you look like a military guy, you talk like a military guy – basically, you're screwed, because military is scary.
In all the newspapers for some reason, if a military guy in Roppongi Hills shows up and beats someone, you can be sure it's going to be in the newspaper the next day. So, if you're grouped in the military, you're scary, you're kind of shady, and no country in the world really likes a foreign military on its ground, no matter what we pretend or no matter how practical it may be at the moment.
The second category, in a nutshell, are English teachers. And when I say English teachers, it could be any kind of other foreign language, it could be a French teacher if you're from France. If you fall in there, you're not going to be scary, you're going to be ok. The problem is that from the perspective of natives you're some dude, and they're usually in their mid to late twenties or early thirties; you're some guy in that age range whose only major life accomplishment after this point has been to master the native tongue. So, you're not particularly considered a good match for any specific occasion.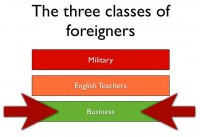 And the last of the three categories is business. Now, when I say business I don't mean people who actually do business, I mean people who are either skilled workers who have money, or people who are in any way involved in actual work that requires some sort of skill or some sort of investment, and you really want to fall into that group. Why? Well, first off, you're not really scary and there's not many negative stories told about you, there's no banker scare going on in East Asia at the moment.
Stereotypes

The other thing is that if you're not negatively impacted by a stereotype, you're very likely to be impacted positively by a lot of other stereotypes. So, basically, once you get the negative stereotypes out of the way, you get access to the huge pool of positive stereotypes, especially if you're European or American, because every movie that's out there – all of the movies, all of the cartoons, all of the sitcoms they import, they have these cool white people going around, so if you manage to fall in there, you're good. People will be really friendly. You're kind of falling into that category over there (see left-hand image above).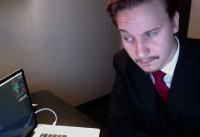 By the way, the suit trick also works in Hong Kong, you just look like another banker and no one cares what you do, because there are bankers everywhere. Now, how do we exploit that? It's actually kind of straightforward, you do it like this (see image to the right). And even though you're wearing a suit and you're talking in loud English, and you're abusing everything I've shown you so far – if all of that fails, then you use the so-called Dumb Foreigner Card. Here is how it works: I'm going to explain it to you by example. I took a trip down to Osaka a couple of years back with a buddy of mine, and we took the Shinkansen, which is a super express train and it's really, really expensive, it's like $200 one way, and we got one ticket for going there and another ticket for coming back. And I was sleepy, so I inadvertently invalidated my return ticket.
If all of that fails, then you use the so-called Dumb Foreigner Card.
So, what happened? We figured that out when we tried to leave, so I got my buddy who is a native Japanese person walk up to the ticket counter and say: "Yeah, you see, my friend over here, he was sleepy, so he invalidated his ticket, and now he can't use it anymore, and could you please give us a new one?" And their answer was: "Well, we could do that, but it's going to take us about 24 hours to verify whether that's true. We're going to go to the gate and we're going to see if his old ticket is in there," and so on.
We didn't have that time, so I just asked him to go to another one and try something else, so he walks up to a different ticket counter and he goes: "Well, you see, I have this friend, and my friend is kind of a foreign idiot, and being the foreign idiot that he is, he just lost his return ticket." And their reply was: "Yeah, that's not a problem, here is a new one." We're going to come back to this in a bit, because this is your last line of defense.
Read previous: Hacking in the Far East
Read next: Hacking in the Far East 3: Home Insecurity in Japan
Like This Article? Let Others Know!
Related Articles:
Comment via Facebook: