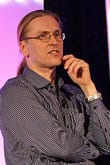 Mikko H. Hypponen is a prominent computer security expert and columnist known worldwide for his rich background, in-depth research and nontrivial highlights of online espionage, cyber warfare, e-crime, computer viruses, Stuxnet issue, hacking, the future of the Internet, etc.
Position: Chief Research Officer for F-Secure (Finland).
Awards: 50 Most Important People on the Web 2007 list by PC World, Virus Bulletin's Best educator in the anti-malware industry 2010, Foreign Policy's Top 100 Global Thinkers in 2011.