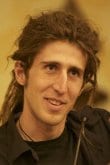 Moxie Marlinspike is a pseudonymous ex-hacker, renowned cybersecurity expert and cryptographer. Moxie is known for his in-depth research of online privacy and anonymity issues, including man-in-the-middle attacks, secure protocols, encrypted mobile communication, etc.
Background and career: co-founder of Whisper Systems, member of the Institute for Disruptive Studies, currently the Director of Product Security at Twitter.
Prominent projects: Convergence (alternative approach to the CA system), sslstrip, RedPhone, GoogleSharing.