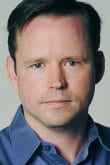 Brian Krebs is a self-made computer security expert, cybercrime researcher and popular blogger who gained worldwide recognition due to his outstanding effort in dissecting the intricate schemes utilized by malware authors and distributors. Brian's investigations are always relevant, accurate, and ultimately exposing.
Background and career: reporter for "The Washington Post" from 1995 to 2009 (ran Security Fix blog), author of KrebsOnSecurity.com blog.
Awards: Winner of Cisco Systems' 1st Annual "Cyber Crime Hero" Award (2009), SANS Institute Top Cybersecurity Journalist Award (2010).