Posted by
David Balaban
on November 23, 2018
The Black Friday 2018 shopping spree is in full swing, with the amazing deal from Bitdefender being offered for those who know computer security matters. Keeping up the good tradition, this cybersecurity heavyweight is offering up to 63% off exclusively for Privacy-PC visitors and fans.
This is a unique chance to get the best bang for your buck when purchasing award-winning software suites by Bitdefender. The discount spans the following products: Bitdefender Antivirus Plus 2019 for up to three devices (58% off), Bitdefender Total Security 2019 for up to 5 devices (61% discount), and Bitdefender Internet Security 2019 safeguarding up to 3 devices (63% discount).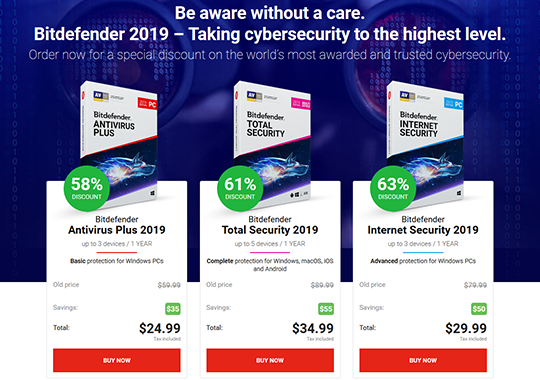 By opting for this killer deal, you get 1 year of unparalleled security boasting the highest malware detection rates in the industry for 5 years straight. The 2019 lineage of Bitdefender solutions leverages AI (artificial intelligence) along with other groundbreaking technologies to keep you protected against existing and zero-day threats.
Trojans, spyware, adware, browser hijackers, rootkits, phishing attacks, spam, MITM (man-in-the-middle) attacks over WiFi – Bitdefender has got all these areas covered. The apps also go equipped with effective parental control and two-way firewall to take your security to a whole new level.
Plus, sophisticated ransomware protection, extremely low system footprint, and even webcam protection are the extra benefits you will definitely appreciate. The knowledgeable and responsive 24/7 customer support is a strong reassurance that no security issue is unsurmountable.
Be advised the Total Security 2019 solution delivers cross-platform protection, with apps for Windows, macOS, iOS and Android available.
So, don't miss your chance to get your cyber life secured from multiple different angles with Bitdefender 2019 products that now cost less than ever.
Like This Article? Let Others Know!
Related Articles:
Comment via Facebook: